Julianne Moore Makes Aging Look Easy In These Makeup-Free Photos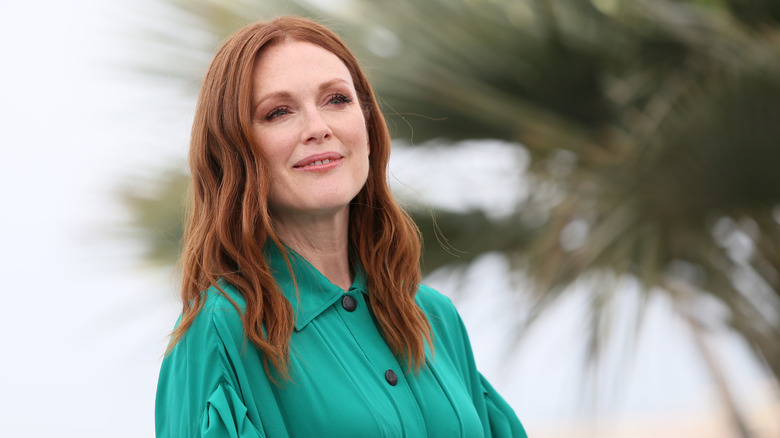 Denis Makarenko/Shutterstock
Over the past four decades, Julianne Moore has become known for playing women in times of crisis and transition ("Can women even have midlife crises?" she famously asked in "Crazy, Stupid Love"). In reality, the A-list actor is all about living in the moment. "The older I get, the fewer ground rules I have about anything," she told Gotham Magazine, adding, "I really just want to be where I am." For Moore, that involves taking everything "one minute at a time" and not getting ahead of herself. This philosophy is helpful when it comes to aging, in particular.
Hollywood is notoriously harsh on female actors after they reach 30. According to The Washington Post, women in their 30s claim just 40% of top-billing roles. By their 40s, the number drops to a measly 20% ... At one point, even Meryl Streep was worried she'd lose out on projects. Unfortunately, anti-aging sentiments have trickled down from the big screen into the real world, affecting non-movie stars just as much as it does Hollywood insiders. Over 90% of cosmetic surgery patients are female-identifying. 
Julianne Moore is all too familiar with how the film industry discriminates against women, and she's decided to embrace aging as something inevitable rather than shameful. Quite simply, "I think we should just stop talking about it," she told Gotham Magazine. Her all-natural approach is evident on her Instagram, where she posts plenty of make-up-free selfies.
Julianne Moore likes to keep her makeup minimal
Whether she's striking with SAG-AFTRA, visiting an artist exhibition, or befriending turtles on the beach, Julianne Moore likes to keep her makeup to a minimum. Often, she'll opt out altogether. "Sometimes masks are great cause they cover your neck," she wrote on Instagram in August 2022, walking down the streets of New York City makeup-free. In another Instagram post, she shows off her smile lines on BeReal. 
Plenty of glam teams have tried to cover Julianne Moore's natural freckles and warm up her skin tone over the years. "A lot of the time, people doing my makeup would want to darken my skin and make me tan," she told Vanity Fair. She resisted ... Now that faux freckles are trending, plenty of people are probably wishing they had Julianne Moore's complexion.
What's more, the "Boogie Nights" star finds conversations around "aging gracefully" sexist. "It's not possible to age one way or another; we simply age," she explained to Vanity Fair. Still, she's committed to keeping her skin healthy. Moore hasn't been shy about posting her various radio-frequency treatments on Instagram, and she even shared her beauty secrets with Vogue. Her two main tips? Wash your skin and wear sunscreen. You don't need an expensive cleanser. Moore likes to buy Cetaphil from the drugstore. When it comes to her fine lines, she applies a little bit of collagen-promoting Elastascene. On her neck, she likes to use a cream called Nectifirm.
A bold red lip is Julianne Moore's special occasion go-to
When Julianne Moore wears makeup, she prefers to keep it minimal. "I don't like a lot of coverage," she explained in her Vogue Beauty Secrets tutorial. "I like to be able to see the freckles in my skin and color in my skin as well," she said. For her, that means using a pea-sized amount of Hourglass Foundation (she is one of the brand's celebrity ambassadors) and a little bit of their concealer under her eyes. Although the "Still Alice" star often looks like she's wearing mascara, it's just eyelash tint — she learned how to do it years ago.
Julianne Moore's preferred makeup shades challenge old-school rules for redheads, and she's not opposed to a bold red lip on a night out. The award-winner has spent a lot of time trying to find the perfect red lipstick ("Sometimes they're too blue, sometimes they're too orangey," she told Glamour). Her most recent go-to is Hourglass' "True Red." Although men don't often notice the effort that goes into lipstick shades, Moore told Vanity Fair that compliments from other women matter most. All in all, she doesn't think makeup is a necessity. "I think it's an antiquated idea ... that we put makeup on to ... cover up our flaws, or to look professional. You can be professional without makeup. Makeup should be a want, not a need," she shared with Glamour. We couldn't agree more.