Fani Willis: All About The District Attorney Who Is Going After Donald Trump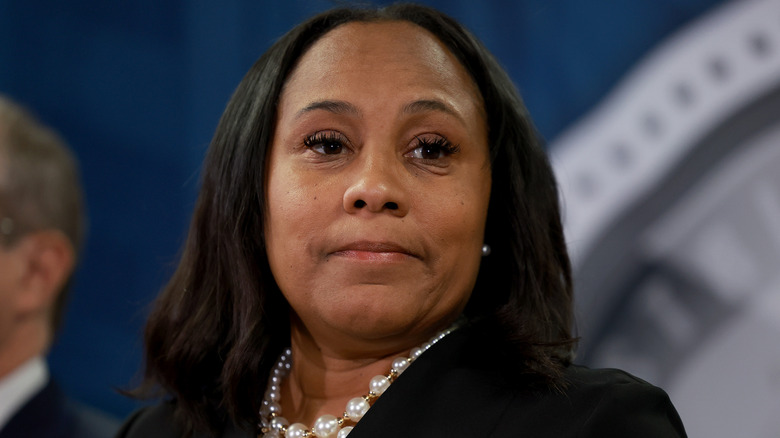 Joe Raedle/Getty Images
The following article includes references to homicide, sexual assault, and child abuse.
On January 1, 2021, Fani Willis was sworn in as the district attorney for Fulton County, Georgia. Just one day later, former President Donald Trump dialed Georgia Secretary of State, Brad Raffensperger, and proceeded to have one of the most controversial phone calls in recent history. As reported by The Washington Post, it was during this conversation that Trump uttered the notorious phrase, "All I want to do is this. I just want to find 11,780 votes, which is one more than we have because we won the state." To this, Raffensperger responded, "We don't agree that you have won." The Secretary of State went on to cite multiple recounts that confirmed the election results.
In the days that followed, Willis questioned the legality of the former president's actions and began digging. On February 11 — just six weeks into her first term — the district attorney reached out to Raffensperger, asking him to safeguard materials relevant to an active investigation. What came next was a years' long deep dive into Trump's claims — one that involved witness interviews and multiple subpoenas. By April 14, 2023, Trump was indicted on charges of election fraud and racketeering. Because of the massive implications of this case, Fani Willis has been shot into the national spotlight.
Fani Willis was raised by a proud African American father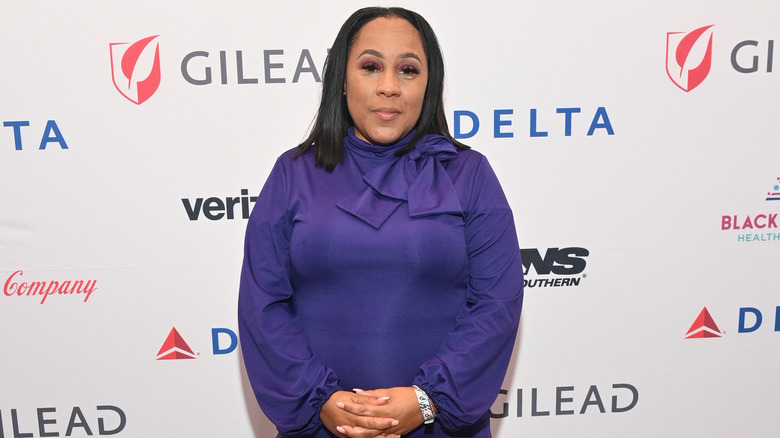 Prince Williams/Getty Images
In 1971, Fani Taifa Willis was born to a father that valued their African American roots. Indeed, the civil rights activist, John Clifford Floyd III, raised her as a single parent. As someone who was fighting for racial equality, Floyd wanted his daughter to share his passion for her family's history. As a result, Willis was given a name that would reflect those family values. 
In an interview with South Atlanta Magazine, which was also shared on Fulton County's website, the Fulton County district attorney opened up about the origins of her name. "So, my father was a Black Panther, so he was very Afrocentric ... my name is Swahili. Fani actually means 'prosperous,' and Taifa means 'people.'" She also revealed, "My name is actually [pronounced] Fani (fah-nee)."
Compellingly though, Willis clarified that the "prosperous" element in her name was not a reference to any kind of social class. Instead, she said, the word was meant to represent cultural wealth. The attorney explained, "We're not talking about material things in wealth, we're talking about that stuff that really matters ... I always remember my roots, that I come from a prosperous people, which are African people."
She wanted to go into law since she was a child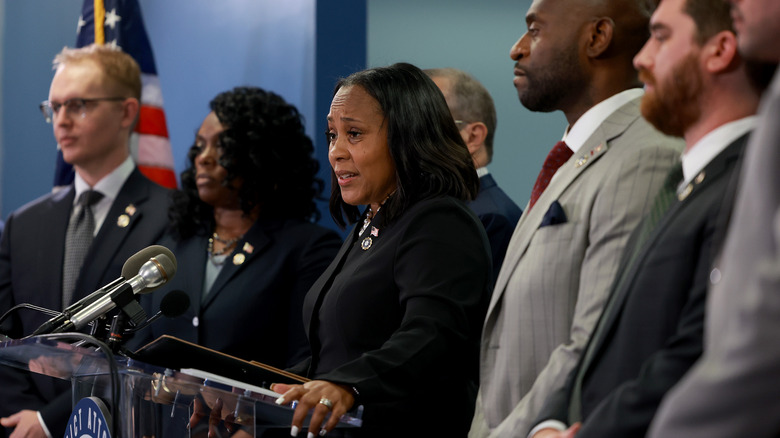 Joe Raedle/Getty Images
John Clifford Floyd III gave his daughter even more than a sense of pride regarding her origins. The civil rights activist also helped Fani Willis foster an interest in the law. A lawyer himself, Floyd was able to expose Willis to the intricacies of the court from the time that she was just a small girl. This was especially true, considering Floyd's status as a single father. When he would head to the court on Saturday mornings to talk to the people who had been arrested the night before, he would bring his young daughter along with him.
Before long, Willis became known by the people who worked in the Washington D.C. court system. One judge, in particular, was even known to spoil her. Speaking to The New York Times about her early introduction to the law, Willis recalled, "There was an old white Irish judge. He would let me come sit up on the bench with him." Sometimes, as Willis sat perched on his knee, he would ask her, "Should we send them home, or are they going to the back?" This experience inspired her to go on and study law. 
Willis had a top-notch education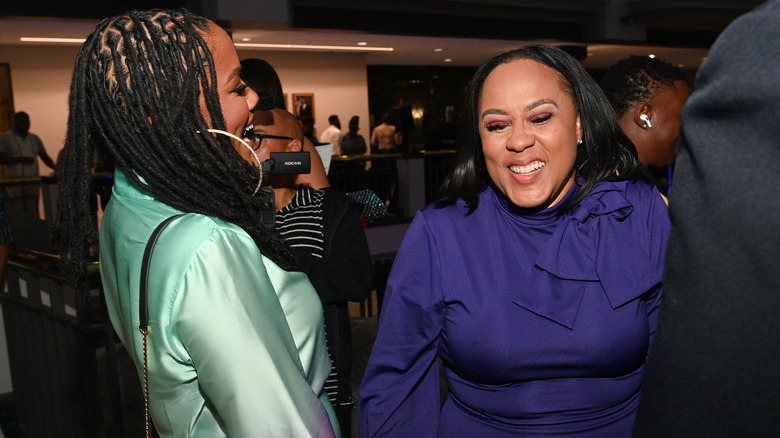 Prince Williams/Getty Images
As the district attorney for Fulton County, Georgia, Fani Willis has a challenging job. But luckily, she has the education to back her up. According to her LinkedIn profile, Willis graduated from Regina High School in 1985 before heading off to the prestigious, historically Black college, Howard University. There, Willis' academic prowess really began to shine. She became the president of Howard's chapter of the Golden Key International Honour Society, a network only available to the top 15% of college sophomores, juniors, and seniors. She also participated in the Pi Sigma Alpha Honor Society before graduating from school cum laude with a degree in political science and government.
In 1993, Willis continued her education at Emory University School of Law, where she proceeded to excel. Two years into her studies, the future district attorney decided to participate in the Frederick Douglass Moot Court competition, a national contest that occurs every year. In this competition, law students must submit three oral arguments that are either pertinent to "public and civil rights law [or] topics of particular relevance to communities of color," per Columbia Law School. Following an outstanding performance, Willis beat out competitors from across the country and brought the winning trophy home. 
Throughout the remainder of her time at law school, Willis never stopped impressing. Before graduating with a J.D. in 1996, the future district attorney earned a Presidential Award for her outstanding performance. She was also a member of the Lamar Inn of Court.
She has fought for the rights of young students
Perhaps due to her own phenomenal educational experiences, Fani Willis has taken an interest students' issues. And it seems that she enjoys giving kids a helping hand. The Fulton County District Attorney's Instagram shows that Willis kicked off the 2023 school year by helping children in need. Per Willis' office, the proud volunteer and her colleagues collected 2,511 backpacks stuffed with school supplies to deliver to underserved communities. Photos reveal that the D.A. herself helped distribute the goodies to interested students. 
Interestingly, though, Willis' commitment to education has spanned way beyond passing out school supplies. During her time as Deputy District Attorney, the lawyer went up against a cheating scandal that was impacting local students. As reported by The 74 (via Yahoo!), Willis led an investigation revealing that local school superintendent, Beverly Hall, and more than thirty colleagues might have been responsible for cheating on state standardized tests. Her research alleged that these teachers were gathering at after-school "parties" where they would erase students' mistakes on these exams ... and fill in the correct answers. In the end, 11 people were found guilty of charges, including racketeering. 
Although Willis' critics say that these charges were perhaps too extreme, the district attorney stands by her decision to take this case to trial. As she told The New York Times, "I'm taking criticism for defending poor Black children, ... people that did not have a voice for themselves."
Willis has a background working with cold cases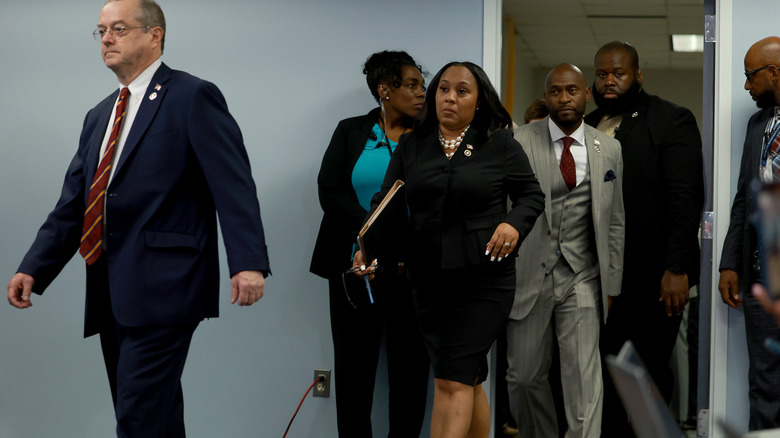 Joe Raedle/Getty Images
Fani Willis is most famous for pursuing racketeering cases, but her LinkedIn shows that she spent almost a decade investigating other serious criminal offenses. During these years, the D.A. dealt with a number of gruesome cold cases. Speaking with Fox 5 Atlanta in 2020, the lawyer reflected on some of the most difficult cases that she worked on. "Eight of those years [working for the district attorney's office] was spent doing either homicides or cold cases, which are usually homicides that have some kind of sexual component. So, I carry those victims with me," she shared.
According to Willis, this line of work really opened her eyes to some pretty intense stuff. As she told Fox 5 Atlanta, "I carry everyone from the babies that I saw shook to death to the murderers that are gun shot. I take all of those victims with me every day." In her view, however, the hardest crimes to confront are the ones that harm children. Willis explained, "The child molestations and the rapes, those are particularly difficult cases because you have there a live victim that, even if you get them justice, they are always traumatized."
In the end, though, the silver lining is that many of Willis' attempts to get justice have been successful. As the lawyer wrote on her LinkedIn, "Cases I have litigated have received widespread media coverage and are the subject of books and/or television movies and documentaries."
The district attorney is no 'shrinking violet'
Prince Williams/Getty Images
Because Fani Willis has seen so much violence during her time working at the district attorney's office, she is not particularly easy to rattle. In a conversation with Fox 5 Atlanta, the lawyer revealed that she is a pretty tough cookie when it comes to facing difficult issues. Willis explained, "Let me say this. You know, I've been a murder prosecutor. I've worked in an all boys' business. I'm not a shrinking violet by any stretch of the imagination."
In Willis' line of work, however, she has to be tough. As explained in a 2021 feature in Time, a number of gruesome crimes have taken place in Fulton County since the COVID-19 pandemic. According to the report, Willis' jurisdiction has seen crimes including the sexual assault and murder of one bartender who was coerced into a car at gunpoint, as well as the stabbing of another bartender who was out walking her dog. There was also the shooting of 8-year-old Secoriey Williamson, who was killed on her way home from watching 4th of July fireworks with her family.
Reflecting on these cases, Willis told Time, "I have ... seen a lot of evil, much more evil than most people will ever have to see." In spite of this, however, the D.A. has shown no signs of giving up. "I have children, I have family. I have myself and would like to live. But I am not in a panic."
She seems to care a lot about crime victims
Although Fani Willis' job is not easy, she seems to find solace in the actual work that she does. After all, the way that she sees things, the lawyers who work in the district attorney's office have the unique ability to fight against some of the most brutal crimes. As Willis shared in her interview with Fox 5 Atlanta, she feels so strongly about her job that she views it as a sort of a religious calling. Reflecting on her past work as a prosecutor, the lawyer revealed, "I do believe the job of a prosecutor, if you do it right, is God's work. You can just help so many people and serve the community. And, it was an honor to be a prosecutor."
Of course, part of the reason that Willis cares so much about her job could be her relationships with local crime victims. Over the years, the lawyer has apparently built bridges with many of these people, and it is possible that this has motivated her to do the best work she can. Chatting with Fox 5 Atlanta, Willis explained, "I still have a lot of relationships with [the victims'] families, meaning that they might inbox me or text me." Compellingly, many of these people supported Willis' 2020 campaign to become the district attorney. As she divulged in the same interview, "A lot have reached out to me during this campaign and just given me their prayers."
Willis' colleagues seem in awe of her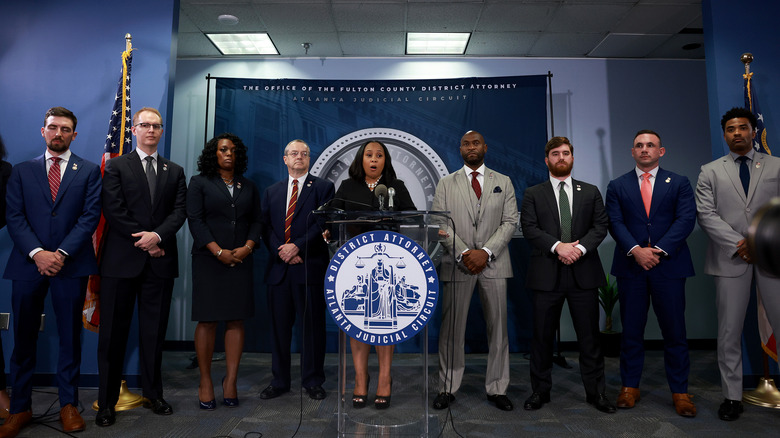 Joe Raedle/Getty Images
Crime victims are not the only ones who appear supportive of Fani Willis. The district attorney's colleagues also seem in awe of her. Ever since Willis' name began appearing in national headlines, many of the lawyers who have collaborated with her have stepped forward to go on the record to express their support for Fulton County's D.A. 
In a conversation with NPR, Willis' former co-prosecutor, Clint Rucker, expressed his admiration for the district attorney's lawyering skills. According to Rucker, Willis is meticulous and completely unafraid to tackle difficult cases. He shared, "You know, listen, man: She dives right into the deep end." What's more, Rucker said that his ex-colleague was really difficult to shake. Referencing the death threats that have been made against the D.A. in light of her investigation into Donald Trump, Rucker hinted that they probably wouldn't be enough to rattle Willis, "If you've gotten one shot when you go into the doctor, you know what it feels like to take a shot. So if you have to take two or three more, you can handle it."
Of course, Rucker is not the only one who holds this opinion. Gerald Griggs, the Atlanta president of the NAACP, told The Guardian, "I think [Donald Trump's] going to be very surprised when he's sitting across from her for months on trial. He'll find out how great of a lawyer she really is."
She seems all about creating a smooth-running work environment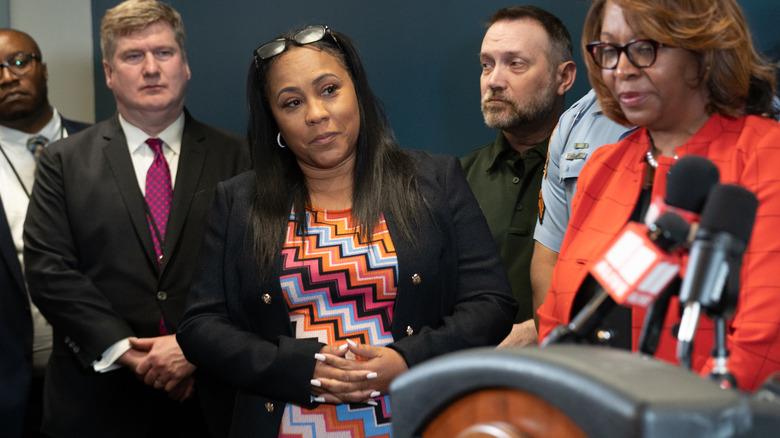 Megan Varner/Getty Images
Perhaps one of the reasons that Fani Willis has garnered so much support from her colleagues has to do with the way that she runs her office. After all, after she was elected as district attorney, the high-powered lawyer dedicated herself to restructuring the entire department. As Willis stated in a Q&A session posted by the Fulton County government, the office that she inherited was not necessarily ideal. "When we took office on January 1 of 2021, we found an office in complete disarray ... We found an office with a historic backlog of more than ... 50,000 cases going back two decades where they had not been properly closed in the system."
Since then, Willis says that she has completely revamped the department, closing the 50,000 cases that were left open and hiring some of the country's top lawyers to work in her office. 
However, beyond those organizational achievements, Willis has spoken about her efforts to lead a safe and professional work environment. Chatting with South Atlantic Magazine (via Fulton County's website), Willis opened up about how workplace harassment helped in her decision to run for district attorney. Apparently, her predecessor, Paul Howard, had been accused of making unwanted sexual comments in the office — an attitude, which Willis condemns. Hoping to make a safer work environment for everyone, Willis consulted a friend, who told her, "You might as well [run against him]." The rest is history. 
The district attorney believes that nobody is above the law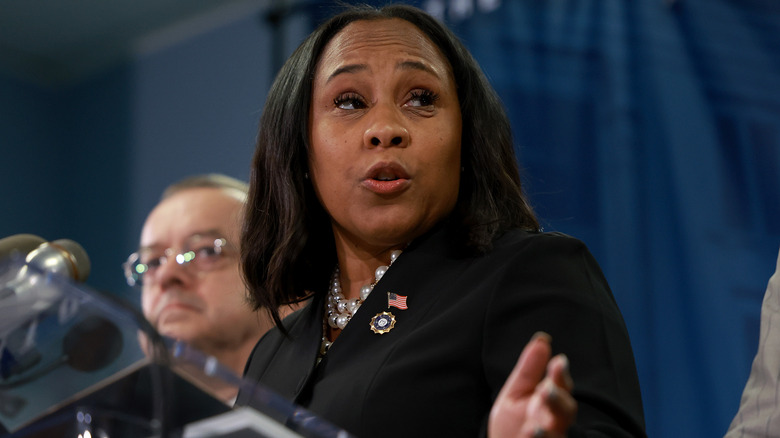 Joe Raedle/Getty Images
One of the biggest guiding principles that Fani Willis has used during her time as the district attorney is the idea that nobody is above the law. This is an idea that she has articulated since before Donald Trump's controversial phone call to Brad Raffensperger even took place. Indeed, NPR reports that Willis swore her commitment to treat everyone equally from the moment that she was sworn into office, stating, "My career has taught me, no matter the political pressure, just do what's right. And no matter if you were at the state Capitol or the slums, you will be held accountable if you commit a crime in my community."
Within weeks, though, Willis found herself investigating someone whose reach went far beyond Georgia state lines. Indeed, the erstwhile hotel owner and former president's allegations of election fraud soon had generated interest on a national level. However, this did not seem to deter her. Speaking to The New York Times about this issue, Willis stated, "Anything that is relevant to attempts to interfere with the Georgia election will be subject to review." After all, in her eyes, a deep dive into potentially illegal actions is always warranted — no matter who it is that she is looking into. She explained, "An investigation is like an onion. You never know. You pull something back, and then you find something else."
She is the single mother of two young women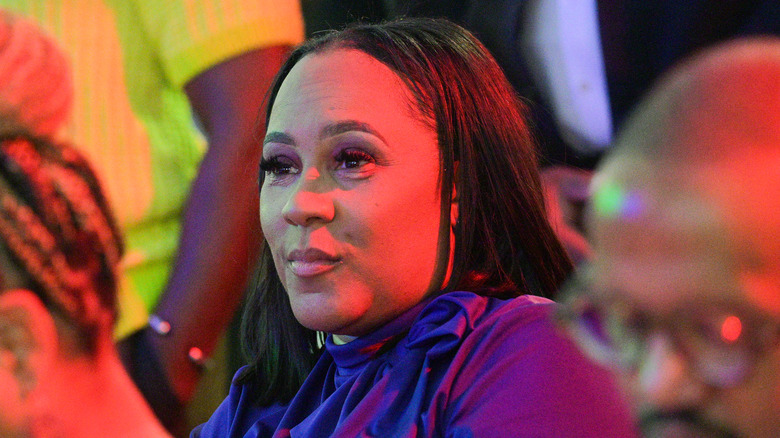 Prince Williams/Getty Images
On top of being a high-profile district attorney, Fani Willis is a family woman. While she is not married, she does have two adult daughters. As she shared in a 2020 interview with Fox 5 Atlanta, "I'm a single mom. I've been a single mom for a long time. I have daughters that are 20 and 22."
Because of this unique position, Willis has had to balance her responsibilities as a parent with her duty to the nation. As the district attorney told Fox 5 Atlanta, she even thought twice before running for public office due to the financial strain that losing would have placed on her family. "I am their only source [of income]," Willis clarified. "You know, financially, this put me in a bind ... My kids gotta still eat! We still have to figure out how college is going to be paid." In the end, though, Willis' sacrifice was worth it. She won the election and was able to continue to provide for her daughters. 
If you or anyone you know has been a victim of sexual assault, help is available. Visit the Rape, Abuse & Incest National Network website or contact RAINN's National Helpline at 1-800-656-HOPE (4673).