A Look At The Deep Connection Between Chrissy Teigen's Family & Her Surrogate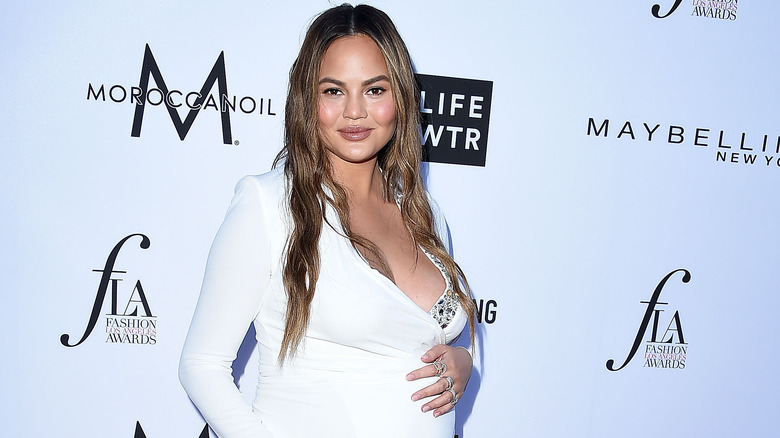 Steve Granitz/Getty Images
Chrissy Teigen is not one to shy away from speaking her truth. From infamous Twitter feuds to being open about her own pregnancy struggles, the "Cravings" author is pretty much an open book. So when she and her husband John Legend welcomed their son via surrogate, Teigen was open about her gratitude. She dedicated an Instagram post to her journey with the woman who carried her son.
"We want to say thank you for this incredible gift you have given us, Alexandra," Teigen gushed of her surrogate. "And we are so happy to tell the world he is here, with a name forever connected to you, Wren Alexander Stephens." Teigen also opened up about Alexandra's own sacrifice on their behalf, after the first embryo they tried to implant did not survive. This occurred while Teigen was still on her own IVF journey. She wrote: "As we crept toward the safe zone of my own pregnancy, we were overjoyed to learn Alexandra had become pregnant with a little boy. Our little boy."
Legend and Teigen have been vocal about their fertility struggles for years. With their two new additions in 2023, Teigen said that she finally feels that their family is complete. However, their joy was preluded by loss: the couple heartbreakingly lost their third child in 2020.
Chrissy and her surrogate share a close relationship
Chrissy Teigen's touching tribute to her surrogate was not for naught — according to the mother of four, Alexandra found her own place as a family member during their year together. Teigen reminisced on her time watching reality TV and sharing dinners with her dear friend. "I wanted to be her friend, I wanted our children to play, I wanted dinner together," she wrote in her Instagram post. "I wanted them to be in our lives for as long as time would allow." She also shared a sweet photo of herself kissing Alexandra's stomach while pregnant.
Alexandra responded in the comments under Teigen's post, sharing her appreciation right back: "Thank you for choosing me, for making this whole experience so wonderful," she wrote (per People). "​​For loving me and my family whole heartedly. It was truly an honor bringing perfect Wren into the world with you right by my side."
After losing baby Jack in 2020, Legend and Teigen were surprised to have both a successful surrogate and IVF pregnancy at the same time. While she was pregnant with their daughter Esti, Legend revealed that they were quite nervous ahead of their third child. The "All of Me" singer told the Today Show: "Whenever you lose a pregnancy, it is always cautious optimism when you are pregnant again because you never know what could happen and you have experienced that tragedy of losing one," (via The Independent).
John and Chrissy suffered a devastating loss in 2020
Chrissy Teigen and John Legend are one of Hollywood's top power couples. They married in 2013, after meeting on a music video set, which led to a whirlwind romance in 2006. Since then, they have had four children: Luna, Miles, Esti, and Wren. But before their family became complete, Legend and Teigen faced extreme complications at the end of their third pregnancy. In 2020, the model posted a heartbreaking message to Instagram about losing her baby, whom they had already named Jack.
"We are shocked and in the kind of deep pain you only hear about, the kind of pain we've never felt before," Teigen's caption read. "To our Jack — I'm so sorry that the first few moments of your life were met with so many complications, that we couldn't give you the home you needed to survive. We will always love you." 
She later disclosed that they lost Jack due to a medically induced abortion halfway through her pregnancy, even though headlines had said the couple had a miscarriage. "Let's just call it what it was: It was an abortion," Teigen said at the "A Day of Unreasonable Conversation" summit (per OK! Magazine). "An abortion to save my life for a baby that had absolutely no chance." After this devastating loss, the couple remained optimistic about adding more children to their family. Gratefully, Legend and Teigen welcomed two more children in 2023: a daughter, Esti, and a son, Wren.