King Felipe's Connection To The Late Queen Elizabeth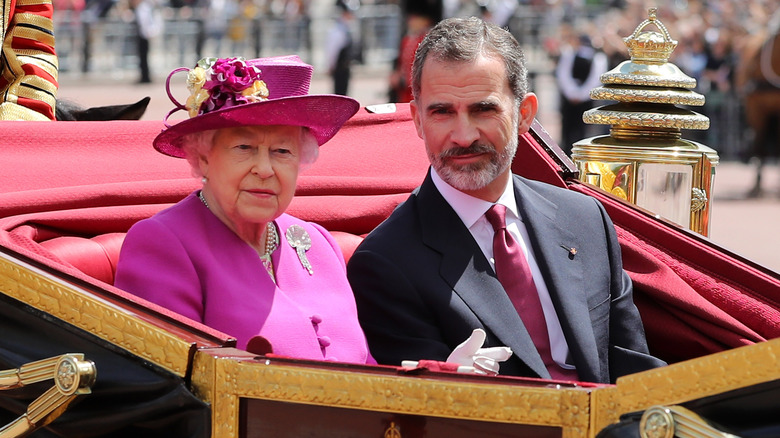 Dan Kitwood/Getty Images
Back in 2017, during a state visit to the U.K., King Felipe VI of Spain noted in a speech that both Spain and the U.K. were "profoundly intertwined," per BBC. This interconnection extends beyond the political to the personal, since the members of the Spanish and British royal families are related to each other.
The Spanish king and the late Queen Elizabeth are third cousins once removed, and both have Queen Victoria as their shared ancestor. Known as "the grandmother of Europe," per Hello!, Victoria had nine children, and her descendants are part of the royal families of the U.K., Spain, Denmark, Sweden, and Norway. In Queen Elizabeth's family tree, Victoria's second child, King Edward, was Elizabeth's great-grandfather. For King Felipe, Victoria's youngest child, Princess Beatrice, was Felipe's great-great-grandmother. Beatrice's daughter, Queen Victoria Eugenie, joined the Spanish royal family when she married King Alfonso XIII. In honor of Felipe's 2017 state visit, Elizabeth presented her royal cousin with copies of letters chronicling the romance of Victoria Eugenie and Alfonso. 
Felipe is also connected to Elizabeth via his mother, Queen Sofia. Sofia is descended from Queen Victoria's oldest child, Victoria, Princess Royal. Both of Sofia's parents can trace their heritage to a son and daughter Princess Victoria, further cementing the ties of Spanish and British royalty. 
King Felipe called Queen Elizabeth Aunt Lillibet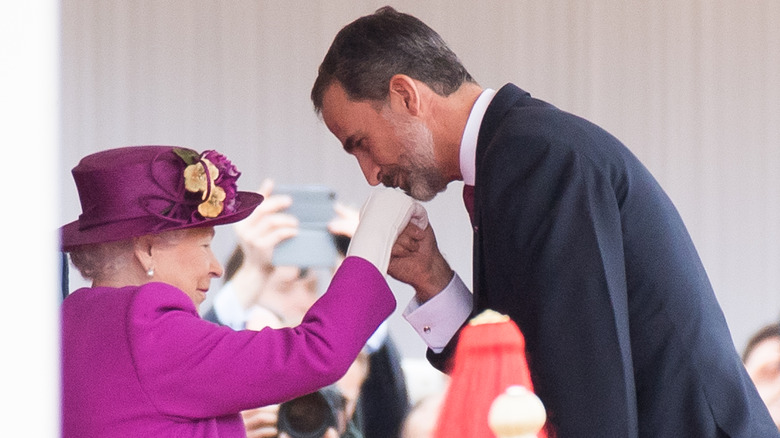 Samir Hussein/Getty Images
As further evidence of the closeness between the Spanish and British royal families, King Felipe VI of Spain used a special family nickname when referring to Queen Elizabeth.  After Prince Philip, Duke of Edinburgh, died in 2021, Felipe sent a heartfelt letter to Queen Elizabeth. "Dear Aunt Lilibet," wrote Felipe and Queen Letizia, per Hola! "We were deeply saddened to hear of the passing of our dear Uncle Philip."
Felipe's being allowed to call Elizabeth "Lilibet" denoted him as a close member of her inner circle. "This is a very, very personal nickname," NBC News royals commentator Daisy McAndrew explained to Today in 2021. "'Lilibet' became the queen's nickname when the queen was a toddler herself and couldn't pronounce Elizabeth." In her final years, very few people called her Lilibet as most of the royals who had used the nickname, including Elizabeth's parents, grandparents, and Philip, predeceased her.
Felipe's mention of "Uncle Philip" also denotes a family connection that goes beyond the late prince's marriage to Elizabeth. The king of Spain and Philip have a shared family tree since Philip also claimed Queen Victoria as an ancestor. His great-grandmother, Princess Alice, was Victoria's third child. In addition, Philip is related to Felipe's mother, Queen Sofia, since they're both descendants of Greece's King George I. 
King Felipe of Spain has been a guest at significant royal events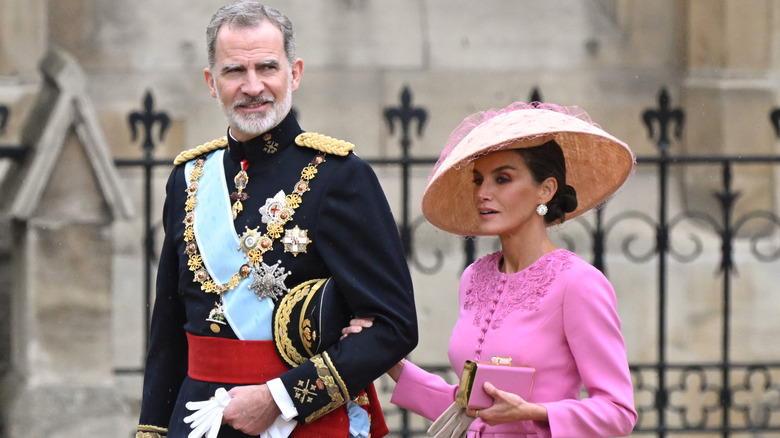 Anwar Hussein/Getty Images
Due to his status as a monarch and a relative of the British royal family, King Felipe of Spain has attended some significant events in the U.K. In May 2023, Felipe, along with his wife, Queen Letizia, were guests at King Charles' coronation. Although Charles broke tradition from Queen Elizabeth's coronation and planned a more streamlined event, his coronation was still far more opulent than King Felipe's 2014 ceremony. At that time, Spain was dealing with economic difficulties, and Felipe's father, King Juan Carlos I, had abdicated, so a lavish event would have been out of place. Felipe and Letizia didn't wear crowns, and the event was limited to a speech by Felipe at Spain's Parliament, along with a short parade. 
Felipe also attended Queen Elizabeth's state funeral in September 2022. While the Spanish king was there as a monarch and a distant relative of the late queen,  Felipe's father, Juan Carlos, was present due to his family's ties alone. The presence of the father and son together at the high-profile event was also significant since they experienced a rift in their relationship after the 2014 abdication. Their relationship was further strained when Juan Carlos was embroiled in corruption allegations in 2020. It was only in May 2022 that the former king returned to Spain after living in the United Arab Emirates.