Where Does Kylie Jenner's Relationship With Ex-BFF Jordyn Woods Stand?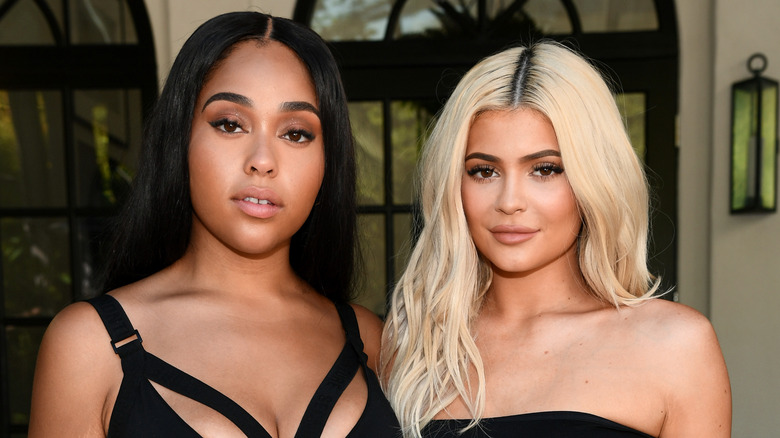 Emma Mcintyre/Getty Images
The Kardashian-Jenner web of friendships, marriages, and baby daddies requires a Ph.D. in reality TV to fully understand ... At just 21, Kylie Jenner was declared the youngest "self-made" billionaire, thanks to her makeup brand Kylie Cosmetics. Although she's not quite a billionaire and definitely not "self-made," Kylie is still one of the wealthiest people in the world of reality TV. In the midst of expanding her brand and selling out countless lip kits worldwide, the youngest Jenner sister had the support of her best friend, Jordyn Woods. Like the Kardashian kids, Woods comes from a well-connected Los Angeles family. Her father, John Woods, was a Hollywood sound engineer and a close friend of Will Smith's in the '90s.
Jordyn and Kylie were introduced by their mutual friend, Jaden Smith, in 2012. In a 2018 Q&A, the then-besties remembered their first hang-out: "I think we were like 8th-grade summer going into 9th grade and then you put your name in my phone with a purple heart," Kylie shared. They got matching tattoos in 2016 and even took part in a televised commitment ceremony the following year. "It's like a marriage for friends," Kylie said on her solo show, "Life of Kylie," adding, "I want people to know that we're more than that. She's my girlfriend. I care for her like I care for my girlfriend" (via People). Sadly, their friendship imploded in 2019 when Jordyn kissed Tristan Thompson, Khloé Kardashian's boyfriend and the father of her daughter, True. Kylie stood by her sister.
Jordyn Woods felt like she had no one to talk to
In February 2019, Jordyn Woods, Tristan Thompson, and several mutual friends attended a Drake concert. Jordyn went to an after-party at Thompson's house. "Jordyn stayed at Tristan's house partying with him and his friends until the early hours of the morning, and they were very touchy," an insider told E! News. At the end of the evening, the pair reportedly shared a kiss although, according to Woods, there was "No passion, no nothing" (via "Red Table Talk"). The Kardashian-Jenner family (Kylie included) cut ties with Woods, and the model was left with no one. "You take everything you think you know for a whole decade, the people you think you know, the life you think you know, everything that you've grown up doing and you take it all away from someone. I didn't even know how to feel," Woods told Natalie Manuel Lee of Hillsong Channel.
Jenner also struggled after losing her BFF. "It was very difficult for Kylie to just cut Jordyn out of her life," an anonymous source told People in May 2019, just a few months after the scandal broke. "Kylie is still in contact with Jordyn occasionally, but they are never going to be best friends ever again," continued the insider. As of summer 2023, however, the ex-besties have been rebuilding their bond. Woods and Jenner were spotted on a dinner outing and even went shopping at Acne Studios during New York Fashion Week, per TikTok.
Kylie Jenner and Jordyn Woods made things TikTok official
Although they might not be as close as they were during their teenage years, Kylie Jenner and Jordyn Woods have been working on rebuilding their friendship. "Jordyn reached out to Kylie to apologize for how everything went down and let her know that she loves her," a source told People in July 2023 after the friends were photographed leaving a Los Angeles restaurant together. Allegedly, they've been spending time together out of the spotlight for the past year. During New York Fashion Week, Woods made her debut on Jenner's TikTok page. In the short video, the pair visit Ance Studios and check out the brand's new dirty denim collection. 
For the most part, fans shared their support in the comments. As for how Khloé Kardashian feels about the whole Jordyn Woods situation? "I don't have any grudge against Jordyn. I think people make mistakes. People live and they learn. And I forgive both parties," she told Andy Cohen on the "Keeping Up With the Kardashians" reunion in 2021, per E! News. We're guessing it's all good between the sisters. After all, Khloé never told Kylie she couldn't be friends with Jordyn.
Along with rebuilding bridges with her ex-BFF, the "billionaire" business mogul has also been spotted with Timothée Chalamet. It seems both friendship and romance are in the air for the youngest Kardashian-Jenner sister.