Jordyn Woods Proves Her Allegiance Is Always With Will Smith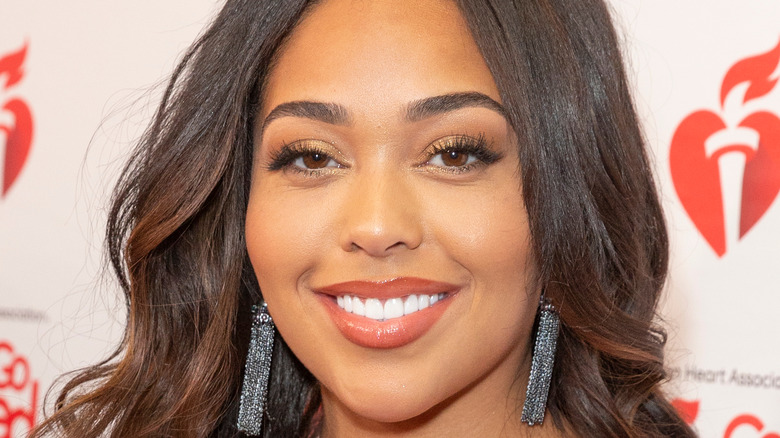 lev radin/Shutterstock
Although Will Smith may remember the 94th Academy Awards as the first time he won an Oscar, per NPR, the event will likely go down in history for a completely different reason. Shortly before his best actor win was announced, Will stormed the stage to slap comedian Chris Rock, after the latter made a joke at Will's wife, Jada Pinkett-Smith's expense. Per Variety, Rock poked fun at Jada's bald head, despite the fact she has been public about her struggles with alopecia. As Variety noted, Will's reaction stunned fans, viewers, and all of Hollywood. Will's mother, Carolyn Smith, even told the outlet that the slap "[was] the first time I've ever seen him go off. First time in his lifetime ... I've never seen him do that."
Following the viral moment, fans took to social media to air their views on the slap heard 'round the world. While the "Men in Black" star drew much criticism for his violent act, others supported his decision to defend his wife against a joke that was made in poor taste. As expected, Will's inner circle stood by him amid the media firestorm. This included his son, Jaden Smith, his "Fresh Prince of Bel-Air" co-star Janet Hubert, and a close family friend. 
Jordyn Woods congratulated Will Smith on his big win
Following the Academy Award controversy, model Jordyn woods took to Instagram to declare her support for Will Smith. Woods shared a photo dump of her night at the Oscars, including a shot of both her and Will (who was holding his Oscar statuette), as well as a group shot with Will's children, Willow and Jaden Smith. Woods captioned her post, "Well deserved Oscar, family forever." The pair have known each other for many years. According to E! News, Woods' father was a sound engineer on Will's hit show, "The Fresh Prince of Bel-Air." The two families reportedly met during this time, and have remained in each other's lives ever since.
The Smith family even stood by Woods when she found herself at the center of a cheating scandal involving the Kardashians, per Us Weekly. In 2019, Woods — who was then best friends with Kylie Jenner — was accused of making out with Khloé Kardashian's ex, Tristan Thompson, and she consequently took to Jada Pinkett-Smith's "Red Table Talk" to share her side of the story. During the interview, Us Weekly reported that Will promised Woods, "This world is not going to break you. We won't allow it." Now that Will is facing a controversy of his own, it's clear that Woods is more than happy to offer him the same support.