Times Fergie Proved She's Totally Supportive Of Her Ex-Husband Josh Duhamel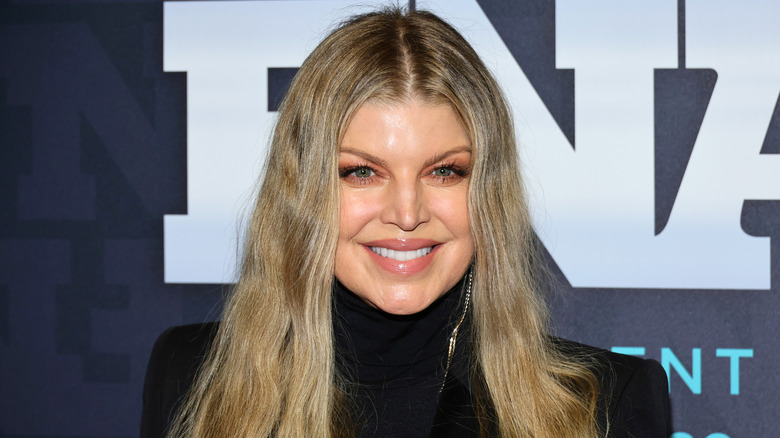 Theo Wargo/Getty Images
Josh Duhamel's first interaction with his ex-wife, Fergie, was pretty embarrassing — at least for him. The year was 2004 and he was starring on the network show "Las Vegas." The Black Eyed Peas were making a guest appearance, and Duhamel decided to shoot his shot with their frontwoman. "After they finished rehearsing, I was walking out, and all of a sudden she was walking toward me," he remembered in a conversation with Best Life, per People. He opted for an awkward pickup line, calling out "You're hot" in a desperate voice. 
Considering his iconic rom-com roles over the years, we would have guessed he could do better. Fergie, however, wasn't put off. She'd read in InStyle that the actor had a crush on her, and she was curious to see what would happen between them. The rest is history — they said "I do" in 2009 and welcomed their son, Axl Jack, in 2013.
Although Fergie and Duhamel decided to divorce in 2017, the pair have remained on good terms, expertly co-parenting their son. "There's so much love that we have for each other. We really like each other. We have fun with each other. We're just not a romantic couple anymore," the singer explained to Entertainment Tonight after they'd gone their separate ways. Fergie has also been supportive of Josh Duhamel's romance with pageant queen, Audra Mari, and has even cheered them on throughout all their relationship milestones.
Fergie was happy for Josh Duhamel when he got remarried
Josh Duhamel started dating Audra Mari, a pageant winner and model, in 2019. Although there's a 21-year age gap between them — Mari was around 10 when Duhamel met Fergie in 2004) — they still have a lot in common. "She's a very sweet girl," he told Access Hollywood, adding, "[We have] very similar interests — we're from North Dakota, we love lake life. She's got a cabin not far from mine. We just match. She's an amazing person." He proposed to her in 2022 with a message in a bottle (apparently, the choreography took quite a bit of work), and Fergie expressed her public support, writing "Congrats!!!" under their announcement post. The couple officially said "I do" in Fargo, North Dakota in September 2022.
A year later, Audra Mari announced that she and Josh Duhamel were expecting their first child together. Fergie couldn't have been more supportive, commenting, "I am truly happy for you guys," under the Instagram post and adding, "Axl can't wait to be a big brother." Fergie fans called the singer a "class act" and applauded her for her mature stance. "This is the sweetest! I Love seeing this kind of co-parenting," read another comment. Duhamel has been outspoken about his desire to have another kid, telling host Dax Shepard on "Armchair Expert," "I'm not 30 years old anymore. I'm 45. I want to have more kids."
Josh Duhamel has also spoken up in support of Fergie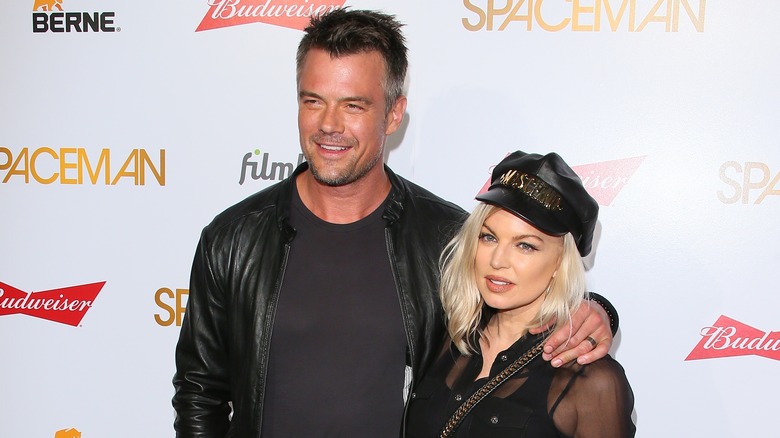 Jb Lacroix/Getty Images
After performing a disastrous rendition of "The Star Spangled Banner" at the NBA All-Star Game in 2018, Fergie went through a bit of a rough patch in her career. Josh Duhamel stood by her side through it all. "The girl's crazy talented," he said on "The Ellen Show," adding, "She's an amazing woman... an amazing human being, really. It's hard to see someone you care about get beat up like that." He went on to add that she's pretty resilient. "That's the business, you know? You're in the business and you put yourself out there and sometimes you win and sometimes you don't," he said.
Although Fergie hasn't released any solo albums since 2017 — we're still waiting on "Triple Duchess" — she's been plenty busy. The former Black Eyed Peas singer performed with Jack Harlow at the 2022 MTV Video Music Awards and spends a lot of quality time with her son, Axl. As one source reassured Entertainment Tonight, "Josh has been there for Fergie and they have managed to co-parent very well." Axl's mother enrolled him in hip-hop classes at a young age, and his father encouraged him to try out Tee Ball —he's grown up to be a mix of both stars. According to the ET insider, "Josh loves Fergie and is happy she's moved forward. He's moved on and wants to remain a close friend to Fergie."