The Celeb Christina Applegate Credits For Helping Her On Her Health Journey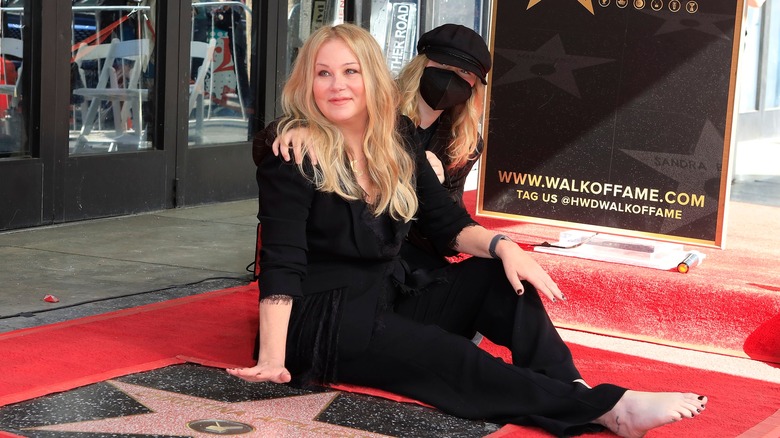 Kathy Hutchins/Shutterstock
Christina Applegate is one of the most beloved sitcom actresses, with a career that spans over five decades. She got her first role when she was just a baby and later continued to act in theater productions, movies, and TV shows. We can all remember her performance as Kelly Bundy in the sitcom "Married ... with Children" and her other roles in "View from the Top," "Surviving Christmas," and "Bad Moms." Sadly, Applegate's health struggles eventually forced her to quit acting.
The "Married ... with Children" star underwent several surgeries following a breast cancer diagnosis in 2008. She also experienced insomnia for two decades, which left her feeling drained. In 2021, Applegate shared heartbreaking news about her health, saying she was diagnosed with multiple sclerosis (MS), a neurological disease that affects nerve and muscle function. Its symptoms may include difficulty walking, poor balance, numbness, fatigue, memory loss, and speech problems — just to name a few.
Applegate first felt that something was wrong while filming the first season of "Dead to Me." The actress started to lose her balance, but she didn't think much about it. Luckily, her friend and former co-star, Selma Blair, urged her to get tested for MS. Blair was diagnosed with the disease in 2018 after ignoring its symptoms for decades. 
Christina Applegate got life-changing advice from former co-star Selma Blair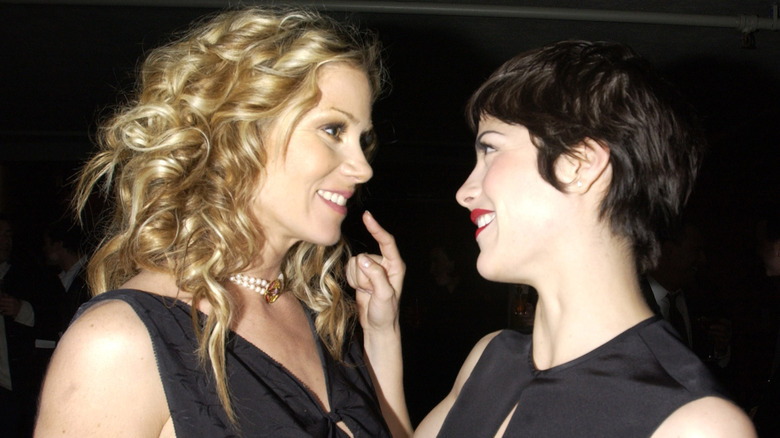 Kmazur/Getty Images
The "Bad Moms" star told The New York Times that she has been experiencing tingling and numbness in her limbs for years. At some point, she mentioned her symptoms to Selma Blair, who encouraged her to seek help. "I was sitting in Selma's living room, our children playing, and I told Selma I'd been having this weird tingling in my feet," Christina Applegate confessed in an interview with British Vogue. "She said, 'You must get tested for MS,'" the actress added.
Applegate and Blair starred together in the 2002 comedy film "The Sweetest Thing." Blair put her career on hold after being diagnosed with MS in 2018, but now she's in remission. The symptom that urged her to get tested for the disease was a loss of feeling in her left leg. However, Blair's health problems began in her early 20s, and she felt relieved knowing it wasn't all in her head.
Unfortunately, she turned out to be right about her friend's diagnosis. After undergoing several tests, Applegate found out she had MS — and everything started to make sense. "I didn't know what was happening to me," she said on the "Kelly Clarkson Show" (via Page Six). "I couldn't walk. They had to use a wheelchair to get me to set. I was freaking out," Applegate recalled. 
The two stars support each other through their MS journeys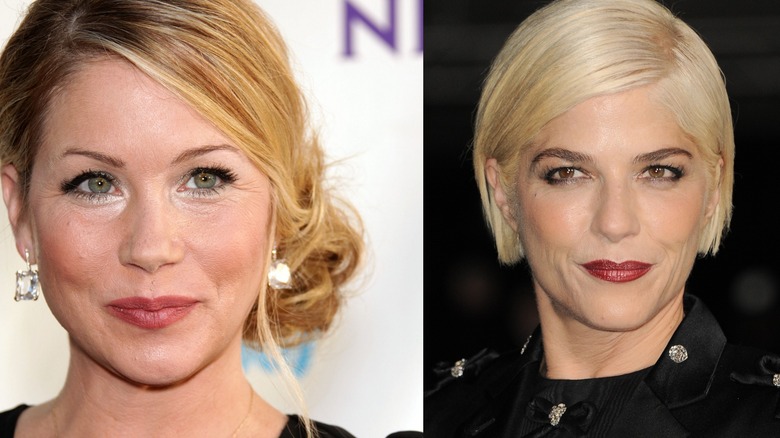 DFree & Tinseltown/Shutterstock
Multiple sclerosis has non-specific symptoms that develop over time. For this reason, it often goes undiagnosed. With that in mind, Christina Applegate and Selma Blair are trying to raise awareness of the disease. "I do think representation matters. If I can help remove stigma or over-curiosity in a crowd for someone else, then that's great," Blair told British Vogue.
The "Married ... with Children" stars joined forces with Neo Walk, a brand of mobility aids. Together, they designed a clear acrylic cane, with 5% of the profits going to MS research. Applegate got involved in this project as part of her efforts to help those living with multiple sclerosis. Her health condition also brought her closer to Blair, cementing their friendship. "She's such a nurturer. If you need something, she's at your house," Blair confessed in an interview with Entertainment Tonight.
Applegate is currently trying to get her life back on track. According to Vanity Fair, the actress asked a friend to live with her on weekdays and look after her daughter, Sadie Grace. She also hired a weekend caretaker to help her around the house. "I like to keep it as quiet and mellow as possible," she told Vanity Fair. Although she doesn't plan to act on camera again, she's open to voiceover roles.