The Stunning Transformation Of Melissa Joan Hart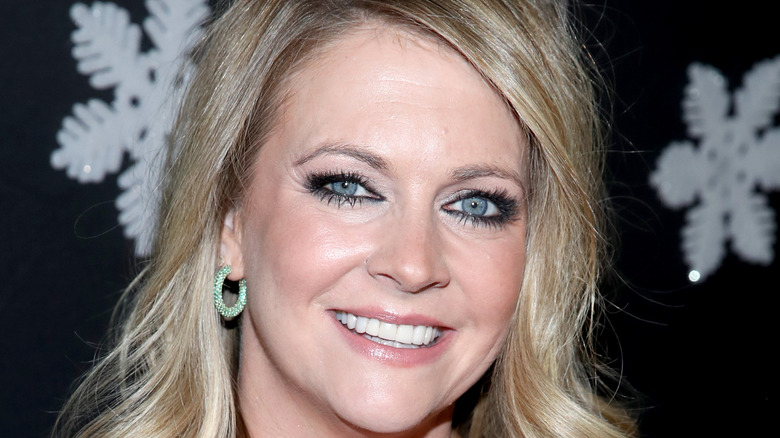 Randy Shropshire/Getty Images
Looking back on our most beloved treasures of the '90s, it seems almost impossible to think about the era without the thought of "Sabrina the Teenage Witch" passing through our brains. Between the lighthearted plotline, loveable characters, and iconic fashion, "Sabrina" was a television show that captured the hearts of all ages. At the root of the series was the fairly new to the scene Melissa Joan Hart, who took on the role of Sabrina Spellman when she was just 20 years old — which was several years older than the character she was playing. Hart's humorous and sarcastic personality made her the perfect fit for a teenager who comes to find out that she and her family are witches.
These days, Hart is mostly focusing on her role as a mother. "As far as raising them, they can see I am in the working world and I have a really good work ethic," she said in an exclusive interview with Hello! "I'm trying to teach them to stay busy, to be a part of your community. I'm trying to make them well-rounded men." Her husband, Mark Wilkerson, stays at home with the children while Hart — whose role has now reversed to behind-the-camera work — tackles her career as a director.
A lot has happened in between the "Sabrina" years and Hart's current place in motherhood and directing. Here, we're taking a look at the stunning transformation of Melissa Joan Hart.
Melissa Joan Hart started acting when she was four
Hart was raised in Sayville, New York by her parents William and Paula Hart. She's the oldest of eight children — most of whom eventually made guest appearances on "Sabrina." Born with a natural talent, she landed her first acting gig at the age of four in a commercial for a children's toy called Splashy. Her mother Paula became her agent, while also making sure Melissa stayed well-rounded in the world of child actors. "A lot of credit has to go to my parents and the way I was raised," Hart told Fox News regarding her avoidance of the "child star curse."
"And also being the oldest sibling with all of these kids and having a sense of responsibility for them," she continued. "And I was kept out of Hollywood. I filmed my first show ["Clarissa Explains It All"] in Orlando... I feel like keeping me grounded, keeping me out of the spotlight so much maybe kept me out of trouble." Like many of her thespian peers, Hart spent a lot of her early years in theater. While she performed alongside big names like William Hurt in 1989 and Martin Sheen on Broadway in 1991, she notes old Hollywood actresses such as Shirley Temple and Audrey Hepburn as being her greatest inspirations.
Her first big television break was on 'Clarissa Explains It All'
After several theatrical productions and commercials, Melissa Joan Hart broke into television when she was cast as the lead character on Nickelodeon's "Clarissa Explains It All" in 1991. The sitcom was about a teenage girl navigating the ups and downs of adolescent years, all while speaking directly to the audience about her thoughts and feelings. Unexpectedly, the show became a massive success. "It has gone further than any of us originally imagined," "Clarissa" producer Chris Gifford confessed to the Orlando Sentinel back in 1993. "Although we thought the show was good, we didn't know how it would do because it was on cable. At that time, I don't think any of us knew that Nickelodeon was going to be this popular."
The show garnered fans of all genders, particularly because young girls could relate to the coming of age issues, while Hart harbored plenty of admiration from her other viewers as well. On her success of playing Clarissa in the show, Hart told Fox News, "Everyone wants that one character who's iconic, lives on and still lives in people's memories. I'm just honored I have people tell me every day 'I grew up with you.' It's just so lovely. Everyone thinks I went to high school with them. They all feel like I'm a friend and that's such an amazing feeling."
She didn't finish college so she could star in 'Sabrina the Teenage Witch'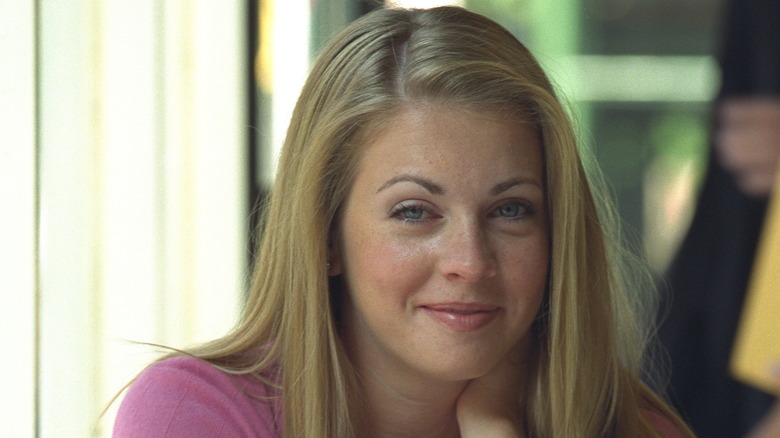 Susan Stava/Getty Images
Melissa Joan Hart was accepted into New York University, which she attended only for a short amount of time. The reason? In 1996, she was offered the starring role of Sabrina Spellman in a new upcoming sitcom called "Sabrina the Teenage Witch." Based off of the comics by the same name, the story follows 16-year-old Sabrina as she learns of her true identity as a witch on her birthday. Sabrina has to figure out how to balance being a normal teen girl with studying and practicing witchcraft — all with the help of her two aunties. Like "Clarissa," the show became a phenomenon.
In fact, the series was met with a whopping 17 million viewers during its debut episode and went on to run for seven more years, albeit on different channels. While many were quick to compare her character to "Clarissa," Hart enforced just how different the two girls were. "Clarissa is very strong, self-assured and can handle anything," she told The New York Times in 1996, "whereas Sabrina is confused, frustrated and trying to find where she fits in. Their only similarity is that they don't give in to peer pressure. If there is any message, it's 'Be yourself."'
Her iconic collab with Britney Spears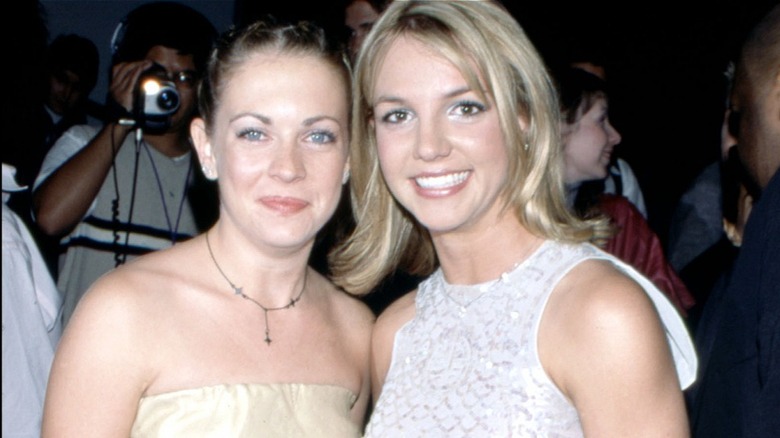 Everett Collection/Shutterstock
While "Sabrina" was still riding on the wave of success, Melissa Joan Hart was simultaneously taking on movie roles. At the same time, Britney Spears was fresh on the scene and working her way up to mega-stardom. Hart and Spears' paths would end up crossing when the singer released a remix of her song "(You Drive Me) Crazy" to promote a new film Hart was starring in called "Drive Me Crazy." To further help promote the movie, Hart and her co-star, Adrian Grenier, made guest appearances in the music video for the song. 
To promote the movie, Hart also posed in lingerie on the cover of "Maxim" in 1999. In 2023, nearly 25 years after the "Maxim" shoot, Hart spoke to some of the cast of "Boy Meets World" on their podcast called "Pod Meets World." She revealed that her racy magazine cover had almost cost her her career, explaining that her lawyer had shown up to the "Drive Me Crazy" premiere to tell her that she was being sued and fired by the "Sabrina" comic book publishers for breach of contract. Hart's photos with Spears at the "Drive Me Crazy" premiere happened after the TV star had been crying. The publishers of the comic had mistakenly thought the cover was promoting "Sabrina" instead of "Drive Me Crazy," which went against Hart's contract by sexualizing her character. In the end, Hart wrote an apology letter to the publishers, and she was allowed to remain on the show.
She had a whirlwind romance with 'Boy Meets World' star Will Friedle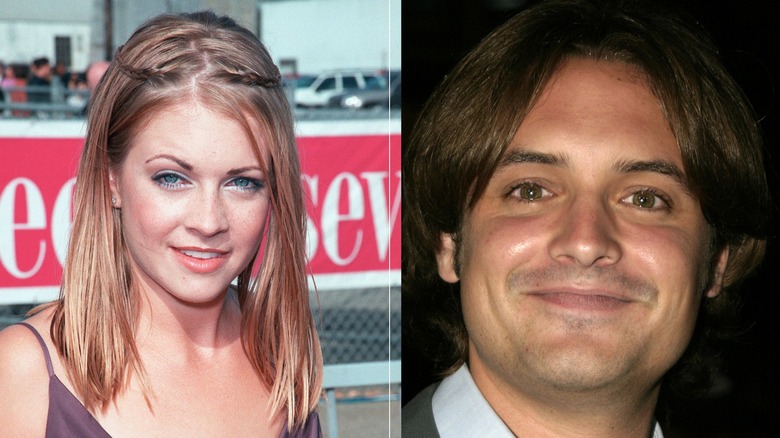 Tinseltown & Featureflash Photo Agency/Shutterstock
During her guest appearance on "Pod Meets World," Melissa Joan Hart reminisced about the teenage romance she shared with "Boy Meets World" star Will Friedle, who was known for playing Eric Matthews on the show. "Thank God for Will," she said. "He was, like, my heartthrob. All my books said 'I heart Will' when I was, like, 14." Apparently, it all started when Hart threw a birthday party at an arcade, and Friedle was invited. "I was with you for, like, your 14th birthday or 15th," said Friedle, which would have been around 1990 or 1991. "Remember we went to some place where it was those big tanks you could drive or shoot the tennis balls at the other — that was us there."
He continued, "We went out for that, and we were, like, making googly eyes at each other. And by the end of the night, we were 'dating' and all that kind of stuff. It was a whirlwind romance. I don't think we even kissed — did we even kiss?" he asked Hart, who couldn't remember either. Hart explained that years down the road, she re-discovered all her old notebooks with "I heart Will" all over them, and initially, she couldn't even remember who Will was. "At first I was like, 'Who's Will?' And then, something came to me where I was like, 'Oh my God! I know who that is!'"
She found a passion for directing on the set of 'Sabrina'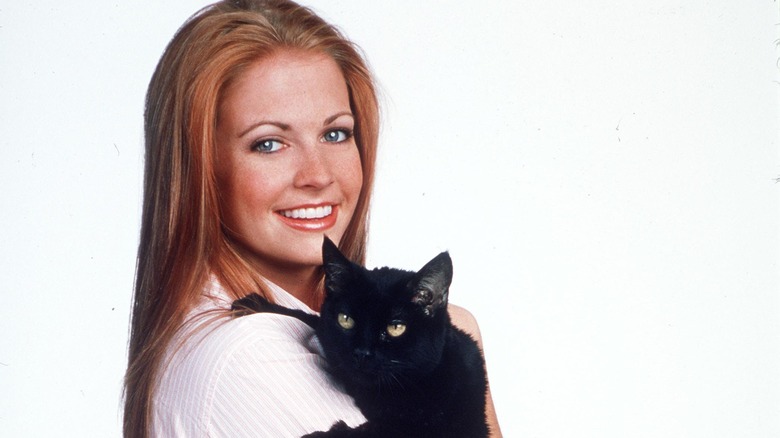 Getty Images/Getty Images
While on the set of "Sabrina," Melissa Joan Hart was given the chance to do some behind the camera work. To her surprise, she ended up really loving it. "We had these really seasoned directors that would come on set and ask, 'How do we do the cat?' and I would have to explain it," Hart shared with CBS News. "I realized I should just do this. My mother was my executive producer, threw me my DGA [Directors Guild of America] cards and said you're directing the next one. Thank God she did that because who knows if I would've ever taken that lead. It was really hard to be in front and behind the camera."
In 1999, as "Sabrina" was entering its fourth season, Hart was ready to take the character to a more mature level. "I'll be a little more grown-up — and I'm getting a job," she told the Los Angeles Times that year. Hart was also cast as Sabrina's Aunt Hilda and Aunt Zelda in 1999 for "Sabrina, the Animated Series" The prequel that features Sabrina Spellman as a pre-teen had Hart's younger sister Emily Hart chosen to voice Sabrina.
Hart made her directorial debut in 2000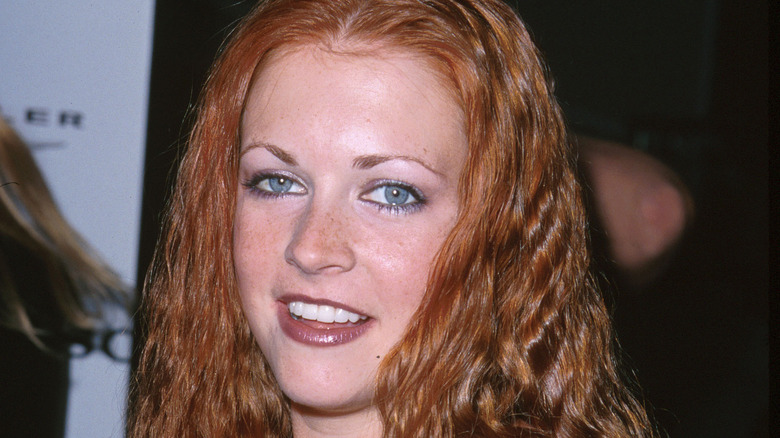 Steve Granitz/Getty Images
"So Weird" was a Disney channel show that ran from 1999 to 2001. The series follows the Phillips family — named after the show's star, Mackenzie Phillips — as they travel the country while their mother is on tour. Annie, the show's main protagonist for Season 3 and family friend of the Phillips, witnesses strange and supernatural events. Naturally, Melissa Joan Hart had plenty of experience with the supernatural from starring in and directing an episode of "Sabrina" in 2000, so it only seemed fitting that her first non-"Sabrina the Teenage Witch" directorial debut would be an episode of "So Weird" in 2000 as well.
The episode, which was named "Snapshot," was shot in Vancouver and detailed the story of a photographer who was using a mysterious camera to capture the souls of her subjects. Annie teams up with the photographer's little sister to try and put a stop to these acts, and return the souls that she stole. For Hart, she found the experience to be quite a bit more daunting than the directing she was used to doing on "Sabrina." Mainly, Hart found it difficult to adjust from the three camera setup used in a studio for "Sabrina,", while "So Weird" only used one camera and was filmed on location. Ultimately, she was glad that she got the experience under her belt.
She met now-husband Mark Wilkerson in 2002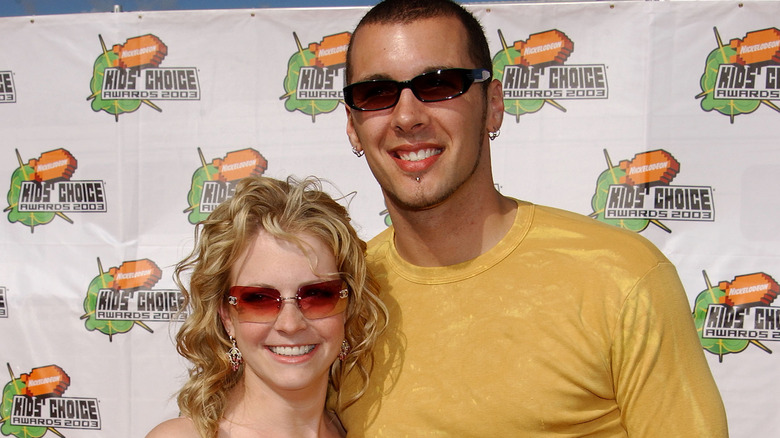 Gregg Deguire/Getty Images
In 2002, Melissa Joan Hart attended the Kentucky Derby. While there, she met Course of Nature frontman Mark Wilkerson. For both parties, it was love at first sight — so much so that Wilkerson called up his sister right then and there and told her he'd met someone. "He tried to play it all cool, but he knew who she was. I screamed and I told my friends, 'My brother just met Melissa Joan Hart and she asked for his number,'" Sally Wilkerson recalled to People in 2014. Hart confessed on Instagram that she had pulled a similar move and called up her mother, telling her that she just met the man she was going to marry.
And she just so happened to be right: The pair tied the knot in July of 2003, and their wedding was filmed for an episode of ABC Family's "Tying the Knot." "The most memorable part of my wedding was during the vows," Hart shared with Woman's Day. "Mark was crying so hard and we were supposed to put our heads down, but his nose had filled up! I had my grandmother's handkerchief in my cleavage, so while the priest was speaking, I reached into my dress and everyone giggled — that was the only part of the day that didn't get caught on camera."
She opened up her own candy shop in California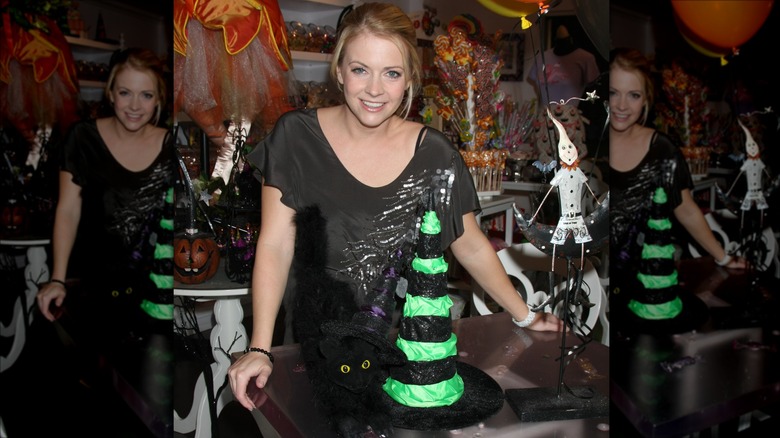 Kathy Hutchins/Shutterstock
Melissa Joan Hart and Mark Wilkerson welcomed their first born, a boy, in 2006. Two years later, Hart gave birth to a second son named Braydon. Over the course of her career, the media placed a lot of pressure on Hart regarding her weight, but after her pregnancies, paparazzi would famously snap unflattering photos of her in bikinis, calling her "fat" and "huge." Hart finally had enough in 2009 and dropped an astonishing 42 lbs. "I still read blogs about me discussing how fat I've become," she confided in People magazine. "Everyone still thinks I'm huge, but I'm not anymore!"
Even with all of the societal pressures about her weight, she decided to fulfill her childhood dream of opening up a candy store. With its grand opening in the spring of 2009, Sweet Harts was a place for all sweet treat needs in Sherman Oaks, CA. Unfortunately, the store only lasted for a short, two-year run after Hart found herself amid legal troubles once again. Sweet Harts employee Shana Kharineh filed a lawsuit against the company in 2011, accusing them of wrongful termination and racial profiling. Ultimately, the case was dismissed, but Sweet Harts closed its doors for good that December after the unwanted media attention.
Hart starred in 'Melissa & Joey' with Joey Lawrence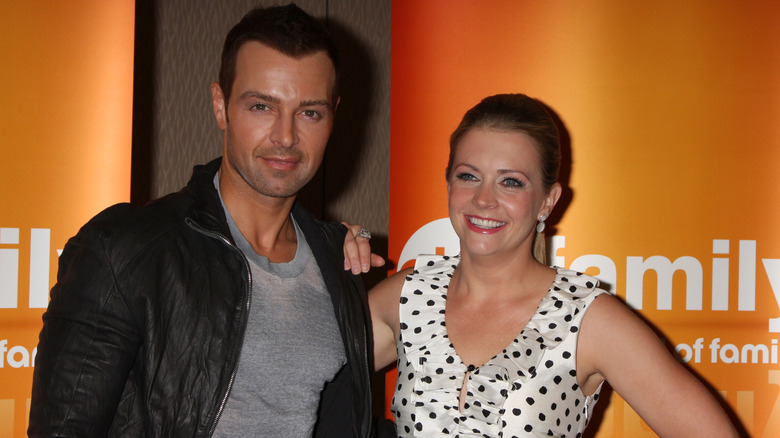 Joe Seer/Shutterstock
By the end of 2009 — the same year she opened Sweet Harts — Hart was ready to hit the screen again with another former child actor — Joey Lawrence. The two starred alongside each other in a TV movie called "My Fake Fiancé," and its success paved the way for them to star in their own show together. "We're both 34," Hart reported to the Chicago Tribune in 2010. "And we've both been in this business 30 years. We started almost the exact same time."
The actors revealed that they had been friends off-screen for years, but never had the opportunity to work together until "My Fake Fiancé." Their television series, "Melissa & Joey," went on to run for four years with more than 100 episodes. "We are proud of the milestones 'Melissa & Joey' has achieved, being the network's first sitcom to reach 100 episodes and the network's first comedy to win a People's Choice Award," ABC Family programming executive Karey Burke told Entertainment Weekly after the show ended in 2015. "Now that the kids are grown and Mel and Joe have married and are looking towards starting a family, it seemed like a natural time to bring the series to a close. We are grateful to Melissa Joan Hart and Joey Lawrence, and the whole cast and crew who worked so hard on this successful show."
She revealed that she converted to Presbyterian and moved to Nashville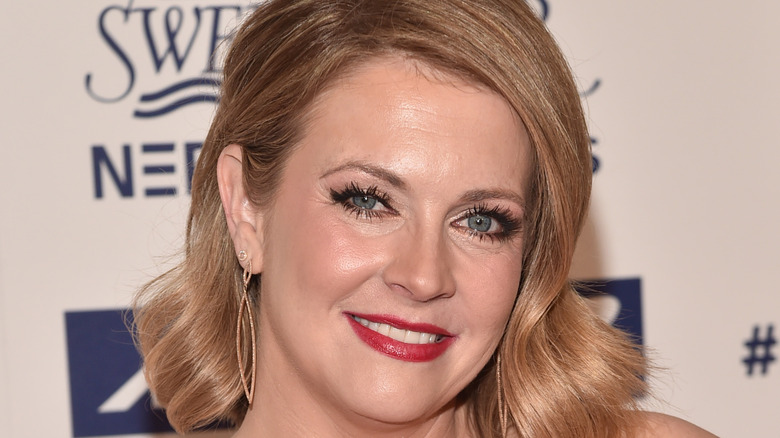 Alberto E. Rodriguez/Getty Images
In recent years, Melissa Joan Hart has become more religious. In a 2019 interview on "Journeys of Faith," Paula Faris' podcast for the ABC network, Hart revealed she had been going to a Presbyterian church with her family. Her appearance on the podcast sparked some controversy after Hart talked about when her son was making a switch from a Christian school to regular one, and said, "We don't know if these people are good people. We don't know if they believe in Jesus." While she went on to say that she learned a lot about respecting other people's beliefs, many were quick to accuse the actor of being an antisemitic. Hart further explained that the quote was taken out of context, and on Instagram said, "'I never said Christians are superior. Just trying to explain better." 
In recent years, Hart has pushed aside her acting career for her love of directing, which is her main focus right now besides her family. In December 2020, she disclosed to Glamour that she, along with her husband and kids, had recently moved to Nashville. "Nashville is the closest to a city we've been in in a long time," she said. "We really like to be out in the outskirts." She added, "The industry has changed so much. I can be anywhere and work." Hart recognizes that if she had gone into acting in movies, she could have easily become an A-list celebrity. Instead, she chose to get married, have children, and continue to work behind the camera — a life she is quite happy with.