Jared Padalecki And Alexis Bledel Struggled To Film Their Intimate Gilmore Girls Scene
"Gilmore Girls" fans are divided: When it comes to Rory Gilmore's boyfriends, you're either Team Dean, Team Jess, or Team Logan. Dean Forester, played by Jared Padalecki, is Rory's first — and tallest — love interest. They meet in Season 1 just before Rory's 16th birthday, enjoy plenty of movie nights with Rory's mom Lorelai Gilmore, and break up a total of three times. Somewhere in the middle is Jess Mariano, a bad boy from out of town who briefly steals Rory away. High-society Logan Huntzberger doesn't enter the picture until much later.
When Dean marries Lindsay in Season 4, Rory becomes "the other woman" for a few dramatic episodes, secretly sleeping with her high school ex and then accidentally revealing the affair when she writes Dean a letter from Europe ... We know, yikes. After a series of ups and downs (and a dramatic divorce), Rory breaks it off with her first boyfriend for the final time in Season 5.
Even Alexis Bledel (aka Rory) has a hard time deciding between Dean, Jess, and Logan. When notorious pot-stirrer Andy Cohen asked her what "team" she was on during her "Watch What Happens Live" appearance, Bledel playfully revealed that she's team "Jeagan." "I can't single somebody out," she said. Fair enough — we wouldn't want to face the wrath of "Gilmore Girls" stans either. 
As for that intimate scene that Dean and Rory share in Season 4? Bledel didn't necessarily think it made sense for her character. That wasn't the only reason why it was difficult to film, however.
Alexis Bledel didn't think Rory would have slept with a married Dean
In the Season 4 finale, Rory Gilmore makes a decision that's pretty out of character — she sleeps with Dean Forester, a married man. "Over the years, I was definitely surprised by certain plot twists," Alexis Bledel told Entertainment Weekly, adding, "I didn't think that it was something that made a lot of sense for my character. [Creator Amy Sherman-Palladino] likes a little bit of a shock value, so it was something that I had to wrap my head around." 
Fans were also upset by Rory's decision, calling her the "villain" in the situation. "If my mom ever walked in on me basically losing my virginity to a married man, she'd be like 'be f**ing for real right now,'" said one fan on TikTok. Jared Padalecki, on the other hand, thought the plot line made sense for Dean, who was struggling in an unhappy marriage with unresolved feelings for his ex.  
Alexis Bledel's moral qualms weren't the only barrier to filming the intimate scene, however. The bed — yes, the bed — presented an even greater challenge. "I remember standing in that room saying, 'There's no f***ing way Jared and her fit in that bed,'" said Amy Sherman-Palladino, referring to the small twin on which the scene took place. Padalecki is a whopping six feet and four inches tall, and there were quite a few mishaps while filming ... "In the outtakes, I fell off that bed a couple of times," remembered Bledel. 
This wasn't Jared Padalecki's only onset mishap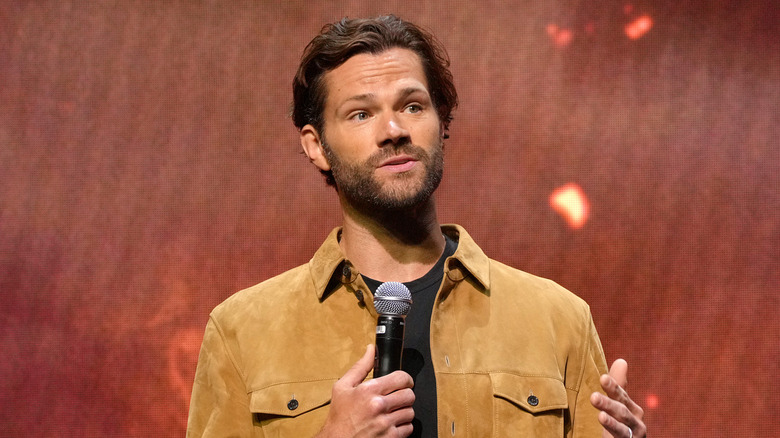 Kevin Mazur/Getty Images
Jared Padalecki's intimate scene with Alexis Bledel was one of the most logistically difficult. "My feet definitely were off it. There was a shot where my waist to my head was laying on the bed but my legs were counterbalancing me on the floor so that I wouldn't roll off," he told Entertainment Weekly. However, the breakout "Supernatural" star cringes when he remembers another moment. 
While the show was in production, Padelecki stayed up late with friends, since he had the next day off from filming. When he woke up, he had about 20 missed calls from the "Gilmore Girls" crew — Lauren Graham was sick, and they needed him to come in to shoot another scene instead. "I shot out of bed, had a cup of coffee and a water, jumped in the shower, and then drove over to Warner Bros. I was probably two hours later than they were hoping and I didn't have the scene prepared," he told The Chicago Tribune.
Meanwhile, one of Padalecki's favorite Stars Hollow scenes was short and simple. "It was actually a scene with Ed Herrmann," he told Entertainment Weekly in another interview. "We were standing outside of — I think it was — Rose's mechanic shop and we're sitting there and he's like 'How tall are you?' and I'm like "How tall are you?'" According to Padalecki, he had looked up to the older actor for years, and it was the moment he realized he was living out his Hollywood dream.