10 Best & 10 Worst Celeb Looks From Milan Fashion Week 2023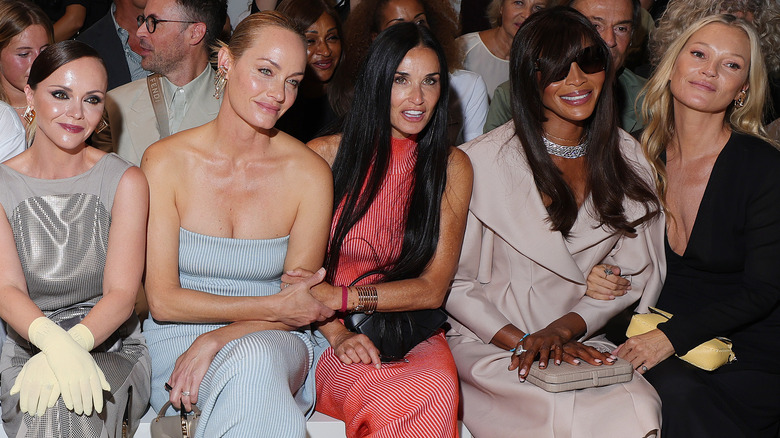 Jacopo M. Raule/Getty Images
Part of the big four global fashion week events, Milan Fashion Week is always a star-studded event, both on the runway and in the front row. Taking place twice a year in February and September, with designers debuting their upcoming fall/winter collections at the beginning of the year and their spring/summer designs toward the end of the year, Milan Fashion Week is one of the most highly anticipated fashion events on the calendar. In addition to revealing new luxury brand designs and determining the latest fashion trends, fashion week offers a unique opportunity for celebrities to make a public appearance — and many relish the chance to do so, dressing to show off their own fashion sense and favorite labels.
While many famous folks nail the assignment of serving captivating, ultra-stylish ensembles during fashion week, not every celeb look is a hit. With Milan Fashion Week wrapped for the year, we're taking a look at some of the best — and worst — celebrity outfits worn during the semi-annual Italian event in 2023.
Best: Esther Yu's glamorous chain dress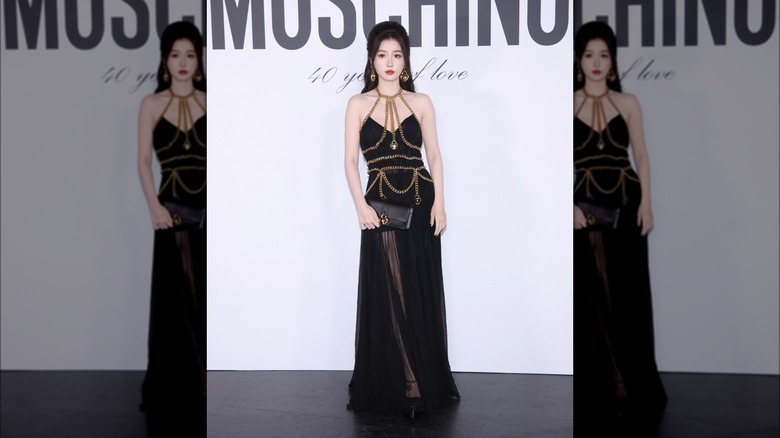 Daniele Venturelli/Getty Images
Several celebrities showed up to Milan Fashion Week events wearing their take on the little black dress, but Esther Yu blew them all out of the water with her Ancient Greece-inspired gown. While attending the Moschino show, the "Love Between Fairy and Devil" actor stunned in a floor-length dress with an A-line silhouette. The gown's halter neckline was fashioned out of gold chains, which extended down her décolletage across the bodice, around the waist, and down the hips. Though the chains gave the illusion of a high neck, the fabric was cut into a sharp V at the top of Yu's bust, which flattered her frame. Three dangling chains also had large gold hearts attached at the end of the metal strands for a little extra pizzazz.
The ruched bodice was fitted, but the skirt gently flared around the singer's hips down to the floor. The billowy material featured a slit all the way up Yu's leg to her hip, but rather than fully exposing her skin, the dress featured a sheer, gauzy layer of fabric that teased the actor's leg beneath the gown. Yu accessorized with a black clutch with a large gold clasp, black heels with gold chain detailing and heart charms, and large drop-style statement earrings to match the chains and charms in her dress and shoes. Yu's hair was styled in a voluminous half-updo with face-framing pieces, and her makeup included a statement red lip stain.
Worst: Suki Waterhouse's workwear dress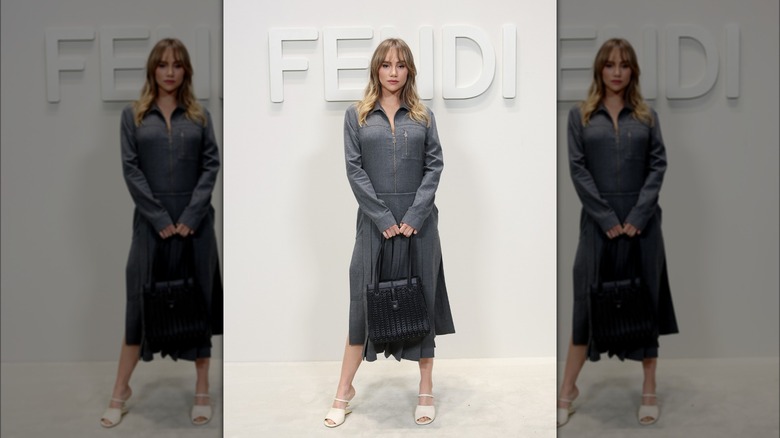 Daniele Venturelli/Getty Images
For the Fendi show during Milan Fashion Week, Suki Waterhouse chose a workwear-meets-academia-inspired look that felt a little more drab than fab. The "Daisy Jones and The Six" actor's gray mid-length dress combined two distinct designs that didn't come across as entirely cohesive. The top of the frock resembled a jumpsuit that might be worn by a handyman on the job. The long-sleeved, collared bodice was very utilitarian, and the stitching across the bust and single breast pocket added to the workwear vibe. In contrast, the skirt was giving private school teacher. The pleated material was relatively shapeless, as was the top portion of the dress, and the two elements came together to create an ill-fitting silhouette. Perhaps if the bodice of the dress had been more tailored to Waterhouse's form and the waist cinched higher for an empire cut, it would have been more flattering.
For accessories, the actor opted for a mid-sized black handbag with a woven design and cream-colored heeled mules that took on an abstract feel with their lack of a heel. Her honey-toned hair was down in her usual '70s-style shag, and her makeup included winged eyeliner and rosy lips and cheeks.
Best: Gigi Hadid's sleek and sexy runway look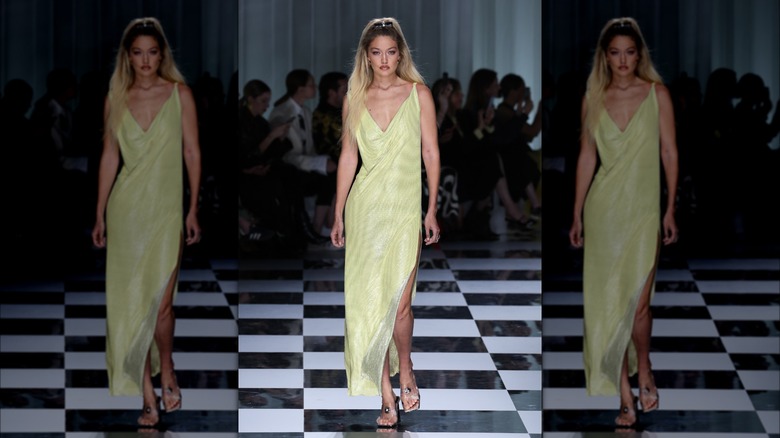 Pietro D/Getty Images
Gigi Hadid looked stunning walking the runway in the Versace show during Milan Fashion Week. The new-age supermodel wore a slinky pastel chartreuse gown with a light-catching material that moved with the contours of her body as she strutted across the room. Featuring a Grecian-style silhouette that wasn't necessarily fitted but also emphasized her waist and hips with every step, Hadid did the garment breathtaking justice. The soft lime fabric gathered loosely at the shoulders and plunged into a low V neckline, creating a Greek goddess effect. The sheath silhouette skirt featured a straight hem at the ankles and a slit up the left side that created an inverted V cutout. 
The model's accessories were relatively simple — she wore an oversized pair of gold plate earrings, a statement ring, and silver-heeled Versace mules with a square-toe cut and clear uppers stamped with the label's logo at the center of each shoe. Hadid's flaxen strands were pulled into a half-updo reminiscent of the 1960s, and a silver bow was fastened atop her head. The look was finished with subtle full-glam makeup — shiny lips, dewy skin, strong contouring, and sultry smoky eyes.
Worst: Noami Watts' pleated ensemble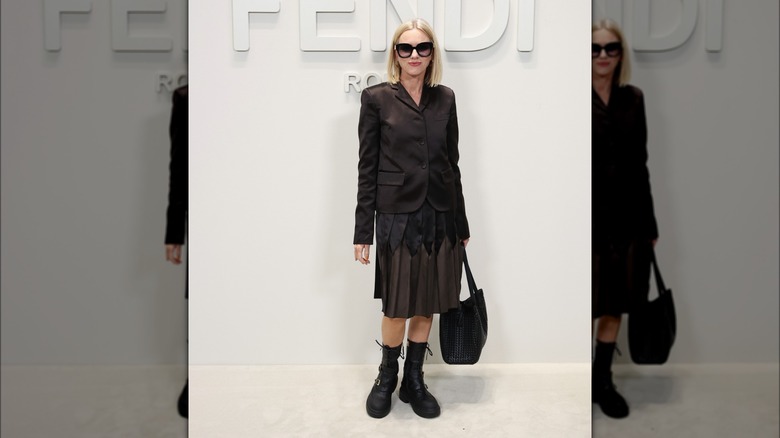 Daniele Venturelli/Getty Images
Pleats were apparently having a moment at Milan Fashion Week, but like Suki Waterhouse, Naomi Watts' pleated skirt was a bit off-putting. For her Fendi fashion show appearance, Watts chose a bronze blazer and skirt combo that was pretty unflattering on her frame. The boxy jacket could have worked with slim-cut pants to balance out the proportions of her silhouette, but the pleated skirt had the same shapeless fit. Additionally, the below-the-knee hem of the garment made the "King Kong" actor's short stature appear even shorter — which was also emphasized by her choice of shoe. Cute on their own but not in conjunction with this look, Watts opted for a chunky pair of black combat boots with gold detailing and a mid-calf-length shaft. She finished the look with an oversized black woven tote bag, large black sunglasses, and gold hoop earrings, wearing her short hair straight and adding a classic pink lip.
If we could edit this outfit, we would suggest cropping the blazer just below the bust, lengthening the skirt's hem to hit Watts' ankles while going for a high-rise waist that bared a strip of the actor's stomach between the two pieces, and switching the boots for a pointed-toe heel. But who do we think we are, luxury fashion designers?
Best: Hunter Schafer's academia-inspired look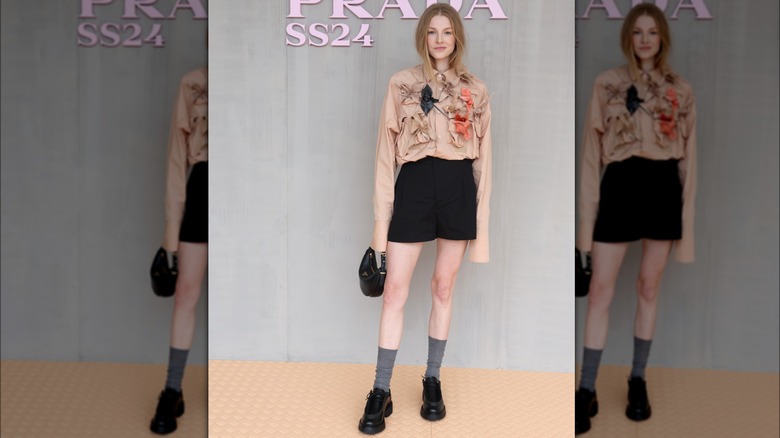 Vittorio Zunino Celotto/Getty Images
While attending Prada's runway show during Milan Fashion Week, "Euphoria's" Hunter Schafer transformed her look and absolutely nailed the academia-inspired aesthetic. The actor donned a sand-colored blouse with beautiful floral appliqués reminiscent of origami. Though the sleeves were extra long, extending past her fingers, the look worked in conjunction with her willowy exposed legs. Schafer tucked her blouse into a pair of black trouser shorts, which looked quite long regardless of their short inseam, thanks to the high-waisted cut. She kept her legs bare save for a gray pair of socks pulled up to her mid-calf, which she expertly paired with patent black loafers and a small black Prada handbag.
Schafer's caramel-colored hair was worn down in a wispy blowout with her ends tucked into the collar of her shirt, and her makeup was natural and skin-focused, featuring lightly-filled brows, baby pink blush, and a matching blush-toned lip. What we love most about Schafer's look is that it's undoubtedly high fashion, but it could also be worn as an everyday outfit — a rare example of a fashion week ensemble working for both front-row spectating and daily life.
Worst: Rosalía's take on the academia aesthetic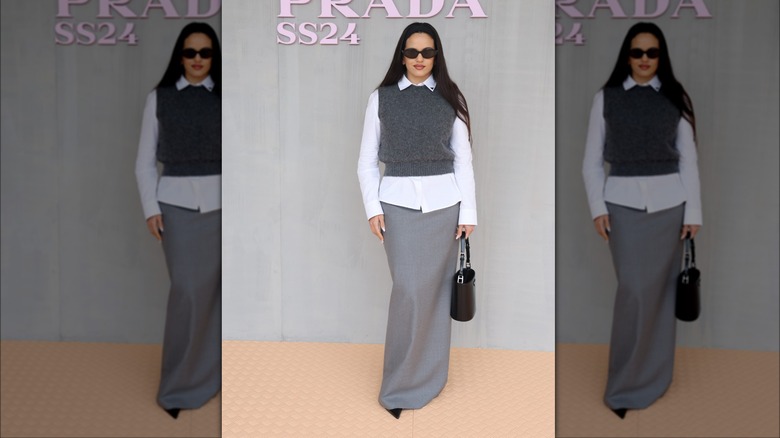 Vittorio Zunino Celotto/Getty Images
In contrast to Hunter Schafer's enchanting academia-inspired outfit, Rosalía donned a look of the same aesthetic that doesn't have us feeling nearly as excited. For the Prada fashion show, the "Beso" singer went with a demure ensemble that included a white button-down shirt with a gray sweater vest overtop. Though it's a bit boring, the cut of both garments does flatter Rosalía's frame, emphasizing her hips and shoulders. She added a lighter gray maxi skirt to the look, which was, again, leaning on the duller side of the fashion spectrum. It's definitely not the worst outfit we've ever seen; it's just kind of ... blah, compared to the many other gorgeous celebrity looks worn during Milan Fashion Week.
For her all-black accessories, Rosalía chose a Prada bucket bag, pointed-toe heels, and 2000s-style sunglasses. Where the singer really lost us was with the Y2K cloth headband pulling her espresso-colored tresses back from her face. It not only feels like a really random accessory with the rest of the outfit, but it also just doesn't give high fashion. Overall, the look just falls sort of flat — it's certainly not egregious, but it's not one to rave about either.
Best: Demi Lovato's silky suit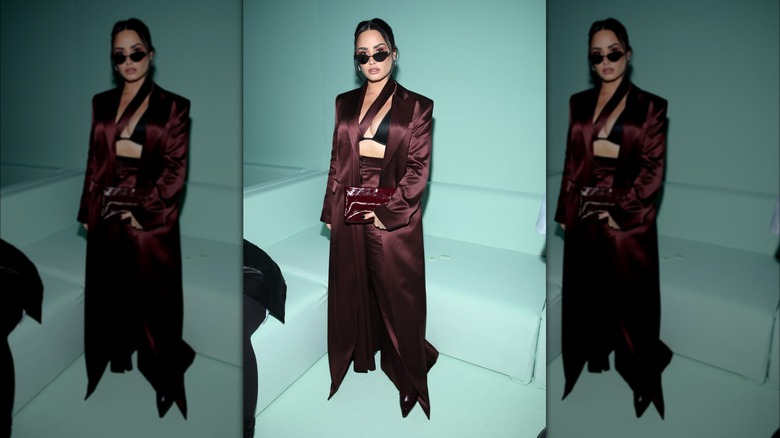 Daniele Venturelli/Getty Images
While attending the Boss runway show during Milan Fashion Week, Demi Lovato wore a luxurious silk ensemble with warm chocolate tones. The "Cool For The Summer" singer combined two classic looks in her floor-length jacket: the tuxedo blazer and the trench coat. The rich garment featured tuxedo lapels and formalwear pockets, but the floor-dusting hem was reminiscent of one of fall's favorite coat styles. Lovato also embraced the matching set trend by pairing high-waisted trousers of the same luxe fabric with her mesmerizing jacket. Flawlessly incorporating another trend, the musician wore a triangle-shaped black bra beneath her coat for a pop of lingerie. The jacket was fastened not with buttons, but with a unique strap that wrapped around Lovato's neck and across her bust sash-style, teasing just enough skin in this sultry look.
Leaning into the monochromatic aesthetic (the singer is really on top of the latest style trends), Lovato chose shoes and a handbag in the same reddish-brown tone as her jacket and trousers. Though we can't see the pointed-toe shoes in their entirety, we'd love to envision them as boots rather than pumps. Lovato's patent leather clutch is gorgeous, as are her monochromatic maroon makeup, stylish updo, and black cat-eye sunglasses.
Worst: Demi Moore's rhinestone fringe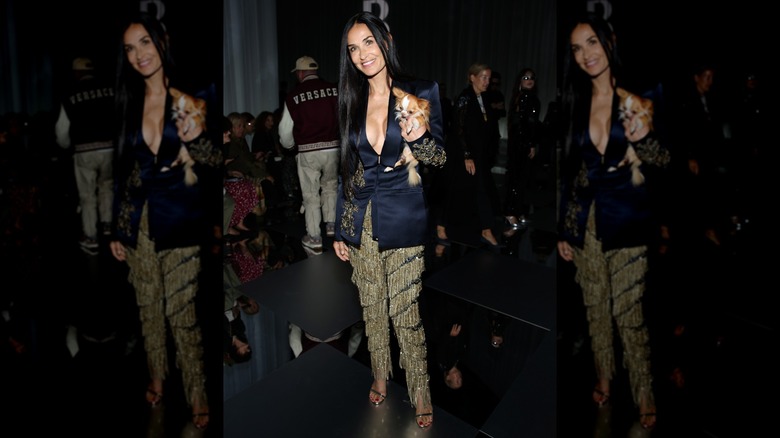 Daniele Venturelli/Getty Images
Demi Moore embraced "The Great Gatsby" of it all for her appearance at the Versace runway show during Milan Fashion Week. Rocking Jay Gatsby on the top and Daisy Buchanan on the bottom, the "Ghost" icon definitely wasn't afraid to go bold, and we commend her for that. But did the 1920s-inspired outfit work? We're not entirely sure. What we do like is Moore's blazer and shoes. She went with a silky black jacket with structured shoulders and opulent gold embellishments sprawling across select portions of the garment. Moore embraced the plunging neckline of the blazer by wearing nothing underneath, showing off her chest without getting too risqué. Her heels — gold pumps with dainty straps — were simple but fashion-forward.
Where Moore really lost us is with her pants. There are a few things we don't quite like about them — first of all, the tiered layers of beaded gold fringe are just ... a lot in general. While this look works beautifully in a flapper dress, it doesn't transition super well in pants. Second of all, the high-waisted cut of the bottoms produced a bulging effect in the lower section of Moore's jacket. Because the fringe layers were so voluminous, they pushed the bottom of the blazer out, which created an unflattering shape at the actor's midline. Points for her stunning silky mane and small dog as an accessory, though!
Best: Benedict Cumberbatch's statement shirt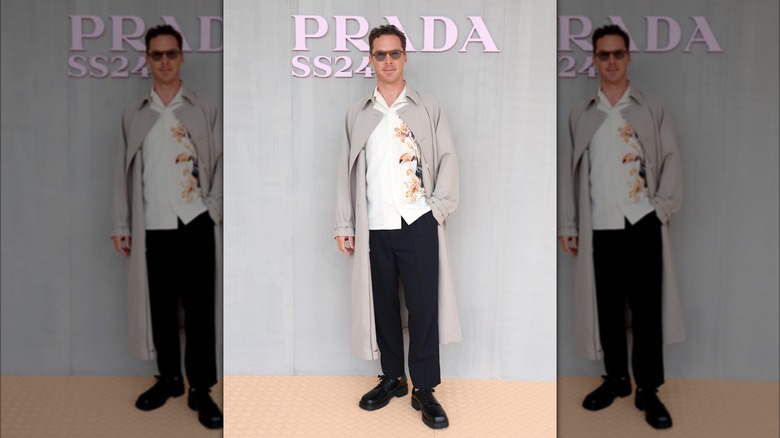 Vittorio Zunino Celotto/Getty Images
Celebrity men, more often than not, rock pretty classic (read: safe) looks when it comes to major fashion events — the Met Gala in particular always seems to be a sore subject. While Benedict Cumberbatch's ensemble for the Prada show during Milan Fashion Week wasn't super flashy or out of the box, it did do two things really well, earning itself a stamp of resounding approval. First of all, we're obsessed with the embroidered design on the "Doctor Strange" actor's cream-colored button-up. From the toucan and floral artwork to the vivid oranges and striking black used in the stitching, and even the strategic placement of the embroidery, the garment is stunning. Secondly, Cumberbatch's tailoring is perfection. He went with really clean lines often seen in Asian street style, opting for black pleated trousers with a slightly tapered leg and ankle-length hem, as well as a greige trench coat with a more casual, inverted lapel situation than what's typical of the jacket. The length of the coat — slightly shorter than the hem of the pants — also brought another element of dimension to the look.
Cumberbatch really stepped it up with his accessories too. The actor wore a chunky pair of black, soft matte leather shoes that are a cross between loafers and dress shoes. He also embraced statement eyewear with a cool pair of sunglasses that featured mixed-medium frames and transparent lenses. Cumberbatch came to slay, and we love to see it.
Worst: Leighton Meester's waitress-reminiscent look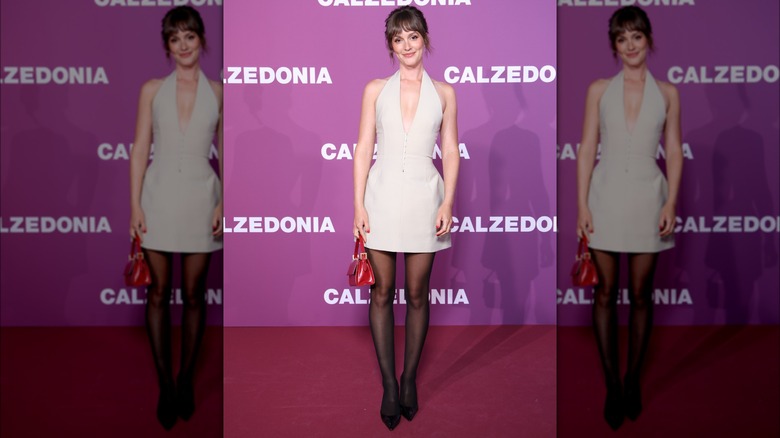 Daniele Venturelli/Getty Images
Miss Blair Waldorf ... What's going on? "Gossip Girl" alum Leighton Meester attended Milan Fashion Week's "Calzedomania: A Legs Celebration" event, and her outfit doesn't feel like one her teen drama character would approve of. Anyone familiar with Blair Waldorf knows this look would likely get her signature sneer of distaste and a comment about waitressing in Brooklyn, let's be honest. It's another one of those looks that isn't horrible, but it just doesn't stand up to the incredible ensembles worn by other celebs. Meester's updo and the halter cut of her mini dress are definitely reminiscent of a diner uniform — but like, make it fashion? We do like the stone color and fit-and-flare silhouette of the garment, but something about the formal vest-style bodice just doesn't work. 
Meester paired sheer black pantyhose and black patent leather pumps with the look, which are nice together but create a bottom-heavy effect in combination with the pale dress and the actor's mostly bare upper body. She accessorized with a mini red handbag and matching manicure, which we do like, and she rocked a classic "your skin but better" makeup look. A cherry red lip would have been a nice touch with her red accessories, but Meester opted for a glossy pink instead.
Best: Kim Kardashian's leather belt look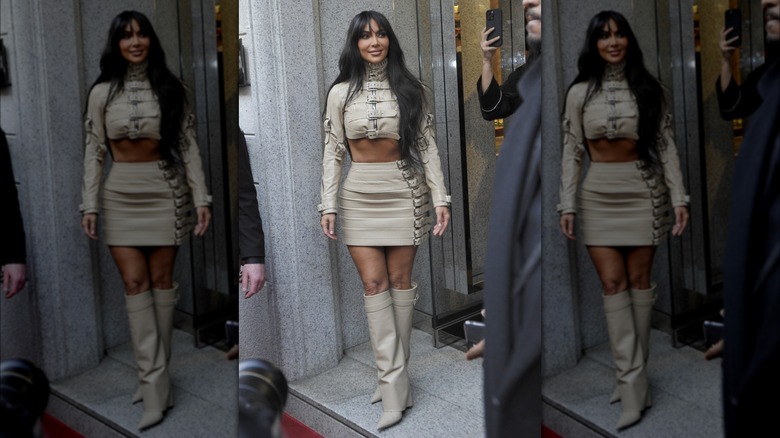 Mega/Getty Images
During a publicized visit to the Dolce & Gabbana store during Milan Fashion Week, Kim Kardashian asserted her status as a style icon — as per usual. The SKIMS founder got creative, donning a stone-colored monochromatic look that heavily featured belts. Kardashian wore a two-piece set comprised of a leather mini skirt and a matching cropped turtleneck. The high-waisted skirt hugged the reality star's iconic curves, spanning from just above her navel to her mid-thigh. Vertically stacked belts lined the garment from waistband to hem, and Kardashian's top featured a similar design. If it's possible to make a straitjacket chic, the fashion mogul did just that with her longsleeved leather shirt. The bodice featured a zipper down the center, several belted closures, and a stack of slimmer belts fastened around the neck. Additionally, a few short belts were smattered up and down Kardashian's sleeves and around the cuffs of the jacket top.
Embracing the pant-boot trend, Kardashian accessorized with pointed-toe, knee-length boots with a pant leg-style shaft in the same stone color and soft matte finish as her skirt and top. A single slim belt rimmed the top of each boot, and that was that for the SKKN founder's accessories. Her chocolate mane was styled gorgeously as usual, this time in a soft blowout with wispy layers and bangs. The moment was an absolute masterclass in how to make a weird fashion concept unexpectedly stunning — an especially boss move during fashion week.
Worst: Julia Fox's take on stacked belts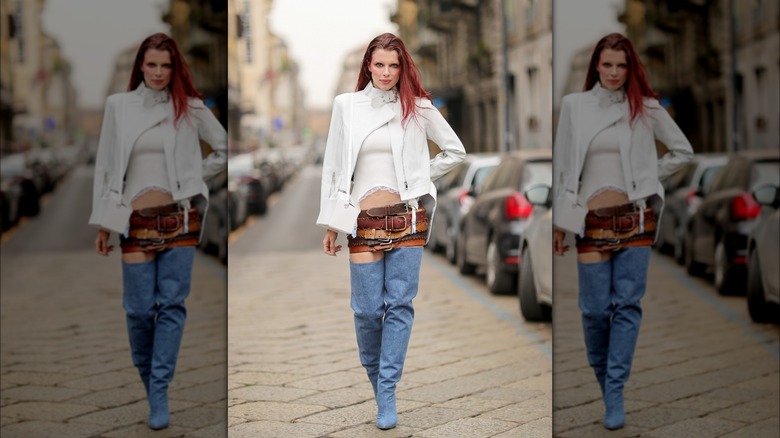 Rachpoot/bauer-griffin
Julia Fox is never boring during fashion week, that's for sure. Curating a look as bizarre as her's tend to be, the model gave the stacked belt concept a try in Milan — but in comparison to Kim Kardashian's high-fashion look, Fox's leaves much to be desired. Her disjointed outfit had three distinct elements, one of which was her thigh-high denim boots. The pointed-toe shoes featured a slouchy fit and, all things considered, aren't the worst denim boots we've ever seen. The second element of Fox's ensemble was her leather belt skirt. Where Kardashian's skirt was modern and sleek, Fox's was chunky and clunky with brown leather belts your grandpa probably wore in the 1980s. The makeshift skirt was also ultra-low-waisted, which made Fox's legs look really short in combination with her boots.
Lastly, the model went with a monochromatic white vibe for the top half of her outfit. She started with what looked like an upside-down cami with lace trim lining the hem (the neckline?) and unfastened garter belt clips in place of spaghetti straps. Fox topped the confusing shirt with a leather moto jacket, which featured an undone belt around the hem and a fastened belt around the neck. She finished the look with a lunchbox-style crossbody bag and went with avant-garde pink makeup to match her magenta-colored hair. Julia Fox nailed her signature outrageous outfit aesthetic, we'll give her that!
Best: Dakota Johnson's Gucci 'fit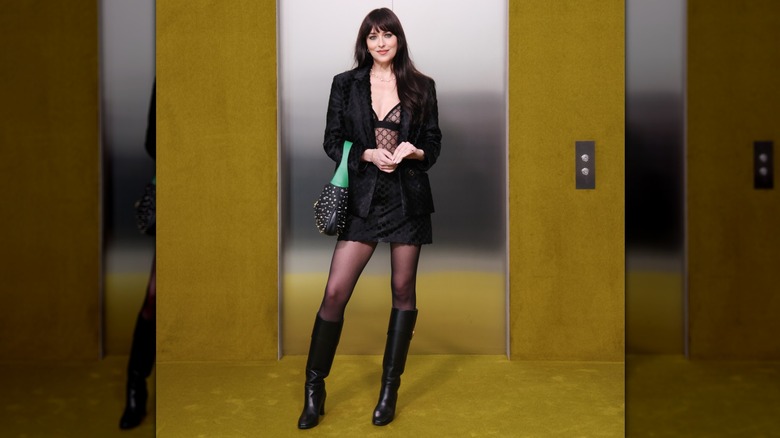 Vittorio Zunino Celotto/Getty Images
Dakota Johnson looked like a dream at Gucci's runway show during Milan Fashion Week. The "Fifty Shades of Grey" star, who's long been an ambassador for the luxury label, looked poised but sexy, edgy but classic, and feminine but masculine in her all-black outfit. Johnson started with a sheer teddy suit that featured a triangular neckline, a band of fabric just below the bust that created the illusion of an empire waistline, and a repeating jacquard pattern of Gucci's signature logo. The actor rolled on a pair of sheer black pantyhose then added a jacquard mini skirt with the same repeating pattern, but with a more subtle sateen finish. Johnson donned a chic blazer with structured shoulders that matched her skirt and created dimension by hitting her hips a few inches above her skirt hem.
For accessories, the actor chose a knee-high pair of black leather boots that featured a modest heel, a slightly slouchy fit around the ankles, and a structured shaft that hugged the tops of her calves. Johnson expertly incorporated a pop of color with her handbag, which had a verdant green handle and a black, metallic-studded base. She added a dainty pearl-strand necklace and small gold hoop earrings, styling her chocolate locks in her signature blown-out bangs look and opting for classic, slightly smoky makeup.
Worst: Noah Cyrus' browless blush look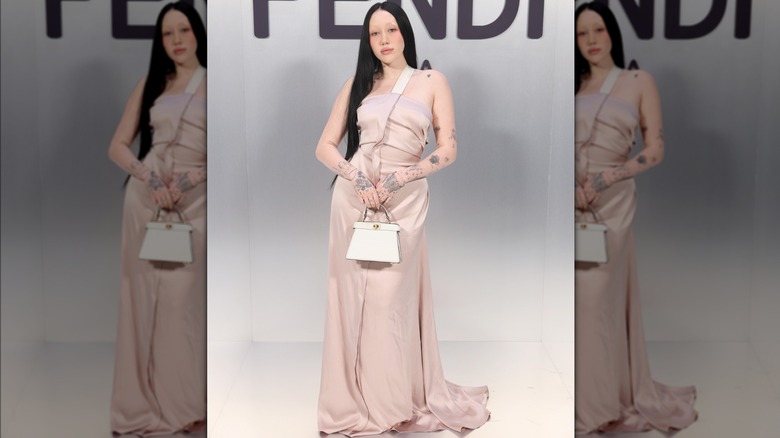 Daniele Venturelli/Getty Images
Noah Cyrus attended Fendi's runway show during Milan Fashion Week, and she debuted a style that was much more experimental than anything she'd previously worn — mostly due to her alien-esque look. The "July" singer's outfit for the fashion event wasn't the worst ever, but in comparison to other celebrity styles, it was a bit of a flop. In fact, German blogger Leonie Hanne wore the same dress in a different color at the show, and the tailoring and styling of her look were much more fashionable than Cyrus' rendition. The musician chose a blush-colored single-shoulder gown, and she opted to leave the hem long enough to drag on the floor. The sateen fabric was slightly ruched around the bodice and hips, then transitioned to a cascading A-line skirt. A river of fabric flowed down the center of the dress, extending from the single halter-style strap wrapped around one side of Cyrus' neck. 
The singer accessorized with a small white handbag, and she left her arms bare to display her tattooed skin. Cyrus' raven mane hung long and straight, and her makeup had an extraterrestrial effect. Her brows were shaved off, and her cheeks and eyes were heavily dusted with pale pink blush. Cyrus' eyes were mascara-free but lightly lined, giving her a slightly off-putting Mona Lisa-esque look.
Best: Dua Lipa's Morticia Addams-inspired moment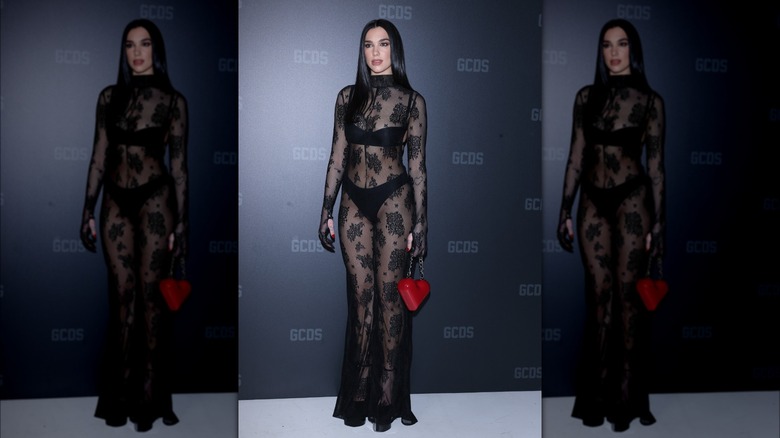 Stefania D/Getty Images
Dua Lipa channeled her inner Morticia Addams for her sultry GCDS runway show ensemble during Milan Fashion Week. The "Dance the Night Away" singer donned a sexy black underwear set comprised of high-waisted panties and a slim balconette bra. Overtop her lingerie, Lipa wore a stunning sheer gown with a mock neck and floor-length hem. The long-sleeved garment featured a floral lace pattern throughout the material, and the arms extended into gloves, save for an open thumb hole. The sheer gown hugged the musician's frame and gently flared at the mid-thigh, creating a romantic trumpet silhouette. 
Lipa kept the accessories simple, letting her gothic dress be the star of the show. She paired a heart-shaped handbag with the look, adding to the seductive romance vibes, and her nails were painted red to match the purse — we love little details like this. While her shoes weren't really visible, they seemed to be towering platform pumps with a dainty strap around the ankles. Lipa's glossy black strands were parted down the center and ironed straight, and her makeup featured warm tones and smoky accents. It was a shining example of how to successfully pull off the sheer lingerie trend.
Worst: Uma Thurman's suede set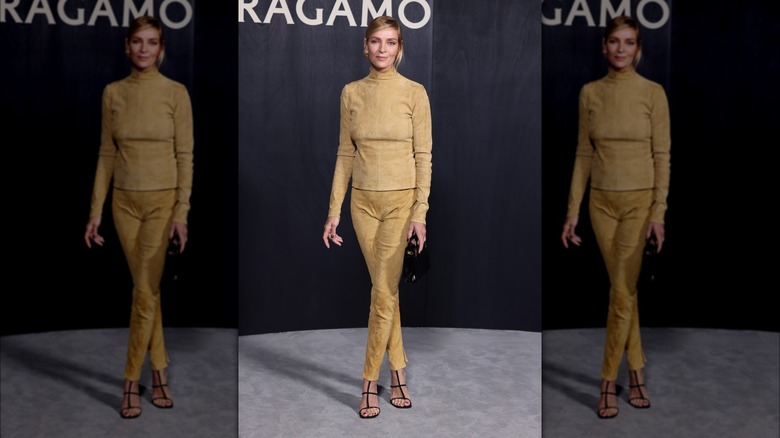 Stefania D/Getty Images
Uma Thurman is an absolute icon, but her Milan Fashion Week look at the Ferragamo show was not the stuff of fashion legends. The "Kill Bill" actor chose to wear a matching set made of pale mustard-colored suede. The silhouette of the monochromatic top and bottom is nice-ish — we like the way it hugs Thurman's frame without being tight — but some of the tailoring looked a little awkward. For starters, the skinny fit of the pants is dated, and not in a cool retro way, at least at the moment. The ankle-length hem with the slit up the inside of the leg is flattering, but the crotch area of the trousers makes us cringe. The high-waisted pants were bunching around Thurman's groin, which is never a desired effect, and it made the seamless fabric take on a diaper-like look. We have a similar hangup with the top: the cut is okay and we like the turtleneck, but the bust appears deflated due to the flat shadow beneath the actor's chest.
Thurman's accessories, hairstyle, and makeup were a win though. Her strappy black heels are gorgeous, her tiny black handbag is on-trend, and we love her Twiggy-inspired hair swoop. The movie star's chunky gold earrings are stunning as well, and we love her understated yellow eyeshadow.
Best: Christina Ricci's pops of green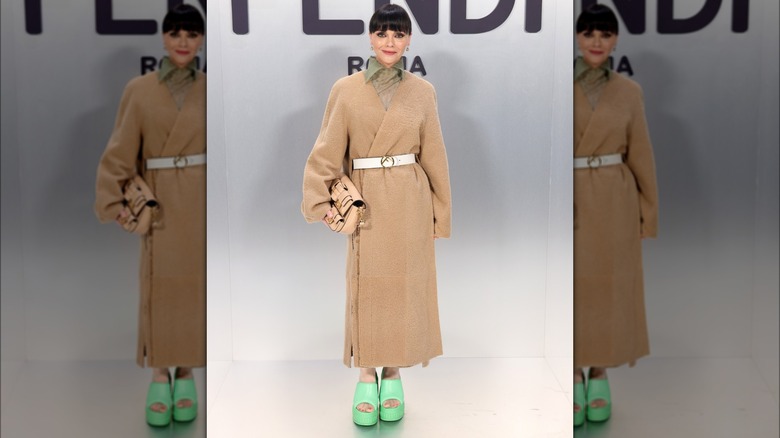 Daniele Venturelli/Getty Images
Like Dakota Johnson, Christina Ricci showed the world how to successfully incorporate a pop of color in her mostly nude-toned look at the Fendi runway show during Milan Fashion Week. "The Addams Family" icon donned a tan kimono-style bouclé jacket that featured an ankle-length hem and slouchy sleeves. It looked so cozy and perfect for fall, setting the tone for her September 2023 outfit. Ricci held the jacket closed with a white leather belt fastened with a gold Fendi logo buckle, and she carried a nude-toned satchel with lots of pockets on the flap. Those items are all fashionable, but they aren't what cemented this look as one of our favorites of the year. 
Ricci added two pops of green to this ensemble, and while they qualify as monochromatic, the greens are very different hues. Beneath her jacket, the actor donned a sheer green blouse with an oversized collar and a striped design. The sateen fabric was a mossy olive green, which both complimented and contrasted with the bright pastel pistachio of Ricci's statement shoes. On her feet, the actor wore platform slides that added a generous amount of fun and character to her outfit without being too off the wall. She also wore pretty drop-style earrings and a smoky cat eye, and her black hair was styled in a low updo with her blunt bangs ironed straight.
Worst: Ashley Graham's cutlery couture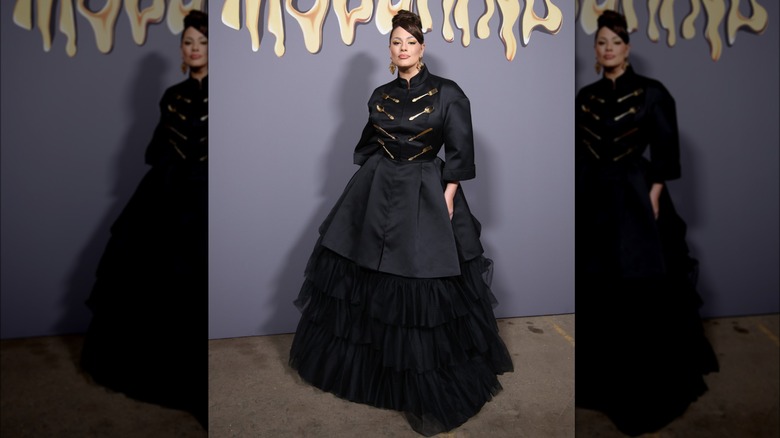 Daniele Venturelli/Getty Images
Ashley Graham's dress for the Moschino show during Milan Fashion Week was nothing if not unique. The supermodel wore a ballroom-style gown that seemed to take heavy inspiration from the life of a chef. Yes, you read that right. While the skirt was giving classic princess vibes thanks to its tiered layers of ruffled tulle, the top made us giggle and scratch our heads. The bodice and top-most layer of the dress look like a chef's coat. Not only is the silhouette uncannily similar, but lining both sides of the bodice are 10 pieces of gold cutlery. Cutlery, as in spoons, forks, and knives. 
While there's likely a fascinating story behind the unusual design, it doesn't have us praising Graham as a fashion icon. The model finished the look with gold chandelier earrings, a Cinderella-style updo, and makeup that included a metallic winged eyeshadow and a '90s-inspired lip.
Best: A$AP Rocky's reimagined formalwear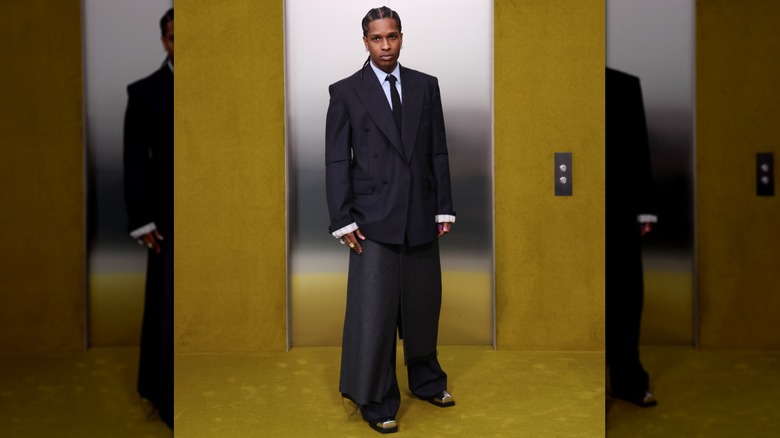 Vittorio Zunino Celotto/Getty Images
Like Benedict Cumberbatch, we're applauding A$AP Rocky's elevated menswear ensemble. While in Milan for the Gucci runway show, the "Praise the Lord" rapper wore a very pale blue dress shirt with a classic black tie, but everything else about his formal look was atypical in the best way. Rocky donned an oversized double-breasted suit jacket with a subtle pinstriped print, structured shoulders that widened his frame, and slouchy sleeves. The larger fit looked intentional rather than sloppy thanks to the proportions of the bottom half of the rapper's outfit. Rocky wore wide-leg trousers that matched his jacket, and overtop those was a skirt-style garment in a similar charcoal gray tone. The skirt elongated the A-line silhouette of his jacket, extending that line all the way down to his ankles. The slit in the skirt gave a peek at Rocky's pants underneath, which created a more dimensional look. 
For accessories, the musician opted for silver-toed black dress shoes and an assortment of statement rings. His best accessory was his hair, though — Rocky's braided style featured the signature Gucci "G" at the back of his skull, which is artistry at a whole other level.
Worst: Jodie Turner-Smith's animal print moment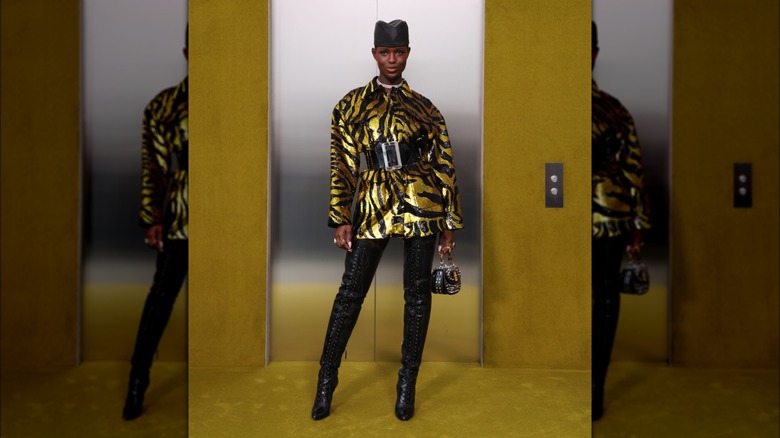 Vittorio Zunino Celotto/Getty Images
We usually love Jodie Turner-Smith's outfits, but the ensemble she wore to Milan Fashion Week's Gucci show was a miss for us. The busy look included a variety of statement pieces, and while they all matched in a way, they also clashed by fighting one another for attention. The "Murder Mystery 2" actress wore a metallic gold and black tiger print button-up that featured utility pockets and an oversized fit. Turner-Smith's waist was cinched with a patent black wide-band belt fastened with a huge acrylic buckle. She swapped pants for nearly hip-high black leather boots that had a pointed toe, stiletto heel, and laces from the upper to the very top of the shoes.
Turner-Smith accessorized with a studded black handbag, a diamond-encrusted Cuban link necklace, a variety of rings and earrings, and a black Kufi hat. The actor finished the look with makeup featuring rose and terracotta tones, as well as thick winged eyeliner.