Taylor Cole's Favorite Type Of Hallmark Storyline Is A Total Classic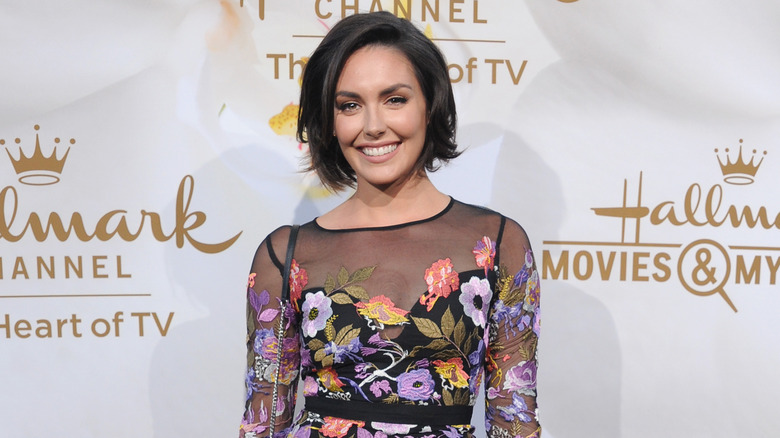 Gregg Deguire/Getty Images
Taylor Cole joined the Hallmark Channel family back in 2016, and since then has made upwards of 15 films. We've seen her familiar face in movies like "Making Spirits Bright," "Pumpkin Everything," and her newest film, "Aloha Heart," with Hallmark newbie Kanoa Goo. The network's feel-good flicks always suck us in, but like romance novels, there's only so many tropes out there.
Cole has starred in a variety of them, so she knows a thing or two about storylines, and now she's revealing her favorite. Speaking to Just Jared, the actor admitted that her ideal romance trope is the classic enemies-to-lovers storyline. She explained, "I really enjoy the Hallmark scripts where the two characters don't see eye to eye right away. They're butting heads, and the way that they communicate is just often they're having a hard time, like seeing eye to eye. I just think that makes it so much more interesting and fun to learn from."
Think "Pride and Prejudice" or the more modern "The Hating Game." Whether novels or feature-length films, these storylines are the ultimate in happily-ever-after fantasies. For a little while, they let us believe that anything is possible, like sparking passion with the person you love to hate.
Taylor Cole has starred in a similar storyline before
Hallmark's summer film, "Aloha Heart," was probably lots of fun for Taylor Cole. Not only was it filmed on the island of O'ahu, Hawaii, but also because it employed her ideal storyline. As an avid water conservationist, her character Sara Hamilton can sometimes get on the nerves of Manu (played by Kanoa Goo). In the end, the two learn that they have shared interests and balance one another out. 
The only other film that really fits the bill is her first one with the network, "Appetite for Love," which has the added bonus of the two enemies being exes. Cole plays Mina, a woman on a mission to convince a restaurant owner to sell his land. Only to discover that the stubborn restaurateur is none other than her ex-boyfriend (played by Andrew Walker). Unsurprisingly, the two get together in the end and — spoiler alert — are portrayed as husband and wife in the final scene.
Between her first and latest films, Cole has acted in plenty of other storylines and a handful of roles for the network's "Movies & Mysteries" genre. We're sure she enjoyed this experience, as she previously gushed, "Most every Hallmark movie that gets sent my way, I almost immediately know that I want to do it because of the joy it brings everybody, and you know it's going to be a happy story" (via Pop Culture Principle). We'd have to agree; Hallmark's scriptwriters definitely have the magic touch.
According to Taylor Cole, movies can reflect real life
Hallmark movies probably aren't ideal for every type of actor. We can't see the eternal pessimist doing a great job acting in films where every ending is a happy one. But Taylor Cole is particularly suited to these warm-and-fuzzy films. She calls herself a hopeless romantic, telling Monster and Critics, "I'm an optimist through and through. I think everything happens for a reason, I think everything is meant to be, I think that turning every negative into a positive is really my outlook on all things in life. So, yes, I am a romantic to a fault in the way that I follow my heart."
While the "Matching Hearts" actor didn't have her own enemies-to-lovers love story, she does have a pretty Hallmark-esque meet cute in which she tried to make a love match for her movie producer husband, Cameron Larson, only to find that she was his true love! The longtime friends tied the knot on June 20, 2020. Cole revealed that this was an eternal optimist moment, as COVID-19 restrictions put quite the damper on her big day.
Fortunately, she still got her Hallmark happy ending, live-streaming their Lake Tahoe nuptials for friends and family to see. Her father even virtually walked her down the aisle. According to Cole, it was "the most magical, perfect wedding ever."