What The Cast Of True Blood Is Doing Today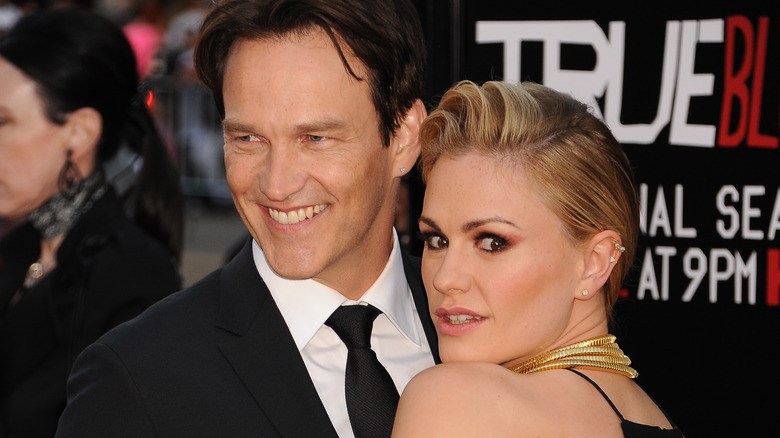 Frank Trapper/Getty Images
The HBO vampire show "True Blood" became a hit series beloved by fans and critics alike. It garnered 158 award nominations and 38 wins over its seven seasons — including a 2009 Primetime Emmy for Outstanding Casting for a Drama Series. The story was adapted from "The Southern Vampire Mysteries" by Charlaine Harris, which consists of 15 novels and several novellas. The show strays a bit from the source material, but that fact didn't stop it from becoming a cult classic. 
One of the key factors that makes the show so adored is its stellar cast — the Outstanding Casting Emmy was well deserved! If you are wondering what became of your favorite Bon Temps residents, you are in the right place. While it would take too long to discuss every single cast member — there are over 800 credited actors — we have the details on the most memorable humans, vamps, and other supes from the show. Find out who has a new baby, who is joining a protest, and who has a new love. 
Anna Paquin: Sookie Stackhouse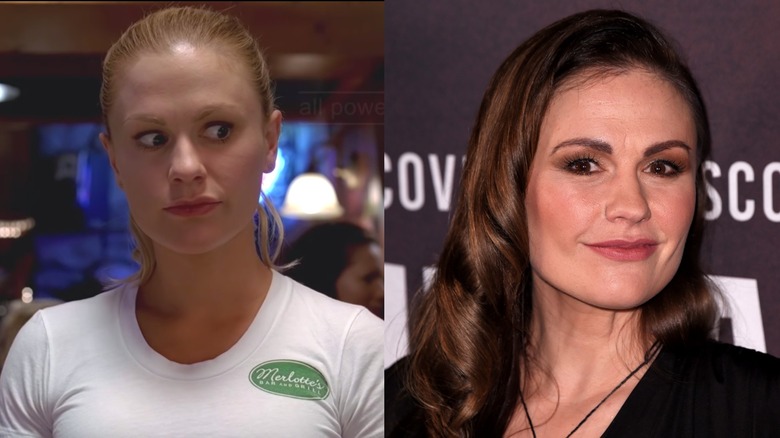 Youtube / Eamonn M. Mccormack/Getty
Anna Paquin was already an accomplished Academy Award winner when she took on the lead role in the vampire series "True Blood." However, snagging the lead role of Sookie Stackhouse definitely put the Canadian-born actress in the pop culture limelight. Paquin portrayed the beloved half-fairy character whose adventures spawned 15 books and seven seasons. Sookie is a telepathic server at Merlotte's Bar & Grill when she meets a vampire named Bill, who introduces her to an entire world of supernatural creatures. She finds herself drawn to Bill because, unlike everyone else, she can't hear what he is thinking — a truly refreshing moment for Sookie! However, She is then thrust into multiple dangerous situations, vampire politics, and werewolf drama before her story's conclusion.
Since the finale of the HBO series, Paquin has been extremely busy in her acting career, working on other TV series like "Bellevue" and "Alias Grace," voicing an animated character in "The Good Dinosaur," and starring in a ton of films. In 2023, she starred in the Netflix film "True Spirit" about an Australian teenager who became the youngest person to sail around the world. 
Paquin married her vampire costar Stephen Moyer in 2010 while the series was still in production. The pair have a set of twins together as well as two children from Moyer's previous relationships. Paquin is extremely private about her children, "You won't find any pictures of my children. That's a choice we made very specifically," she told Today. 
Alexander Skarsgård: Eric Northman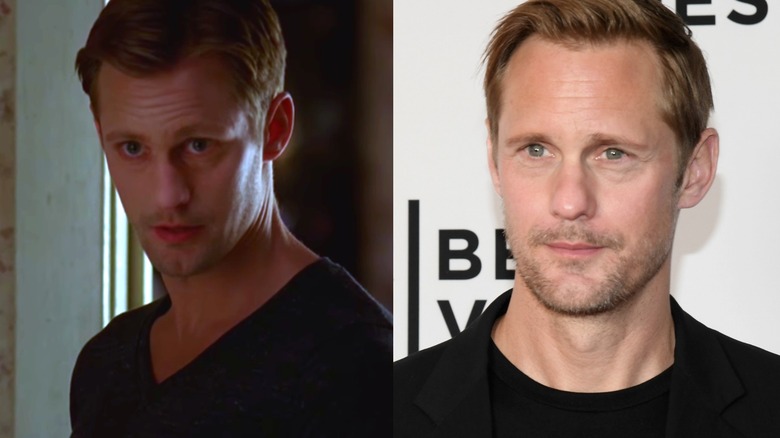 Youtube/ Gary Gershoff/Getty
A Swedish actor from a famous family, Alexander Skarsgård was a perfect fit for the 1,000-year-old Viking vampire Eric Northman. At 6'4, he literally looked down on most of his castmates, giving him the air of authority and danger that the character required. Eric owned the vampire club called Fangtasia while also serving as Sheriff of Area 5. He first appeared in Season 1, Episode 4: "Escape from Dragon House."
Like Paquin, Skarsgård has been extremely busy since hanging up his fangs. He has appeared in a multitude of TV and film roles, including the title character in 2016's "The Legend of Tarzan" and 14 episodes of "Big Little Lies." In 2023, he wrapped up a 2+ year stint on "Succession" and had three films released. 
The actor moved behind the camera in 2022 with his directorial debut film, "The Pack," starring Florence Pugh, and Skarsgård welcomed the birth of his first child with partner Tuva Novotny in early 2023.
Sam Trammell: Sam Merlotte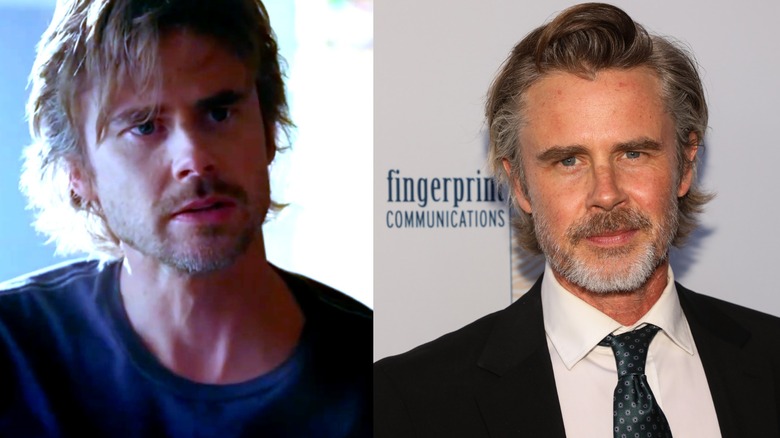 YouTube/ Paul Archuleta/Getty
The only member of the cast who is actually from Louisiana, Sam Trammell played the shape-shifting owner of Merlotte's Bar & Grille in all seven seasons of the show. His character is the friend and employer of Sookie Stackhouse, and he helps her out of danger on more than one occasion. While Sam can technically transform into any animal he has seen before, he tends to prefer the form of a border collie, a copy of his childhood pet. 
Trammell is an accomplished actor on the screen as well as on the stage. He was nominated for a Tony award and a Screen Actor's Guild award, and he won Best Actor awards at the Boston and Chelsea film festivals. He has not slowed down since wrapping up "True Blood," making appearances on various TV shows and films. He did a four-episode arc on "This is Us" as well as a 10-episode stint on "Homeland." He recently wrapped on a sci-fi romance titled "ReEntry," the first film produced by a new company called PlotNaut.
The 54-year-old is a father of two twin boys who he had with long-term partner Missy Yager, an American actress. Trammell has gone behind the camera as well. He worked as both a writer and producer on the film "All Mistakes Buried" which he starred in with Yager.
Stephen Moyer: Bill Compton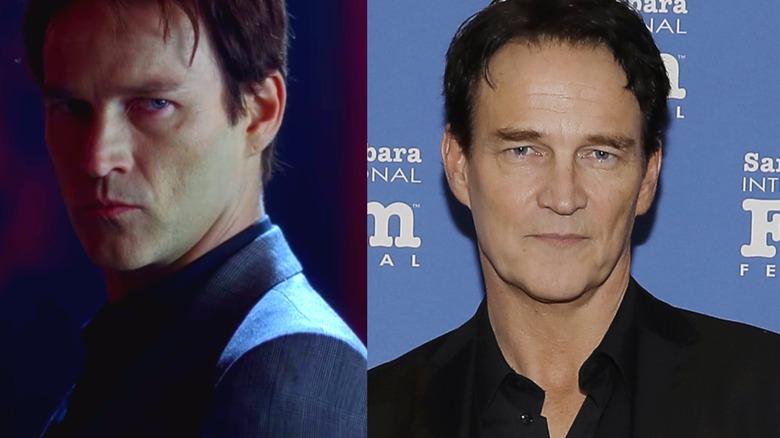 YouTube/ Tibrina Hobson/Getty
British actor Stephen Moyer portrayed Bill Compton, a Civil War-era vampire in the HBO series. He began as a love interest for Sookie, but it didn't take long before his ulterior motives were uncovered. Bill became more of an antagonist in the series in the later seasons before contracting Hep V, a fatal vampire blood disease. 
Moyer started acting in local theatre productions in his hometown, but he soon found himself touring as Romeo in an Oxford Stage production of the Shakespeare play "Romeo & Juliet." Making the jump to the screen, Moyer appeared in several British television shows, then on to film, and eventually landed in Bon Temps. Since then, Moyer has not stopped working, taking on roles as an actor, director, and producer. In 2023, he appeared in the latest installment of the "After" series as the main character's father, Christian Vance. 
Married to Paquin since 2010, the couple have often commented on the difficulties their careers can place on a marriage. She recently shared an Instagram selfie of the two of them in a car saying, "The long-distance thing NEVER gets any easier." Moyer has also been candid about his struggles with addiction and the work he has done with Santa Monica's CLARE Foundation.
Kristin Bauer: Pam Swynford De Beaufort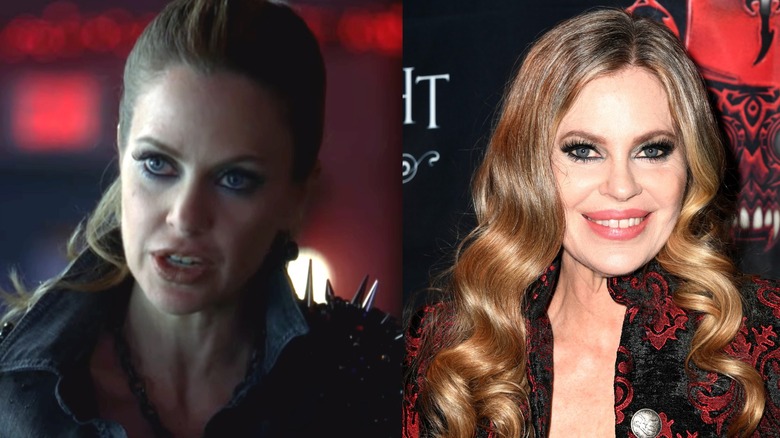 YouTube/ Albert L. Ortega/Getty
Kristin Bauer was born in Wisconsin but moved to Los Angeles after studying fine arts. She played in various TV shows throughout the 90s and early 2000s before landing the role of Pam Swynford De Beaufort, the no-nonsense vampire progeny of Eric Northman. Pam was a minor character in the first few seasons, but she became a prominent player in the show's events starting in season 3. 
From 2011-2015, Bauer was in 11 episodes of the fantasy show "Once Upon a Time" where she portrayed Maleficent, and she has appeared in various other popular series since. She is also a seasoned voice actor and producer. In 2021, she starred in the thriller named "Paradise Cove" with Mena Suvari and Todd Grinnell, and she launched a series rewatch podcast with Deborah Ann Woll called "Truest Blood."
Bauer has been married to Abri van Straten, a South African musician, since 2009. She is an active conservationist who works with rescue animals in Los Angeles.
Ryan Kwanten: Jason Stackhouse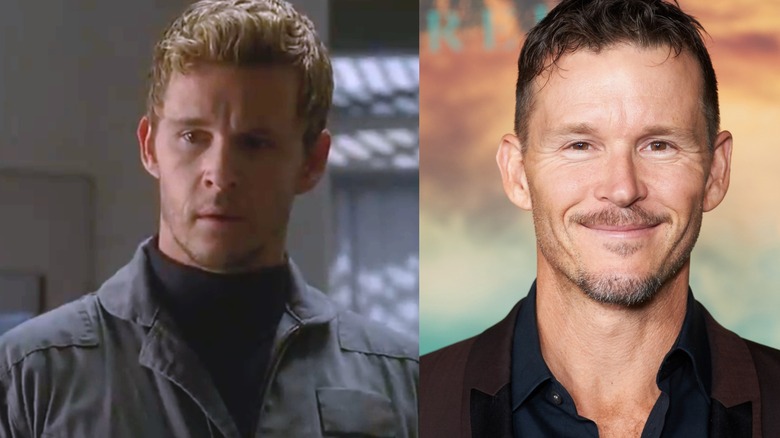 YouTube/ Unique Nicole/Getty
Born in Australia, Ryan Kwanten joined the cast of "True Blood" as Jason Stackhouse, Sookie's good-looking but dim-witted brother. Jason makes his debut in the first episode and is a main character throughout the series — he is one of four characters who appear in every single episode (the others are Sookie, Bill, and Lafayette Reynolds). In the books, Jason becomes a werepanther, but he remains human throughout the television adaptation.
Kwanten has been racking up the credits since the finale episode of "True Blood." He has voiced several animated characters and became a series regular on multiple shows, including a starring role in "Kindred," a miniseries based on the award-winning Octavia Butler novel. He has three productions currently in the works such as the horror film "Devil Inside."
While acting takes up the majority of his time, Kwanten has also managed to wear the producer hat a few times as well. In 2022, he was the executive producer for the horror film "Glorious," which he also starred in. He has been linked to Ashley Sisino, a model and actress, since 2013. According to Daily Mail Australia, the pair are engaged as of 2022, but there has been no confirmation of a wedding. 
Rutina Wesley: Tara Thornton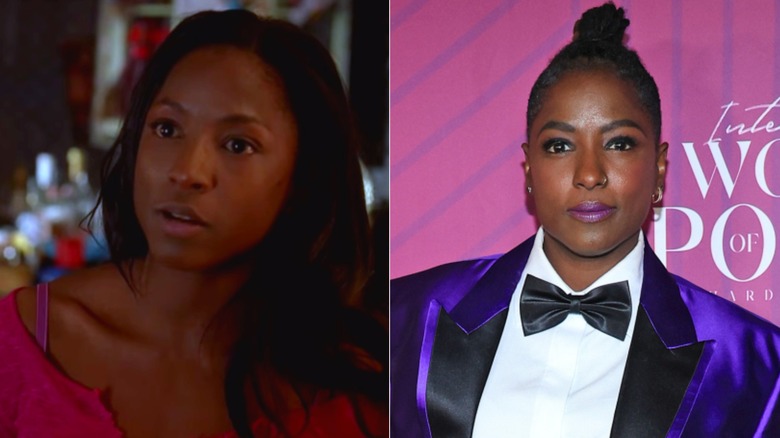 YouTube/ Kayla Oaddams/Getty
Juilliard alum Rutina Wesley joined the cast of "True Blood" as the character Tara Thornton, Sookie's best friend. The Tara from the show is tough and deals with her massive amounts of trauma with a quick wit and acidic tongue. The show creates a very different version from the Tara in the books — much to the viewers' delight. 
Wesley's star has continued to rise since her "True Blood" days, with roles in high-profile television shows including "The Walking Dead" and "Hannibal." She has portrayed Nova Bordelon in 88 episodes of "Queen Sugar" to much success, winning Outstanding Actress awards from the Black Reel Awards for Television in 2017, 2018, and 2019. In 2023, she joined Bella Ramsey and Pedro Pascal in "The Last of Us." 
While portraying Tara Thornton, Wesley was married to Jacob Fishel, whom she met at Juilliard, but the pair divorced in 2013. According to the Advocate, she was engaged to a New Orleans chef named Lashonda Cross in 2017. The pair attended "Queen Sugar" events together, and Wesley shared a (since-deleted) photo of an engagement ring on Instagram. There are rumors the pair have since split.
Joe Manganiello: Alcide Herveaux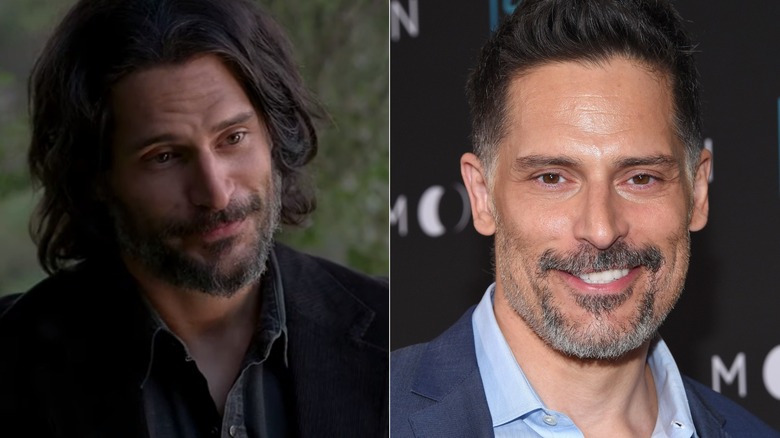 YouTube/ DFree/Shutterstock
Joe Manganiello is the 6'5" American actor born in Pittsburgh who was tagged to take on the role of alpha werewolf Alcide Herveaux. Alcide was a love interest for Sookie who came with a bit of baggage, namely an ex named Debbie Pelt. The werewolf first appeared in Season 3 and would meet his demise in Season 7. 
Manganiello may have caught the public's attention in "True Blood," but he cemented his heartthrob status as Richie in the "Magic Mike" movies. His dance moves aside, Manganiello has also done a fair amount of work as a voice-over artist, lending his voice to characters from "Star Wars" to "American Dad!" In 2023, he starred in the thriller "The Kill Room" with Maya Hawke, Uma Thurman, and Samuel L. Jackson.
After his werewolf days, Manganiello has added producer, writer, and director to his credits. He currently has a Dungeons & Dragons documentary in pre-production that he will be directing and producing. He married actress Sofia Vergara in 2015, but Vergara and Manganiello announced their separation in 2023.
Nelsan Ellis: Lafayette Reynolds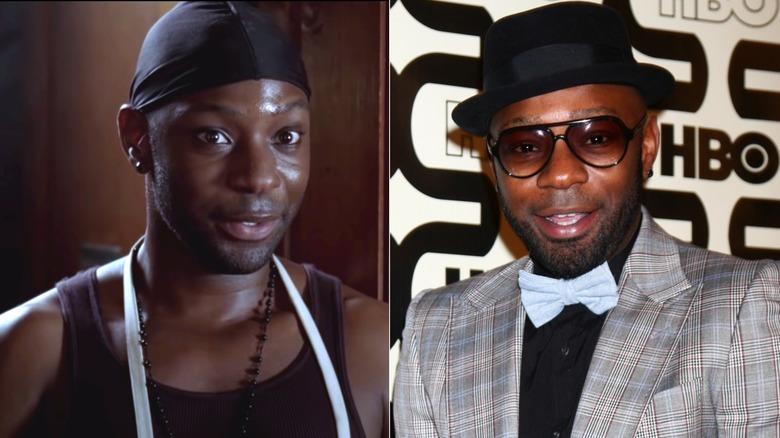 YouTube/ Kathy Hutchins/Shutterstock
Another Juilliard alum, Nelsan Ellis stole every scene he was in with his rendition of Lafayette Reynolds, the LGBTQ+ line cook of Merlotte's. Lafayette was a much smaller character in the book series and was murdered at the end of the second novel. In the show, he appears in every episode, and Ellis won a Satellite Award for his portrayal of the character in 2008. 
Unfortunately, the actor passed away in 2017 at 39. His untimely death was due to heart failure, and his manager Emily Gerson Saines stated that Ellis was attempting to detox from alcohol prior to his death (via NBC News). A statement from his father was released by The Hollywood Reporter with further details: "His kidneys shut down, his liver was swollen, his blood pressure plummeted, and his dear sweet heart raced out of control."
Prior to his death, Ellis appeared in several movies and series, including 11 episodes of "Elementary" with Lucy Liu and Aidan Quinn. He also directed and produced a documentary called "Damn Wonderful" and served as executive producer on several short films.
Carrie Preston: Arlene Fowler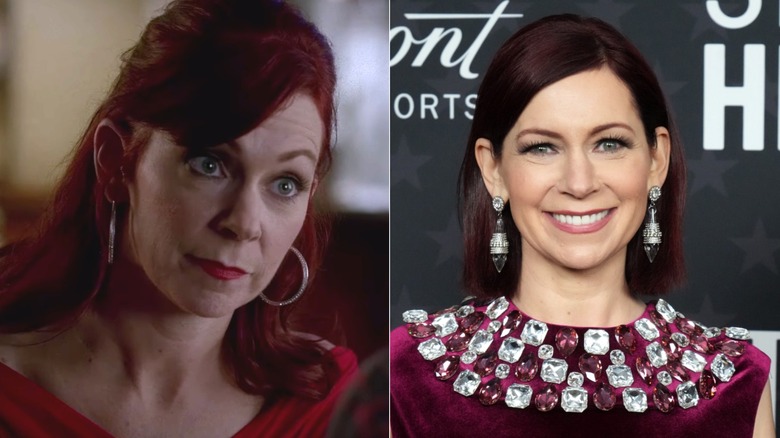 YouTube/ Jeff Kravitz/Getty
Born in Macon, Georgia, Carrie Preston started acting at the age of 12 in her own one-woman show she wrote, produced, and starred in — all in her own front yard. She would eventually move on to bigger productions like a small role in "My Best Friend's Wedding" with Julia Roberts and Cameron Diaz. She appeared in "True Blood" as Arlene Fowler, the fiery redheaded waitress working at Merlotte's with Sookie.
After seven seasons as Arlene, Preston went on to large roles in other shows, including Debbie in "Happyish" and Elsbeth in "The Good Wife." She also starred in all four seasons of the award-winning nail salon crime-comedy "Claws." It was announced in 2023 that her "The Good Wife" character is getting a spin-off series on CBS — the show is currently in pre-production. 
Preston won a Primetime Emmy Award in 2013 for Outstanding Guest Actress in a Drama Series and was nominated for a Critics' Choice Television Award in 2014, both for her work on "The Good Wife." In 2023, she's been spotted on the picket lines in NYC supporting the WGA and SAG-AFTRA Strikes.
Chris Bauer: Detective Andy Bellefleur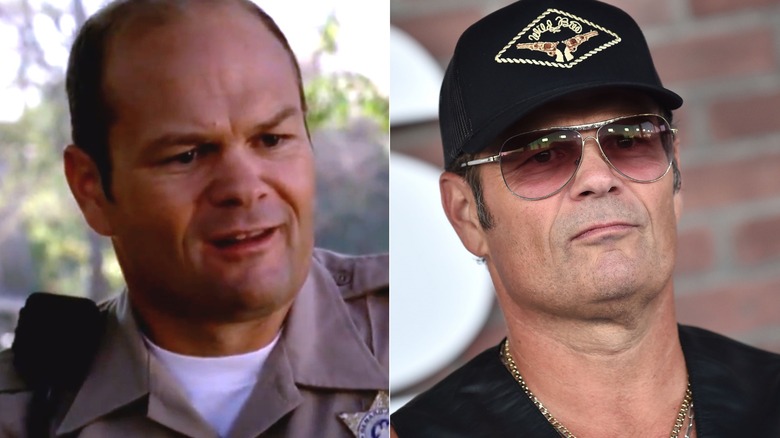 YouTube/ DFree/Shutterstock
L.A. native Chris Bauer has been gracing screens since the 1980s, appearing in blockbuster films like "The Devil's Advocate" with Al Pacino and Keanu Reeves. He portrayed the bumbling Detective Andy Bellefleur in all seven seasons of "True Blood." One of the fully human characters, Andy is no stranger to the supernatural world, and he even ends up with half-fairy daughters in Season 3. 
Bauer has been steadily working for decades and has kept extremely busy in his post-Bellefleur days. He has guest starred on numerous popular shows such as "Brooklyn Nine-Nine," "Modern Family," and "Homeland." He has also been cast in several series regular roles as well. Since 2021, he has starred in the pro-wrestling drama "Heels" on Starz. Bauer plays Wild Bill Hancock, a role he is very excited about due to his love of the sport. "It's been the joy of my career to play a pro wrestler on Heels," he told Screen Rant in 2023.
Deborah Ann Woll: Jessica Hamby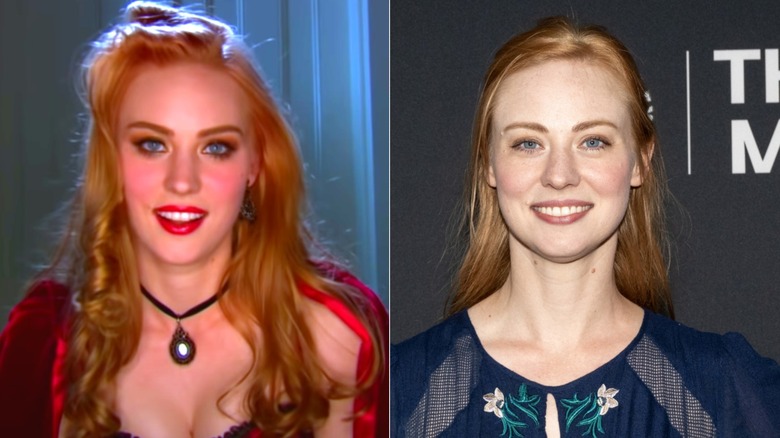 YouTube. Alexi Rosenfeld/Getty
A classically trained actress, Deborah Ann Woll has a Bachelor of Fine Arts degree in Acting and attended the Royal Academy of Dramatic Arts in London before landing her vampire gig on HBO. Her character Jessica Hamby does not exist in the original source material, but as a modern, young vampire, she brought a unique perspective to the show. She has one of the most dramatic character arcs in the series. 
Vampy Jessica may have been a breakout role for Woll, but she has been extremely busy since the finale. She filmed 39 episodes of Marvel's "Daredevil," starred in several movies, voiced video game characters, and produced a podcast. Like her "True Blood" alum Chris Bauer, Woll is involved in a wrestling-related project. "Queen of the Ring," a film about Mildred Burk, a pioneer female wrestler, is in pre-production.
Woll married actor E.J. Scott in 2018. Scott has a vision-threatening condition called choroideremia, and he and Woll use their platforms to raise awareness of the disease while raising money for research. Woll is also an active gamer known for playing Dungeons & Dragons and participating in Gen Con events. 
Jim Parrack: Hoyt Fortenberry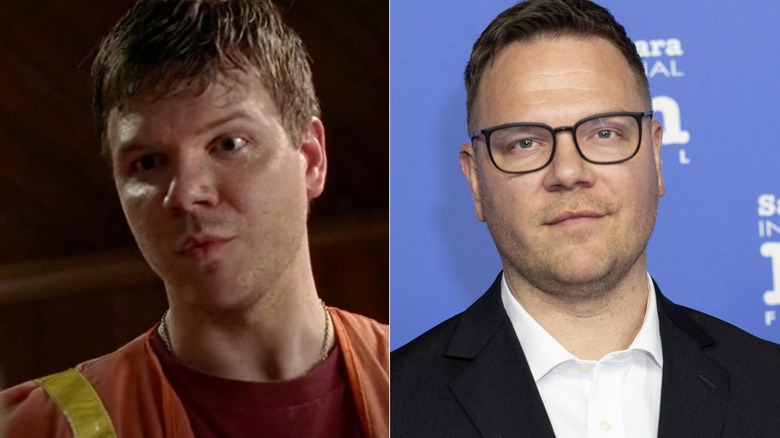 YouTube/ Ruby Wallau/Getty
Jim Parrack, a Texas native, portrayed Hoyt Fortenberry, the best friend of Jason Stackhouse and sometimes boyfriend of Jessica Hamby. Hoyt was a mama's boy who wasn't afraid to do the right thing. While fully human, he had no issue dating a vampire or dealing with the other supernatural phenomena around him.
Parrack starred in a theatrical adaptation of Steinbeck's classic "Of Mice and Men" the same year "True Blood" ended, and he hasn't really slowed down since. He worked on several projects each year, including 2016's "Suicide Squad" and several episodes of "The Deuce" with former castmate Chris Bauer. Since 2020, Parrack has been playing Judd on "9-1-1: Lone Star."
While playing Hoyt, Parrack was married to actress Ciera Danielle, but the pair split in June 2014. He then had a two-year marriage to Leven Rambin. He has been linked to Hayley Walters, a ballet dancer, since 2018. He is the president of 120 Productions (per The Vault). Parrack calls it a "vehicle for a half dozen, 'someday' projects."
Evan Rachel Wood: Queen Sophie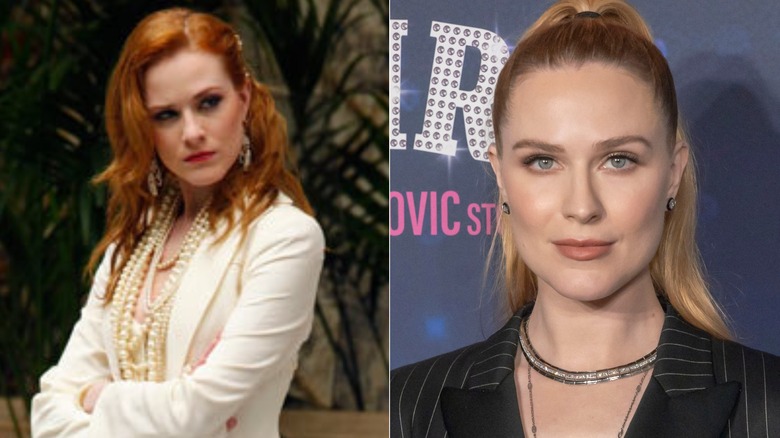 YouTube/ Ron Adar/Shutterstock
Award-winning actress Evan Rachel Wood held the guest starring role of Sophie-Anne Leclerq, vampire Queen of Louisiana. She first appeared in Season 2 and would show up occasionally in Season 3 and 4 — where she ultimately met her demise. The queen was originally from France and had a mercurial disposition. Her main goal was to ensnare Sookie and consume her fairy blood. 
Wood wasn't even 10 when she landed on the silver screen, and she has enjoyed a thriving career since. Post "True Blood," she has done everything from voice a "Frozen II" character to garner awards for her work on 35 episodes of "Westworld." She currently has four projects in pre-production, and she has a short film in post-production that she wrote, directed, and starred in called "Queen."  
Since her vampire royalty days, Wood had a brief marriage and shares a son with actor Jamie Bell. However, the pair split in 2014. According to AP, Wood is in an on-again-off-again relationship with Illma Gore, an American artist. Both women are involved in a defamation lawsuit filed by Wood's former fiance, Marilyn Manson.