Kate Middleton's Fall Fashion Proves Her Signature Look Has Evolved In One Short Year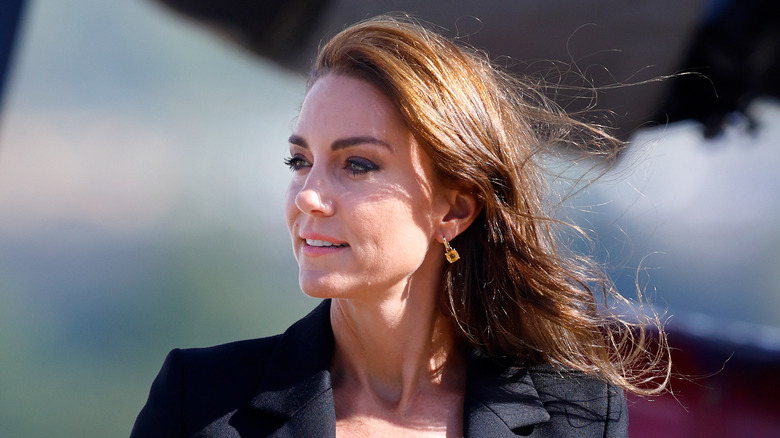 Max Mumby/indigo/Getty Images
Catherine, Princess of Wales, has long been lauded as a style icon, resulting in her being worth an eyebrow-raising sum of money to the British fashion industry. And a recent appearance in Leeds seems to show the princess and mother of three embarking on a new fashion trend that she's proving she can rock even better than her past signature looks. 
Kate Middleton has typically been known for her chic A-line dresses, stunning formal wear, and her willingness to take fashion risks that paid off. But now that Prince William's beloved wife has taken on a more senior royal position following the death of her grandmother-in-law, Queen Elizabeth II, Kate's new look seems to reflect her new role. 
Goodbye, flowy dresses, and hello, fierce pantsuits. The Princess of Wales looked gorgeous and ready for fall in an emerald green Burberry pantsuit, smart matching pumps, and a breezy white v-neck blouse while visiting a textile mill in northern England on September 26, 2023.
Kate Middleton's changing style is reflective of her self-image and attitude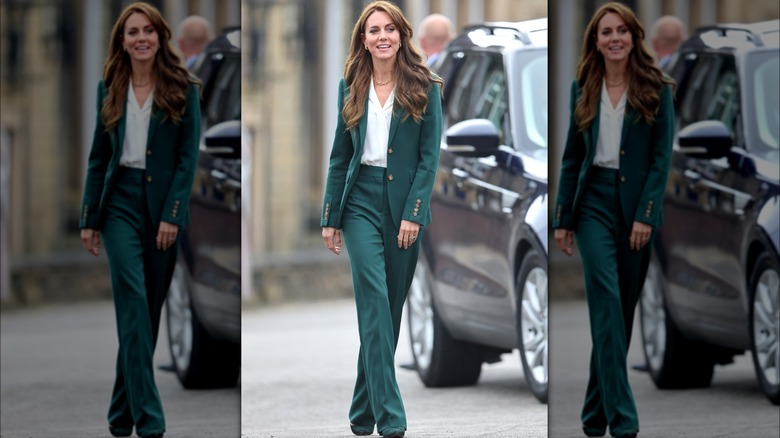 Chris Jackson/Getty
While her Leeds appearance certainly wasn't the first time she's ever worn a pantsuit, Catherine, Princess of Wales, held herself with a definite air of self-assuredness while showing off her effortlessly stylish fall fit. Royal expert Charlotte Griffiths says Kate Middleton's style revamp signifies confidence, describing the princess' pantsuited "business style" as a "sexy, mature power look" in a January 2023 episode of "Palace Confidential."
As eye-catching as Kate's notable fashion evolution has been over the past year, Kensington Palace announced in November 2022 that it would no longer share details of the Princess of Wales' outfits in an effort to refocus the media on her work as a senior royal family member. "Despite this recent lack of information, Kate is still hailed as a fashion icon globally," fashion expert Miranda Holder explained to Express following her appearance in Leeds, emphasizing that the world's interest in Kate's style (and her boardroom-ready pantsuit trend) isn't going anywhere anytime soon. 
Indeed, it's hard to separate the Princess of Wales from her international fashion icon status, particularly as she navigates this new poised, laid-back look — complete with face-framing curtain bangs and bolder jewelry choices, like the gold chain link statement necklace she donned in Leeds. It's clear that in addition to her work as a senior member of the royal family, there are undoubtedly plenty of stunning fashion moments to come.
The Princess of Wales has mastered the art of practical elegance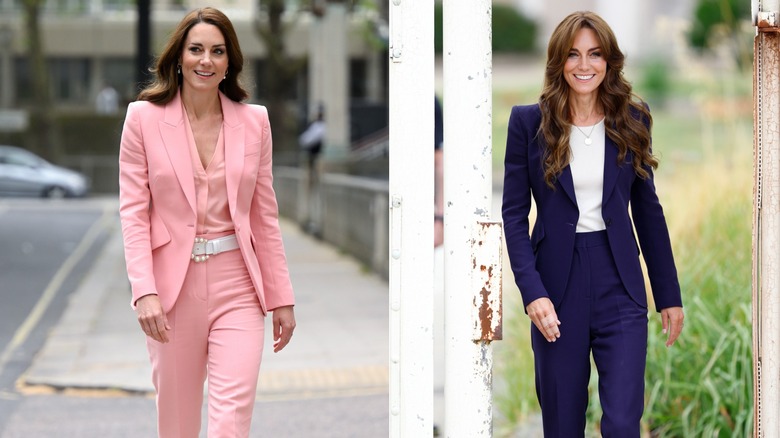 Max Mumby/indigo/Getty & Karwai Tang/Getty Images
Times have changed, so why wouldn't royal signature styles evolve, too? Catherine, Princess of Wales, has mastered the switch to a more contemporary attire consisting of a blazer and trousers, but not only to convey a more senior royal image. Celebrity stylist and royal fashion expert Miranda Holder suggests that the pantsuit look offers practicality for Kate Middleton while also keeping her attuned to current fashion trends. "This aesthetic works perfectly for the working royal women, as the on-trend silhouette keeps them relevant and fashion-forward," Holder informed the Daily Mail.
Although a smart jacket paired with tailored pants might seem like a formal and even inflexible combination, the Princess of Wales knows fashion better than that. She often adds a touch of casual to her outfits by pairing her pantsuit with what seems to be a form-fitting T-shirt underneath the jacket, as well as her bolder accessories. Additionally, Kate fearlessly embraces a diverse range of colors— from pastel pinks to richer shades of red and purple, the princess' fashion choices are always magazine-cover-worthy.
However, rather than simply selecting her favorite shade of the day, there is actually meaning behind the colors Kate often wears. The Princess of Wales has noticeably been incorporating lighter shades into her wardrobe, possibly as a strategy to project a more delicate image in the eyes of the public, according to Holder's TikTok analysis. Whatever the reason, she's never looked better.