All The Actors Who Have Played King Charles III & What Happened To Them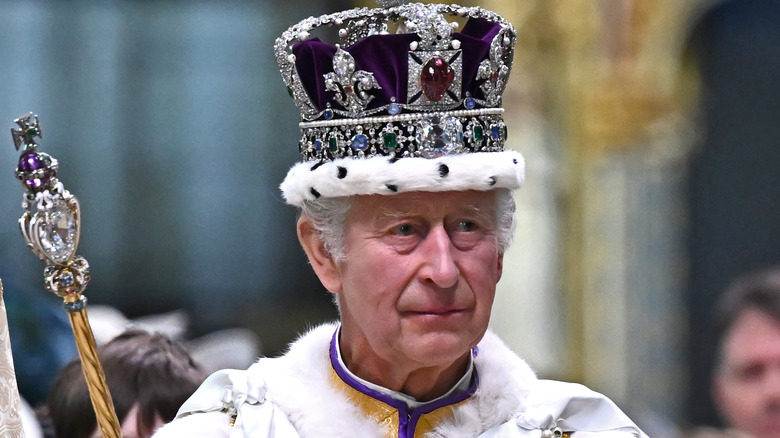 Wpa Pool/Getty Images
Officially coronated in May 2023 at the age of 73, King Charles III waited an awfully long time to become Britain's monarch. He's actually the oldest monarch in British history to ever ascend to the throne. Queen Elizabeth II was crowned when Charles was just 3 years old, and he spent the next seven decades awaiting his turn. During that time, the world watched him grow up, from an awkward young boy to a slightly less awkward adult, and, ultimately, a senior citizen with a lifetime of scandals, gaffes, and missteps under his belt. 
Thanks to the unrelenting public interest in the British royals — particularly the drama surrounding his doomed marriage to Princess Diana — Hollywood has featured the royals in numerous film and TV projects — some of which have Charles as a focus, others in which he's more of a supporting player.
In any case, Charles has been portrayed by an array of different actors over the decades, depicting the royal at various stages in his life. Here's a look at all the actors who have played King Charles III and what happened to them.
Christopher Baines in The Royal Romance of Charles and Diana (1982)
The 1981 wedding of Charles and Diana was a worldwide blockbuster of television event, drawing a global audience of 750 million people. Those are numbers any TV network could have only dreamed of at the time, and both ABC and CBS took a shot at carving out their own respective slices of those ratings with two competing made-for-TV movies focusing on the royal nuptials. For its offering, CBS served up 1982's "The Royal Romance of Charles and Diana." With Catherine Oxenberg (who is, in real life, related to the British royals) playing Diana, Christopher Baines was cast as Charles. As Washington Post TV critic Tom Shales pointed out, Baines barely resembled the royal he was portraying, and he criticized the film for being overly reverential of its subjects.
Following the film, Baines continued acting in his native Britain, where he appeared in a few British TV series, including "By the Sword Divided," "Poirot," and "Peak Practice." He also appeared in some films, such as "Tom and Viv" and "Paris By Night." His final screen acting credit is the 1996 British TV movie "Element of Doubt." 
While Baines also dabbled in writing and directing, he eventually turned to photography. According to his LinkedIn bio, he's a freelance photographer working primarily within the television milieu, specializing in on-set production photos for such clients as BBC, Channel 4, and ITV. He's also the author of the book "Pyramids in England." 
David Robb in Charles & Diana: A Royal Love Story (1982)
Airing within days of CBS's 1982 royal-wedding TV movie, ABC's "Charles & Diana: A Royal Love Story" featured Caroline Bliss as Diana and British actor David Robb as Charles. Since then, Robb has maintained a very busy acting career, extending through to the present; recent credits include the British TV miniseries "Grenfell: Scenes from the Inquiry." Robb has also provided his voice for video games (including "Star Wars" and "Harry Potter" titles). However, he'll likely be best known on this side of the pond for playing Dr. Richard Clarkson on "Downton Abbey," the preferred physician of the Crawley family, in 34 episodes of the beloved British period drama. 
In 2013, Robb experienced the tragedy of losing his wife, actor Briony McRoberts, when she died by suicide. Speaking with the Daily Mail, Robb blamed his wife's death on her own feelings of worthlessness in relation to the success he'd been experiencing with "Downton Abbey," something he claimed led her to develop an eating disorder that left her dangerously underweight. "Briony felt washed up, that no one remembered her and no matter how much I reassured her she felt worthless, a failure," Robb said. "Of course she wasn't, but that is what this business can do to you, especially if you are a woman."
If you or anyone you know is having suicidal thoughts, please call the National Suicide Prevention Lifeline by dialing 988 or by calling 1-800-273-TALK (8255)​.
Roger Rees in Charles & Diana: Unhappily Ever After (1992)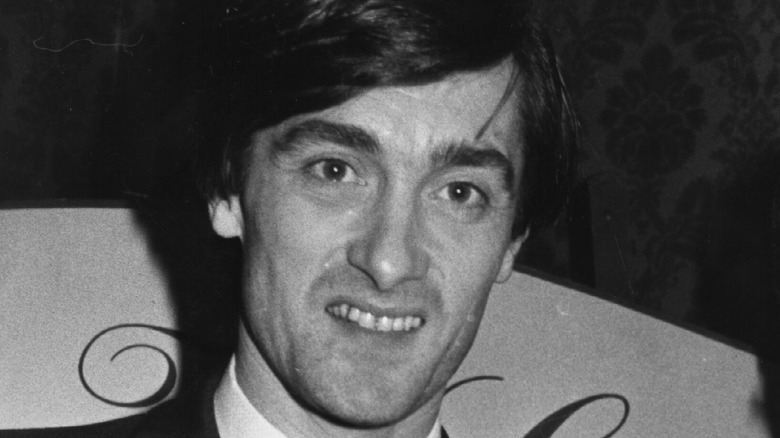 Evening Standard/Getty Images
While those early TV movies dealt with the fairytale love story of Charles and Diana, subsequent film and TV projects focused on what happened after, with the implosion of their marriage meticulously documented by the British tabloids. The first to delve into that sordid tale was the 1992 TV movie "Charles & Diana: Unhappily Ever After," in which Catherine Oxenberg portrayed the Princess of Wales for the second time. Now, however, a different actor was cast opposite her as Charles: Roger Rees, who had won acclaim (and a Tony award) for his performance in Broadway's "The Adventures of Nicholas Nickleby," and went on to appear in several Hollywood films, ranging from "Star 80," to "Stop or My Mom Will Shoot." 
At the time, Rees was certainly a familiar face on American television, playing the recurring role of Robin Colcord, the wealthy suitor of Kirstie Alley's Rebecca on "Cheers," a part he played from 1989 until 1993. Subsequent roles of note include the Sheriff of Rottingham in Mel Brooks' "Men in Tights," British Ambassador Lord John Marbury in "The West Wing," and a three-episode stint as Dr. Colin Marlow in "Grey's Anatomy." In the midst of all that screen work, Rees also maintained a solid presence in theater, acting and directing in numerous productions in New York and London; in fact, he earned two more Tony nominations, one for acting, another for directing.
Sadly, Rees died in 2015 at the age of 71.
David Threlfall in Diana: Her True Story (1993)
NBC's made-for-TV movie "Diana: Her True Story" aired in 1993, with Serena Scott Thomas as Princess Diana, and any question about which spouse came off sympathetically and which didn't should be easily answered by the title (and the fact that it was based on Andrew Morton's book of the same name, for which Diana cooperated). This time, Charles was played by David Threlfall, who'd previously appeared in numerous British TV series and a couple of big Hollywood movies, including "The Russia House," and "Patriot Games."
Threlfall continued to appear in both U.K. and American productions. Chief among his voluminous list of screen credits, however, is the role of malignant patriarch Frank Gallagher in "Shameless," the dark British comedy that was remade for American audiences by Showtime, with William H. Macy taking on the role originated by Threlfall. 
"I've always liked becoming different people," Threlfall told The Independent in 2007. "It used to be because I didn't know who I was. But now I think, 'Get over yourself.' I used to take roles home with me because I was frightened that I would lose touch with them. But there is no room for that; now I leave them on the mat with my shoes. I understand that there are more interesting and important things in life. That realization comes with experience and maturity. And any day now, I'll acquire those qualities!"
Dana Carvey and Seth Meyers in Saturday Night Live (1993 and 2005)
In addition to being portrayed by distinguished British actors in film and TV dramas, Charles has also been spoofed on "Saturday Night Live." The most notable was a 1993 sketch in which the then-Prince of Wales was played by Dana Carvey. Mocking the "tampongate" scandal, the sketch (with a surprise cameo by Mick Jagger!) featured scientists transforming Charles into a tampon. A few years later, Seth Meyers played Charles — opposite Fred Armisen as Camilla Parker-Bowles) in a Weekend Update sketch discussing their engagement. 
Carvey, who left the show after that episode, starred in his own short-lived TV show and a few movies, eventually launching the "Fly on the Wall" podcast, co-hosted by fellow "SNL" alum David Spade. Meyers left "SNL" in 2014, and began hosting NBC's "Late Night with Seth Meyers." Meyers also played Charles — more precisely, provided his voice — for a Weekend Update bit in which he delivered an "audio caption" for a photo of Charles and Camilla, with no less than Paul McCartney providing the voice of Camilla.
Those weren't the only times that "SNL" goofed on Charles. In a 2003 sketch, Alec Baldwin played Charles' personal secretary, presiding over a news conference addressing some unspecified royal naughtiness. Then, in 2018, Beck Bennett played Charles in a sketch set at the reception after Prince Harry's wedding to Meghan Markle.
Christopher Bowen in Princess in Love (1996)
Arriving in 1996, the TV movie "Princess in Love" focused on the affair between Princess Diana (Julie Cox) and Capt. James Hewitt (Christopher Villiers) amid her crumbling marriage to Charles (British actor Christopher Bowen). 
Bowen went on to add to an already distinguished roster of screen credits that included playing Prince Edward in the acclaimed 1995 film version of Shakespeare's "Richard III," and, that same year, Charles Fairford in "Cold Comfort Farm." He subsequently portrayed Commander Richard Day in the 007 flick "Tomorrow Never Dies," and then appeared in the TV miniseries adaptation of "Jane Eyre," the Benedict Cumberbatch-starring miniseries "Parade's End," and in an episode of "Outlander."
Given Bowen's theater cred — he trained at the Bristol Old Vic Theatre School, and was a member of the Royal Shakespeare Company — it shouldn't be surprising that he's spent much of his career ping-ponging between screen roles and the stage. In addition to starring in various productions in London's West End, he also appeared on Broadway, in "Cyrano de Bergerac" and "Much Ado About Nothing."
Alex Jennings in The Queen (2006)
Helen Mirren received critical acclaim (and an Oscar) for her performances as Elizabeth II in the 2006 feature "The Queen." The film focused on Her Majesty during the tumultuous period following the death of Princess Diana, with James Cromwell portraying Prince Philip, and Alex Jennings as Charles.
Subsequent roles for Jennings included the British miniseries "The State Within," and "A Very British Scandal," plus a variety of British TV shows, including "Cranford," "Whitechapel," "Silk," "Gold Digger," "This is Going to Hurt," "The Undeclared War," "Victoria," and the TV series adaptation of "Four Weddings and a Funeral." On film, Jennings has shared the screen with Maggie Smith in "The Lady in the Van," co-starred with Ralph Fiennes and Jessica Chastain in "The Forgiven," been part of the ensemble cast of the Second World War film "Operation Mincemeat," and appeared in the holiday rom-com "Your Christmas or Mine?"
Interestingly, Charles hasn't been the only member of the royal family that Jennings has played. During the first two seasons of Netflix's "The Crown," he portrayed King Edward VIII, whose abdication in order to marry divorcée Wallis Simpson changed the line of succession to the British throne, paving the way for Elizabeth II's reign, and, ultimately, that of King Charles III. Speaking with Radio Times, Jennings admitted he was disappointed he wouldn't be continuing on in "The Crown," after the entire cast was replaced. "We're all being kicked out and they're getting older models," he joked. 
Tim Pigott-Smith in King Charles III (2016)
Launching in the U.K. in 2014, "King Charles III" debuted on Broadway the following year. In both the British and Broadway productions, Tim Pigott-Smith starred as Charles, imagining events that would actually come to pass in 2022 when Queen Elizabeth II died and Charles ascended to the throne. Pigott-Smith was nominated for a Tony, and the play was subsequently filmed and aired as a presentation on the PBS "Masterpiece" series in May 2017. In addition to all those years portraying Charles, Pigott-Smith also appeared in the films "6 Days," and "Victoria and Abdul," both released in 2017.
Interviewed by Entertainment Weekly, Pigott-Smith was the first to admit that he bore little resemblance to Charles, yet he left audiences convinced that he actually did. The actor credited director Rupert Goold and his edict of not attempting to impersonate the royal. "So I do a lot of little things," Pigott-Smith explained. "Charles talks out of the sides of his mouth. He twists his ring on his finger. When he holds his hands over his pockets, he doesn't put his hands in them, they just hover there. And this allows the audience to place their image of Charles on me. It's almost like I'm his shadow. You look at the shape but you get a sense of him."
Sadly, the PBS presentation of "King Charles III" proved to be posthumous for its star; Pigott-Smith died in April 2017 at the age of 70.
Billy Jenkins and Julian Baring as young Charles in The Crown (2016)
No film or television drama has taken a more in-depth approach to Britain's royal family than "The Crown." In the series' first and second seasons, young Charles was portrayed by Billy Jenkins, depicting the distant relationship the youngster had with his parents. In the latter part of the second season, the role was taken over by Julian Baring, who played Charles from the ages of 12 to 15. 
After his stint on "The Crown," Jenkins' acting career thrived, with roles in British TV series "Humans," "Cursed," and "Peaky Blinders." In 2022, he was cast in the title role in the series "Dodger," a British TV drama focused on "artful dodger" Jack Dawkins, based on the character from Charles Dickens' novel "Oliver Twist." Interestingly, one of Jenkins' "Dodger" co-stars is another actor who played Charles — David Threlfall, who played the Prince of Wales in 1993's "Diana: Her True Story."  
Following Baring's four episodes as Charles in "The Crown," he appeared to back away from acting; that series is his only screen credit on IMDb. In an interview for Rugby School, which Baring had attended, he revealed he landed his "Crown" role when casting directors contacted his drama teacher and asked if she had any students she could suggest. After a few rounds of auditions, he was hired. "I really like acting," Baring said. "And if another thing comes up then I would probably love to do it again."
Josh O'Connor in Season 3 and 4 of The Crown (2019–2020)
The third season of "The Crown" jumped ahead in time, with the cast replaced by older actors to play the characters in a later time period. As part of this cast overhaul, Josh O'Connor was tapped to play adult Charles, continuing in the role through the fourth season. The part proved to be a breakout for him, opening the door to a thriving film career that has included "Mothering Sunday," "Aisha," "Lee," "La Chimera, and "Emma." O'Connor also played Romeo in a TV adaptation of Shakespeare's classic tragedy "Romeo and Juliet."
Playing Charles gave O'Connor a real empathy for the future king. "It was hard at times. There were days on set when I would say, 'Can we do a scene where Charles does express himself to the Queen?' He's always told: shut up, shut up, shut up. I felt I had to advocate for him, a bit, and give him a voice," O'Connor explained in an interview with The Guardian. 
For O'Connor, the attention he received from his performance — for which he won an Emmy — brought him to a level of fame he hadn't previously experienced — and which he found to be more than a little disconcerting. "It was a f***ed-up time," O'Connor told GQ. "I found it so impactful, people stopping me. You want to be in stuff that's successful and seen, but I think sometimes we underestimate how powerful even a slight loss of anonymity can be."
Jack Farthing in Spencer (2021)
The success of "The Crown" led to renewed interest in the story of Princess Diana. That ultimately led to the 2021 biopic "Spencer," starring Kristen Stewart as Diana — who received her first Oscar nomination for her performance — and Jack Farthing as Charles. Farthing, who was previously best known for his role in the British TV period drama "Poldark," admitted that signing on to play Charles was a daunting prospect, as he assumed it would be for any actor. "It's obviously a very scary overwhelming idea, taking on someone like that," he told Insider. "Trying to find your own truth in a character that everyone knows so well and is so visible and so recorded and so impersonated."
In order to overcome those hurdles, Farthing took an immersive approach. "It was a process of watching, reading, listening to as much as I could; studying him, his words, his life; and then letting it all go when we got there, and trying to stay free and open and instinctive. With mixed success," he told Schön, admitting that he felt he hadn't quite hit the mark that he'd set for himself in inhabiting the character.
Following "Spencer," Farthing returned to British television, starring in the psychological thriller "Chloe," and then in the dark comedy "Rain Dogs."
Dominic West in Season 5 of The Crown (2022-2023)
As was the case after the second season of "The Crown," the cast was completely changed after the fourth season. For the fifth season, debuting in 2022, Dominic West was hired to play an older version of Charles. While the previous installment had dramatized the courtship, wedding, and early years of his marriage to Princess Diana, this season jumped ahead to the events preceding their ugly split and the media explosion that ensued.
The choice of West — known for high-profile roles as Det. Jimmy McNulty in HBO's critically acclaimed crime drama "The Wire," and unfaithful writer Noah Solloway in "The Affair" — to play Charles was initially criticized by viewers who felt he was too handsome. West, in fact, had similar misgivings. "I knew I was in very good hands with the hair and makeup and the costume departments, and the movement department and the voice department," he said in a Tudum interview. "But I did think for quite a long time that absolutely no hands could deal with the task ahead because I thought, 'I don't look like him and sound like him, and I'm not going to be convincing as this guy.' That took a while to overcome."
West is continuing in the role of Charles in the sixth season of "The Crown," which — as of September 2023 — has yet to announce a premiere date, but is expected to debut sometime in the fourth quarter of 2023.