The Moment Michelle Obama's Passion For Improving Children's Health Began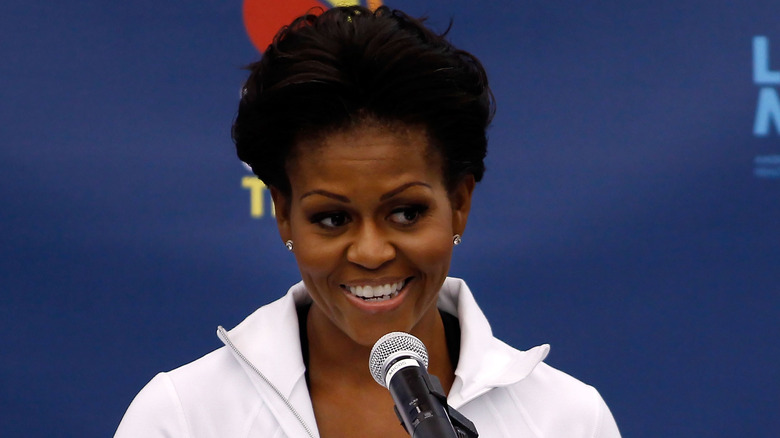 Mike Stobe/Getty Images
No matter how rich or famous, all parents deal with the ups and downs of parenthood. This is especially true for mothers, who are often expected to sacrifice everything for their children. This feeling of not giving or being enough for your children as a mother has been dubbed "mom guilt," and there's no doubt that every mama has experienced this feeling. Even Catherine, Princess of Wales, a.k.a., Kate Middleton, opened up about dealing with "mom guilt" as the mother to royal children.
The next famous mom to get vulnerable was former First Lady Michelle Obama, who said that one doctor's visit changed her outlook on her daughters' health. And in turn, the health of children across the world. She wrote in "Oprah Daily" about her struggles as a new parent, alongside her husband, former President Barack Obama. They share two daughters, Sasha and Malia Obama.
During their early childhood, mom Michelle Obama recalled feeding her children prepared foods out of convenience, noting the negative effect it had on their health. "I still remember taking one of my girls for a well-child visit and having the doctor tell me that all those simple choices I was making were negatively impacting her health," she recounted in her "Oprah Daily" essay. It was one of the worst feelings I've had as a parent — and one of the biggest wake-up calls of my life."
Michelle Obama's career has prioritized children's health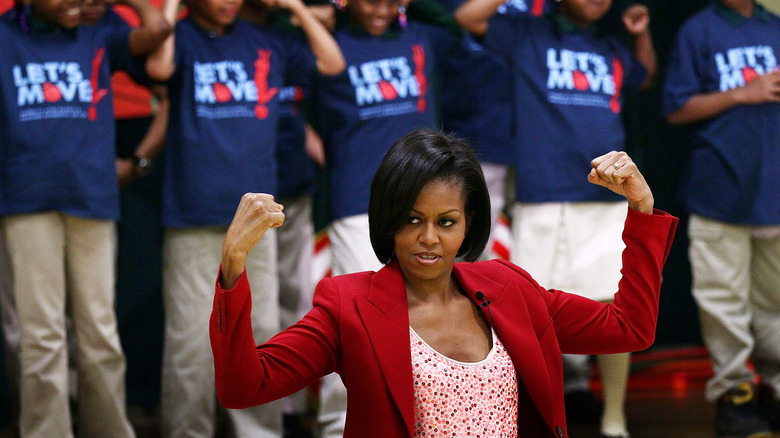 Win Mcnamee/Getty Images
Michelle Obama's career has centered around humanitarianism long before she entered the White House in 2009. A graduate of Harvard Law School, Michelle quickly realized that being an attorney at a top Chicago law firm wasn't fulfilling enough. As her husband Barack Obama pursued a political career, she moved towards youth-based community initiatives. This work took her from the AmeriCorps program to the University of Chicago, where she founded the school's first community service program.
In her historic role as First Lady, Michelle Obama launched the "Let's Move" campaign to prioritize children's health in 2010. Upon entering the White House, she knew that children's health was her top priority. "It felt like everywhere I looked, companies viewed kids as profit generators for their bottom lines," the former First Lady explained (via Oprah Daily). "So when Barack and I got to the White House, I saw it as a chance to support parents as they're trying to raise healthy families."
"Let's Move" aimed to introduce nutritious food choices to school cafeterias, educate families across America, and lower childhood obesity rates. In addition to community-based impact, Michelle Obama leveraged her political power to strike deals with popular food companies, such as Walmart and Burger King. Now, she looks towards entering the corporate sector to finish the work she started in the White House.
Michelle Obama launched a healthy food company for kids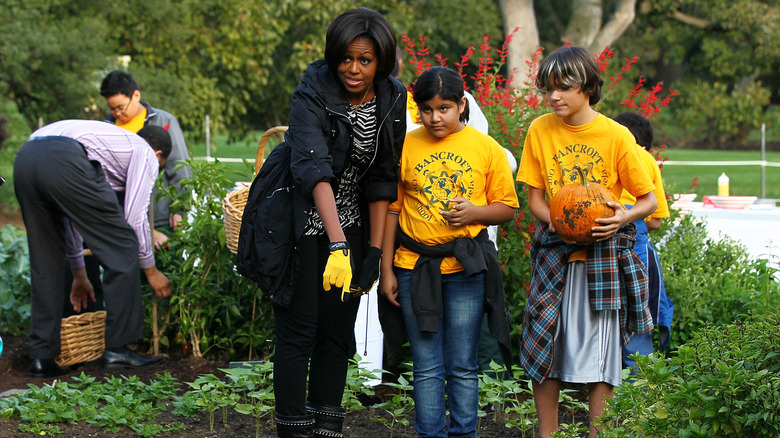 Alex Wong/Getty Images
Talking to your kids about weight can be difficult, but it's important to prioritize nutrition. In a day and age where children consume over 50 pounds of extra sugar per year, making healthy choices accessible is more important than ever (per the American Heart Association). Even though her time at the White House ended in 2017, Michelle Obama hasn't backed down on her commitment to improving children's health.
Obama has continued the core mission of the "Let's Move!" campaign as a co-founder of "PLEZi Nutrition." She launched the healthy food and beverage company, which is targeted towards children, in 2023. Since she is no longer an active political figure, Obama decided to move away from public policy and go corporate with her goals.
"I've learned that on this issue, if you want to change the game, you can't just work from the outside," she said at the Future of Everything Festival (per NPR). "You've got to get inside, You've got to find ways to change the food and beverage industry itself." PLEZi's first products are lower-sugar fruit juices, which aim to meet children and families at their own comfort level. The brand aims to expand to include other healthy alternatives to popular kids' snacks.