Meet Princess Caroline Of Monaco's Third Husband Prince Ernst August Of Hanover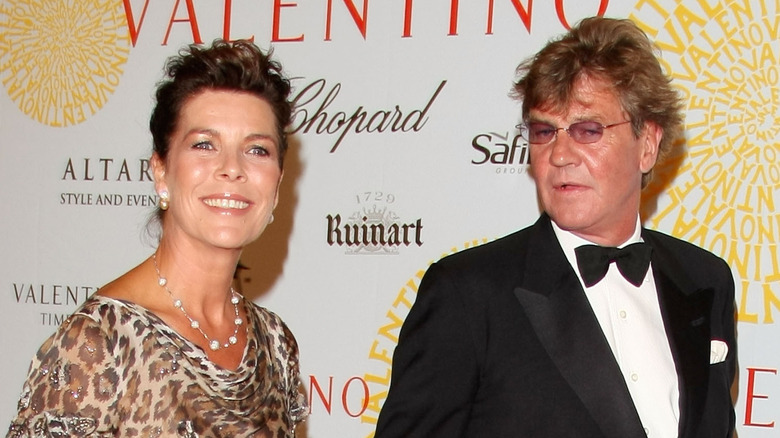 Daniele Venturelli/Getty Images
Princess Caroline of Monaco has not exactly been lucky in love. The Monegasque royal began experiencing romantic disasters back in 1976 when — at the tender age of 19 — she was introduced to a suave Frenchman named Philippe Junot. 17 years her senior, Junot had a playboy reputation that left Caroline's parents quaking. This, however, did nothing to stop the princess from marrying him in a 600-person bash. Caroline and Junot divorced in 1980, due to a great deal of infidelity.
Following her dalliances with Junot, Caroline fell for a totally different type of suitor. In 1983, the princess began dating Stefano Casiraghi, an Italian businessman with a soft side. It didn't take long for things between Caroline and Casiraghi to get serious, and the couple wed just months after they met. A brood of three children — Andrea, Charlotte, and Pierre — followed shortly after. Tragically, however, Caroline's fairy tale ending was cut short when Casiraghi died in a speedboat race in 1990. As she mourned her husband's death, the princess suffered so much that she retreated from public life.
Light only seemed to return to Caroline's life when — six years after Casiraghi's death — she fell in love again. The princess was spotted out and about with Prince Ernst August of Hanover, a German royal with a promising future. Over time, however, the validity of this relationship came into question, as it became evident that Ernst was not necessarily the gentleman he seemed to be.
Prince Ernst August of Hanover is from an old-fashioned royal family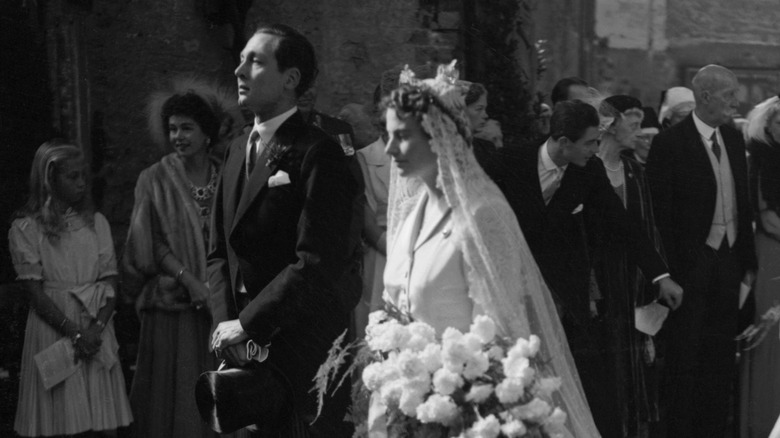 Bettmann/Getty Images
Prince Ernst August of Hanover was born on February 26, 1954, to one of Europe's oldest and most illustrious royal families. His father, also named Prince Ernst August of Hanover, held the additional title of "Hereditary Prince of Brunswick." His mother, Princess Otrud of Schleswig-Holstein-Sonderburg-Glücksburg, came from a historic ducal family with blood ties to the Greek, Danish, and British royal families. His parents' wedding (pictured above) took place in 1951. 
Because of this unique pedigree, Ernst can be considered one of Europe's best-connected royals. Speaking in the documentary "Grace Kelly's Children: Blessed or Cursed?," famed journalist Bidisha Mamata explained why the prince has such a high status: "He is royal as they come. If you look into his family background, it pretty much goes back as far as the Roman empire. He is super duper, unbelievably mega posh every which way you look at it." She went on to note that Ernst boasts recent genetic ties to several different royal bloodlines, sharing, "He has connections to every major European royal family, including the English royal family through King George."
In practice, this means that Ernst is technically in line for the British throne. As royal expert Jeffrey Robinson explained in the biography "Grace of Monaco: The True Story," Ernst was, in effect, a very distant cousin to the late Queen Elizabeth II. 
He has been rebellious since his teen years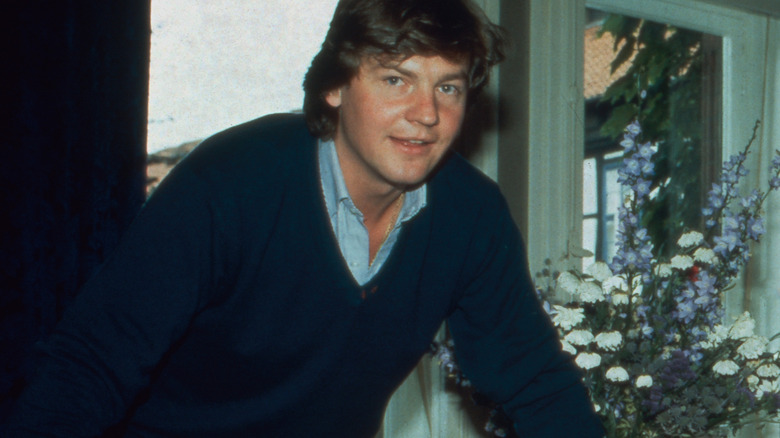 United Archives/Getty Images
Although Prince Ernst August of Hanover was technically one of Queen Elizabeth II's cousins, he does not exactly share her passion for following royal protocol. On the contrary, Ernst has earned a reputation for being something of a rule-breaker. According to some accounts, he started rebelling against notions of propriety as early on as his adolescence.
As explained in Jeffrey Robinson's book "Grace of Monaco: The True Story," Ernst began getting into trouble while he was still at school. His acts of defiance ran the gamut from refusing to cut his hair to the length deemed appropriate by the administration to smoking on school grounds. Eventually, administrators got so tired of Ernst's antics that they decided to kick him out of the institution entirely. So, the teen royal headed to a farm.
In the end, though, Ernst's time doing manual labor was short-lived. Before long, the prince was ready for academia again — and even expressed any interest in traveling outside of his native Germany to do so. Per Robinson, Ernst eventually headed off to the University of Guelph in Canada, where he studied agriculture. Later, he attended the Royal Agricultural College in the United Kingdom. And while Ernst did seemingly make a valiant effort to continue his education, his rebellious nature did not necessarily waver with time.
Ernst and Caroline were set up when they were young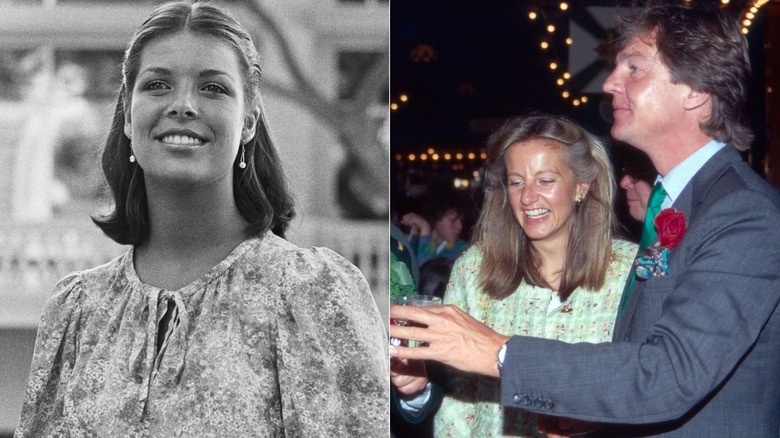 Rene Maestri/Getty & United Archives/Getty Images
In a sense, Prince Ernst August of Hanover showed Princess Caroline his unruly ways from the first moment that they crossed paths. According to Jeffrey Robinson's "Grace of Monaco: The True Story," Ernst and Caroline were formally introduced back in the 1970s while Monaco's royal family was on a family trip to Germany. The young people's parents arranged this meeting, as they, ostensibly, hoped that the two young royals would make a good match. However, as Caroline would later tell Robinson, a long-term relationship was the last thing on her mind on the day she met Ernst.
Far from developing any sort of interest in the young prince at first sight, Caroline initially felt that he was off-putting. According to the princess' account, much of her initial reaction had to do with Ernst's wild side, which he revealed almost immediately. As Robinson put it in his biography, "The young German fellow had just bought some sort of fancy sports car and, to show it off, he invited Caroline for a spin. She couldn't say no, although when she saw how tiny the car was, she wished she had." 
Ultimately, Caroline was all but forced to go on an extremely uncomfortable car ride with her new companion. To make matters worse, when it came time for her to climb out of the car, she got stuck. For years, Robinson wrote, the Monegasque princely family would laugh about the chaotic first impression.
They engaged in an extramarital affair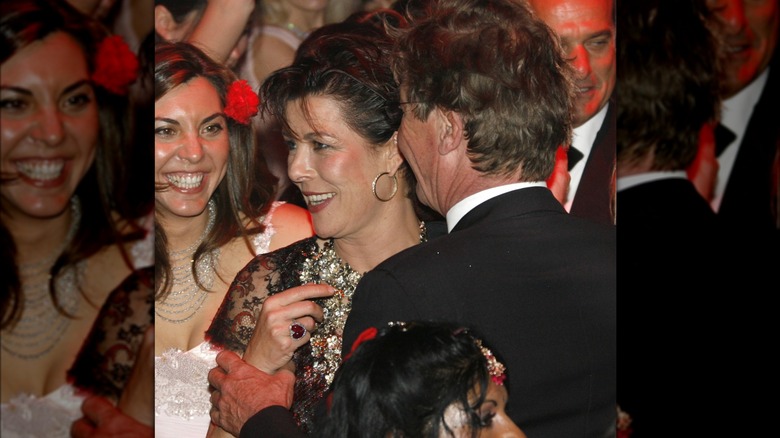 Toni Anne Barson Archive/Getty Images
Prince Ernst August of Hanover's rule-breaking ways may have been a turn-off for Princess Caroline in the 1970s. However, when the princess ran into him on a 1996 Swiss ski vacation, she changed her mind. As Caroline told Jeffrey Robinson for his book "Grace of Monaco: The True Story," the two got to sneaking around soon after that initial meeting — even though Ernst was still married to the then-Princess of Hanover, Chantal Hochul. 
Ultimately, though, it seemed that formerly-straight-laced Caroline enjoyed the illicit nature of their relationship. At first, the couple tried to keep their romance under wraps. But, as time went on, they became increasingly bold in their public outings. As revealed in an October 1996 edition of Hello!, the couple was spotted out and about together in St. Rémy. And, just a few months later, Ernst and Caroline headed off to Thailand together, before hunkering down for another Swiss escapade. 
Of course, these trips catalyzed a mountain of speculation concerning the true nature of the prince and princess' relationship. By June 1997, Hello! reported that, in the midst of yet another one of the pair's international adventures, Chantal filed for divorce. By September 1997, the German royal was officially a single man, although he was still responsible for paying the former Princess of Hanover $10 million in spousal support. Just two months later, gossip columns like WWD's Suzy claimed to hear wedding bells in Caroline and Ernst's future.
Princess Caroline and Prince Ernst married in a quasi-secret wedding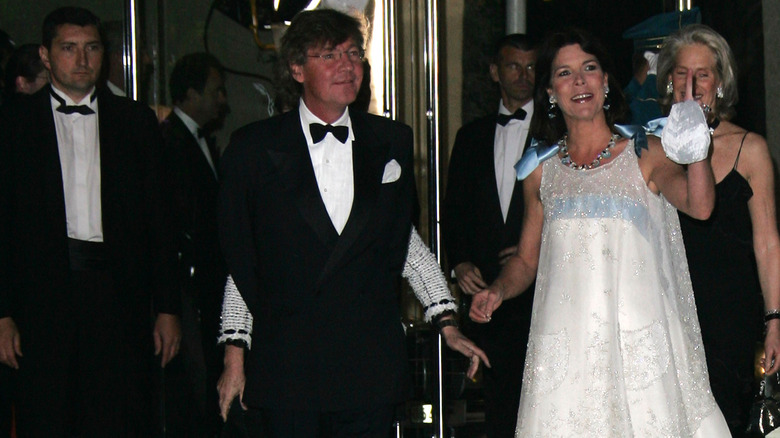 Toni Anne Barson Archive/Getty Images
Perhaps because of all the drama that transpired in the early days of their courtship, the Prince's Palace of Monaco did little to advertise Princess Caroline and Prince Ernst August of Hanover's romantic goings-on. Even when the couple decided to get married on January 23, 1999, the palace tried to downplay the wedding. In fact, as noted in "Grace of Monaco: The True Story," the principality did not even announce Caroline and Ernst's nuptials until the day before they said their vows. Considering that Caroline's first wedding to the ever-flirtatious Philippe Junot was an ultra-public affair involving 600 guests, this lower-key event represented a tremendous pivot away from royal tradition.
Even so, Caroline and Ernst's wedding was said to be a quiet family affair that took place in the palace. They were joined by the princess' father, Prince Rainier, along with her younger brother, Prince Albert, and all three of her children. Ernst's two sons from his first marriage — Ernst August of Hanover and Christian of Hanover — were also there to support their father. 
When the ceremony was over, Caroline became known as Her Royal Highness Caroline Princess of Hanover, Duchess of Brunswick and Luneburg. It is believed that Queen Elizabeth II had to approve of the match, although it is unclear whether she was given the chance to formally sign off on it.
They welcomed a baby, Princess Alexandra of Hanover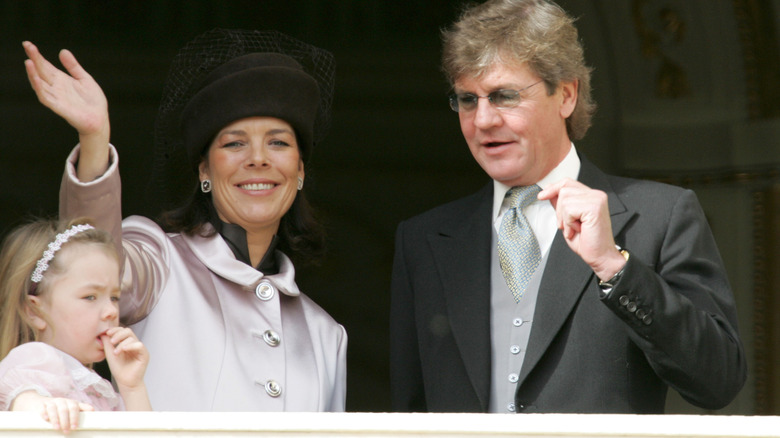 Toni Anne Barson Archive/Getty Images
Just six months after tying the knot, Princess Caroline and Prince Ernst August of Hanover welcomed a baby girl, who they named Alexandra. Due to Monegasque princely protocol, the child was not made a princess of Monaco. However, as Ernst's oldest daughter, Alexandra had the right to her German titles. Thus, her full name became Princess Alexandra of Hanover.
Unfortunately, though, Alexandra's arrival was not entirely the joyous occasion that it was meant to be. As explained in Jeffrey Robinson's "Grace of Monaco: The True Story," the trouble started when Caroline and Ernst decided to spend the last part of the pregnancy in Austria. The idea was to enjoy a bit of privacy at one of Ernst's estates, which was located east of Salzburg. However, on the actual day of Alexandra's birth, the royals' plans for a low-key delivery quickly went downhill.
As Ernst tried to enter the hospital to greet his child, photographers were waiting for him. Cameras flashed, the prince got upset, and a scuffle took place. As Robinson put it, "He asked that [the paparazzi] not take his picture and when one of them refused to comply, Ernst tried to take his camera away." While this aggressive action may not have been justified, most people understood that nerves were high. And, the anxious father was given the benefit of the doubt. Photographers were asked to leave the hospital, and security was amped up around Caroline's room.
The prince attracted negative press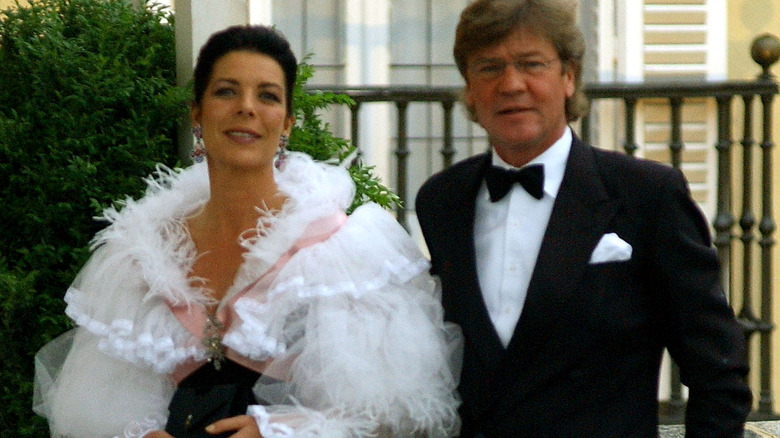 Carlos Alvarez/Getty Images
For some royal fans, Prince Ernst August of Hanover's outburst on the day of his daughter's birth was justified. After all, it was an emotional event, and Ernst still was not accustomed to the tabloid attention that seemed to follow Princess Caroline everywhere. However, as time went on, the German royal's public behavior became increasingly difficult to defend. This was especially clear in 2000 when Ernst attended the World Expo in Hanover. During the event, the prince was said to have been photographed urinating on Turkey's national pavilion. As reported by German outlet Welt am Sonntag, Ernst's misbehavior was also confirmed by a sworn witness (via The Telegraph).
Naturally, it did not take long for this situation to generate a diplomatic crisis. Zeynel Yesilay — who worked at the time as the private secretary to then-Prime Minister Bulent Ecevit — told the press that Ernst's actions were offensive. Per The Telegraph, Yesilay announced, "The Turkish public is shocked. What an affront. I think the prince must be an ill man." 
Perhaps most shockingly, though, was what Ernst did next. As explained in J. Randy Taraborrelli's book "Once Upon a Time: Behind the Fairy Tale of Princess Grace and Prince Rainier," the German royal "took out an advertisement in the Frankfurter Allgemeine Zeitung ... [which stated:] 'I did indeed relieve myself during my visit to Expo 2000 but neither against the wall of the Turkish Pavilion nor on the soil of the Turkish state." 
He was rumored to have a volatile side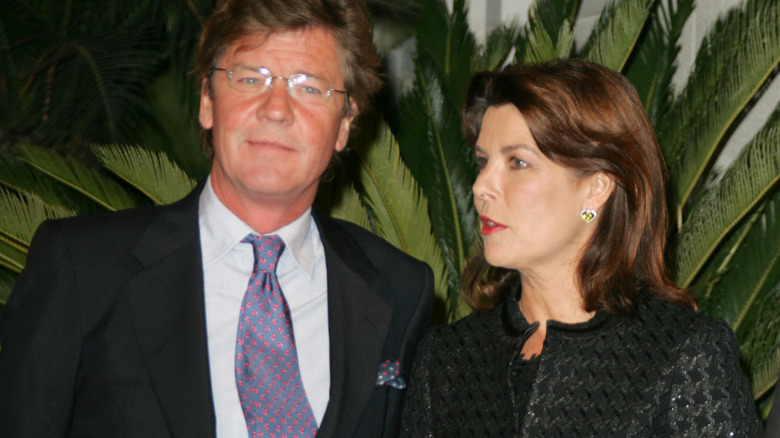 Toni Anne Barson Archive/Getty Images
Unfortunately, some sources indicate that Prince Ernst August of Hanover's misbehaviors have stemmed well beyond public urination. Indeed, on several occasions, it has also been reported that the prince could get violent. As royal expert J. Randy Taraborrelli explained in the book "Once Upon a Time: Behind the Fairy Tale of Princess Grace and Prince Rainier," there was at least one occasion when Ernst was held legally responsible for his aggressive actions towards the paparazzi.
Taraborrelli relayed, "Prince Ernst August of Hanover has generated media attention for his flamboyant behavior and famously bad temper." The reporter continued, "After being convicted of physically and verbally attacking two journalists, a photographer, and a restaurant owner, he was fined $228,000 and given a suspended sentence."
Sadly, this incident was not the only time that Ernst faced legal issues for his violent reactions. As per the BBC, German courts have also found the prince guilty of causing serious bodily harm. This decision was made following a 2000 incident when Ernst attacked hotelier Josef Brunlehner with a metal ring at the Lamu resort island in Kenya. According to court records, Brunlehner said that his injuries from the attack were so severe that they landed him in the emergency room. The fight reportedly started because Ernst thought a local nightclub was too loud. As a result of this incident, Ernst was ordered to pay a $620,000 fine in 2004.
Ernst of Hanover and Caroline of Monaco separated in 2009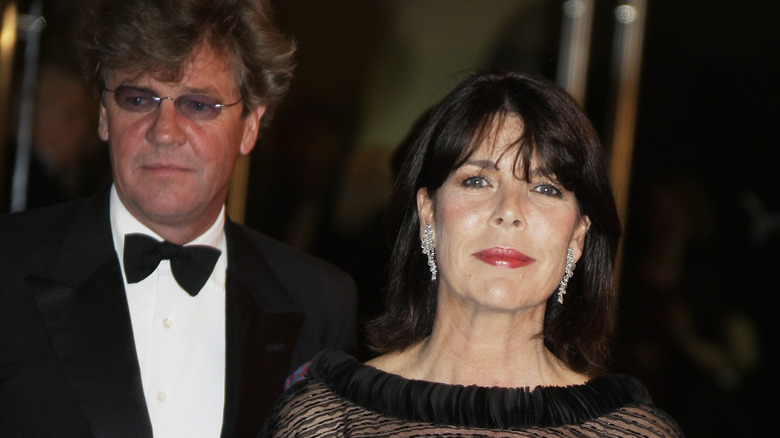 Palais Princier Monaco Pool/Getty Images
Perhaps because of Prince Ernst August of Hanover's antics — or perhaps for another reason entirely — Princess Caroline separated from the German royal in 2009. During that year, People recounts, Ernst was photographed spending time with a Parisian socialite. If the photos of the encounter seemed harmless to the public, Caroline did not seem to find her husband so innocent. According to People, it only took a few days for the princess to move out of the home she had once shared with the Prince of Hanover. Within almost no time, the Monegasque royal was high tailing it back to her home principality, with her daughter, Princess Alexandra, in tow.
While Caroline was trying to figure out her new life as a single mother, Ernst kept busy by pursuing other women. During the Christmas of 2009, while the princess took her kids on a skiing trip to Switzerland, Ernst headed off to Thailand with someone special. That January, the French outlet, Paris Match, published photos of the German royal kissing an unknown woman under the sun. By December of 2010, the German outlet Bunte spotted Ernst out with yet another date — this time a 22-year-old dancer named Simona (via Daily Mail). Naturally, these dalliances seemed to mark the end of Ernst and Caroline's interpersonal relationship. Even so, the couple has not pursued a divorce as of this writing.
Ernst was arrested in 2023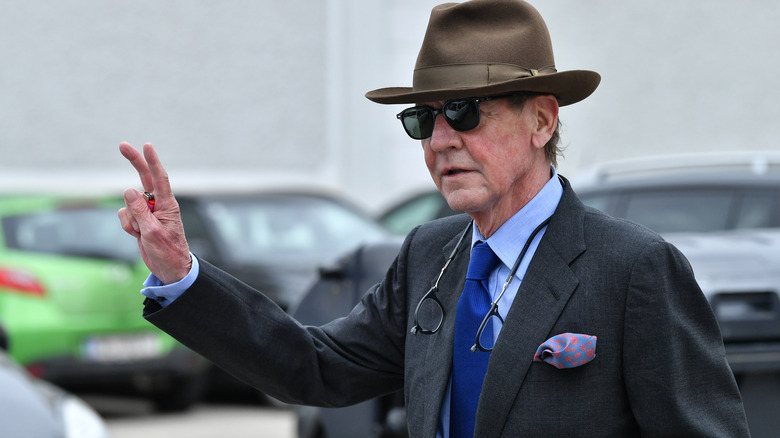 Kerstin Joensson/Getty Images
During the summer of 2023, Prince Ernst August of Hanover was arrested in Austria following a series of complaints regarding his alleged behavior. According to a local outlet called Kronen Zeitung, the problems began when the prince made some inappropriate comments to some of his employees while at the Guelph hunting lodge in Grünau im Almtal. He allegedly told two couples to "sneak away" from the lodge, threatening to send his henchmen after them if they refused to comply with this bizarre request. 
To make matters worse, Ernst was also reported to have exhibited other signs of violent behavior while at the lodge. Kronen Zeitung reported that, at one point, he damaged public property by pulling a traffic sign out of the ground. Later, he was said to have broken a window at the Duke of Cumberland Foundation. 
Out of fear for her personal safety, one of the prince's employees decided to call the cops. And, it did not take long for the court to send out a warrant for his arrest. On September 7, 2023, police arrived at the lodge. Ernst was then arrested on charges of coercion, threats, and property damage.
Rumor has it that the prince found love again with a Spanish artist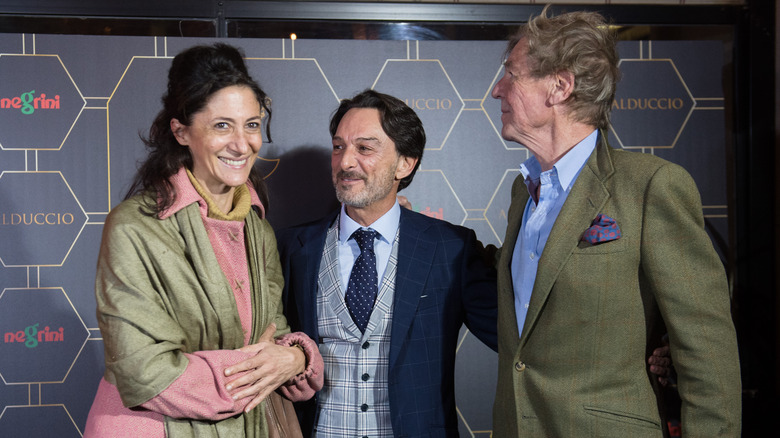 Beatriz Velasco/Getty Images
In spite of all his legal difficulties, Prince Ernst August of Hanover has maintained a vibrant social life. There are even whispers that he even found love again — this time around with the Spanish artist, Claudia Stilianopoulos. Per Tatler, Stilianopoulos was said to be hanging out in Ibiza when she first crossed paths with the German prince in 2021. Sparks flew, and before long, the pair were rumored to be an item.
While Stilianopoulos is not a princess herself, the artist's family has long been linked to royalty. Back in the day, her parents, José Manuel Stilianopoulos y Estela and Esperanza Ridruejo, were good friends of Princess Margaret's. In fact, the Stilianopoulos crew was once so close to the British royal that they were actually privy to her secrets. While Margaret was seeing Roddy Llewellyn, they even lent her the use of their villa in Marbella.
With this history in mind, it is possible that Claudia Stilianopoulos has inherited her parents' ability to relate well with royalty. She has been spotted on Ernst's arm at several high calibre events. The two have also been known to dine at upscale Madrid restaurants. However, this taste for the finer things in life has not prevented Ernst and Stilianopoulos from soaking up the simple stuff. As the Daily Mail noted, the two were spotted smooching while out on a casual walk in October 2021.