Kim Kardashian's Ultimate Celeb Crush Was From Another Wildly Famous Family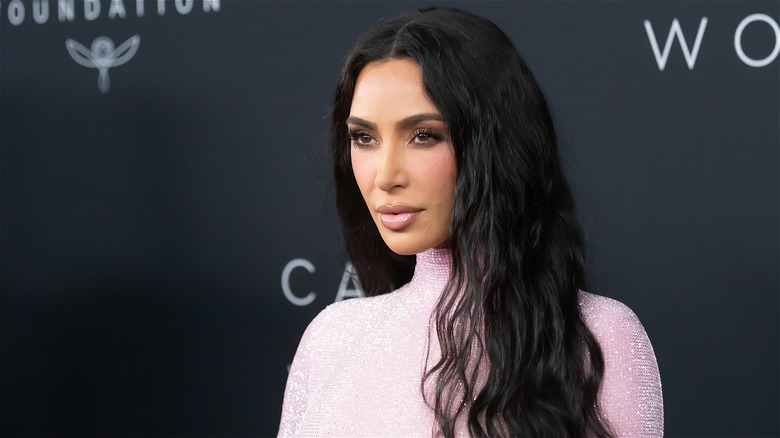 Joy Malone/Getty Images
Under different circumstances, Kim Kardashian could have been part of the ultimate American power couple. The reality star recently revealed her unsurpassed celebrity crush, and interestingly, it was someone from another wildly famous family: the Kennedys.
Given their cultural prominence in the 1990s, the Kennedys could be considered the Kardashians of that time, so Kim's crush isn't entirely surprising. Beyond this, the reality star has another connection to the Kennedy legacy — she infamously wore the original dress that Marilyn Monroe donned while singing "Happy Birthday" to then-President Kennedy in 1962. Monroe was Kennedy's alleged mistress, but the affair was never confirmed. Nonetheless, it adds an intriguing layer to Kardashian's connection to the iconic family.
Despite not having apparent common ground, Kardashian and her Kennedy crush could potentially bond over the shared experience of immense fame and the intense media scrutiny they have both faced. As American icons of their respective eras, they would undoubtedly find much to discuss and share about navigating the complexities of public life. While the SKIMS mogul and John F. Kennedy Jr. never got a chance at romance, it hasn't stopped Kardashian from dreaming.
Kim Kardashian's crush that never came to be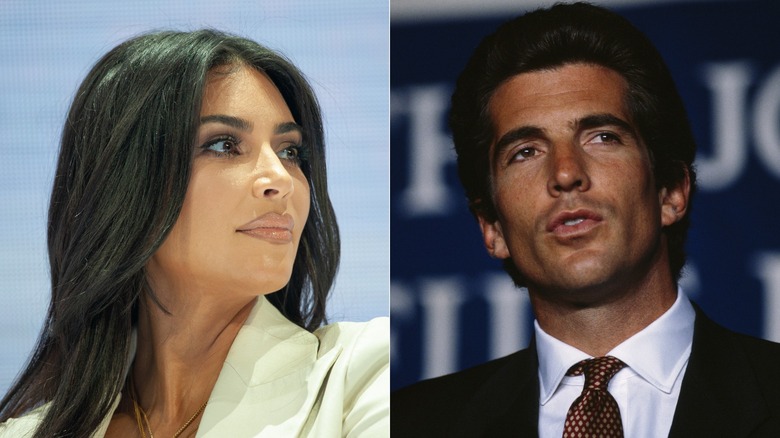 Brooks Kraft/Getty & Asatur Yesayants/Shutterstock
Despite being one of the world's biggest stars, Kim Kardashian isn't immune to harboring a crush. In an exclusive conversation with Carine Roitfeld, the founder and editor of CR Fashion Book, Kardashian delved into her romantic interests, unveiling her biggest infatuation among celebs of her own kind. "I would say my ultimate celebrity crush is JFK Jr.," confessed the mother-of-four. John F. Kennedy Junior, the late son of President John F. Kennedy and Jacqueline Kennedy Onassis, tragically passed away in the notorious Martha's Vineyard plane crash in 1999 at the age of 38. At the time of his death, he was married to publicist Carolyn Bessette, who also lost her life in the same accident.
This isn't the first instance where "The Kardashians" star has hinted at a potential romantic interest, however innocent. During a segment of "Truth or Shot" on Hailey Bieber's "Who's in My Bathroom?" YouTube series, a game where Bieber poses questions to her guests who must either answer or take a shot, Kardashian was asked about her current celebrity crush. She chuckled and responded, "I almost want to take a drink because I kind of want it to come true." In the end, she chose not to disclose any names and opted for the shot instead. Chances are, she was referring to someone other than JFK Jr. here.
Despite hardships in love, the star is a 'hopeless romantic'
After her highly publicized divorce from controversial rapper Kanye West, Kim Kardashian remains optimistic about finding the man of her dreams once again. In a candid conversation with host Jay Shetty on his podcast, "On Purpose with Jay Shetty," the star shared she still believes in love, stating, "I think I'll always be a hopeless romantic and always want to be in love." Despite her desire for love, Kardashian emphasized that she won't be rushing into a new relationship anytime soon.
Nevertheless, Kardashian is not ruling out having some fun. Speculation has linked her to Odell Beckham Jr., a football player with the Baltimore Ravens, according to an insider cited by InTouch Weekly. As of now, neither Beckham Jr. nor Kardashian have confirmed or denied these rumors. However, in a Season 3 episode of "The Kardashians," Kim gushed about a mysterious new man in her life, referring to him as "Fred."
Whoever Fred may be, he will need to be an exceptionally special person for Kardashian to get married for the fourth time. "I think I would definitely want a marriage, but I'm so happy to take my time," she revealed on Gwyneth Paltrow's podcast, "The Goop." She even disclosed that she is open to the possibility of expanding her family with more children, stating, "Never say never."