General Hospital Billy Miller Moments We Will Never Forget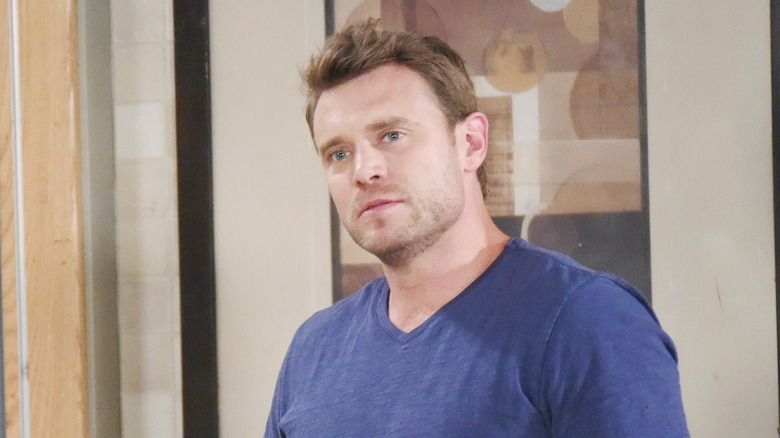 XJJohnson/jpistudios.com
Soap fans were understandably distraught when they learned of the tragic death of actor Billy Miller on September 15. Miller had been in several films and TV shows since 2006 and got his start in soap operas when he played Richie Novak on "All My Children" from 2007 to 2008, but it was his take on "The Young and the Restless" character Billy Abbott in 2008 that made him a soap opera star. Fans all agreed that Miller's ability to take a complex character who dealt with a gambling addiction and fight to better himself, despite his poor choices, was the best incarnation of Billy Abbott. His chemistry with Victor Newman (Eric Braeden) and Victoria Newman (Amelia Heinle) set the bar so high that subsequent actors have been unable to truly capture the character's appeal.
He left "Y&R" in 2014, moving over to "General Hospital" where he took on the part of Jason Morgan who had previously been played by Steve Burton. Fans had difficulty embracing this new Jason, but when Burton eventually returned to the part, things got even more complicated. It turned out that Miller's Jason was actually the character's long-lost twin brother, Drew Cain, who had Jason's memories implanted in his brain. By then, Miller had already won fans over, and he was one of the best actors on the show.
Let's look at some of Miller's unforgettable "GH" moments.
He escaped from the Crichton Clark clinic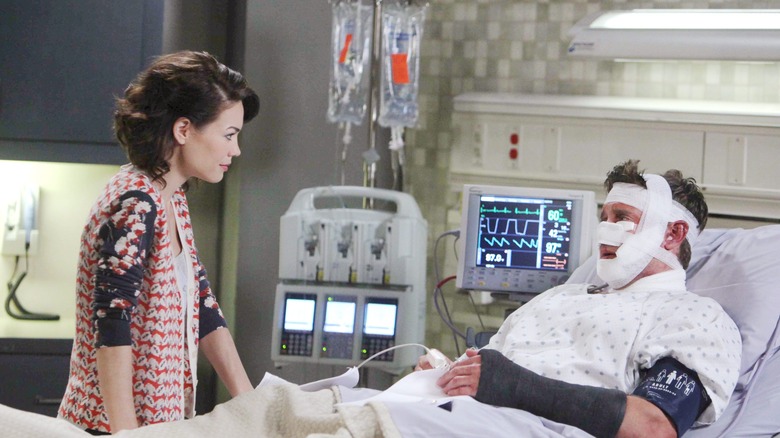 Howard Wise/jpistudios.com
In 2012, Jason Morgan was believed to be dead when he was shot in the back and unceremoniously dumped into the Port Charles River. Two years later, it was revealed that he'd actually been captured and was in suspended animation at a facility called Crichton Clark. Helena Cassadine (Constance Towers) had orchestrated everything, including holding Dr. Robin Scorpio (Kimberly McCullough) captive to work on her devious scientific schemes. Eventually, Robin helped Jason escape, and in doing so, he tripped and fell in the middle of the road, and sure enough, Ava Jerome (Maura West) — who was fleeing some bad guys herself — came barreling down the street and ran over Jason!
This caused him amnesia as well as having to have his face reconstructed by plastic surgeons. When he awoke, we saw that it was now Billy Miller, but he went by the name Jake Doe for a time because of his memory loss. He eventually regained his memories, but they weren't his at all. This story was extremely complex because the brothers had been part of a memory-mapping project. What was most amazing about this was that we almost fell out of our chairs when they showed Jason getting run over. The tension on the show was quite high at the time, and we were kept guessing for years to come about the whole Jason/Drew memory storyline. Eventually, everyone believed he was really Jason.
Elizabeth Webber concealed his identity
The relationship between Elizabeth Webber (Rebecca Herbst) and Jason Morgan was extremely complicated. When he woke up in the hospital with a new face and amnesia, Elizabeth was the first person he saw. Eventually, she figured out that Jake Doe was actually "Jason," and kept quiet about it. She was concerned that he would return to his then-wife, Samantha McCall (Kelly Monaco). You would think that after many failed schemes over the years, Liz would have been smart enough to come clean once she learned his identity. But in a misguided attempt to keep him for herself, this plan was clearly doomed from the beginning.
When she later had Jake come and live with her and her children, Liz's jealous ex, Ric Lansing (Rick Hearst), hatched a scheme to break them up. He hired a woman named Hayden Barnes (Rebecca Budig) — who would later turn out to be Liz's sister — to pretend she was Jake's wife and lay claim to him. Yet another scheme here that went kablooey, and the end result was that Jake's true identity as Jason was revealed, and Liz lost him yet again. But in retrospect, it wasn't a big deal because we now know he wasn't really Jason anyway. While Liz's actions were annoying to viewers who just wanted Jason back, Billy Miller navigated it expertly, and we believed his pain in not knowing who he was and dealing with being lied to.
He killed Jim Harvey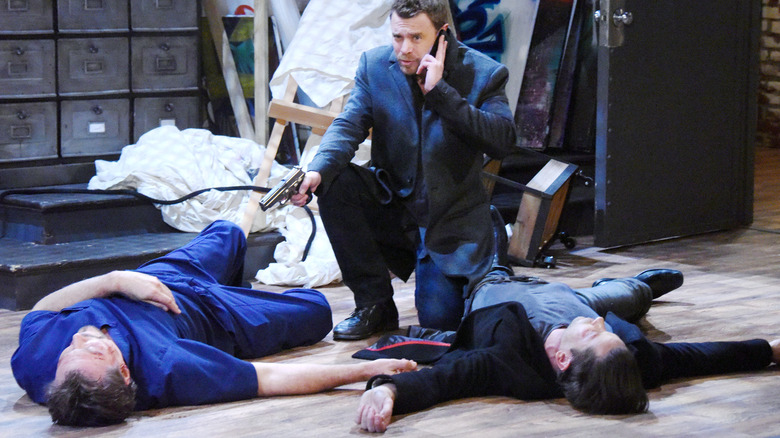 XJJohnson/jpistudios.com
In a bit of "General Hospital" stunt casting, former "B.J. and the Bear" star Greg Evigan came to Port Charles as the slimy Jim Harvey in 2018. When the truth came out that "Jason" was actually Drew Cain, it was also revealed that as a child he lived with Franco Baldwin (Roger Howarth) and his mother, Betsy Frank (Deborah Strang). Franco went by the name "Bobby" and had been molested by her boyfriend, Jim. He tried preventing it from happening to Andy, aka Drew, but accidentally sent him down a flight of stairs, seriously injuring him. Jim felt Bobby had done it on purpose and convinced her to ultimately send Andy to an orphanage. In Drew and Franco's adult years, Jim came to town as a construction company owner.
Eventually, the truth came out that because Betsy didn't try to stop Jim in the past, he had gone on to sexually assault several other children over the years. Ultimately, when he strangled Franco during a confrontation, Drew intervened and shot Jim dead in one of the most satisfying "GH" scenes ever. Billy Miller handled the story incredibly well, and we embraced Drew's change from hatred of Franco to that of brotherly compassion for what had happened to him. Miller brought class to an otherwise disturbing storyline and handled the material with reverence and respect. It didn't matter that he wasn't Jason Morgan, because Drew had become a force for good in his own way.
He honored his son, Oscar
The tragic death of Oscar Nero (Garren Stitt) is one of the most memorable stories on "General Hospital." Before he was kidnapped and had Jason Morgan's memories forced onto him, Drew Cain had a dalliance with Dr. Kim Nero (Tamara Braun), and wouldn't know until later in life that he'd fathered her son, Oscar. The nice young man was part of the teen scene in 2017 and became the boyfriend of Josslyn Jacks (Eden McCoy). They had their fair share of drama as Cameron Webber (William Lipton) had an unrequited crush on Joss. 
But soon, Oscar started having seizures and was diagnosed with an inoperable brain tumor. When he and Drew learned of their relationship, they tried making up for lost time by getting to know each other, but his cancer would cut their reunion short. We agonized as we watched the poor boy struggle through the end of his life when he finally died peacefully as Josslyn sat by his side. 
Once again, Billy Miller showed his excellent acting chops as a man who suddenly finds he has a child, only to have him ripped away in a painful ordeal. Kim and Drew scattered Oscar's ashes in a place he always dreamt of going to: Mt. Kilimanjaro. Also, a section of the city's park was named Oscar's Meadow in honor of the fallen teen, and Drew would continue to reminisce about his son over the years.
He helped Curtis Ashford defuse a bomb
In one of Billy Miller's most exciting "General Hospital" adventures in March 2017, still thinking he was Jason Morgan, he found Robin Scorpio bound and gagged, and standing on the pressure plate of a bomb in one of the hospital's elevators. The evil Olivia "Liv" Jerome (Tonja Walker) had been terrorizing the good citizens of Port Charles, and Robin was one of her victims. "Jason" carefully swapped places with Robin, and the hospital was evacuated. Upon hearing about the bomb, Curtis Ashford (Donnell Turner) did what every good hero does — he ran toward it. As time was running out, the bomb squad arrived telling Curtis and "Jason" that two wires needed to be cut simultaneously in order to defuse it, and gave the men wire cutters. 
Not knowing whether it was the red or blue wires, the heroes took a guess and cut the blue ones. Thankfully, it worked and the hospital was saved. While Liv's story spanned many episodes, this one was contained to only two and is a fine example of why "GH" often gets things right. "Jason" and Curtis selflessly stayed behind after the evacuation of the hospital, and this wasn't the last we'd see of their heroics.
Although Drew is currently being played by Cameron Mathison, Billy Miller will always be Drew Cain in our eyes.
If you or someone you know is struggling or in crisis, help is available. Call or text 988 or chat 988lifeline.org