Inside Days Of Our Lives' Jessica Serfaty's Relationship With Leonardo Maria Del Vecchio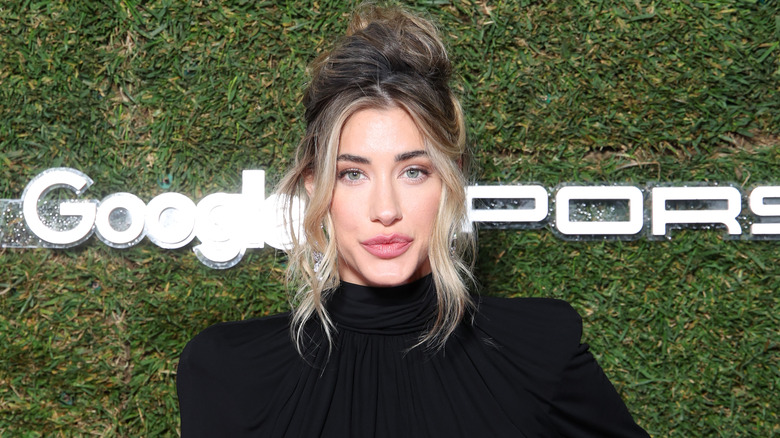 Daniele Venturelli/Getty Images
If you didn't know who newcomer Jessica Serfaty was before she joined the cast of "Days of Our Lives," there's a good chance that you do now. The actor plays Sloan Peterson on the hit Peacock soap who has had a very eyebrow-raising relationship with Eric Brady (Greg Vaughan). Serfaty is also a model and influencer who appeared on "America's Next Top Model" and has dated a number of high-profile celebrities in the past, including One Direction star Niall Horan. She also had a relationship with Logan Paul and was also once engaged to Firefly CEO Kaan Gunay. The model was even spotted looking at engagement rings with "Gossip Girl" star Ed Westwick back in 2017, according to Us Weekly.
But it's her relationship with Ray-Ban heir Leonardo Maria Del Vecchio that is getting a lot of attention. The daytime television star is reportedly engaged to her billionaire fiance, and from what we can tell, they love to eat and drink their way around Italy, just like any other ridiculously good-looking couple would do. But of course, there is more to their romance than meets the eye.
Jessica Serfaty and Leonardo Del Vecchio are engaged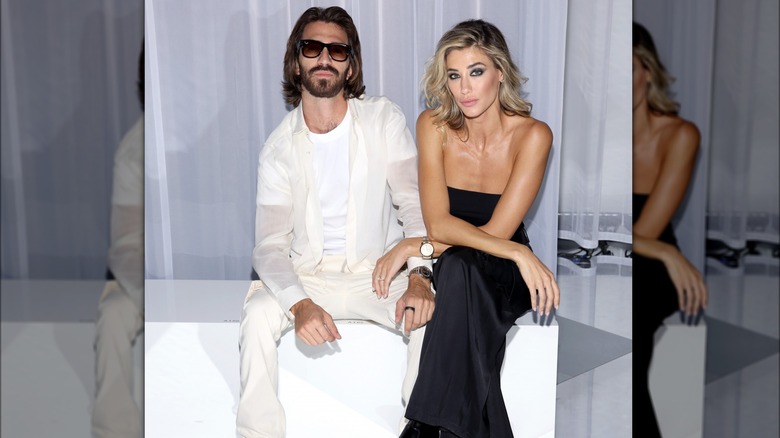 Daniele Venturelli/Getty Images
Back in July 2023, Jessica Serfaty announced to the world that she was engaged to Leonardo Maria Del Vecchio. She shared a photo of the couple in bed on her Instagram, and of course, put her huge diamond sparkler on display. She captioned her photo with, "HE SAID YES!!! just kidding, I SAID YES! WE SAID YES!" It didn't take long for Del Vecchio to respond to the photo, as he shared a comment that also said, "'Saying 'yes' is the first step towards an extraordinary adventure shared by two souls.' Ti amo."
The couple is clearly in love and not afraid to show it as they often share behind-the-scenes photos of themselves on their social media pages. Serfaty told People in an interview that they didn't begin their relationship from the first day they met. She explained, "It was 2017 at Cannes Film Festival, we were on a boat, and he was dancing. We briefly met. It wasn't until a couple years later that we saw each other again."
Serfaty and Del Vecchio's relationship timeline is a head-scratcher, though, as the couple only began posting photos of each other on social media in 2023. Then again, she only broke things off with her previous fiance Kaan Gunay in 2022, according to Parade. The Italian media reports that Del Vecchio married Anna Castellini Baldisserra in 2022, but pulled the plug on their marriage six months later, per Page Six. 
There are no wedding plans just yet for the couple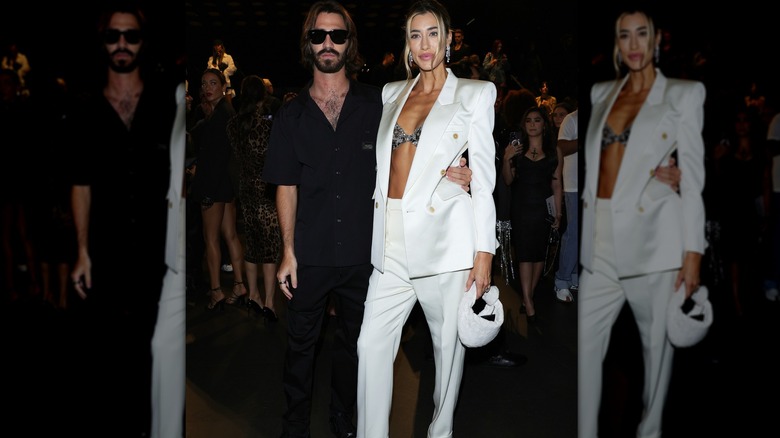 Jacopo Raule/Getty Images
Now, as far as Jessica Serfaty and Leonardo Maria Del Vecchio's wedding plans go, they haven't said anything. Yet, eagle-eyed fans have noticed that Serfaty is already calling herself the "Soon to be Mrs. Del Vecchio" on her Instagram account. Seeing how the couple have been spending a lot of time in Del Vecchio's native Italy, there's a good chance that they might end up tying the knot there. 
What's more, the "Days of Our Lives" star says she feels like her relationship with Del Vecchio will go the distance. She told People, "The territory of 'Engagement Land' is one I've visited before. This time, it's right. It's the right time, the right one. So the feeling is a feeling of being elated to find home. It's joy, is wild energy, it's calming and comforting." In the same interview, Serfaty also said that she would like to start a family with her future husband. 
Now, if only her "DOOL" character Sloan Peterson could get just as lucky, right? Despite everything they've been through, "Days of Our Lives" fans are still weighing in on if Eric and Sloan's romance will work. That's amore.