Why 2024 Presidential Hopeful Vivek Ramaswamy Was Slammed For Joining TikTok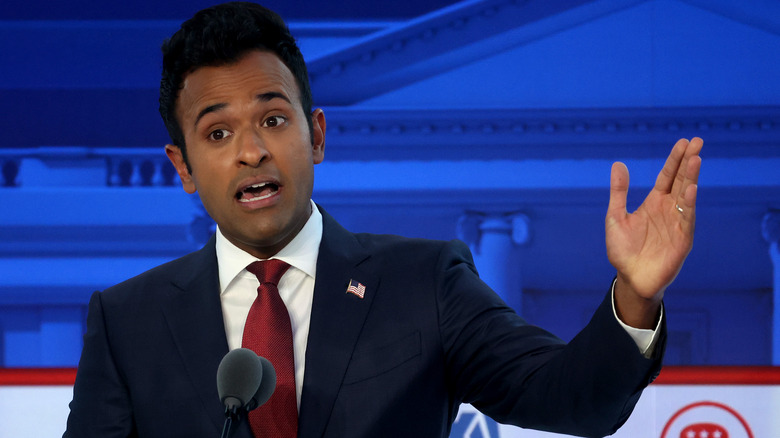 Justin Sullivan/Getty Images
It looks like Vivek Ramaswamy is trying to find the formula for TikTok fame. As the 2024 presidential election nears, candidates are looking for any way to break through the clutter and appeal to voters. For the pharmaceutical millionaire, it looks like social media is his next campaign tactic.
Ramaswamy's account on TikTok was a topic of discussion at the second GOP presidential debate. The video app was founded by a Chinese company and has been a hot topic in the political world due to concerns about data privacy. As of February 2023, TikTok has been banned on mobile devices belonging to government employees. Therefore, it surprised Ramaswamy's critics to see someone aiming for the highest office in the nation indulging in the controversial app.
In the past decade, politicians being active on social media has become commonplace. Just take former President Donald Trump and his complicated relationship with Twitter. His tweets, which made for some meme-worthy moments, were even hallmarked as evidence in his federal indictments. Trump's Twitter fingers aided in landing him with criminal charges linked to attempts to overturn the 2020 presidential election (per Axios). But it appears these risks haven't stopped Ramaswamy from taking the leap on social media, with the help of influencers to boot.
Vivek joined TikTok with the support of a popular influencer
Vivek Ramaswamy is leaning into his status as the youngest Republican candidate on the ballot. At the second Republican presidential debate, he was questioned about his controversial choice to join TikTok. He posted his first video to the platform in September 2023, urging millennials and Gen-Z to get active and support his campaign.
"I have a radical idea for the Republican Party," Ramaswamy defended his decision (per USA Today). "We need to win elections. Part of how we win elections is reaching the next generation of young Americans where they are." The presidential hopeful has taken his untraditional campaign method to new heights by partnering with influencer Jake Paul. Ramaswamy made his TikTok debut in a dancing video on Paul's page, which boasts 17 million followers, before launching his own account.
Paul wrote in the caption: "Getting Vivek on TikTok because I believe our politicians of the future should connect with gen z and millennials on social where we all live and breathe. Its [sic] bizarre that in this day and age, our presidents have no connection with us via social." In addition to Ramaswamy, the social media influencer also posted alongside Democratic candidate Robert F. Kennedy Jr. Paul said that his goal is to get more politicians active on social media so that they can connect with the younger generation of voters.
Vivek Ramaswamy criticized social media in the past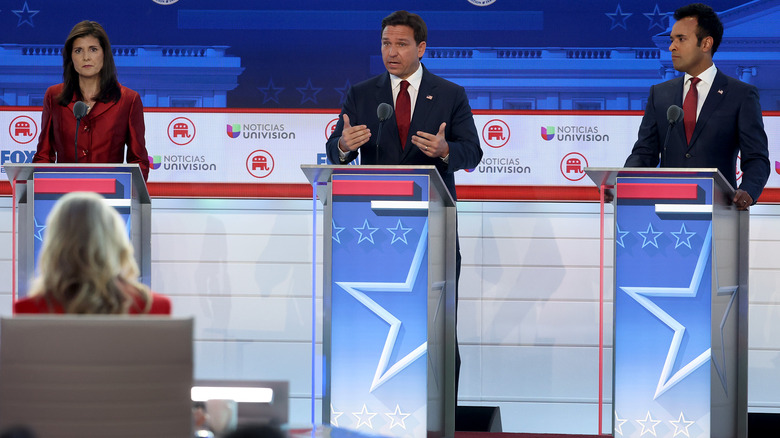 Justin Sullivan/Getty Images
Vivek Ramaswamy seems to have some conflicting feelings about TikTok. In August 2023, the conservative candidate claimed that social media is "digital fentanyl" for children while speaking to voters in Iowa (per NBC News). Just weeks later, he made an account on the platform. "In retrospect, it was a little bit of an old-fashioned decision to say that there's an entire mode of communicating with young people that I was going to turn off," he told NBC News.
Since this realization — and Jake Paul's persuasion — Ramaswamy has been quite active on TikTok. His content ranges from day-in-the-life vlogs to videos explaining his take on various issues, from climate change to voter rights. Despite attempts to connect with Gen-Z and millennials, Ramaswamy has been highly criticized by his running mates. At the GOP presidential debate, he proposed that "addictive social media" should be limited to users who are aged 16 and up.
Fellow Republican candidate Nikki Haley condemned his support of the app. She argued that the app stole personal data from its American users daily, creating a breach of national security. "Just because 150 million people are on it, doesn't mean you do it because it's politically popular," Haley shot at Ramaswamy (via Politico). The app has faced constant backlash from both Republican and Democratic politicians, as a potential ban looms. Due to these issues, American companies such as Microsoft and even Walmart have tried to buy TikTok.