Fans' Favorite Royal Wedding Was A Modern Fairytale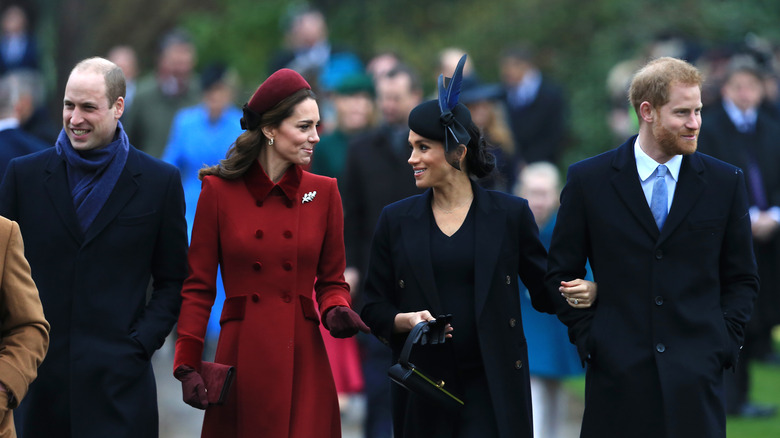 Stephen Pond/Getty Images
For a country that fought fiercely to separate from Great Britain, America is surprisingly still fascinated by the British royals. Millions of Yanks have cheered when a new prince or princess entered the world, mourned when Queen Elizabeth died, and clucked tongues over the ongoing royal rift between William, Prince of Wales, and Prince Harry, Duke of Sussex. (Yes, some Americans think Harry should have stayed across the pond.) Most of all, the one occasion that can get us to set our alarms for the crack of dawn is a royal wedding. 
Why are we so besotted with the nuptials of princes, duchesses, and the like? The fairy-tale setting is definitely a factor; our childhood Cinderella dreams die hard. The dignity and tradition of a royal wedding is also a refreshing contrast to some of the over-the-top or downright bizarre ceremonies chosen by mere commoners. (Per Allegro Entertainment, some of the most unique include a marriage inside a shark tank, one at T.J. Maxx, one featuring a bungee jump, and one in which the bride and groom went nude.) Then, of course, there's the romance of it all. Seeing a couple starting their happily-ever-after is always a hopeful sign in a cynical world.
The List's Royal Family News Facebook page recently asked members their opinion of the best royal wedding of all time. Unlike other polls we've run, this one had an unquestionably clear winner: Our followers think the ceremony that topped them all featured one of King Charles III's sons.
Fans loved William and Kate's wedding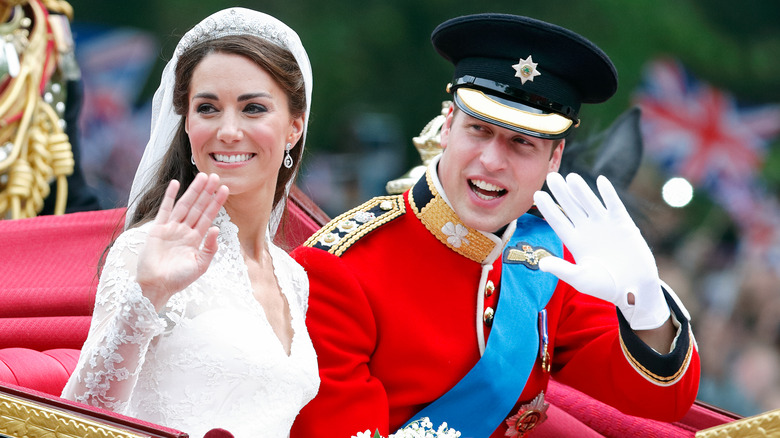 Max Mumby/indigo/Getty Images
Nearly everyone who responded to The List's Facebook survey said their favorite nuptials were those of the current heir apparent. Despite a few mishaps, Prince William and Catherine Middleton's wedding was worthy of every Disney princess put together. The April 29, 2011, ceremony hit all the right notes. The bride was a vision in lace; the groom looked sharp in his military uniform. The 2,000 guests included celebs such as Elton John and David Beckham. Twelve years and three children later, the Prince and Princess of Wales seem as much in love as when they took their vows. But for one fan, what made this wedding special had nothing to do with the spectacle itself. They said, "It was just that one moment when after walking down the aisle with her father to join William at the altar, William turned to look at her and said, 'You look beautiful.'" Another follower agreed, "William and Catherine are the best."
The 1981 wedding of then-Prince Charles to Lady Diana Spencer came in a distant second for our monarchy mavens. It was another beautiful event, and it seemed like a happy match until the truth about Charles and Diana's marriage came out. One commenter on Facebook predicted trouble when they saw Diana's elaborate dress, which overwhelmed her slender figure: "I really disliked Diana's wedding gown...it was a warning that that marriage never suited the bride."
Harry and Meghan were totally snubbed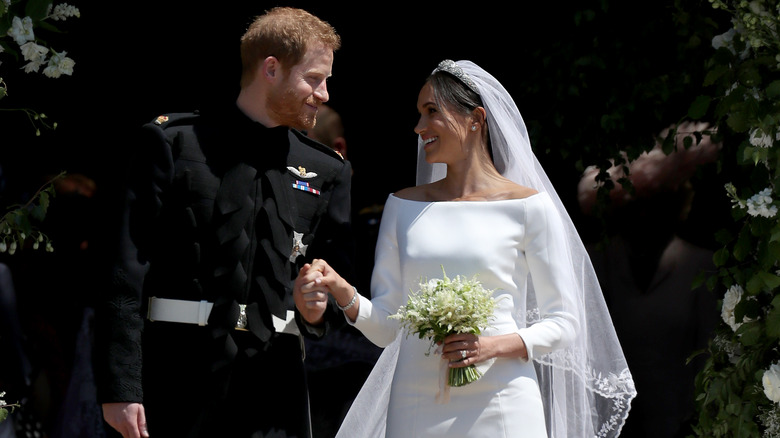 Wpa Pool/Getty Images
Surprisingly, other famous palace weddings went totally unnoticed by The List's Royal Family Facebook fans. For instance, no one mentioned Prince Harry and Meghan Markle's wedding, though back in May 2018, it was all anyone could talk about. Everything about the day was the stuff of bridal magazine dreams: Meghan's elegant Givenchy gown and long embroidered veil; the poignant sight of then-Prince Charles giving away the bride in her father's absence; the clear affection between the prince and his American wife. Alas, it seems the glamour of the day has been tarnished over the years, as the Duke and Duchess of Sussex have estranged themselves from both their families and much of the public.
Royals fans on our Facebook page also opted to ignore the weddings of Queen Elizabeth's other three children: Anne, Princess Royal, to Captain Mark Phillips; Prince Andrew to Sarah Ferguson; Prince Edward to Sophie Rhys-Jones. Nor did anyone mention the lovely ceremonies of Andrew and Fergie's daughters, Princesses Eugenie and Beatrice.
Less surprising, however, was the lack of votes for Charles' wedding to Camilla Parker Bowles in April 2005. While it was the fairy-tale ending the current King and Queen had long been waiting for, there's still a faction of royal fans who resent Camilla for coming between Charles and Diana. Then, there were a couple of unexpected votes, such as the one for "our Queen Elizabeth." And one lone vote was cast for Henry VIII — but we're still trying to figure out which of the king's six wives they were referring to!