Everything We Know About Natalie Wood's Tragic Death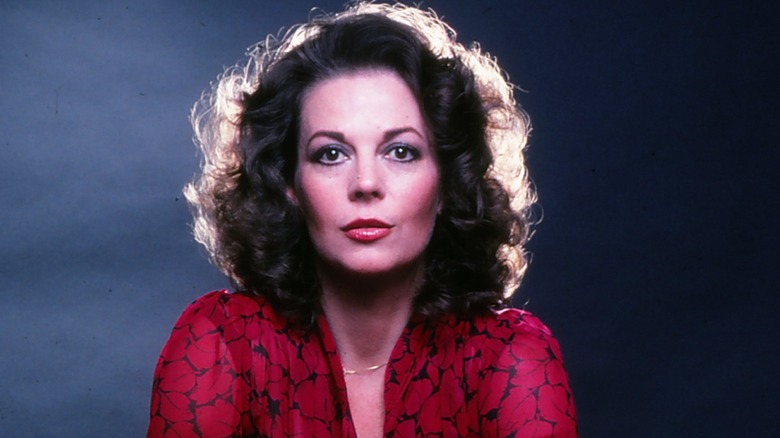 Jack Mitchell/Getty Images
Natalie Wood was a child actor who became famous in films like "Miracle on 34th St." She successfully transitioned to being a teen star, receiving an Oscar nomination for her role in "Rebel Without a Cause." She continued acting throughout her life, winning acclaim for high-profile roles in films like "West Side Story" and "Bob & Carol & Ted & Alice." Unfortunately, like her "Rebel Without a Cause" co-stars James Dean and Sal Mineo, Wood died tragically. In 1981, after being on a yacht with her husband Robert Wagner, the 43-year-old actor drowned off the coast of Catalina.
"R.J. [Wagner] and Natalie were this town's best foot forward," producer John Foreman told UPI after Wood's death. Still, rumors about foul play swirled after her drowning. Wood's sister Lana blames Wagner — whom Wood married, divorced, and remarried — for her death, telling The New York Post, "I don't believe it was premeditated. But that doesn't mean I don't think he did it: Of course he did!" Wagner has always maintained his innocence, writing in his memoir "Pieces of My Heart" that he was devastated after her death. "The bottom line is that nobody knows exactly what happened," he wrote, denying having seen her go into the water.
So, what exactly do we know for sure?
A fortuneteller predicted Natalie Wood's death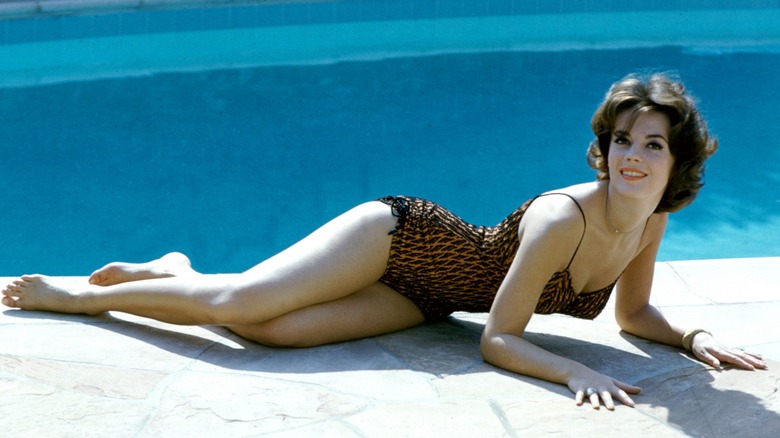 Silver Screen Collection/Getty Images
Before Natalie Wood was born, her mother Marusia visited a psychic. According to Suzanne Finstad's biography "Natasha," the fortuneteller had two predictions about Marusia's daughter. "Beware of dark water," the psychic told her, warning that her daughter would someday perish that way. Furthermore, she predicted that Marusia's daughter "would be a great beauty, known throughout the world." Before long, Wood made the latter prophecy come true, and her mother always feared that the former would come to pass as well.
Marusia's other daughter, Lana Wood, confirmed Finstad's telling in her memoir, "Little Sister." She wrote that Marusia pushed Natalie into a showbiz career because of the fortuneteller's prediction, explaining that reports of Marusia herself being a failed actor were all false. Natalie knew of the psychic's predictions, according to the memoir, and "Natalie always believed every word that came out of Mom's mouth. ... She spent the rest of her life terrified of dark water."
Unfortunately, Natalie had to confront her fear during a number of movie shoots. One experience in particular only exacerbated her terror. "I had a mean director one time who threw me in the ocean," she said in a 1977 interview (via E! News). "I was petrified, because we were in the open ocean." Ultimately, Wood's co-star Bette Davis stepped in and ensured they found Natalie a body double to continue filming. They worked together in the 1952 film "The Star," meaning Natalie would have been just a young teen.
Her time of disappearance was not initially clear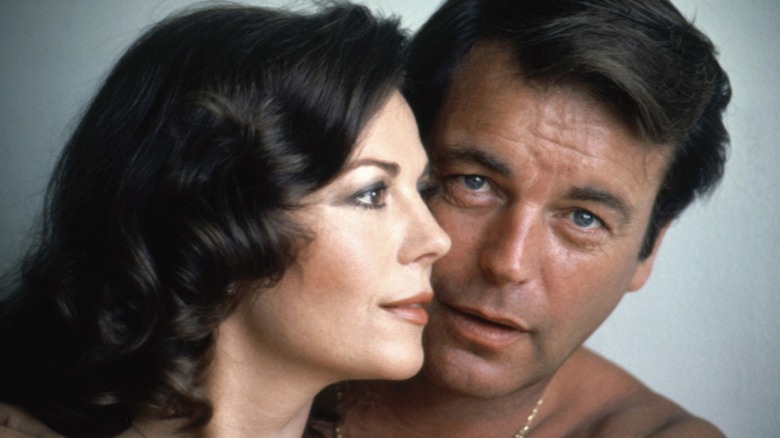 Screen Archives/Getty Images
In late 1981, Natalie Wood was filming "Brainstorm," a science fiction thriller, alongside co-star Christopher Walken. That Thanksgiving weekend, she and her husband, Robert Wagner, invited Walken to go yachting with them. They boarded the Splendour, captained by Dennis Davern, and headed out toward Catalina Island. According to Wagner's attorney, Paul Ziffern, that night started out normal enough. "Mr. and Mrs. Wagner had dinner last night in a restaurant on the Isthmus on Catalina Island, after which they returned to their boat," he said in a statement to UPI. Wagner's memoir "Pieces of My Heart" puts this at around 10 p.m. "I would categorize our condition as tipsy; certainly, nobody was anywhere near drunk," he wrote.
Later, though, things took an unfortunate turn. "When Mr. Wagner went to join her [in the stateroom], he found that she was not there and that the dinghy also was gone," Ziffern relayed. "Since Mrs. Wagner often took the dinghy out alone, Mr. Wagner was not immediately concerned."
Here's where things start to get slippery. According to those initial reports, Wood vanished sometime around 1:00 a.m. However, Davern later wrote a book called "Goodbye Natalie, Goodbye Splendour," in which he alleged that he and Wagner knew Wood was missing by 11:05 p.m. Left behind in her absence was a smashed bottle in the salon, which Wagner told investigators "was probably from the rough seas" (via Vanity Fair).
Those on the boat waited hours to call for help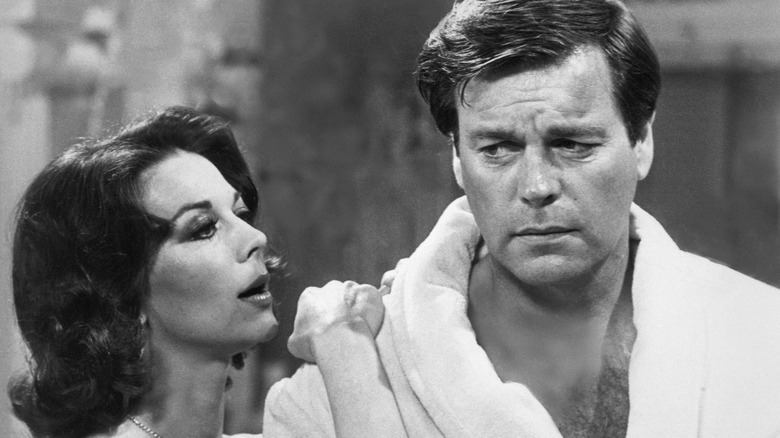 Bettmann/Getty Images
The 1981 UPI report of Natalie Wood's death makes it clear that Robert Wagner didn't immediately call for help when he realized his wife was missing. "Mr. Wagner took his small cruisers and went to look for her," Wagner's attorney, Paul Ziffern, said in a statement. "When this proved unsuccessful, he immediately contacted the Coast Guard."
Captain Dennis Davern disagrees. In "Goodbye Natalie, Goodbye Splendour," he told co-author Marti Rulli, "He didn't have a cruiser to take out. He lied from day one." However, according to Wagner's memoir, "Pieces of My Heart," Wood's husband called a boat from the shore to take him back to the restaurant where they'd eaten dinner. "Natalie wasn't anywhere around the dock area, nor was the dinghy," he wrote. "... I was scared and confused." Around 1:30 a.m., a call finally went out. "This is the Splendour," either Wagner or Davern radioed, according to Vanity Fair. "Needs help."
According to Los Angeles County Sheriff's Department Lieutenant John Corina, Wagner needed to be convinced to call the Coast Guard. Corina told CBS News that Wagner initially called for someone on Catalina to look for her in town. "They finally convinced Robert Wagner, 'Hey, you need to call the Coast Guard,'" he explained. "And ... he ... almost reluctantly, he said, 'OK, yeah, w— I guess we better call 'em.'" A Coast Guard spokesman confirmed to UPI that they were contacted about Wood's disappearance at 3:30 a.m.
Natalie Wood's body was found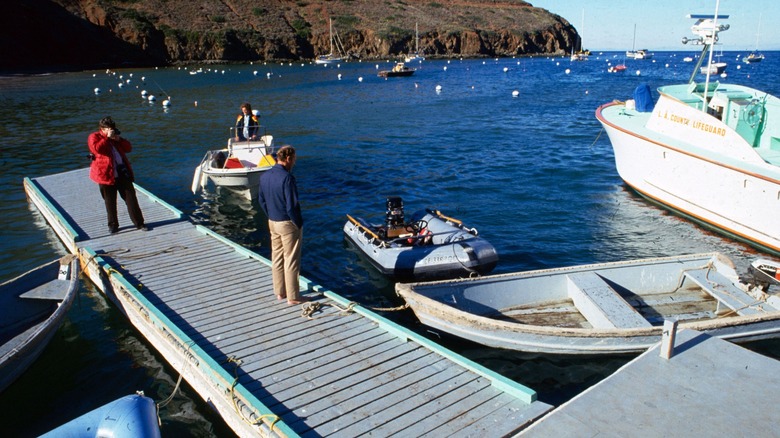 Paul Harris/Getty Images
Natalie Wood's body was discovered off the coast of Catalina, about 200 yards from the dinghy, at approximately 7:45 a.m. on November 29, 1981, according to The New York Times. Pat Stoll, a Los Angeles Sheriff's Deputy, told the publication that she was found by helicopter.
According to the autopsy report excerpted in The Lineup, Natalie's clothes did not necessarily reflect someone who intentionally took a dinghy out on the ocean. "She herself is dressed in flannel nightgown and socks," the coroner wrote. "The jacket she was wearing when floating is no longer on the body, having come off when she was pulled from the water."
Dennis Davern's book "Goodbye Natalie, Goodbye Splendour" claims that Robert Wagner did not want to identify his wife's body. "Will you please identify her for me, Dennis?" he asked the captain. "I can't, I just can't." Davern did as requested, and he spent the rest of his life haunted by what he'd seen. He told his book's co-author, "Identifying her body was the hardest thing I ever had to do in my life."
The autopsy provided additional information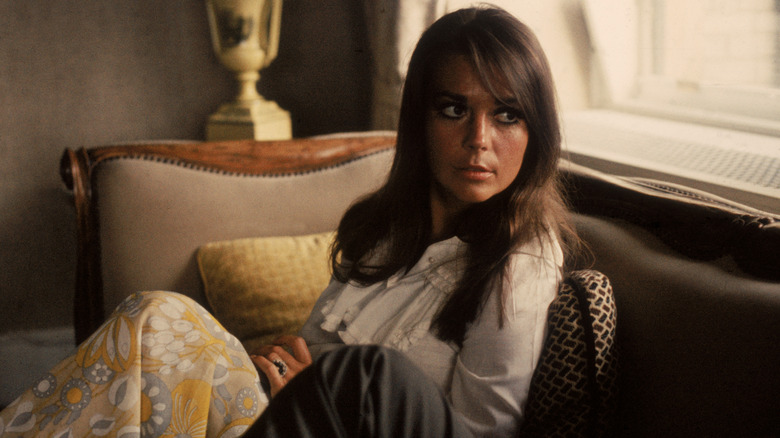 Tim Boxer/Getty Images
On December 1, 1981, more information about Natalie Wood's death was released to the public via The New York Times. Los Angeles County Medical Examiner Thomas Noguchi revealed that the "Splendor in the Grass" star had a blood alcohol content of .14 at the time of her death. Noguchi speculated about how her "slight level of intoxication" might have affected her ability to swim, telling The Times, "When she hit the water, this was probably one of the factors that kept her from responding to the situation." 
According to the autopsy report, Wood also had a bruised cheek. Based on the direction of the bruise, though, Noguchi concluded that she tripped while trying to get into the yacht's dinghy. He concluded that she never made it into the smaller boat; after all, when it was found, the dinghy's motor was in neutral gear. Furthermore, Noguchi revealed that there was nothing suspicious about the location of her body or the dinghy, reasoning that the locations made sense based on currents. Ultimately, he concluded that her death was due to a "tragic accident while slightly intoxicated."
Natalie Wood's sister Lana wrote in her memoir "Little Sister" that she was haunted by the autopsy report, in particular the description of the clothes Natalie was wearing. She wrote, "I lost countless hours of sleep reviewing that autopsy report in my mind and trying to make sense of what made no sense at all – what could possibly have propelled Natalie into that dinghy in her nightgown and socks in the middle of that freezing night?"
There was an argument that night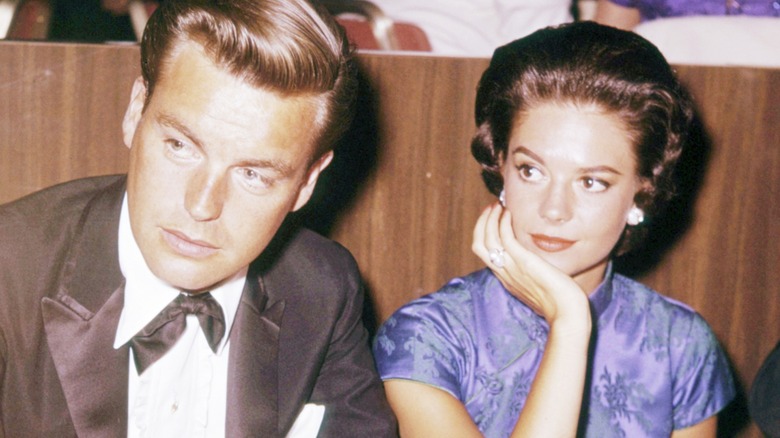 Silver Screen Collection/Getty Images
For decades after Natalie Wood's death, rumors swirled that there had been an argument aboard the Splendour the night the "Rebel Without a Cause" star went missing. In his memoir, "Pieces of My Heart," Robert Wagner finally admitted that, yes, he had been in a heated discussion that night. It wasn't his wife, however; instead, Wagner claimed that he fought with Christopher Walken. Walken apparently started needling the couple about the fact that Wood's career had taken a backseat to her personal life, unlike his own. "Why the f*** don't you stay out of her career?" Wagner admitted to having yelled. He wrote that his wife left the room at that point to head to bed, and he said he and Walken took the fight out onto the deck. "If I had to categorize the emotional temperature," he wrote, "I would say that things were threatening to get physical, but the fact is they never did."
Dennis Davern disputed Wagner's version of events. In "Goodbye Natalie, Goodbye Splendour," he claimed to have witnessed the fight between Walken and Wagner but explained that it kicked off a worse argument between husband and wife. The argument spilled out onto the deck right about the time Wood disappeared. "I felt like an intruding employee," he explained when initially trying to object. "They started yelling again," he continued, "so I put on loud music so they wouldn't think I was trying to listen to them." Soon afterward, Wood was nowhere to be found.
The boat captain revealed more information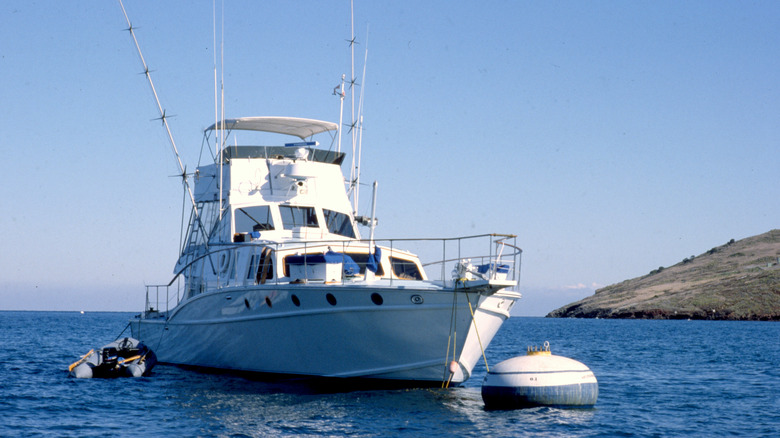 Paul Harris/Getty Images
In 2011, Dennis Davern appeared on "Today" amid reports that the investigation into Natalie Wood's death had been reopened. The boat captain went into detail about what he remembered happening that night aboard the yacht. Up first, he admitted that he had lied to police investigators about what exactly went down. "I made some terrible decisions and mistakes. ... I made mistakes by not telling the honest truth in a police report," he confessed. In particular, Davern said that he had concealed the fact that Robert Wagner and Natalie Wood had what he called a "terrible argument" before she vanished.
According to Marti Rulli, co-author of "Goodbye Natalie, Goodbye Splendour," "Dennis wanted to do everything. Make a phone call, turn on the searchlight. His instincts told him something was terribly wrong, and Robert Wagner asked him not to."
Natalie Wood's sister, Lana, told TMZ that she'd had a conversation with the boat captain about that night, during which he admitted to having known Natalie was overboard. Allegedly, Davern said Wagner had ordered him to "leave her there. Teach her a lesson."
Christopher Walken remained mostly mum
Though he was one of only four people on board the Splendour the night Natalie Wood died, Christopher Walken has mostly refused to discuss the incident. Five years after her death, Walken blew up at a reporter who asked him what happened that night, People reported. "I don't know what happened. She slipped and fell in the water. I was in bed then. It was a terrible thing," he said. Then he changed the subject. "Look, we're in a conversation I won't have. It's a f***ing bore," he said.
In 1997, Walken went into more detail when speaking with Playboy. "What happened that night only she knows, because she was alone," Walken stressed (via The Hollywood Reporter). He speculated that she went out to move the dinghy rather than climb inside, reporting that it was banging against the side of the boat. Furthermore, he said, it was a shame that her death ended up the way it did. "You feel you want to die making an effort at something; you don't want to die in some unnecessary way," he opined.
Despite Walken's few statements to the media, former assistant U.S. attorney Sam Peronni told Radar Online in 2022 that he had witness statements claiming Walken lied about his alibi. "Christopher Walken told the LASD in 1981 he was not aware of Natalie's disappearance until the morning of November 29 because he was asleep all night," Peronni reiterated. "I have discovered three witnesses who would establish Walken's statement was untrue, and I have documentation that he admitted 'searching' for Natalie immediately after she disappeared." So far, nothing has come of these allegations.
Natalie Wood's case was reopened and her death certificate was amended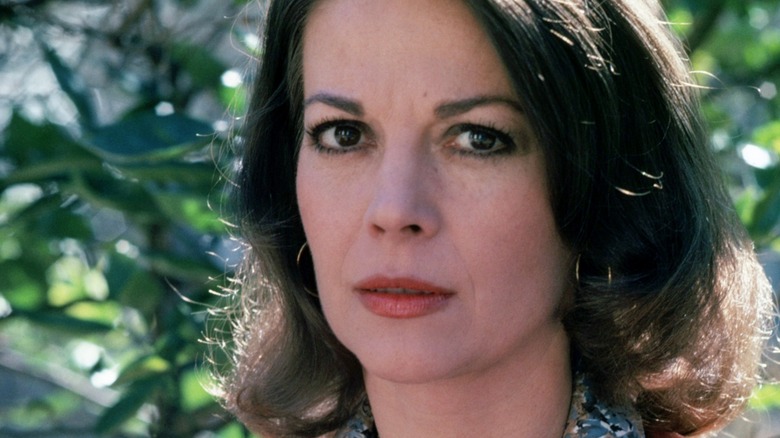 Silver Screen Collection/Getty Images
In 2011, authorities reopened the case surrounding Natalie Wood's death. "Due to the additional information, sheriff's homicide bureau has decided to take another look at the case," the LAPD told the Los Angeles Times (via The Hollywood Reporter). What that additional information was, however, wasn't specified. Nevertheless, the following year, Wood's death certificate was amended to clarify that there is still a lot about her death that remains unknown. Primarily, the Associated Press reported that her cause of death was changed to "drowning and other undetermined factors." Whereas Dr. Thomas Noguchi had originally speculated about how and why Wood was in the water, the amended document said the circumstances were "not clearly established."
According to Suzanne Finstad's biography, "Natalie Wood," which was excerpted in Vanity Fair, Finstad spoke with Dr. Michael Franco, an intern at the Los Angeles Coroner's Office when Wood's body was examined. He noticed bruising on her legs, which he found odd. "The striations were in the opposite direction of somebody trying to get onto a boat," he revealed to Finstad. "It was almost like somebody being pushed off."
When Franco expressed his concerns to Noguchi, he was allegedly told, "Some things are best left unsaid." As a result, Franco's observation was left off of the autopsy report. This information was also not included in the amended version of Wood's death certificate.
Decades after Natalie Wood's death, Robert Wagner was named a person of interest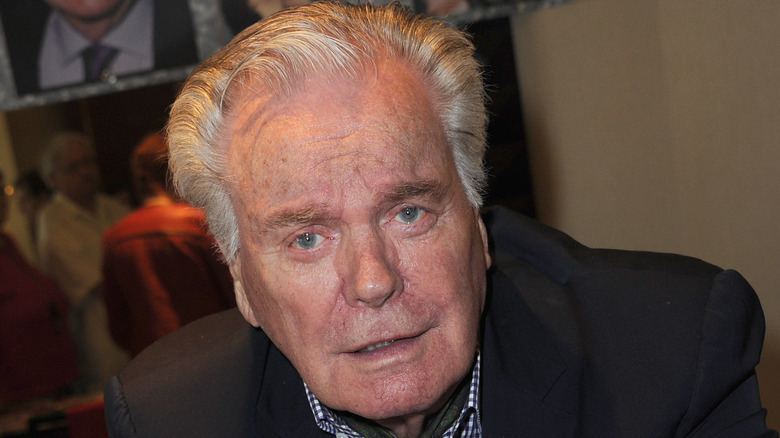 Albert L. Ortega/Getty Images
After Natalie Wood's death certificate was amended in 2012, an LASD official named William McSweeney told the Associated Press that the case would not be definitively closed. "These cases have active periods and more passive periods," he said, suggesting an active period was again ending. However, another active period came in 2018 — and this time authorities went much further.
In an interview with The New York Times, LASD spokesperson Nicole Nishida revealed that Wood's death was now classified as a "suspicious death." Additionally, Robert Wagner was now considered a "person of interest." New witnesses had emerged, Nishida explained, claiming to have heard the voices of a man and a woman arguing on the deck of the boat shortly before midnight, when Wood reportedly vanished. "Do we have enough to make an arrest at this moment? No," Nishida said.
When the case was reopened, Christopher Walken spoke again with authorities. According to Lana Wood, the "Catch Me If You Can" star only cooperated under one condition. She told Insider, "He did tell them everything he witnessed and he knows. However, he made them promise that they would never reveal anything that he has said."
Despite the new witness statements suggesting what Nishida dubbed "a new sequence of events on the boat that night," Wagner was officially cleared of wrongdoing in 2022. LASD Lieutenant Hugo Reynaga told Page Six, "All leads in the Natalie Wood case have been exhausted, and the case remains an open, unsolved case."
The family is split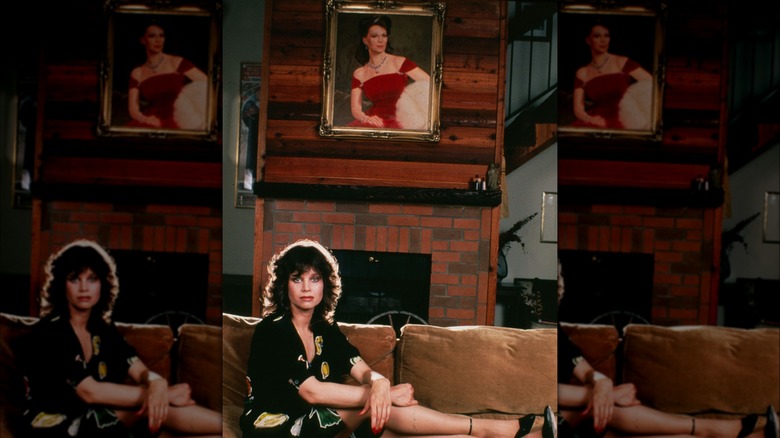 Paul Harris/Getty Images
With Robert Wagner been cleared of suspicion, Natalie Wood's family is split down the middle regarding what they think happened. In the HBO documentary "Natalie Wood: What Remains Behind," Wood's daughter Natasha Gregson Wagner confronts "Daddy Wagner" about what happened that night on the boat, getting him to speak on camera about what he went through.
After describing his argument with Christopher Walken, Wagner admits that the smashed bottle found in the stateroom wasn't merely toppled by choppy water. He broke it in anger while fighting with the "Seven Psychopaths" star. Still, Wagner insists he hadn't done anything to Wood, and his stepdaughter appears to believe him. "It's important to me, Daddy, that people think of you the way I know that you are, and it bothers me that anyone would ever think that you would be involved in what happened to her," Gregson Wagner says in the doc (via The New Yorker).
Natalie Wood's sister Lana, on the other hand, believes Wagner is responsible. In her memoir, "Little Sister," Lana directly accuses Wagner of beating Natalie, causing her to fall overboard. "I've always thought so and I chose not to say anything [until the book]," Lana told Insider. She told the outlet she doesn't expect the case to be resolved, but she maintains hope. If the full details were ever to come out, Lana said, "[Natalie] could rest."