Donald Trump Jr. Tried To Stir The Pot With A Britney Spears Meme & It Didn't Go Well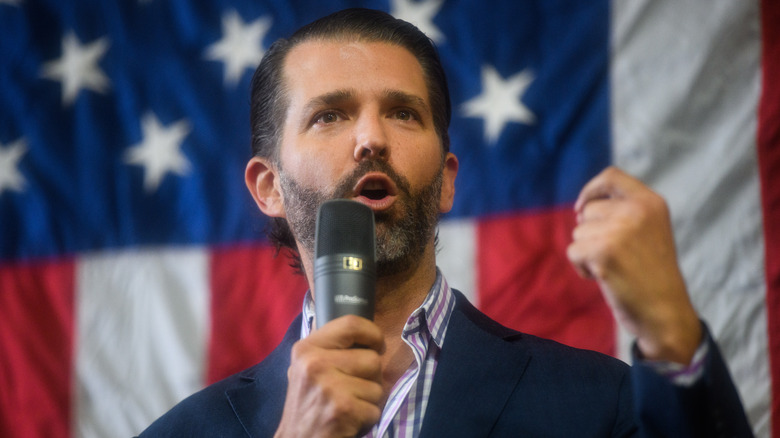 Melissa Sue Gerrits/Getty Images
Former president Donald Trump is a bit busy these days bouncing between campaign appearances and courtrooms, and he isn't always able to voice his opinions as often as he might like. Fortunately, his oldest son is more than willing to pick up the slack. Donald Trump Jr. has raised more than a few eyebrows over the years with his tweets about Dr. Seuss, Mr. Potato Head, public school teachers, and other people and institutions he deems are destroying America with their "wokeness." 
In 2023, his social media feeds and Rumble videos have focused on the injustice being done to his father, plus lots of shade thrown at Biden for his policies on the economy, immigration, and just about anything else he's done since taking office.
In October 2023, Trump Jr. reposted a split-screen meme of Britney Spears on Instagram as a metaphor for the current administration. The left photo, showing the pop princess at her peak of fame, was captioned "America Under Trump." The pic on the right was taken from one of Spears' many recent Instagram videos, in which she performed an improvisational dance around her living area while brandishing prop knives. The caption: "America Under Biden." The message: The country was wonderful when his dad was in charge, but has now deteriorated beyond recognition. Trump Jr. commented merely, "Yup."
But if the former first son was hoping his snark would resonate with his followers, he was sadly mistaken. The overwhelming response from his followers — not to mention Spears' soon-to-be ex — was a resounding "Nope."
Even Trump supporters found the meme a low blow
The MAGA faithful are unanimous in their opinion that the U.S. has gone south under President Biden, and they're fervently hoping Donald Trump will be moving back into the White House in early 2025. However, they draw the line at making that point by kicking a troubled pop star when she's down. Britney Spears is in the process of divorcing for the third time, this latest from her husband Sam Asghari after just over a year of marriage. In addition, the singer has been exhibiting some troubling behavior following her release from her father's conservatorship, which has some concerned about the state of her mental health. 
Responses to Donald Trump Jr.'s snide Instagram post included disapproval from fellow conservatives. "Don, this was a tad inappropriate. I love your dad and think he is the absolute best man to save this country, but not at the expense of someone who is clearly having some emotional health issues. You are better than this," one wrote. Another accused, "What gives you the right to attack someone you don't even know? What gives you the right to attack and bully someone who has mental health problems?"
On the other hand, some argued that Spears herself was the one who posted the dance video that was appropriated into the meme. "Umm Britney is the one who posts this stuff. Take it up with her if you have a problem with [it]," a respondent said. 
Britney's ex came to her defense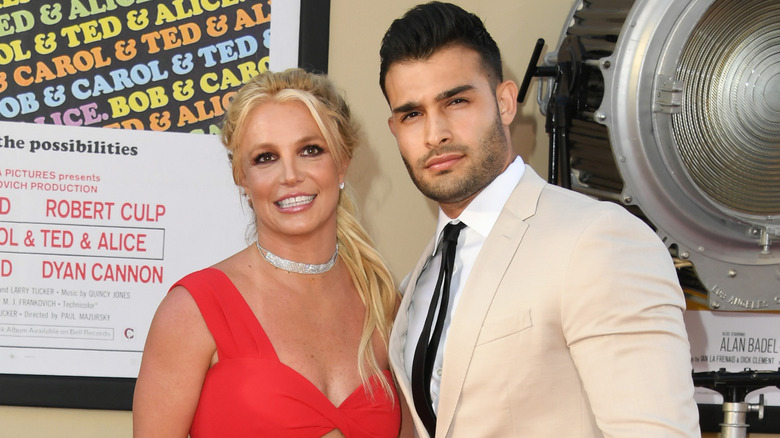 Jon Kopaloff/Getty Images
In addition to the chiding Donald Trump Jr. got on his own Instagram feed for his potshot at Britney Spears, a dressing-down came in the form of a video posted by Spears' almost ex-husband. Sam Asghari and Britney Spears seemed to have a great relationship when they first started dating in 2016, but sadly, their marriage is headed for divorce court. A source who spoke to Us Weekly after the news of the divorce filing explained that the actor/model was simply tired of the drama at home. "Although things seemed OK on the surface, there was a lot going on behind the scenes," they said. "Sam just wasn't happy and no longer saw a future with Britney."
However, Asghari is still as protective of the superstar as ever, and he wasn't about to let a former first son use her as the poster girl for a MAGA message. Tagging Trump Jr. in his Instagram Stories, Asghari addressed him directly: "Hey, Little Trump. You won't stop bullying, so I'm here to tell you being a bully doesn't make you cool, nor it makes you friends, and it certainly doesn't require intelligence to be one." Adding, "I could be a bully too," Asghari did a quick impression of Donald Sr. before adding, "So don't be a bully, Junior." 
If you or someone you know needs help with mental health, please contact the Crisis Text Line by texting HOME to 741741, call the National Alliance on Mental Illness helpline at 1-800-950-NAMI (6264), or visit the National Institute of Mental Health website.