What The Cast Of Clarissa Explains It All Is Doing Today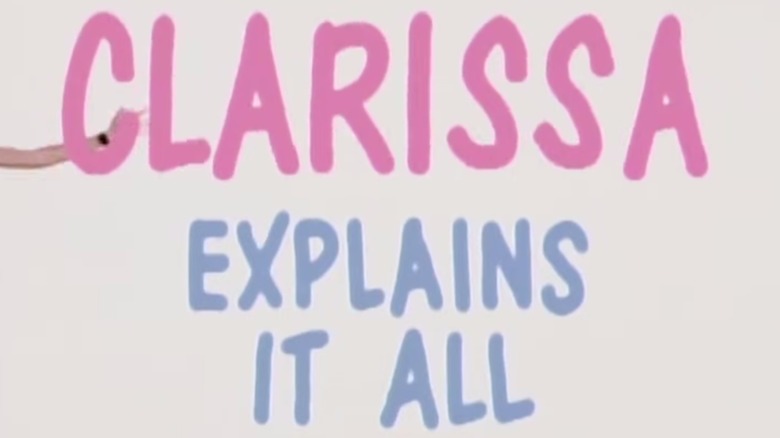 Nickelodeon/YouTube
"Clarissa Explains It All" has been called the first sitcom for tweens. It launched in 1991, and the rest is, of course, history. It was the first Nickelodeon series to feature a female protagonist, a choice that show creator Mitchell Kriegman told Vulture was by design. "[Nickelodeon] wanted something that was going to break new ground and do something different, take risks and create a new paradigm,'" he said. The show certainly made an impression. It is still a fan favorite over 30 years later, and its star actress became the It girl of the decade. 
The show follows Clarissa, a preteen girl who likes to create video games on her computer, wears funky outfits, and has a skateboarding male best friend named Sam. Kriegman aimed to create a girl character that boys would still want to watch. She spoke directly to the viewer — a trait Kriegman borrowed from "Ferris Bueller's Day Off." The show aired for 65 episodes. 
Clarissa Darling: Melissa Joan Hart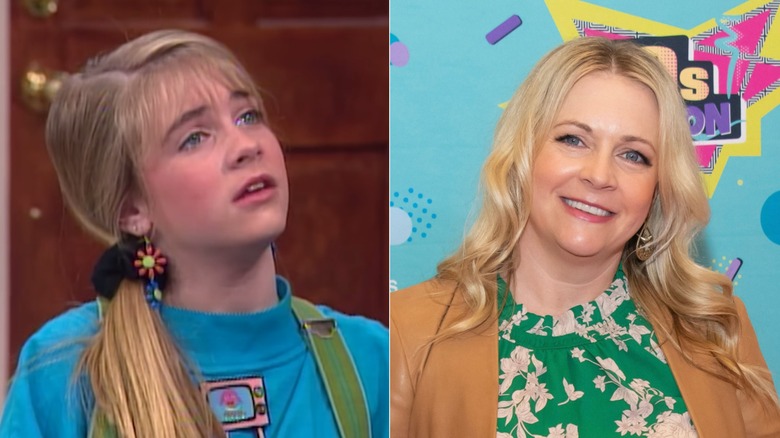 Nickelodeon/YouTube / Astrida Valigorsky/Getty
Clarissa Darling, the lead and title character of the show, had a keen fashion sense and a love of computers. She was played by '90s icon Melissa Joan Hart, who spoke directly to the camera in the show. And though Hart was just 15 when she joined the Darling family, she had already been acting for years. In her earlier youth, she was in a miniseries called "Kane & Abel" and a TV movie called "Christmas Snow." 
After the Nickelodeon show ended, there was talk of a spin-off of Clarissa's college years, but it didn't get picked up. Instead, Hart went on to star in the extremely popular "Sabrina the Teenage Witch." Hart played Sabrina for 163 episodes as well as accompanying movies like "Sabrina Goes to Rome." As if that wasn't enough to keep her busy, she also landed roles in various movies and TV shows before jumping on the show "Melissa & Joey" in 2010. The sitcom ran for over 100 episodes. She has another TV movie coming out in 2023, and rumors of a Clarissa reboot continue to circulate. Hart previously said at a 90s Con event that the reboot was off, but IMDb still lists its production status as unknown.
Hart married Mark Wilkerson in 2003. She told People that the secret to her 20-year marriage was "just making that commitment and sticking to it."
Janet Darling: Elizabeth Hess
Clarissa's mom, Janet Darling, was played by Canadian actress Elizabeth Hess. Janet was all about healthy food and environmentalism, and she worked in a museum. Before taking on this role, Hess studied acting at the London Academy of Music and Dramatic Art and completed a Shakespeare intensive at the Royal Academy of Dramatic Art. Nickelodeon tagged her for Janet in 1991 — early in her screen acting career. 
Hess' post-Clarissa years have been very busy. She acted in several short films, did a couple of episodes of "Law & Order," and acted in a 2022 narrative podcast called "The Wedding Proposal." However, the majority of her time has been spent in the theater world. She has performed in many regional and off-Broadway shows and also teaches acting as a professor at Barnard College, The New School, and New York University. She is the artistic director of the Hess Collective, an organization that devises performances with the aim of exploring wide-ranging social issues, and she has also written a couple of acting-related books.
Sam Anders: Sean O'Neal
Sean O'Neal is from Altamonte Springs, Florida, and played the character Sam Anders, who was known for popping in through Clarissa's window unannounced for a chat. Nonetheless, Sam and Clarissa's friendship throughout the series was purely platonic. As Hart told Entertainment Weekly, Sam's ladder into Clarissa's window was a way of showing "that a girl and boy could be friends."
Since Clarissa, O'Neal has faded from the limelight, and finding anything about him online is notoriously difficult. His now-defunct website claimed he was almost in a boy band at one point, and he also voiced a few anime characters. He was in 65 episodes of "Clarissa Explains It All" —  still his biggest acting gig to date. Besides a small role in a 2016 indie film about addiction, he did a couple of episodes of the comedy series "Development Hell" and one episode of another Nickelodeon show called "Noah Knows Best."
Ferguson Darling: Jason Zimbler
Jason Zimbler, who played Ferguson Darling, the precocious younger brother of Clarissa, started acting when he was 6 years old. Before landing his iconic Nickelodeon role, Zimbler was on a soap opera and performing onstage in a play. He told Mashable in 2014 that he was very happy to have been able to work on Clarissa and to be a part of the network at "a time that was really fertile and culturally relevant."
Zimbler did not stick with acting, however. After his time with Nickelodeon, he went to Notre Dame to study business administration and theater directing. He started his own theater company but eventually gave up his career in the arts and landed in the tech industry. Zimbler is now a software developer and started working for HBO in 2011. He would eventually move on to the role of clean transportation program manager for the New York State Energy Research and Development Authority. He spoke about initiatives for electric vehicle infrastructure at the Capture the Energy conference in 2022.  
Marshall Darling: Joe O'Connor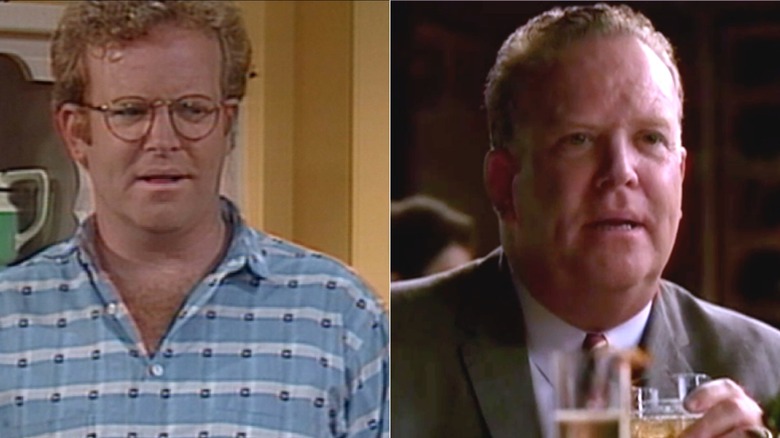 Nickelodeon/YouTube / AMC
Joe O'Connor plays Clarissa's dad, Marshall Darling, an architect of retail buildings that often had punny names. He almost exclusively called Clarissa by a nickname — Sport. While he did offer parental advice from time to time, he was not the go-to parent for the kids. O'Connor admitted he had more reservations about a neighbor boy climbing into Clarissa's window than his character apparently did. 
After his 65 episodes playing Marshall Darling, he once again teamed up with Hart when he appeared on one episode of "Sabrina the Teenage Witch." He has been super busy guest starring on various TV shows since the mid-'90s, including a couple of episodes of "The Practice" and "The West Wing." In the early 2000s, he had a six-episode arc as Tom Vogel on "Mad Men." He has also rounded out his career with several TV movies, short films, and features.
O'Connor's personal life must be very personal indeed. He does not have a large internet presence, and most biography sites only list his acting credits and have very little information to share about him beyond this.