The Dark Side Of Joan Collins And Maxwell Reed's Marriage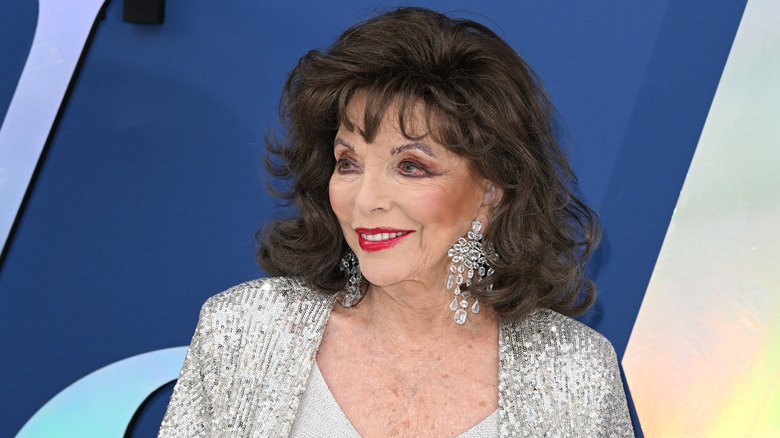 Jeff Spicer/Getty Images
English actress Joan Collins and her husband Percy Gibson have been together for over two decades, despite their 32-year age gap. The two tied the knot in 2002, and their relationship is still going strong. "It is fifth time lucky," said Collins in an interview with The Daily Mail, hinting at her past tumultuous love life. "[Percy's] a wonderful, kind, truly good man."
Before meeting Gibson, she had four other marriages, including one with Irish actor Maxwell Reed. He was her first husband, but their marriage had nothing to do with love. The "Dynasty" star met Reed when she was only 17. She agreed to go out with him, even though he was 31 years old. Reed allegedly raped Collins on their first date, taking advantage of her innocence. "I was 17, but I was the equivalent mentally of 12. We did not have sex education," she confessed in an interview with The Guardian. The actress ended up marrying him, but things continued to go downhill.
If you or anyone you know has been a victim of sexual assault, help is available. Visit the Rape, Abuse & Incest National Network website or contact RAINN's National Helpline at 1-800-656-HOPE (4673). 
Joan Collins' first marriage was doomed before it began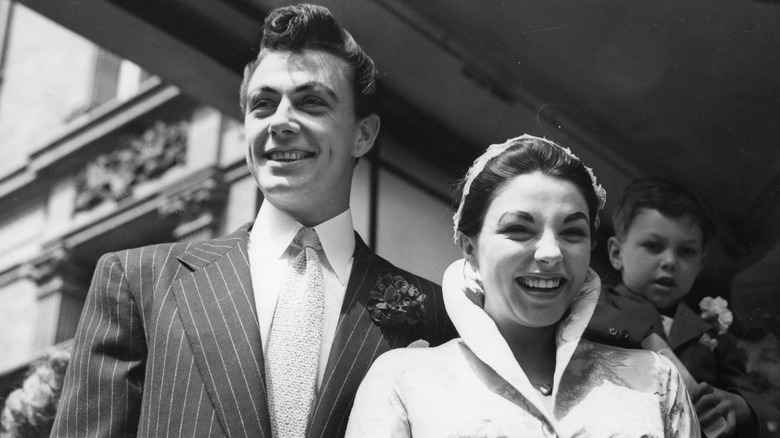 Ron Case/Getty Images
We have all witnessed the stunning transformation of Joan Collins over the decades. The award-winning actress grew up during World War II and had a tough childhood but still managed to build a thriving career. Sadly, her personal life was difficult and painful at times, according to BBC's documentary, "This Is Joan Collins." 
It all started when Laurence Harvey, her co-star in "I Believe in You," introduced her to Maxwell Reed, a successful actor. "When I was at school, I would stick pictures of all my favorite idols under my desk: Danny Kaye, Gene Kelly, and Maxwell Reed," she told the BBC.
When Reed asked her out, she accepted without hesitation. On their first date, he took her to his apartment, where she was beaten, drugged, and sexually assaulted. "In those days, my mother would have said I was 'taken advantage of.' Now we call it date rape," Collins confessed in her interview with the BBC. But despite what she went through, she continued to date Reed and eventually married him out of guilt.
Their honeymoon was a disaster, and things only got worse throughout their marriage. At some point, Reed asked her to sleep with a sheikh for £10,000, but she burst into tears and went home to her mother. The two divorced after four years of marriage when Collins was in her early 20s. Somehow, she found the strength to move on and forge a new life for herself. 
The Dynasty star didn't give up on love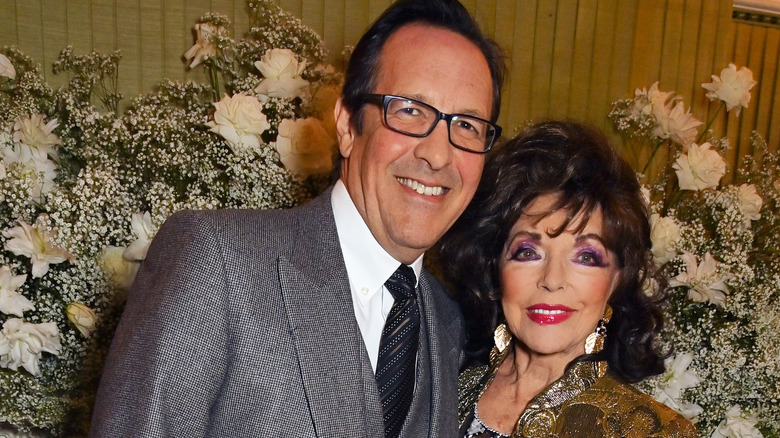 Dave Benett/Getty Images
Joan Collins told the BBC that one thing she has learned as a young actress is that most men in the film industry are predators. She went on to marry five times in her quest for love. In 1963, "The Virgin Queen" star tied the knot with actor Anthony Newley, but they broke up after seven years because of his infidelity. In 1972, she married businessman Ron Kass — and things went well between them until she realized he was taking drugs. The two filed for divorce in 1983. Two years later, Collins walked the aisle with writer Peter Holm, but he turned out to be a different person than she thought. The actress divorced him in 1987 and had no intention to marry again.
Luckily, in 2000, Collins met her soulmate Percy Gibson while she was in a relationship with someone else. Collins was instantly drawn to him, and the rest is history. "Soon we were having a fully-fledged, passionate affair. It was giddy, it was fantastic, it was all the romantic fairytales that young girls dream about," she wrote in her third biography, "Passion for Life" (via The Daily Mail). The two have been together ever since, which proves that true love is worth the wait. 
If you or anyone you know needs help with addiction issues, help is available. Visit the Substance Abuse and Mental Health Services Administration website or contact SAMHSA's National Helpline at 1-800-662-HELP (4357).