Adam Sandler Is Committed To Giving His Daughters The Most Normal Upbringing Possible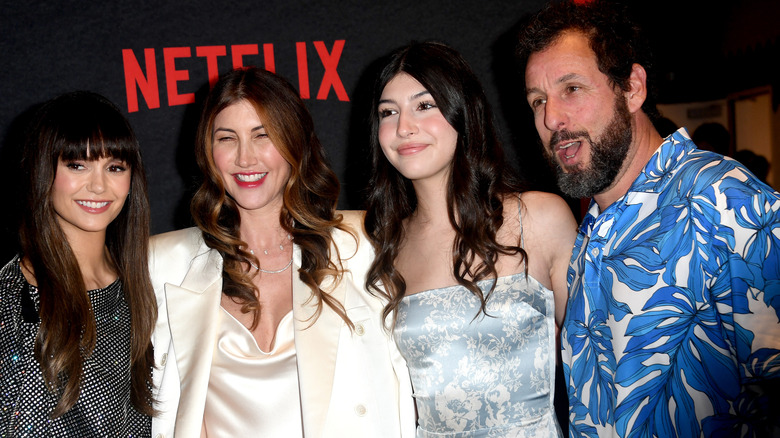 Albert L. Ortega/Getty Images
Adam Sandler may be one of the most beloved comedy actors, but he still gets his share of criticism. His latest movie, "You're So Not Invited to My Bat Mitzvah," revolves around two teenage girls who happen to be his real-life daughters. The comedy was well-received by audiences, though some critics started to talk about the nepo baby trend. Leaving this aspect aside, the girls did a great job and received acclaim for their performances. We can also agree that Sandler's daughters have grown up to be gorgeous and inherited their father's wit.
Just like in the movie, Sadie and Sunny Sandler have a strong bond with their father. "They are the love of our lives. The most pride and joy that Jackie and I could ever feel. The life changers," their father confessed at the 2023 Mark Twain Prize ceremony. The actor and his wife, Jackie Sandler, would do anything for their daughters and are committed to teaching them the value of hard work. They have also enforced strict rules to keep them grounded and safe.
Adam Sandler doesn't want his daughters to grow up spoiled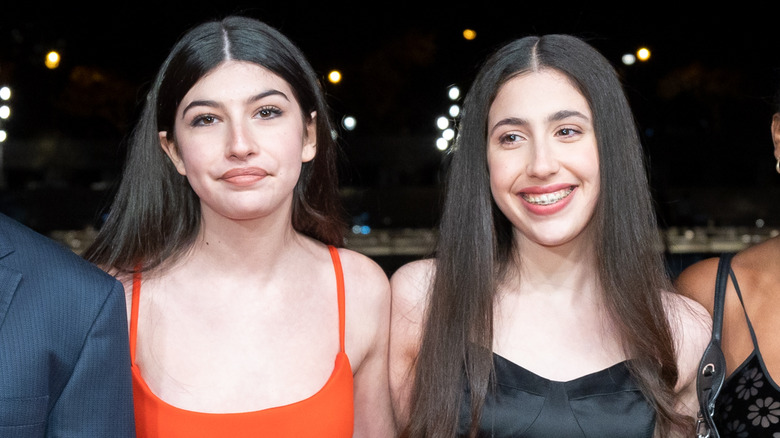 Marc Piasecki/Getty Images
The "Happy Gilmore" star was born in a middle-class family, being the youngest of four siblings. His mother, Judy Sandler, was a teacher, whereas his father, Stanley Sandler, was working as an electrician. Adam Sandler's family supported him every step of the way, but he wouldn't have gotten where he is today without hard work. Later in life, the actor decided to raise his daughters the way he was so they wouldn't grow up feeling entitled.
"The idea of my kids being spoiled — I go to sleep thinking about it — and I wake up thinking about it," Sadler admitted in a 2010 interview with The Toronto Sun. He also confessed that, despite his best efforts, he struggles to give his daughters a normal upbringing, given his $440 million net worth. The "Billy Madison" star and his family share a $4.1 million house in Los Angeles, California, and own several other properties across the U.S.
However, Sadie and Sunny Sandler do pretty much the same things as other kids their age. They eat homemade meals and fast food, go swimming, watch movies, and have a strict bedtime. Apart from that, their father supports them in their pursuits. "They like to sing ... and they see Daddy up there, and they're like, 'Can I try that?' So, I say, 'Get on up there,'" the actor told Us Weekly in 2020.
The 'Billy Madison' star admits he's overprotective of his family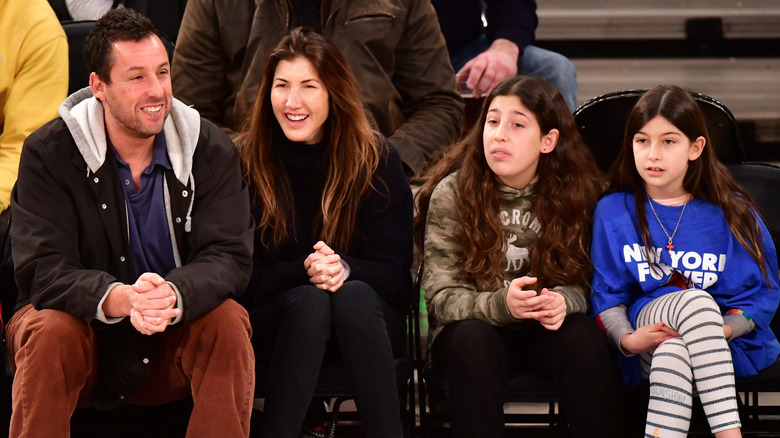 James Devaney/Getty Images
Adam Sandler's relationship with his daughters is based on friendship, but "The Wedding Singer" star admits he can be overprotective at times. "I'm a worrier. I've learned in life now that when your kid is upset, you're rocked until they're not upset anymore. Even when they're not upset, you're rocked. You're always nervous because you want your kid to be happy," he told HuffPost in 2014.
The film producer also confessed that his family's well-being comes first. Not surprisingly, he changed his lifestyle for the sake of his kids. He makes an effort to arrive home before 9:30 p.m., take dinner no later than 7 p.m., and spend more time with his two daughters.
Sandler also wants to make sure they are humble, hardworking, and down-to-earth. And, like most fathers, he's worried about his daughters growing up. At some point, he told book author Cindy Pearlman that he wouldn't encourage his older daughter, Sadie Sandler, to go on dates. However, Sadie appears to be more focused on her acting career and has already shared the screen with his father in "Grown Ups," "Jack and Jill," "Hubie Halloween," and other movies that have entertained audiences worldwide.