A Look At Prince Harry's Close Relationship With David Foster
Chris Jackson/Getty Images
David Foster, music producer and songwriter extraordinaire, can also count himself as one of the people in Prince Harry's inner circle. Foster and the Duke of Sussex actually got to know each other through their wives, as Meghan Markle, Duchess of Sussex, and Katharine McPhee, Foster's fifth wife, both went to Immaculate Heart Catholic School.  Meghan was a couple of grades ahead of McPhee, so while the two didn't have classes together, they did become acquainted when they participated in school musicals. In 2019, McPhee and Foster reportedly connected with the Sussexes when McPhee was starring in a London production of the musical "Waitress." 
While McPhee felt she and Meghan were just revisiting a childhood connection, something deeper developed between Harry and Foster. "My husband has a really, really beautiful relationship with Harry," the singer and actor informed "Access Hollywood." "They're like father and son." Besides being just one year younger than King Charles, Foster has also been supportive of the prince and caring towards his family. During Christmas 2019, Foster used his connections to arrange for the Sussexes to spend the holiday on Vancouver Island, Canada. Harry and Meghan stayed on the property for six weeks during a tumultuous time while they worked through their decision to step back as working royals. "I was really happy to be able to help them to find a respite just to take a little time off," Foster later explained to The Daily Mail.
Foster organized a birthday celebration for Harry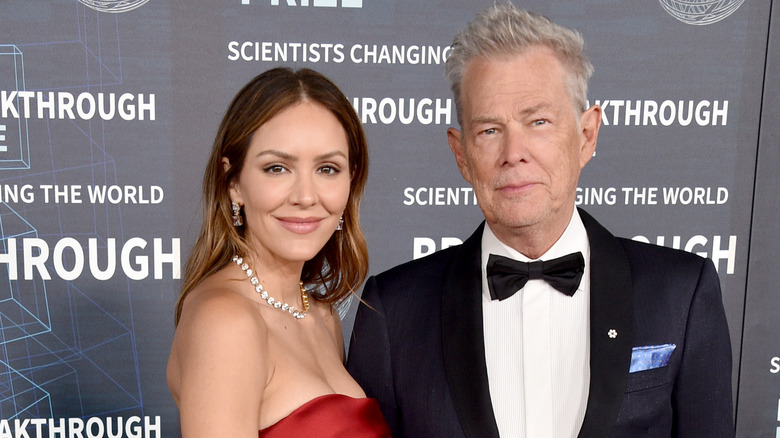 Gregg Deguire/Getty Images
After Prince Harry and Meghan Markle, Duke and Duchess of Sussex, settled in Montecito, California, they continued to meet up with Katharine McPhee and David Foster. For Harry's 36th birthday, his first as a nonworking royal, the music mogul threw the prince a special party. The celebration, which took place at Foster and McPhee's Los Angeles home, was reported to have been an intimate affair. None of Harry's family were expected to be there. Instead, Foster invited two of his daughters, along with their spouses. In accordance with his close bond with Harry, Foster was apparently helping the Sussexes meet people and get settled in their new community. 
A month later, in October 2020, Harry and Meghan joined the singer and music producer for an evening out in honor of McPhee and Foster's exciting family news that they were expecting their first child. The two couples chatted for three hours, another indicator that they enjoy each other's company and can easily find lots of conversation topics.  For the Sussexes' first Christmas in the U.S., and amid Harry's rift with the royal family, a source told the Mirror that the Sussexes were planning to invite Foster and McPhee to join them for Christmas celebrations at their house.
Harry and Foster both have a passion for philanthropy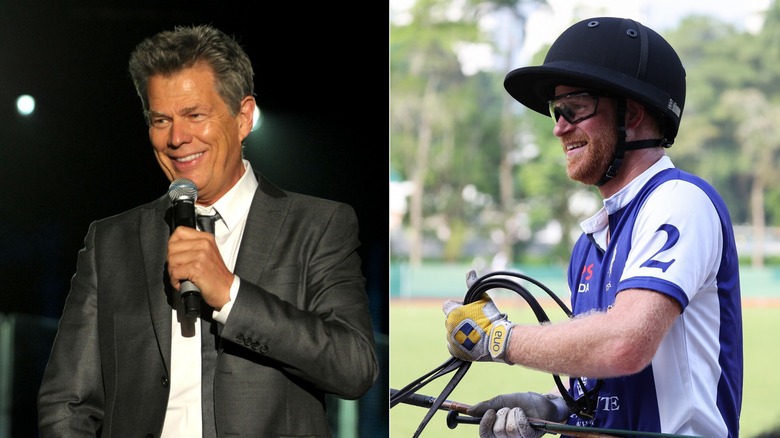 Matt Jelonek/Getty & Denise Truscello/Getty Images
Not everyone agrees that David Foster and Prince Harry's friendship is based on a paternal connection. "David isn't a substitute dad for Harry, they are peers, and close friends," a source informed Us Weekly. One area where both Harry and Foster have a lot in common is their commitment to philanthropy. In 1986, in conjunction with his phenomenal entertainment career, Foster created his own charity, The David Foster Foundation, to help Canadian families with children who require organ transplants. In addition, Foster also utilized his musical skills and connections to assist over 400 other organizations.  "David is the resource guy," Foster's wife Katharine McPhee explained to "Access Hollywood." "He loves to help people."
Similarly, Harry has used his enthusiasm for sports to raise money for Sentebale, a charity he co-founded with Prince Seeiso of Lesotho to support youth impacted by HIV/AIDS. It also inspired him to create the Invictus Games to foster the recovery of injured servicepeople and veterans. 
Due to his altruistic nature, it's alleged that Foster may have used his connections to put Harry and Meghan Markle on the path to securing their contract with Netflix. After the deal was signed, Foster and Harry's mutual friend, Simon Cowell, was reported to have provided helpful guidance to the Duke and Duchess of Sussex. Cowell also knew McPhee when she was an "American Idol" contestant. As a guest mentor, Foster met McPhee at that same time, although their romance didn't begin until much later.