Unexplained Mysteries Of Britain's Monarchy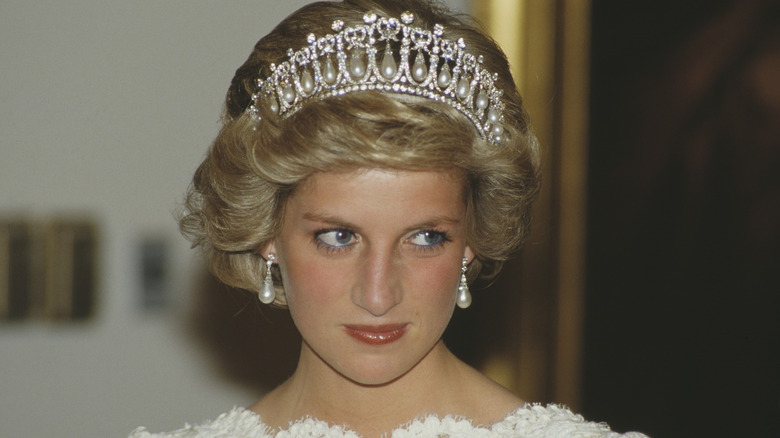 Princess Diana Archive/Getty Images
The following article contains references to sexual assault 
There's nothing quite like getting to the crux of an unsolved mystery. Whether it's a true crime serial drama or an investigative podcast spurring many a debate, we can't get enough of unexplained mysteries. But they become all the more fascinating when said mysteries involve kings, queens, and what the butler saw.
Although they are servants to the British public, the royal family has long been shrouded in mystery, with members careful to protect their image from scandal and scrutiny. This was none more apparent than with the late Queen Elizabeth II, who was renowned for living her life as a closed book right up until her heartbreaking death. The dignified monarch reigned for over 70 years, revealing very little about herself (save for her love of corgis and horses). But then, quiet public service was very much her MO. As economist Walter Bagehot put it in 1867, the mysticism of the monarchy is central to its appeal. "Above all things, our royalty is to be reverenced," he wrote, per the Daily Beast, "and if you begin to poke about it, you cannot reverence it... its mystery is its life. We must not let in daylight on the magic."
But beneath the splendor and majesty of the monarchy lies plenty of mysteries and unexplained phenomena. Heavy is the head that carries the secrets of the crown: let's take a deep dive into unexplained mysteries of Britain's monarchy.
The princes in the tower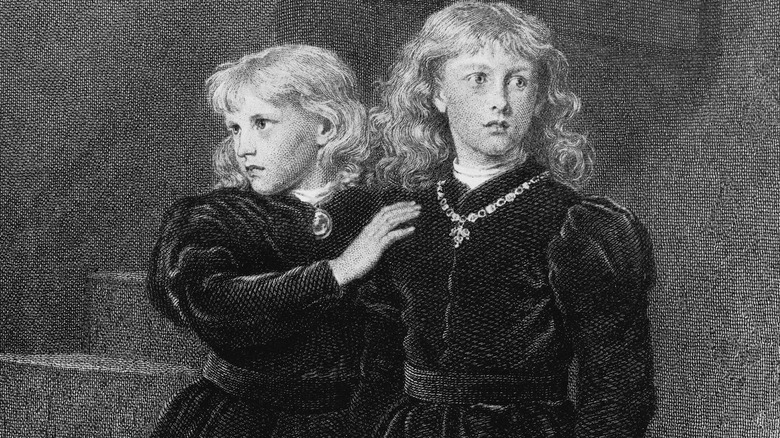 Bettmann/Getty Images
One of the oldest and most enduring royal mysteries is the circumstances surrounding the princes in the tower, when 12-year-old Prince Edward V of England and his younger brother Richard, 9, went missing circa 1483.
Following the death of Edward IV, Britain was under the nominal rule of his young son, Edward V. However, he was never crowned; rather, he was placed under the guardianship of his uncle, the Duke of Gloucester, i.e., Richard III. In a tale that sounds like it came straight out of a "Game of Thrones" plot, Richard III allegedly had the two young princes banished to the Tower of London. The princes were never seen in public again as Richard assumed the throne. The bodies of the two boys were only discovered in 1674, almost 200 years later.
In recent years, efforts have been made to paint Richard in a more forgiving light. Following the discovery of his body under a parking lot in Leicester in 2012, Richard III enthusiast Phillipa Langley, who spearheaded the excavation, told The Telegraph that there's evidence the king was innocent, and Edward V may have started a new life as John Evans. Moreover, some have claimed that ableist depictions of the king as deformed have led to his characterization as a malignant force. On the other hand, many historians believe he did confine his nephews to the tower. Alas, this remains one royal mystery that will likely never be solved.
The dead body on the queen's estate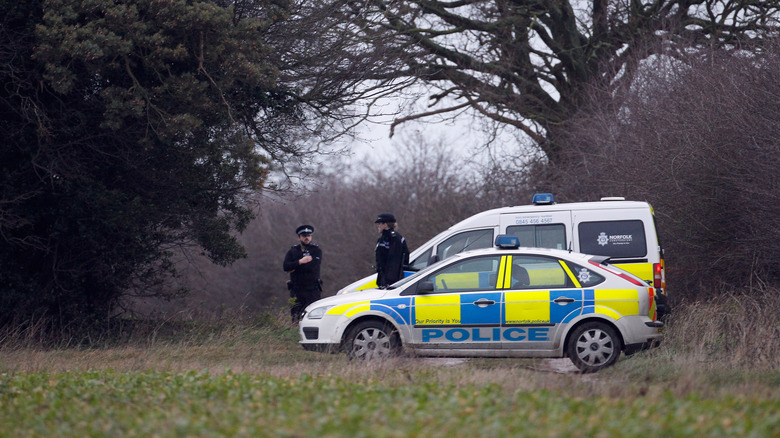 Christopher Furlong/Getty Images
In a lesser-known true crime story that would no doubt generate a riveting podcast, a dead body was found on the Sandringham estate on New Year's Day 2012. A member of the public made the grisly discovery on one of Prince Philip's favorite hunting grounds. It soon became clear that the individual did not die of natural causes; the police subsequently launched a murder inquiry and began looking into missing persons cases in the Norfolk region.
To make matters even more intriguing, commenters suggested that someone close to the royals may have information regarding the morbid discovery. "It's possible that somebody involved with the queen's staff may know something, may have seen something," royal writer Duncan Larcombe told ABC News. "It seems quite extraordinary that it wasn't until a dog-walker discovered this body that something was found."
Initially, the person's identity remained unknown. Following forensic tests, it was determined that the body was that of 17-year-old Alisa Dmitrijeva, who had been missing for almost six months. There have been suggestions that her death may have had something to do with her reported involvement with local Eastern European gangs, though two initial suspects were ultimately released by the police. A 2014 inquest failed to establish a cause of death; it was also determined that she likely died elsewhere, but her body was later placed on the Sandringham grounds. To this day, the mystery remains unsolved, and Dmitrijeva's potential killer hasn't been caught.
Princess Diana's box of secrets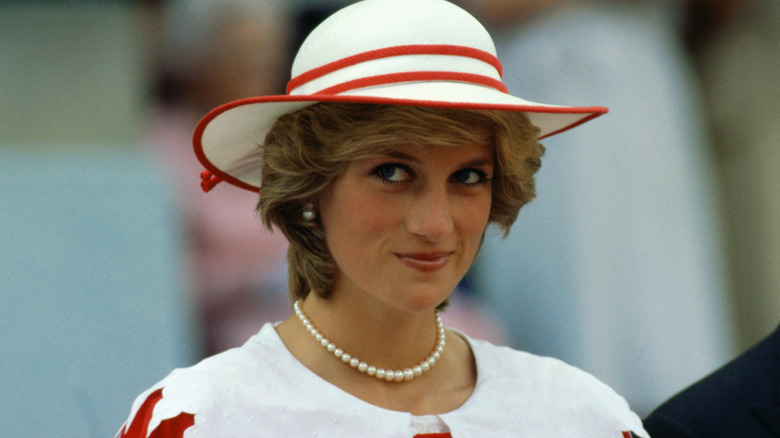 Bettmann/Getty Images
Princess Diana was an undoubtedly enigmatic royal, and various outlandish theories persist regarding her untimely death. But while Diana's demise was a tragic accident, there remains much intrigue surrounding the aspects of her life that she kept concealed from the public. Throughout her life, the princess kept a mahogany box reportedly containing confessional tapes that revealed embarrassing secrets about each member of the royal family, the likes of which would destroy their pristine public reputations.
One of the most shocking revelations in Diana's box of secrets, dubbed the "Crown Jewels" by the princess, was that of a sexual assault allegedly committed on palace grounds. King Charles' aide, George Smith, confided in Diana that he had been raped twice in the mid-'90s by a courtier close to Charles, though the alleged perpetrator told the police the encounters were consensual. The royal family allegedly tried to conceal the sexual assault and prevented Smith from speaking out by offering him £30,000 (around $36,000) in redundancy money. "I suspect the bottom line in all this is that the [royal] household is caught over a barrel," Fiona Shackleton, Charles's lawyer, wrote in a letter in 1996, per The Guardian. "Regardless of the accuracy or otherwise of George's allegations, it would not presumably want those allegations to appear in print."
The box also allegedly contained cruel letters that Prince Philip had sent to Diana. The box was believed to be destroyed to prevent embarrassment for the family.
If you or anyone you know has been a victim of sexual assault, help is available. Visit the Rape, Abuse & Incest National Network website or contact RAINN's National Helpline at 1-800-656-HOPE (4673).
Edward VIII and the alleged plot to bomb Britain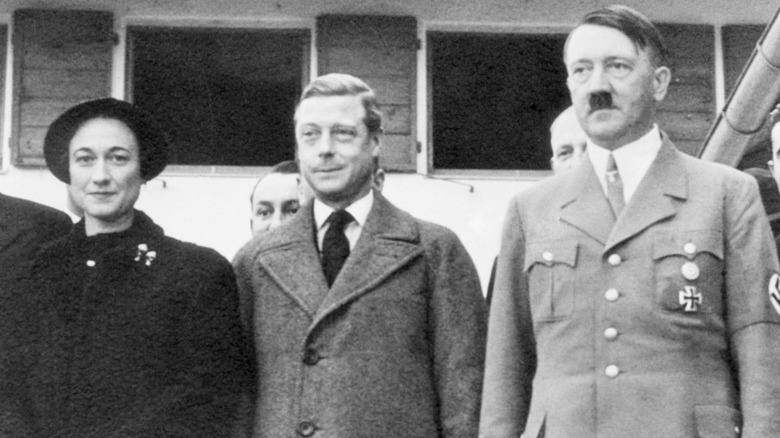 Bettmann/Getty Images
Few royals besmirch the integrity of the monarchy quite like the former King Edward VIII. Edward famously abdicated in 1936 to be with his lover, American divorcée Wallis Simpson, though this would prove the least of his controversies. There have long been claims that Edward was a Nazi sympathizer. But how far his extremist views went remains a matter of dispute.
It has been alleged that he sought to collude with the Nazis in a plot to bomb Britain so that he could dethrone his brother, George VI, and retain his kingly title. In the documentary "Edward VIII: Britain's Traitor King," author Anna Pasternak claimed that Edward wanted to get back at Britain for making him abdicate (via CBC). "The duke was terrifyingly open to Germany and what he felt the Germans could offer him," she said.
According to historian Andrew Lownie, Edward knew about the atrocities of the Nazis and even visited a concentration camp during his 1937 tour of Germany; that year, he famously met Hilter and even wrote him a thank-you letter. "I don't think he could have had any misconception about what the Nazis were about," Lownie told Vanity Fair. "And of course, people were briefing him, warning him, telling him to stay away... He, I think, quite deliberately engaged with them because he believed in these strong men." Despite intense speculation, whether Edward actually collaborated with the Nazis remains another unsolved royal mystery.
Who made the comment about Prince Archie's skin color?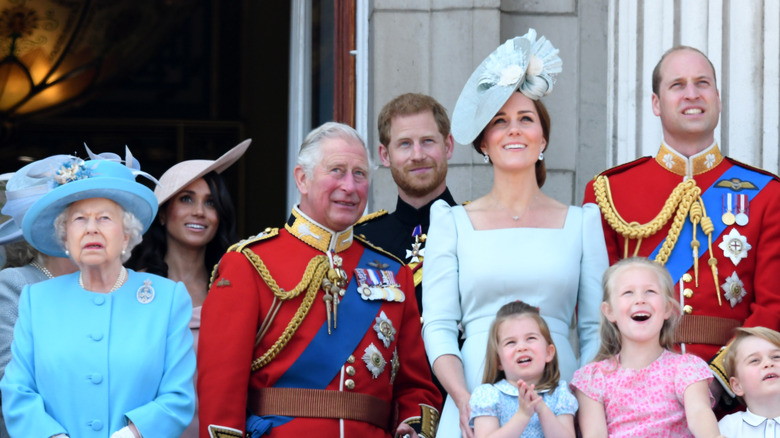 Karwai Tang/Getty Images
After leaving the monarchy, Prince Harry and Meghan Markle sat down with Oprah Winfrey for an explosive tell-all interview in 2021. One of the most enduring claims made by the couple is that of a racist microaggression directed at their son, Archie. Meghan alleged that a member of the royal family commented on how dark the baby's skin might be. Neither Harry nor Meghan named the royal in question, though they did confirm it was not Queen Elizabeth nor Prince Philip, leading to intense media speculation.
According to Christopher Andersen's book "Brothers And Wives: Inside The Private Lives of William, Kate, Harry and Meghan," it may have been King Charles who made the remark (via Page Six). A source recalled a conversation that took place between Charles and Camilla, Queen Consort, in which the former speculated on how his grandson would look. "Well, absolutely gorgeous, I'm certain," Camilla apparently replied. "I mean, what do you think their children's complexion might be?" came Charles' alleged response. Charles' team denied the claim, stating, "This is fiction and not worth further comment."
The royals allegedly live in fear of Meghan one day naming the individual in question. These fears were amplified following the release of Harry's memoir, "Spare." "There's not a lot of trust left to allow the family to maintain a good and open relationship," an insider told The Telegraph. "How do you speak openly without it ending up in volume two?"
The mystery of Queen Elizabeth II's last will and testament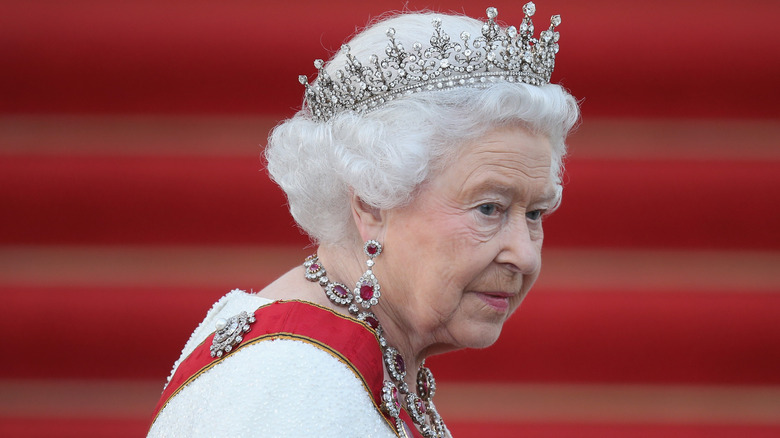 Sean Gallup/Getty Images
The last days of Queen Elizabeth II have been discussed widely in the media. Before she passed away in September 2022, Elizabeth swore in the new Prime Minister, Liz Truss. Two days later, she died with her children, King Charles and Princess Anne, by her side. But what is steeped in mystery is the queen's last will and testament.
There has been some speculation on Elizabeth's will — namely, that Charles was the main beneficiary and is exempt from the UK's inheritance tax rules — but its contents will remain a secret. In fact, the queen's will has been locked in a safe, where it shall remain for 90 years. "The degree of publicity that publication would be likely to attract would be very extensive and wholly contrary to the aim of maintaining the dignity of the Sovereign," the judge who oversaw the ruling said, per the Mirror.
The policy of shielding the contents of royal wills from the public has been met with considerable scrutiny. According to critics, the royals keep their final bequests secret to conceal their true wealth from the public so as not to ostracize them from their loyal subjects. "The main embarrassing fact is just how much money they have accumulated from public funds," Norman Baker, a former government minister, told The Guardian. "If the public knew just how hugely rich they are, they might take a view it was high time public funding was cut."
How did Prince Andrew afford his lavish lifestyle?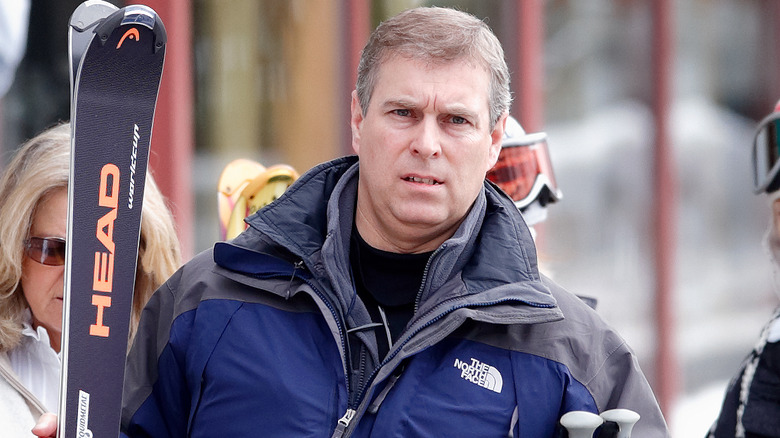 Max Mumby/indigo/Getty Images
Ever since his association with Jeffrey Epstein was made public, Prince Andrew has been shunned by the Windsor family. But his controversies started long before his friendship with the pedophile billionaire flourished. Namely, Andrew has always had a penchant for luxury and jet-setting. His playboy ways became so notorious that the British media dubbed him the "party prince." But with an annual allowance of £249,000 (around $300,000) during his royal heyday, how exactly could he afford a life befitting a billionaire?
Before being ousted from royal duties, Andrew enjoyed all manner of luxuries. These included the purchase of a £13 million (around $15.7 million) ski chalet, spending £7.5million (around $9 million) to refurbish Royal Lodge, and wearing bling worth tens of thousands of dollars, not to mention his penchant for superyachts and luxury vacations to the UAE. "He seems to float serenely around in very rarefied circles without any visible means of support," an insider told The Sun. The Daily Mail has claimed that Andrew may have funded his lifestyle through shady outside business deals, though such claims are purely speculative.
Subsequently, this raises questions about where Andrew's settlement money to Virginia Giuffre came from. In 2022, Andrew paid out a reported £10 million (around $12 million) to Giuffre, who accused him of sexual abuse. There have been claims that the queen helped her son out, though the place did not confirm whether this was true.
If you or anyone you know has been a victim of sexual assault, help is available. Visit the Rape, Abuse & Incest National Network website or contact RAINN's National Helpline at 1-800-656-HOPE (4673).
Queen Victoria and John Brown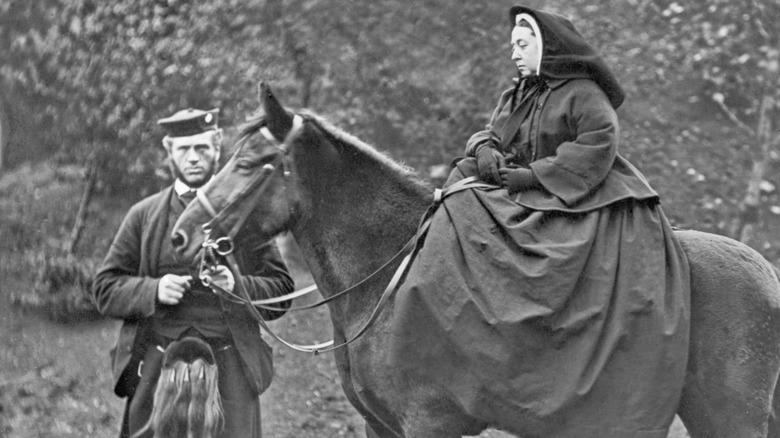 Bettmann/Getty Images
Scotsman John Brown was the loyal servant and confidant of Queen Victoria. Following the death of Prince Albert in 1861, the widowed queen grew closer to Brown, fueling gossip that they may have become lovers.
It's been said that the queen's doctor once walked in on her and Brown engaging in some NSFW flirting. There are even rumors that she married Brown. According to the diaries of Liberal Party minister Lewis Harcourt, the queen's chaplain, Rev Norman Macleod, admitted on his deathbed that he officiated the wedding of Victoria and Brown circa 1866. "I suppose some people will say that it is no more than tittle-tattle," author Patrick Jackson told The Telegraph, "but it's certainly very high-level gossip from very respectable sources who had no reason to make it up." But others have suggested that a union between the pair was highly unlikely. "The Queen was clearly very fond of Brown: they may even have had a cuddle and a snog," added historian A. N. Wilson. "But she had a great sense of royal dignity and would not have married someone in his position."
In a letter that resurfaced in 2004, Victoria revealed that she was severely distraught following Brown's untimely death in 1883: "The Queen feels that life for the second time is become most trying and sad to bear deprived of all she so needs" (via The Guardian). However, the queen stopped short of admitting that she had a romantic relationship with Brown.
The true nature of King George V's death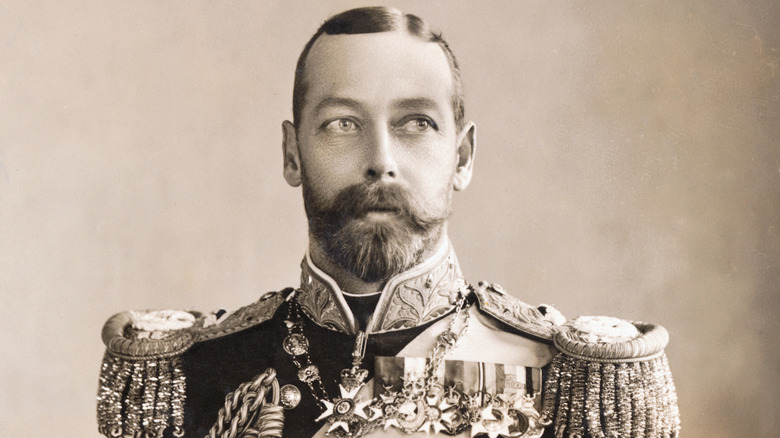 Bettmann/Getty Images
King George V was Queen Elizabeth's grandfather. He reigned from 1910 until his death in 1936, when his aforementioned son, Edward VIII, took over. George's death has been shrouded in mystery, leading to claims that he may have died of assisted suicide or even been murdered.
Notes penned by George's doctor, Lord Dawson, suggest that the ailing monarch was euthanized with lethal drugs while suffering on his deathbed. Dawson supposedly accelerated the king's demise so that the morning newspapers could break news of his death. But he also reportedly believed in euthanasia as an act of mercy. "One should make the act of dying more gentle and more peaceful even if it does involve curtailment of the length of life," he once said, per The New York Times. "That has become increasingly the custom. This may be taken as something accepted."
However, there have been claims that George wasn't euthanized, with some questioning how plausible it was that his wife, Queen Mary, would approve his assisted suicide. Biographer Kenneth Rose told The New York Times that it's highly likely the king was, in fact, murdered. Speaking to the Daily Mail, royal biographer Angela Levin echoed such sentiments. "There's been this argument about whether it was murder of euthanasia," she explained, "if you look at it objectively, it was a huge decision to make to kill a king without absolute authority, it's a very dark but interesting mystery."
Did Elizabeth I collude in the murder of Amy Robsart?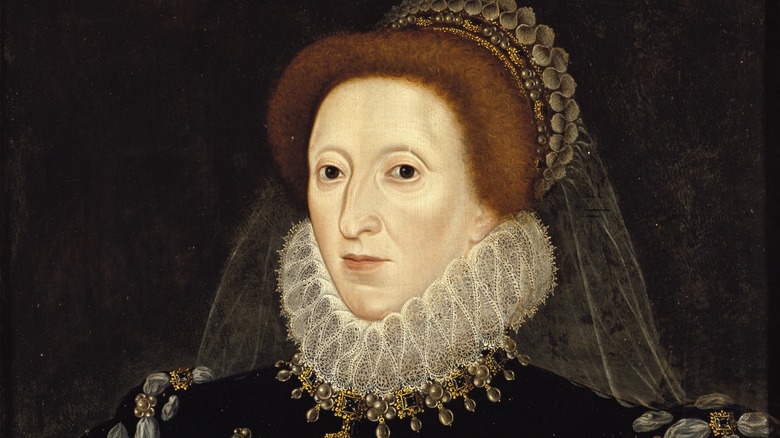 Brandstaetter Images/Getty Images
Though dubbed the "Virgin Queen," it has long been claimed that Queen Elizabeth I was having an affair with Robert Dudley. Elizabeth had known Dudley since the two were children, and they remained close for the rest of their lives. After becoming queen in 1558, Elizabeth appointed Dudley Master of Horse, and it was during this time that the pair allegedly began an intimate relationship. But matters were complicated by the fact that Dudley was married to Amy Robsart.
In a mystery that immediately evokes the death of Michael Peterson's wife in the Netflix doc "The Staircase," Robsart's dead body was found at the bottom of the stairs in 1560. At the time, Dudley was suspected of murder as Robsart had sustained injuries apparently inconsistent with a fall, such as a broken neck and head wounds. Some have claimed that he wanted his wife dead so he could marry Elizabeth. Indeed, Elizabeth had reportedly been waiting for Robsart to die so she could be with Dudley, but ironically, suspicions surrounding his possible involvement in his wife's death meant that Elizabeth had to distance herself from him. There are even theories that the queen colluded in Robsart's alleged murder. "They were scheming to put Lord Robert's wife to death," Elizabeth's secretary, William Cecil, claimed (via Oxford Home Schooling).
However, some suggest Robsart suffered an accidental fall, while others have attributed her death to a medical emergency or even an elaborate suicide.
The alleged affair between Princess Margaret and Mick Jagger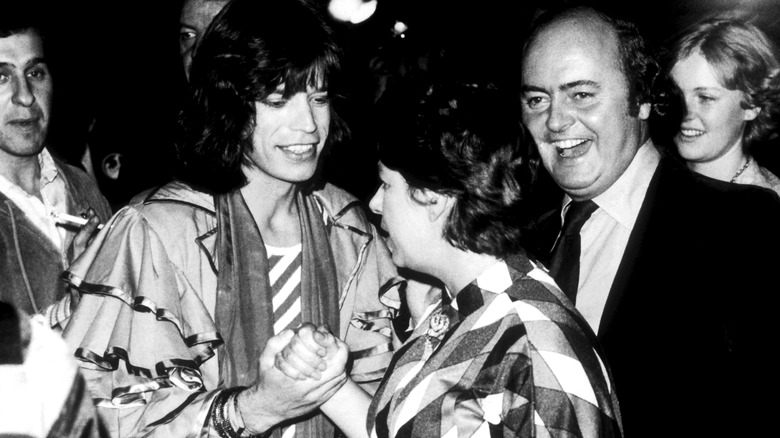 Michael Putland/Getty Images
In contrast to her reserved sister, Princess Margaret was notorious for her rebellious nature. Margaret developed a reputation as a party girl, becoming a tabloid staple due to her penchant for smoking, nightclubs, and famous men. She is believed to have had dalliances with the likes of Richard Harris and Warren Beatty, but one purported lover that continues to generate intrigue is Mick Jagger.
Rumors of a tryst between Margaret and the Rolling Stone have persisted for years. The princess, who enjoyed mingling in celebrity circles, first met Jagger at a party in the '60s. The two quickly took a shine to one another. "There was a flirtation going on there, definitely," onlooker Lady Elsa Bowker told the Daily Mail. "Princess Margaret was only in her 30s and quite attractive. And as everybody knows, she was attracted to younger men." There are unconfirmed rumors that the pair's relationship took a romantic turn, with Margaret finding the musician's rockstar chic exciting.
Even Queen Elizabeth remained in the dark about her sister's alleged rendezvous with Jagger. But she reportedly didn't approve of Margaret associating with a bad boy rocker. "Margaret had caused more than her share of scandal," explained publisher Harold Brooks-Baker. "The last thing the Queen wanted was her sister running off with Mick Jagger." In fact, she ensured that when Prime Minister and rock music aficionado Tony Blair suggested that Jagger be knighted in 1997, she declined to bestow the honor.
King Charles III's alleged love child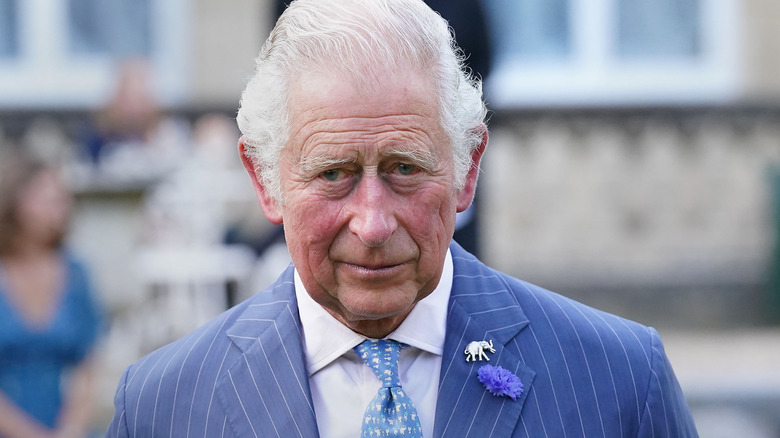 Wpa Pool/Getty Images
Simon Charles Dorante-Day's claim to fame is that he is the love child of King Charles and Queen Camilla. Or so he says. Dorante-Day alleges that he was conceived in 1965, during the early days of Charles and Camilla's affair; at eight months, he was supposedly given up for adoption to a couple whose family worked for Queen Elizabeth and Prince Philip. Speaking to 7NEWS.com.au in 2021, he alleged that his birth certificate was doctored and fake names were used to replace those of Charles and Camilla. "My grandmother, who had worked for the Queen, told me outright that I was Camilla and Charles' son many times," he said.
He even claimed that he has recollections of meeting Camilla as a child while his adoptive parents waited outside. "I know that my story sounds unbelievable," he acknowledged, "but everything I say is checkable... I'm simply a man looking for my biological parents, and every road has led me back to Camilla and Charles." Charles' alleged love child added that he's not looking for financial gain or a royal title but simply wants to find his birth parents.
Following Charles' coronation in 2023, Dorante-Day once again asserted that he is the king's first-born son and declared that he's preparing to undergo DNA testing. "I'm going to be pursuing what I'm pursuing," he said. "I have my proof of where I stand with this." Neither Charles nor Camilla has commented on the matter.
Why did the queen really intervene in Paul Burrell's trial?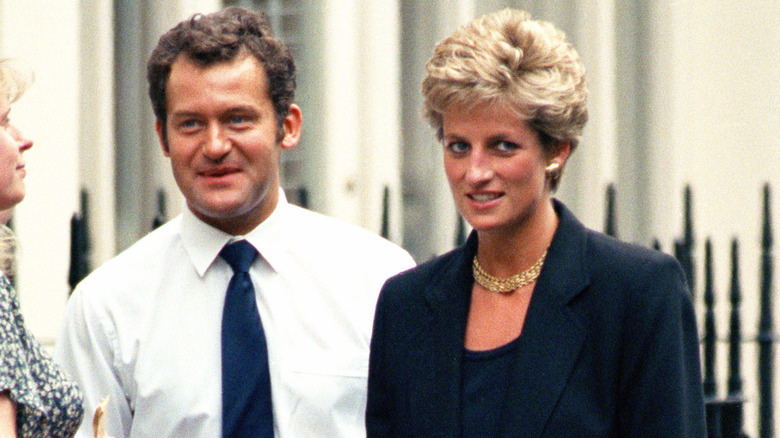 Antony Jones/Getty Images
In 2002, Princess Diana's butler, Paul Burrell, went on trial for alleged theft of hundreds of royal belongings. But in an unprecedented move, Queen Elizabeth intervened in the trial after revealing that Burrell had informed her that he was keeping some of Diana's belongings, thereby clearing him of all charges. "The Queen has come through for me, the lady has come through for me," Burrell said at the time, per The Guardian.
As prosecutor William Boyce explained, the entire trial was predicated on the fact that Burrell had supposedly never told anyone that he took the belongings (via The New York Times). Therefore, there is a mystery as to why the queen had waited so long to intervene, seeing as Burrell's case had been ongoing for two years. "She knew that all along, so why did she not say something earlier?" asked royal biographer Anthony Holden, per The Sydney Morning Herald.
Subsequently, Elizabeth's surprise intervention led to more questions than answers. There is speculation that she may have intervened to prevent royals, such as King Charles and Prince William, from having to testify at trial. Burrell may have also been set to divulge intimate details about the royals that would have caused them embarrassment. "The most likely reason is that when Paul Burrell came to give evidence, he was going to provide information which would be damaging to the royal family," suggested then Labour MP Paul Flynn, per The Guardian.
The missing jewels of Princess Diana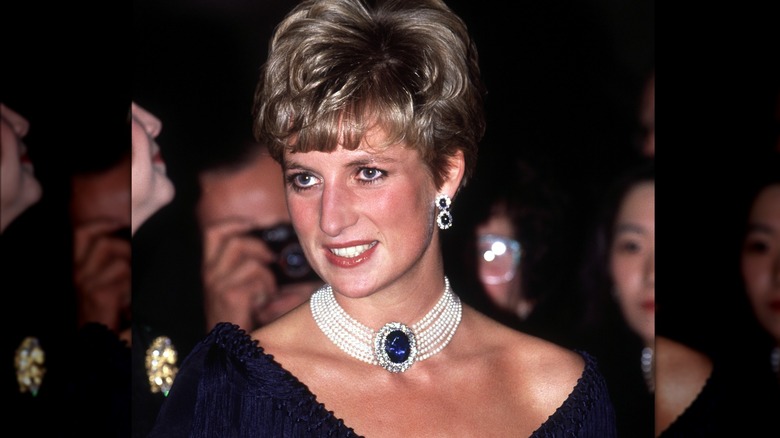 Princess Diana Archive/Getty Images
Princess Diana had a penchant for fine jewelry and was rarely seen sans an exquisite pair of earrings or pearl necklace. But following her death in 1997, a number of her jewels went missing and haven't been seen to this day. Though Princes Harry and William have gifted their respective wives a number of Diana's favorite pieces, the whereabouts of many of the late princess' gems remain unknown.
Specifically, Diana's beloved sapphire collection — dubbed the Saudi Sapphire Suite – consisting of a necklace, bracelet, earrings, and a ring, has not been seen since her death. Although she bequeathed her jewelry collection to her sons, it's a little unusual that these precious jewels have completely disappeared from the public eye. The same goes for her pearl and aquamarine bracelet, which she frequently wore following her divorce from King Charles. Similarly, the sapphire pearl choker, which Diana famously paired with her post-divorce revenge dress, has not been seen since 1996. There are, however, claims that Prince Harry used part of the necklace to create Meghan Markle's engagement ring.
Following the arrest of Paul Burrell in 2001, he was charged with stealing a number of Diana's jewels. But, as previously mentioned, he had alerted the queen that he was keeping the items safe. Though the whereabouts of these jewels remain unknown, some have speculated that, much like secretive royal wills, they may be confined to a vault, perhaps for future royal generations to don and enjoy.