Francia Raisa Once Labeled Her Relationship With Selena Gomez As A Trauma Bond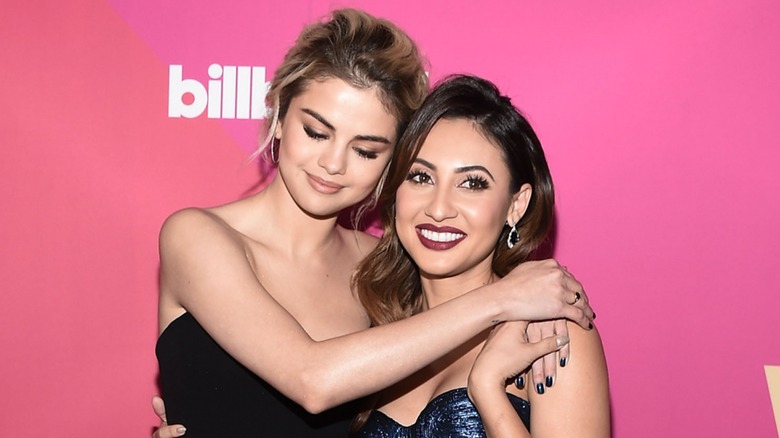 Amanda Edwards/Getty Images
Selena Gomez and Francia Raisa forged a strong connection from the moment they crossed paths in 2007. They quickly became friends after meeting at a charity event, bonding over their shared teenage experiences. The pair remained close as adults, supporting each other every step of the way, with Raisa playing a pivotal role in Gomez's life during a particularly challenging period.
When Gomez, who suffers from lupus, an autoimmune disease that makes the immune system attack the body's own tissue and organs, needed a kidney transplant in 2017, Raisa selflessly stepped forward as the donor. Gomez took to Instagram to share the news, expressing her gratitude with a heartfelt post accompanied by a touching snapshot of the two holding hands in a hospital bed. "I am incredibly blessed," the singer wrote in the caption, adding, "I love you so much sis." In a talk with Extra's Terri Seymour, Raisa labeled their relationship a trauma bond because of everything they went through together.
Despite Raisa's profound sacrifice, the dynamics of their relationship eventually shifted, and the two drifted apart over time. Rumors swirled that it was due to Gomez's unhealthy lifestyle choices following the transplant, but Raisa cleared the air.
Their friendship has weathered a rollercoaster of highs and lows
Francia Raisa made an appearance at Selena Gomez's first Rare Impact Fund Benefit, proving that the two really are friends through thick and thin. In an interview with Extra, Raisa recalled the story of their initial meeting, recounting how they connected over their then-boyfriends. According to Raisa, Gomez later reached out to her after a breakup (presumably with Nick Jonas, given her dating history), and they became the best of friends.
When asked about the challenges they faced, including Gomez's kidney transplant, Raisa responded, "We trauma-bonded, which is beautiful, but also it can get rocky and tricky." The "Grown-ish" actor went on to comment on their drift by noting that people change with time and that the sibling-like relationship she has with Gomez is no exception.
Reports in 2019 suggested a strain in their friendship due to Gomez's alleged excessive drinking, which poses serious health challenges given her status as a kidney recipient. The rift gained renewed attention three years later when Raisa unfollowed Gomez on Instagram after Gomez's interview with The Rolling Stone, in which the "Calm Down" singer claimed to have no friends in Hollywood aside from Taylor Swift. When Raisa's move made headlines, Gomez commented on a TikTok with a sarcastic apology for not "mentioning every person [she knows]."
The two are on better terms after pursuing personal growth
Despite the speculation surrounding their fallout, both Selena Gomez and Francia Raisa chose not to address the reasons for their temporary estrangement until the Rare Impact Fund Benefit. Raisa clarified to Extra, "Just for the record, it had nothing to do with the kidney," explaining, "We had to almost go on our own journey and grow."
During their time apart, they pursued their separate ambitions. Gomez focused on expanding her brand, Rare Beauty, and worked on improving her mental health. In an InStyle interview, she opened up about struggling with depression and anxiety, noting, "The older I got, the more I evolved and realized that I needed to take control of what I was feeling." She further stated, "I wanted to be able to look in the mirror and feel confident to be who I am."
Meanwhile, Raisa concentrated on her career, landing the role of Valentina in Hulu's "How I Met Your Father." She also revealed plans to start a salsa company on Josh Peck's "Good Guys" podcast, an endeavor Gomez already quietly backed on Instagram. The "Only Murders in the Building" star posted a picture of her and Raisa's shoes on her Instagram story with the text, "No Beef Just Salsa." It appears that Gomez and Raisa have picked up right where they left off.