The Stunning Transformation Of Queen Rania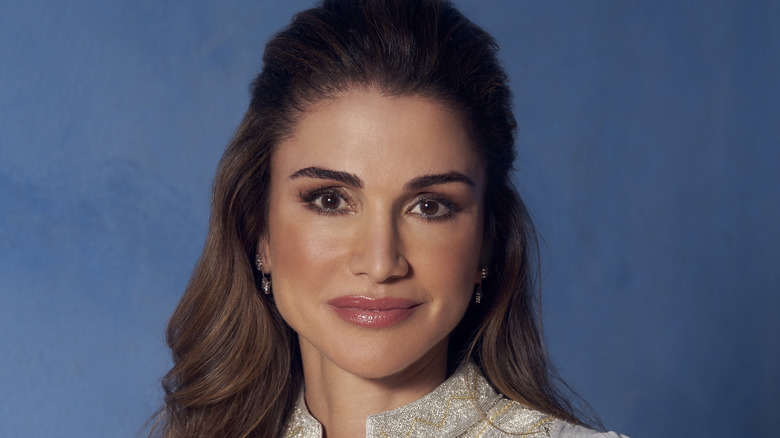 Handout/Getty Images
There are only 26 monarchies in the world so the likelihood of ever marrying into royalty is infinitesimal for most of us non-royals. Just ask Queen Rania of Jordan. Even when she married her husband, King Abdullah II, she had no idea she'd one day become queen.
Rania has been Jordan's queen for over 20 years, and during her tenure, she's stood up for her beliefs, fought for causes close to her heart, supported her husband in his work, and cared for her four children. She's also become a popular figure in the Middle East and gained international recognition for her work and style. But Rania wasn't always the well-known and well-liked woman she is today. She started as the daughter of two regular people, and through hard work and some auspicious circumstances, she's become the royal that Jordanians know and love. This is the stunning transformation of Queen Rania. 
Queen Rania was born in Kuwait
Queen Rania was born in Kuwait on August 31, 1970, to Faisal Al-Yassin and Ilham Yassin, both of whom are of Palestinian descent. She lived in Kuwait with her parents and siblings, an older sister and a younger brother, until the early 1990s. Rania was educated as a child in Kuwait, and in 1987, left home to pursue higher education at the American University of Cairo. Though Al-Yassin practiced medicine, her family was still subject to danger in her home country, and in 1991 amid the Gulf War, Rania's family sought refuge in Amman, Jordan. Once Rania had completed her studies, she moved to Jordan to be with her family. 
Although Rania was born in Kuwait, she is of Jordanian heritage and has been a citizen of Jordan since she was born. "I grew up in a very ordinary, private family ... doing pretty regular things ... cinema ... gym ... restaurants ... interacting and making friends with people from all walks of life — and I'm so glad I did," Rania told Elle (via Queen Rania's official website) of her childhood.
Queen Rania maintained a strong relationship with both her parents throughout her adult life. Her father died in May of 2022, but her mother is still alive. Rania honored her mother on Mother's Day in 2023 with a post on Instagram saying, "Thank you for always reminding us of what is important in life ... and today that is you!"
She had a career in multiple fields as a young woman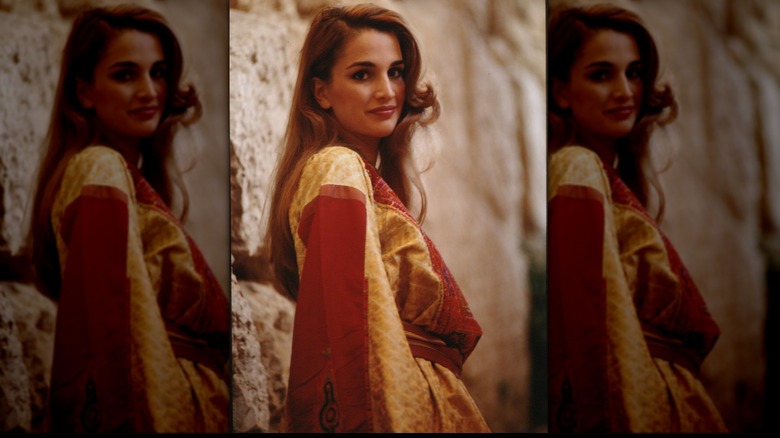 Maher Attar/Getty Images
Queen Rania sought higher education at the American University of Cairo and earned her bachelor's degree in business administration from the institution in 1991. With her degree, the future queen consort had a career of her own before having any involvement with the royal family. "My parents instilled in my brother, sister and I the value of hard work as a key to success in life. When I was in college, I studied business so I would probably have become a businesswoman," Rania told Elle of her suspected plans post-graduation. Moreover, the queen also revealed in an interview on "60 Minutes" that she had once seen herself becoming a CEO.
"I thought I would start my own company or something like that. I think I was open to ideas. Like most graduates, I didn't have a set path that I wanted to follow," Rania told Elle. The path she took certainly put her on a trajectory for success. When she finished college, Rania first took a job with CitiBank in Jordan and later left to pursue an opportunity with Apple. Rania did not remain in her paid career for long, however, as she met then-Prince Abdullah in her early 20s.
Queen Rania met King Abdullah at a dinner party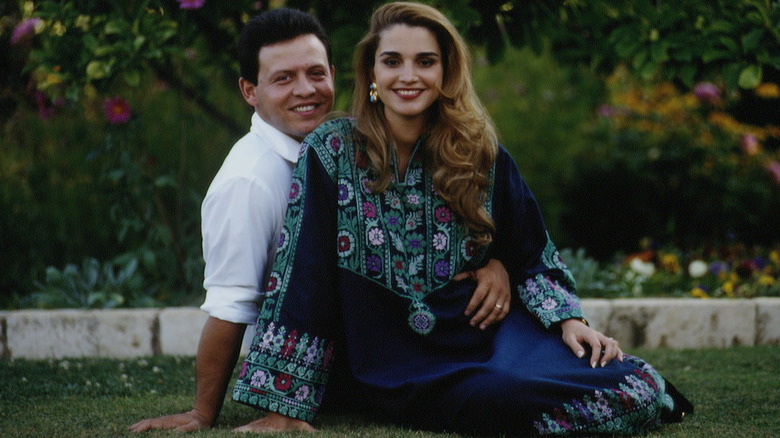 Maher Attar/Getty Images
Queen Rania and King Abdullah might have the most romantic origin story of any couple on the planet. In 1993, while Rania was a 22-year-old career woman, she was invited to a dinner by Abdullah's sister. Then-Prince Abdullah happened to be at the dinner, too, and they met and fell in love instantly. The couple had a whirlwind romance. They quickly started dating, and two months later, they were engaged. Unlike in Western countries, in Jordan, it's traditional for the father of the groom to ask the father of the bride for his daughter's hand in marriage, so Rania's father was proposed to by Abdullah's father, then-King of Jordan. 
"[The king] was very romantic and he really was very happy that his son had found the right person," Rania said of her proposal on "60 Minutes." At the time of their engagement, Rania and Abdullah had no plans to ever become King and Queen Consort of Jordan. As Rania has said, aside from her then-fiancé being royalty, their love story was just that — a love story. "At the beginning, it was a bit intimidating to think of meeting a prince and falling in love with a prince, but I think at the end of the day, it was just a boy meets girl kind of story," Rania said on the show.
The royal couple had a lavish wedding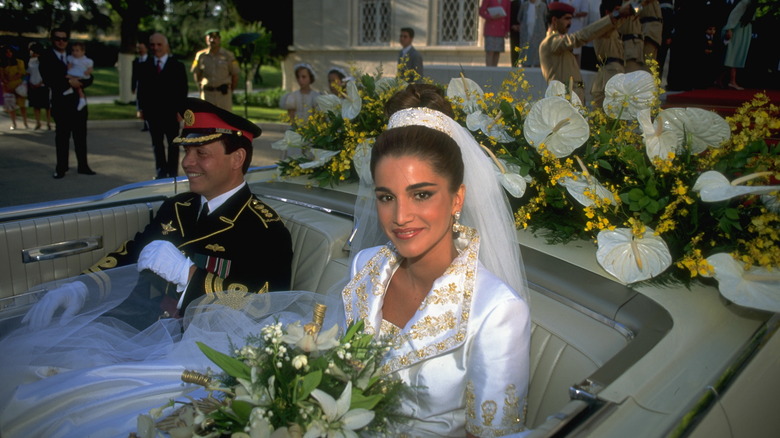 Maher Attar/Getty Images
Queen Rania and King Abdullah, unsurprisingly, had an absolutely stunning royal wedding. Just months after they had met, while Rania was still 22 years old, the two tied the knot in Jordan on June 10, 1993. Queen Rania's lavish wedding with her prince was that of fairytales, with the couple's ceremony taking place at the Zahran Palace, riding in a Rolls-Royce down the streets of Amman for a processional and celebrating with royals from around the world at a luxurious afterparty. Rania wore two dresses for the occasion and the day became a national holiday.
In 2023, 30 years after her own stunning wedding, Queen Rania celebrated her son Crown Prince Hussein's wedding to Rajwa Al Saif. Hussein and Rajwa's wedding was remarkably similar to Rania and Abdullah's, as both were held at the same place and had many of the same details. Just after watching her son get married, Rania celebrated her 30th anniversary with her husband. "Each passing day brings us closer, and each passing year shows me just how incredibly blessed I am to spend my life with you. Happy 30th anniversary, my King," Queen Rania wished King Abdullah on Instagram.
Queen Rania had four kids over a decade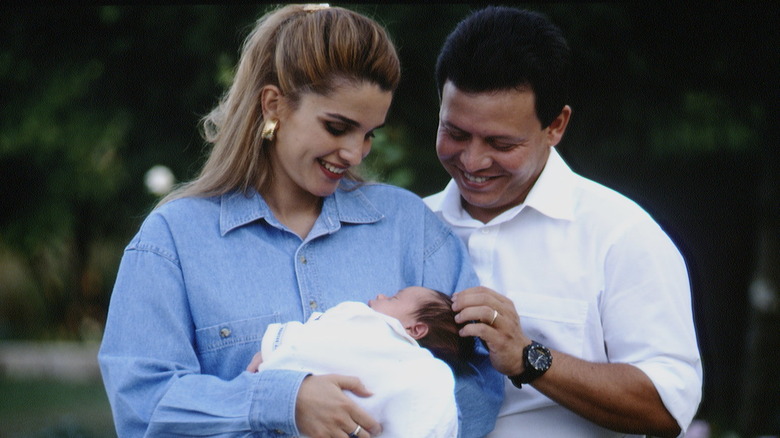 Maher Attar/Getty Images
Soon after marrying, Queen Rania and King Abdullah began growing their family. In 1994, when Rania was 24 years old, they welcomed their firstborn, Crown Prince Hussein. Their second child, Princess Iman, was born in 1996, their third child, Princess Salma, was born in 2000, and their youngest, Prince Hashem, was born in 2005. Even after having four children, Queen Rania was learning new things about motherhood. "You would think that I would be more confident and unperturbed by the whole thing by the fourth time around, but I'm not. In fact, in many ways it feels like he is my first baby and I still find myself nervous and fumbling at times," she told Hello! (via Queen Rania's official website) after giving birth to her fourth child.
Even when Queen Rania's children were young, she remained a present parent despite being one of the most influential women in the world and having many responsibilities outside the home. A year after becoming queen, Rania gave interviewers a glimpse into her day-to-day life, which then included picking her child up from school. "I want them to feel that I am just like any other mother, that I am very involved in their lives, that I care, and I know what's going on," Rania said on "60 Minutes" about her choice to pick her children up herself.
She officially became queen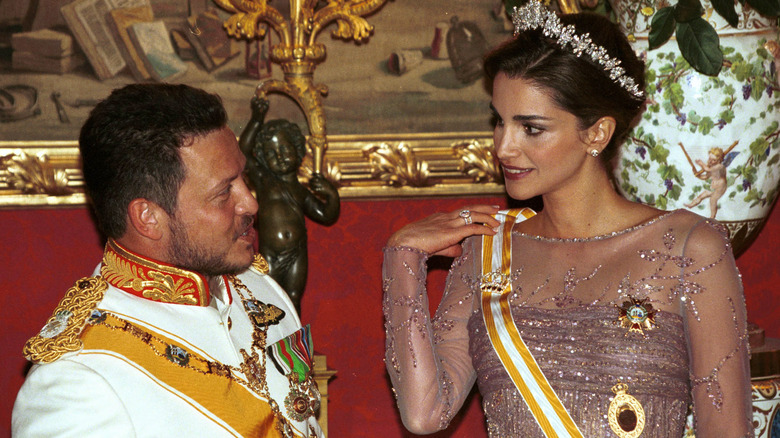 Dusko Despotovic/Getty Images
In 1999, when Rania was 28 years old, her life changed in a way she had never expected: she became Queen Consort of Jordan. When Queen Rania married King Abdullah, he was not in line to assume the throne — his uncle was. Just before his father, King Hussein, died, he appointed Abdullah as his successor. One month later, Abdullah ascended the Jordanian throne. Like in the British royal family, in Jordan, certain titles have to be bestowed upon individuals, and therefore Queen Rania was not automatically a queen when her husband became the king. She had to be given the title, and about a month after Abdullah became king, he made his wife Queen Consort of Jordan. "I'm a strong believer in fate and destiny, and I just think that this was what was written for me," Queen Rania said on "60 Minutes" of her unexpected ascension.
Becoming queen might seem like a dream to some, but for Queen Rania, it came with a tremendous amount of responsibility. "At times, I miss the days when I could just put my head down on the pillow with nothing to worry about but my own family ... There's no shortage of things to worry about, and I think that's been the drastic change in my life," Rania said of the change she experienced in her life when she became queen.
She began using her platform to help women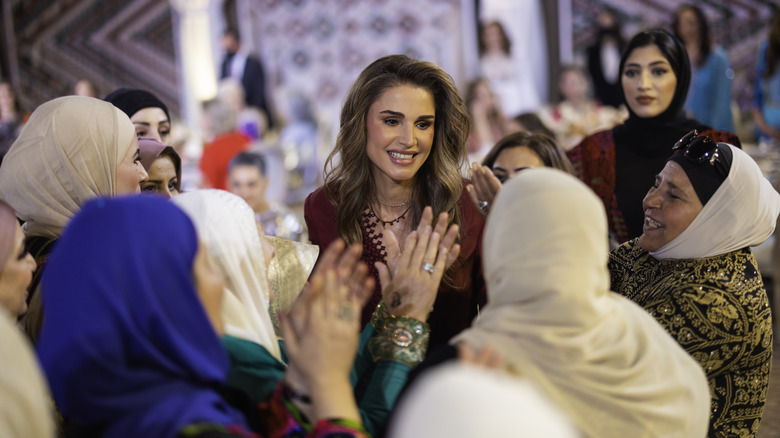 Jordan Pix/Getty Images
Queen Rania has also used her power to help women in many ways. For instance, in her early days as queen, Rania was involved in providing women in Jordan with microcredit loans, which allowed them to start their own businesses. As Rania said on "60 Minutes," "It's incredible to see what a loan of about $200, how that can transform a person's life. As you can see here, she's independent, she feels empowered, she has more control over her life, and is a decision-maker within her own household." 
Rania has continued championing the value of women in the workforce throughout her entire tenure as queen. As she said in an interview with Cosas Magazine (via Queen Rania's official website) in 2005 when she was 35 years old, "By empowering women and giving them skills, money and confidence, their self-respect increases as does the respect they receive from their family and community ... The inclusion of women at all levels of economies is a powerful engine for national development."
While Rania certainly values women in the workforce, she also values their safety, and she's long been an outspoken opponent of honor killings, a practice that occurs around the world in which women are killed for having sex outside of marriage. One way that Rania has worked to end this practice is by raising awareness and educating people on this issue.
She started a scholarship program for young women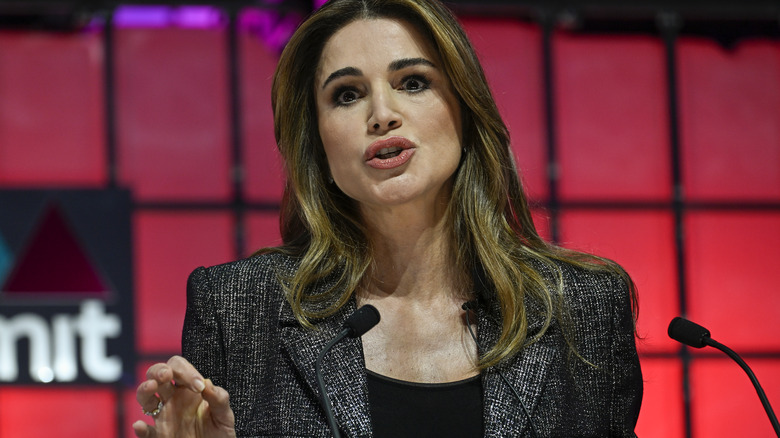 Horacio Villalobos/Getty Images
Many of Queen Rania's passions have shone through her work in different lights, like her dedication to providing better education for children. In the mid-2000s, Rania ramped up her efforts to help children in a variety of ways, including supporting a children's museum in Jordan. Rania also aided in efforts to help inside the classroom. In 2006 at the age of 35, the queen spoke about her work in education during an interview with ABC (via Queen Rania's official website), saying, "We've gone beyond just access and parity to more innovative tools that involve public and private partner collaboration, really going into our classrooms and upgrading the curricula, improving the training of the teachers, introducing information technology into the classroom and all the while trying to make sure that our children are encouraged to question, to debate, to create, you know, so to really think for themselves."
Queen Rania is still a champion of education today and has helped to make higher education more accessible to citizens by creating a scholarship program. Her Majesty has multiple scholarships available for students, including one to her alma mater and one to the Athens Information Technology. There is also a scholarship to the IE Business School in Madrid, Spain, in Queen Rania's name that is available to Jordanian women.
Queen Rania started helping children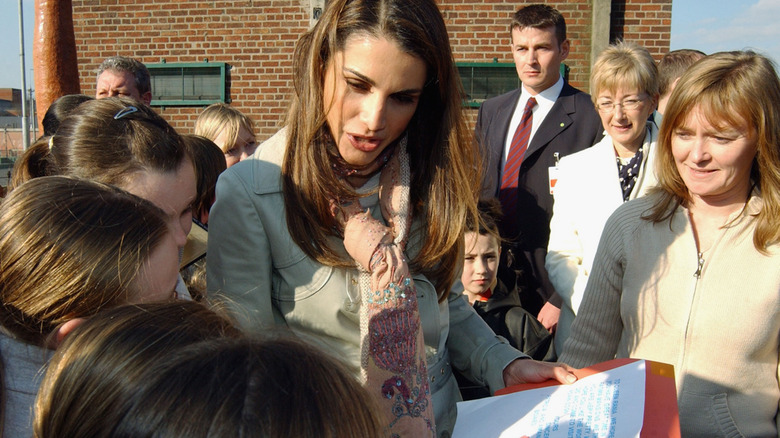 Showbizireland/Getty Images
When her husband was just a prince, Queen Rania had her hands in a number of state initiatives, but she became even more involved when she was crowned as queen. One of her primary goals was to bring awareness to child abuse in Jordan. "Child abuse as an issue is a taboo subject in most countries of the world, and one thing that I found in common with most of the people that work in this field is that wherever they go, wherever they started their projects, the first reaction of the country was denial," Queen Rania said on "60 Minutes." "So what we have done in Jordan is to discuss it, to say that, you know, it does happen here, and it's okay to talk about it," she added, noting that she intended to continue raising awareness about the issue.
In addition to serving the children of her own country, Rania has helped children across the globe through her work with UNICEF. Queen Rania has been a Goodwill Ambassador for the organization for many years, and in 2007 at 36 years old, she became its first Eminent Advocate for Children. Rania has worked to improve the lives of children in a variety of ways, notably through education. She is particularly passionate about helping provide education for young girls.
She started using social media to connect with the public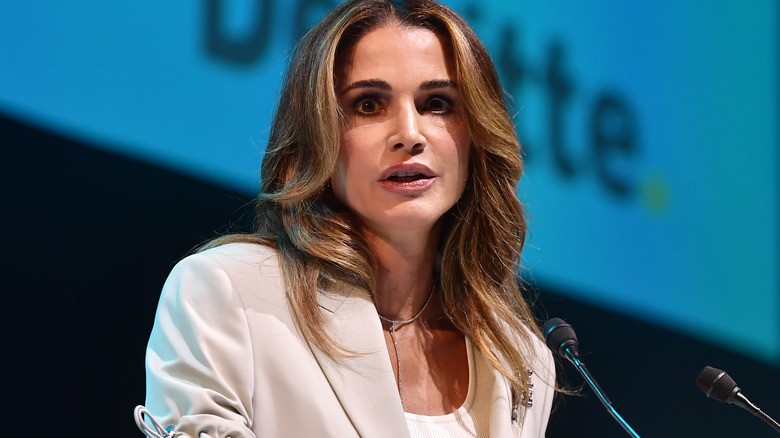 Charles Mcquillan/Getty Images
If you want to gain a more intimate understanding of Queen Rania, you can follow her on social media. The royal has accounts on multiple platforms and has long seen the value in connecting with the Jordanian people and citizens across the planet in an online format. "Sometimes it can be hard to connect with people when you're a queen. To some extent, I think social media has opened a window into my life and helped demystify who I am and what I do," Rania said in an interview with Stellar (via Queen Rania's official website).
Queen Rania officially became a denizen of the internet at age 37 in 2008 by starting a YouTube channel. While many saw Rania's decision to join social media as progressive, others did not approve of her online presence. "People say I am very unconventional for being so present online but the world is changing. I think the theme of our community is openness and transparency," Rania shared in an interview with The Telegraph in 2009 (via Queen Rania's official website). "You just have to make sure you have nothing to hide then there is nothing to be worried about." 
Well over 10 years later, no one is questioning Rania's online presence anymore. The queen has accounts on multiple platforms, with over 10 million followers on both Instagram and X, formerly known as Twitter, and over 18 million followers on Facebook.
Queen Rania became a fashion icon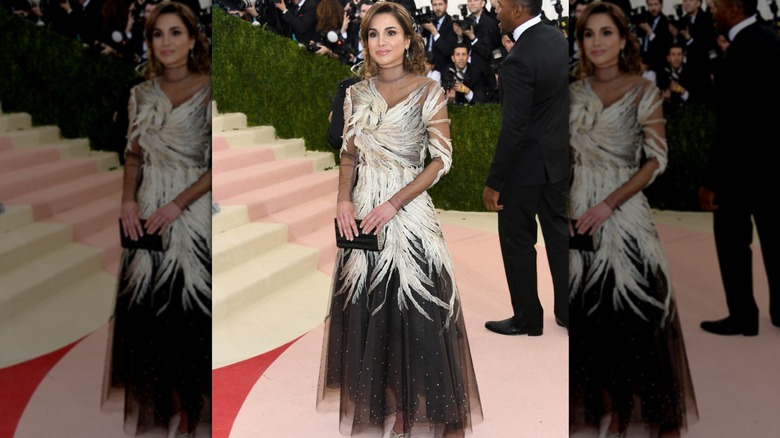 Larry Busacca/Getty Images
During her time as the consort of Jordan, Queen Rania has become known around the world as an intelligent, savvy woman who works hard to improve the lives of her people and further the Middle East in the eyes of the world. But Rania has become known for other reasons, too, namely her clothes. The queen has been lauded as one of the best-dressed first ladies around the world and has even been compared to Jackie Kennedy for how she dresses. Rania is often sporting colorful, fitted yet modest attire and has been known to rock designers like Givenchy and Burberry.
Rania is well aware that people around the world admire her for her clothing, but she never wants her outfits to detract from the work that she is doing. "I am very passionate about my work, and the clothes I wear don't have any bearing on that. I am also very mindful that I have a duty to represent my country well. So, rather than follow the latest trends, I aim to dress in a way that reflects who I am," Rania, then-49 years old, said in a 2019 interview with Harper's Bazaar Arabia. "At the end of the day, I hope it is my work that defines me, not my wardrobe," she added.