The Controversy Surrounding Melania Trump's Rose Garden Renovation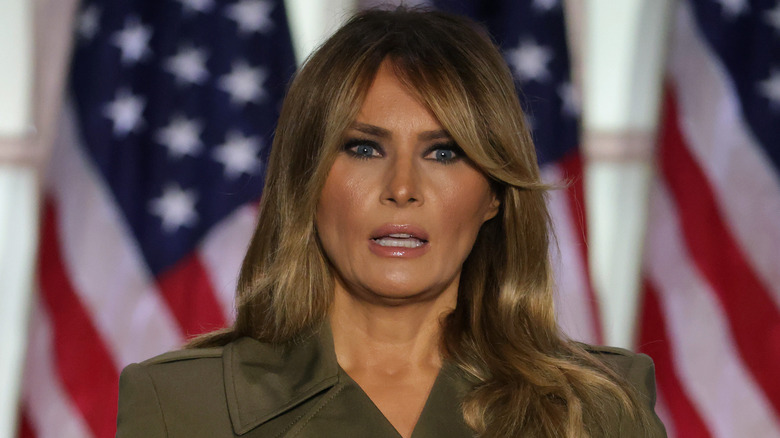 Alex Wong/Getty Images
Former First Lady Melania Trump might have assumed things were coming up roses for her when she opted for a White House Rose Garden makeover in 2020, but the public reception has been decidedly more thorny. The garden as we know it was originally redesigned by Rachel Lambert Mellon back in 1961, during the Kennedy administration, per the White House Historical Association. 
But when Trump renovated the garden six decades later, it was decried as an insult to former First Lady Jackie Kennedy's legacy. Presidential historian Michael Beschloss tweeted a picture of the reimagined Rose Garden, which featured a bare central garden with specks of color lining the border flower beds. 
"Evisceration of White House Rose Garden was completed a year ago this month, and here was the grim result — decades of American history made to disappear," the historian posted to X, formerly known as Twitter. Likewise, a petition was started on Change.org in April 2021, calling Trump's redesign a "boring tribute to herself" and asking First Lady Dr. Jill Biden to restore the Rose Garden to Kennedy's original design.
Melania was ready to defend her Rose Garden renovations
The country was deep in the throes of the COVID-19 pandemic and a highly divisive presidential administration when former First Lady Melania Trump redesigned the iconic White House Rose Garden, and the ensuing backlash was reflective of the emotionally tumultuous times. But Trump was ready to defend her Rose Garden renovations, making a rare public statement in response to historian Michael Beschloss.
"[Beschloss] has proven his ignorance by showing a picture [right] of the Rose Garden in its infancy," the official Office of Melania Trump account tweeted with a photo of the garden in full bloom, pictured above. They added, "The Rose Garden is graced with a healthy and colorful blossoming of roses. His misleading information is dishonorable, and he should never be trusted as a professional historian."
Melania's harsh words for those criticizing her 2020 Rose Garden renovations were, of course, met with even stronger backlash. "1. [Beschloss] is a trustworthy professional historian. 2. Even though it's had a year after its evisceration, it's still a depressing, unimaginative space. 3. I hope the current administration can find the time to bring some joy back into the Rose Garden," one user tweeted in response to the post.
Emotional backlash overshadowed real issues that needed fixing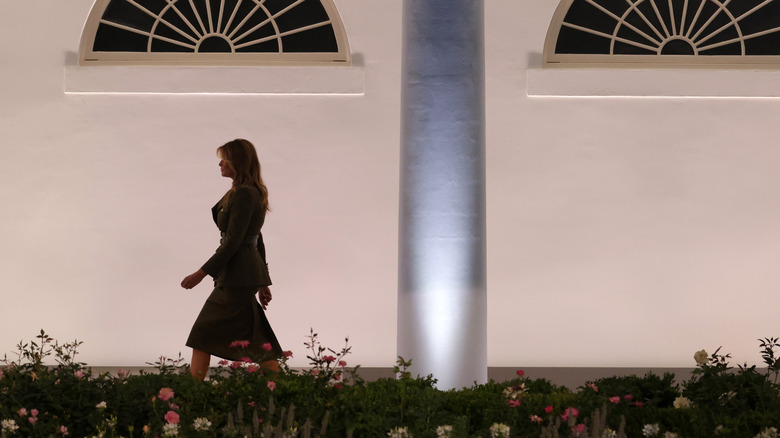 Alex Wong/Getty Images
The fierce response aside, plenty of others argued that Melania Trump's renovations weren't all that bad. The Washington Post reported a myriad of woes plaguing the decades-old garden, including ongoing drainage and irrigation issues, tree root damage, dying rose bushes, and the iconic boxwoods' susceptibility to boxwood blight. For this reason, the renovations done by landscape architects Oehme, van Sweden and Associates, and Perry Guillot Inc., weren't just reasonable; they were necessary for the garden's survival. 
Misinformation seemed to play into the online hate for the Rose Garden, too. One X user accused the former first lady of adding limestone walkways around the garden "to provide a catwalk for RNC acceptance speeches, set wide for camera spans." However, Architectural Digest pointed out that the 36-inch wide walkway was designed to be compliant with the Americans with Disabilities Act. In addition to the limestone sidewalks, Trump redesigned the side garden beds to feature a softer, pastel color palette. 
She also removed the towering crabapple trees and relocated them elsewhere on the White House grounds (per AP) — a highly controversial decision, despite it being an effort to help the trees and other plants surrounding them to thrive better. Melanie's White House Rose Garden might've had the internet seeing red, but it will hardly be the last botanical change we witness as new presidential administrations make their mark on the famous space.