What Alexandra Grant Loves About Longtime Partner Keanu Reeves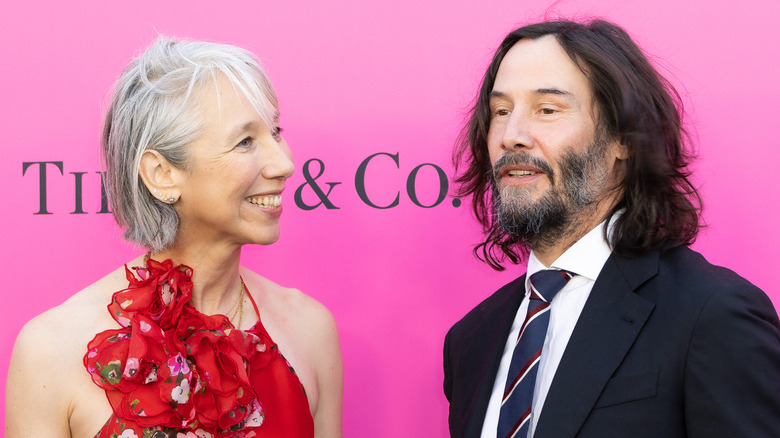 Elyse Jankowski/Getty Images
Artistic collaborations allow each creator to gain a front-row seat to their partner's priorities, work ethic, and personality, and sometimes, that level of intimacy can turn a partnership from professional to romantic. Such was the case for actor Keanu Reeves and visual artist Alexandra Grant, who began working together in 2011 when Grant illustrated Reeves' "Ode to Happiness," which Thrift Books describes as a "grown-up's picture book." 
They made their red carpet debut in 2019 at the LACMA Art + Film Gala in Los Angeles, where they were spotted holding hands. People spoke with Grant four years later about the status of their relationship, which Grant described as "interdependent and independent in the best ways." 
The artist continued, "What I love about Keanu and our exchange is that we're pushing each other to build new roads. Seeing the other person's problem-solving is inspiring, like, 'Oh, well, okay, this one, that's a cul-de-sac. How do I try this other thing?' He's such an inspiration to me. He's so creative; he's so kind. He works so hard."
Keanu Reeves and Alexandra Grant have been artistic and romantic partners for years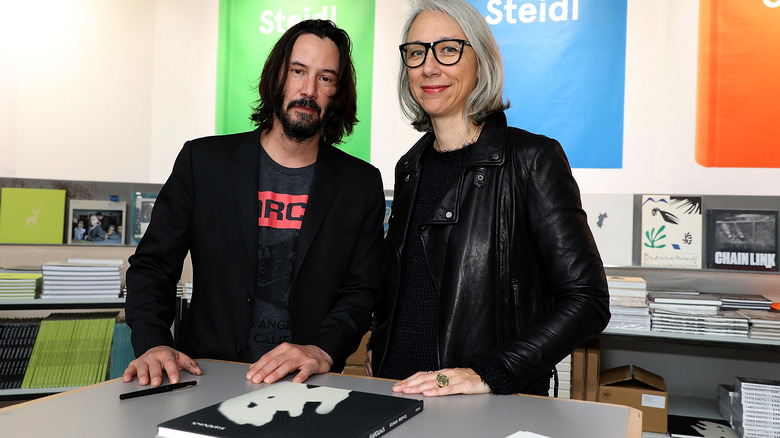 Pierre Suu/Getty Images
Following "Ode to Happiness," author Keanu Reeves and illustrator Alexandra Grant were frequently spotted together and continued to collaborate artistically. But as it turns out, Reeves and Grant's romance began much earlier than anyone suspected. In 2020, Jennifer Tilly, a friend of the couple's, told Page Six she was surprised at how long it took the public to catch on to the relationship. "It's astonishing to me how in the last five months, all of a sudden, she goes to an event with him, and everybody goes insane, like, 'It's his new girlfriend,' because she had gone to a lot of events with him. It's just suddenly surfaced that he's been dating her for several years." 
Reeves and Grant's steadfast dedication to their professional pursuits likely helped keep their romance private. In 2016, they worked together on Reeves' second book, "Shadows," and launched X Artists' Books, a boutique publishing company, in 2017. Grant touched on this juxtaposition of private and public art, telling People, "My work is much more of a private performance, but I have a text that I interpret in the studio into a painting. He takes the text in private and then turns it into a performance in public. There's a relationship."
The couple's relationship is built on mutual love and respect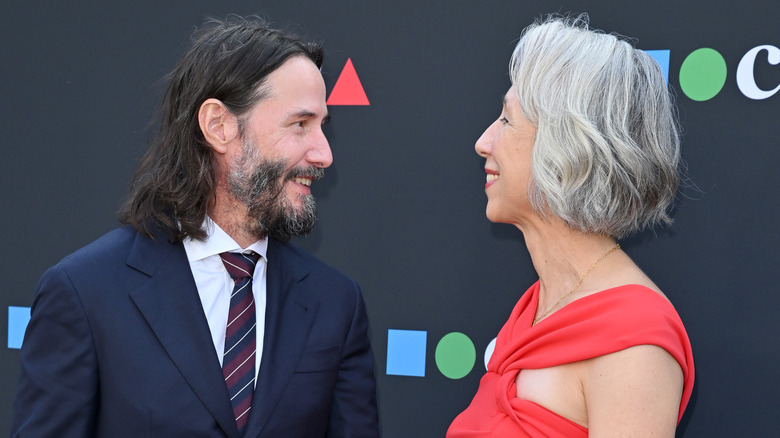 Axelle/bauer-griffin/Getty Images
Keanu Reeves seems just as elated about his relationship with his longtime girlfriend, Alexandra Grant. When asked by People in 2023 about his most recent blissful moment, Reeves replied, "A couple of days ago with my honey. We were in bed. We were connected. We were smiling and laughing and giggling. Feeling great. It was just really nice to be together." This mutual happiness has even manifested in their artistic pursuits.
"I had a studio visit a few years ago, and this very kind, very high-level person said, 'I can see that your work has gotten happier.' That's real. We're all human beings. We're animals. We're expressing from where we are and certainly feeling happier. I think the work is happier," Grant told People while discussing whether her art had changed after dating Reeves. She also told the publication that she and Reeves set aside their Fridays to focus on their artistic endeavors.
In addition to adding new works to the X Artists' Books roster, the couple stays busy with their respective careers. The "John Wick" actor has continued his work on-screen and off with his alternative rock band, Dogstar. Graves is a multimedia visual artist, writer, professor, public speaker, and the head of an artist nonprofit organization called the grantLOVE project. Whatever pursuits they decide to chase, it's clear that Grant and Reeves will do so while thriving together and separately.