Jared Padalecki's Favorite Gilmore Girls Scene Partner Might Surprise You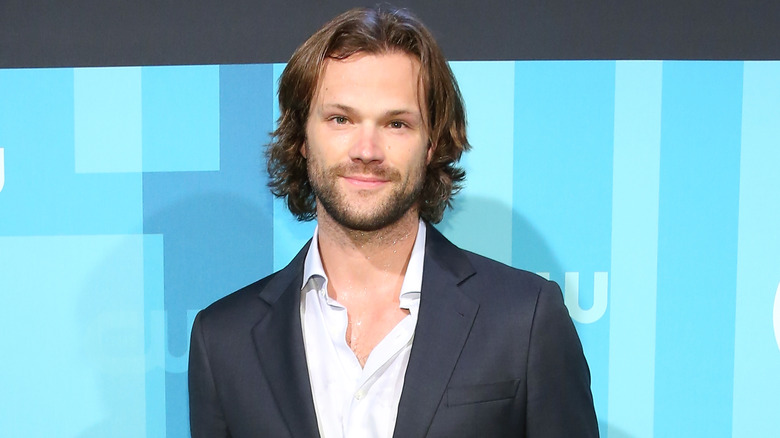 Monica Schipper/Getty Images
Whether you were Team Jess, Team Dean, or Team Logan, the fact that you were Team Anyone meant you were (or are) a "Gilmore Girls" fan. The series originally ran on The WB and CW from 2000 to 2007, then made a comeback on Netflix with legions of new fans. Most recently, there was a sequel mini-series to satisfy everyone's craving for more Lorelai and Rory.
Those who were Team Dean remember him fondly as Rory's first love, a sweet entanglement between two awkward teenagers. Dean's portrayer, Jared Padalecki, was a relative newcomer when he showed up in Stars Hollow, and quickly became swoon-material. (He later cemented his hottie status as Sam Winchester in "Supernatural.")
And while we absolutely love every scene with Dean and Rory, plaid-skirted, fast-talker Alexis Bledel wasn't the only actor Padalecki worked with on "Gilmore Girls." In fact, he revealed one of his favorite scenes of all time was actually with someone sporting a bit more height — Edward Herrmann, who played the stoic Richard Gilmore.
Padalecki couldn't believe he was working with a Hollywood legend
"I started 'Gilmore Girls' when I was 17, fresh out of high school," Jared Padalecki revealed to Entertainment Weekly. The actor played Rory Gilmore's first love, Dean Forester, from Seasons 1 to 5, until Padalecki left the show for other adventures. Originally cast for just a four-episode stint, Dean quickly became a regular on the show and a fan favorite. 
In Season 2, Dean was well into his relationship with Rory but still hadn't earned the approval of her very serious grandfather, Richard. The Gilmore family patriarch was played by Edward Herrmann, a well-established actor with multiple Primetime Emmy nominations dating back to 1976, and one big win in 1999. Young and newly minted into the acting world, Padalecki remembers one particular scene he had with Herrmann as being one of the most memorable. 
"I had just moved to L.A. within the year. I'm shooting with this actor that I've had the utmost respect for and been a fan of for years when I was in middle school in Texas. And I kind of sat there and went like, 'I'm living my dream. This is it. When I dared to dream, I dreamt about this. And here I am,'" he told Entertainment Weekly. Fans of the show will remember the scene best by a few classic "Gilmore Girl" lines. Richard asks Dean, "How tall are you?" to which Dean responds, "Why? You wanna dance?"
Dean appeared only very briefly in the Gilmore Girls sequel
When Netflix premiered the series' sequel, "Gilmore Girls: A Year in the Life," in 2016, Dean was part of the story, but there were no more scenes with Richard Gilmore as sadly, Edward Herrmann passed away in December 2014. Jared Padalecki shot only one scene for the series, appearing in the "Fall" episode, where Dean bumps into Rory at Doose's Market for a quick catch-up. 
"I was hoping to be a bigger part of it, and I think they were as well," Padalecki explained to Access Hollywood. "But it shot during 'Supernatural' and there was only one day I had off while they were filming ['Gilmore Girls: A Year in the Life']." 
For those who were always Team Dean, Padalecki also shared with Entertainment Weekly he had one other favorite scene during his time on "Gilmore Girls." It was Season 1, Episode 21, and the actor recalled why he liked the episode so much, noting how Dean put himself out there for young love. "And then feeling like, 'Oh, here comes the shame' and then Rory comes and says, 'I love you, you idiot,' and it was a nice, sort of redeeming moment."