Suzanne Somers Lived An Incredibly Lavish Life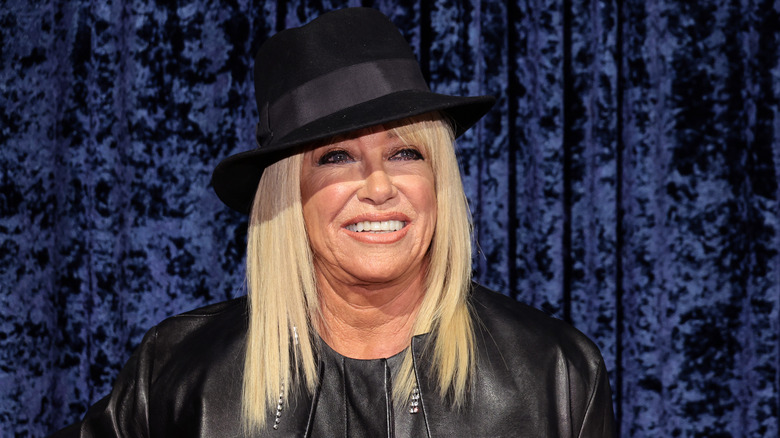 Jamie Mccarthy/Getty Images
Beloved TV icon Suzanne Somers has passed away. With a career spanning decades, her journey through the glitzy world of television has been nothing short of extraordinary. Somers' television stardom began when she captivated audiences as the lovable Chrissy Snow on the classic sitcom "Three's Company" from 1976 to 1984. Her career continued as she transitioned into hosting "The Suzanne Somers Show" and, later, the widely popular "Step by Step."
Somers was also well-known as a health guru, which began as she faced her own challenges with breast cancer. In 2001, Somers famously opened up about her decision to decline chemotherapy in favor of alternative therapies. She became a controversial figure in the medical world and was outspoken as an advocate for holistic approaches.
While her breast cancer had been under control for over two decades, Somers sadly revealed that her cancer had come back in July 2023. She died on October 15, 2023. Despite her battle with the terminal illness, Somers never gave up her quality of life. "I've changed my life in that I am in control of my health and aging," the New York Times bestselling author expressed (via OK Magazine). "I love my husband, my family, and I love my work. I look forward to continuing to live life to the fullest."
Suzanne Somers bought her sprawling Palm Springs estate in the '70s
With an estimated net worth of $100 million at the time of her passing, it is no surprise that Suzanne Somers led a lavish lifestyle. Before she penned various wellness books, Somers led a successful career in acting and modeling. In 1977 Somers and her husband, producer Alan Hamel, bought a 70-acre estate in Palm Springs. Aptly named "Les Baux de Palm Springs," the French-inspired mansion sits in the middle of Southern California's desert mountains (per Country Living).
The property consists of a whopping five villas that are connected to each other by tram. Yes, the estate is so huge that guests must be transported by rail car. "As we rode up the romantic funicular, I said to Alan, 'Let's buy this,'" Somers recalled of their first tram ride while touring the property (via People). "I was not able to contain my excitement, and we paid more than full price."
In addition to its own private transit, "Les Baux de Palm Springs" contains an outdoor amphitheater, a hillside pool, and even a carousel. Somers and Hamel originally bought the estate for just $420,000, and it was sold for $8.5 million in 2021 (per Home and Garden).
Suzanne Somers' clothing collection is worth hundreds of thousands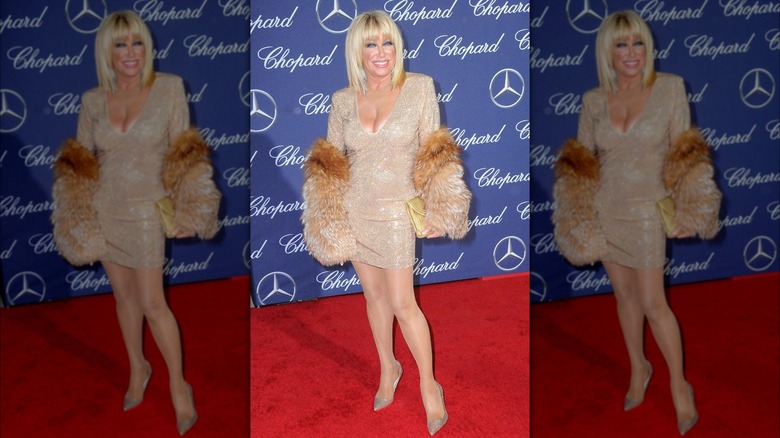 Barry King/Getty Images
As a well-known star of the '70s and beyond, Suzanne Somers had quite a wardrobe. The wellness advocate embraced timeless, classic glamour throughout her decades in the entertainment industry. She had such a large collection, that donating hundreds of thousands of dollars worth of items didn't even make a dent. The clothing in Somers' donation bin for the "Revivals" charity shop was just a fraction of her wardrobe, as reported by Page Six.
Upon selling her Palm Springs estate, Somers decided to donate her closet before moving out. The "Step By Step" star donated over 50 pairs of designer shoes, such as Manolo Blahniks, and several vintage dresses and pants. "Suzanne is sending over all these incredible dresses ... I joked that at Revivals they must have a Suzanne Somers kiosk," her husband Alan Hamel quipped (via Page Six). Well into her 70s, Somers was devoted to wearing lavish designs that accentuated her toned figure. In just one of her dazzling red carpet looks, the then-71-year-old wore a glittering Balmain mini dress. "