Suzanne Somers & Husband Alan Hamel Mixed Business And Pleasure Often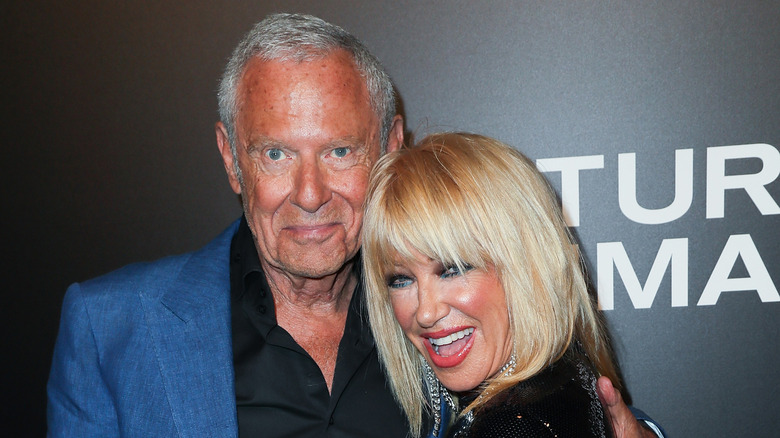 David Livingston/Getty Images
Throughout their almost 46 years of marriage, Suzanne Somers and Alan Hamel had a strong bond. "I've never enjoyed anybody in my whole life the way I enjoy Al," Somers informed People in 2020. Hamel enthusiastically reciprocated these feelings. Somers would have turned 77 on October 16, 2023, but died on October 15, the day before her birthday. She was able to receive an early birthday present from Hamel, though, a love poem he wrote for her.
In his poem, Hamel mused about the difficulty finding words to explain the deep loving connection he had with Somers. He noted that the couple spent most of their time together throughout their marriage and even held hands when sleeping. At the poem's conclusion, Hamel wrote that the only word he could find to get at the heart of their union was "'us,' uniquely, magically, indescribably wonderful 'us'" (via ET).
Since they were inseparable, Hamel and Somers blended their personal and professional lives. Both worked in TV and, in 1969, they met on "The Anniversary Game." Somers was working as a prize model, and she was smitten by Hamel, who was the show's host.  Somers was already divorced from her first husband, and Hamel got divorced in 1971. After years of dating, Somers and Hamel got married in November 1977. In the early years of their marriage, both were acting on different TV shows. However, it didn't take long for Hamel and Somers to merge their business endeavors, too, with Hamel managing his wife's career and embarking with her on other business ventures, like the ThighMaster. 
Alan Hamel became Suzanne Somers' manager and ThighMaster business partner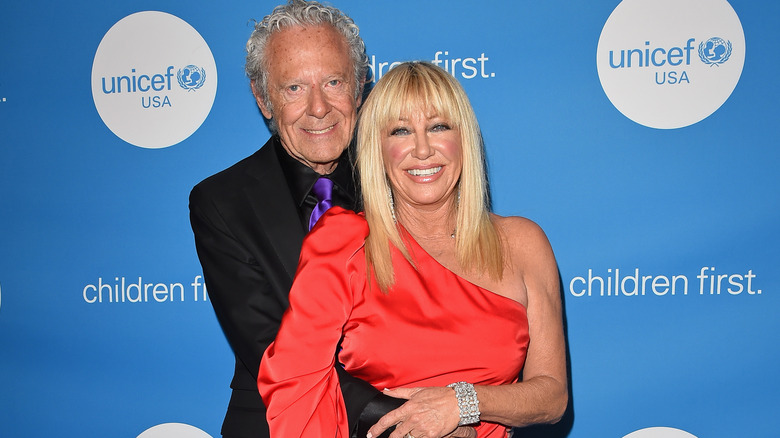 Axelle/bauer-griffin/Getty Images
In 1980, Suzanne Somers was a household name thanks to starring as Chrissy Snow in "Three's Company." With her success, Somers lobbied for a pay increase commensurate with her co-star John Ritter's salary. Instead, network executives decided to fire Somers from "Three's Company." Her husband, Alan Hamel, was acting in a Canadian TV series at the time and came to his wife's aid when she was devastated after losing her role. According to Somers, Hamel decided to leave his acting job and become her manager. While Somers saw Hamel's decision as sacrificing his job to help her, her husband saw a positive opportunity. Hamel wanted to leave his show anyway, and he wasn't happy with the decisions made by Somers' manager. Hamel had a long-term vision for his wife's talents, and he was happy to manage her. 
In the '90s, Somers and Hamel's business relationship reached phenomenal success when they teamed up to market the ThighMaster. Somers starred in commercials for the iconic leg-toning device and believed her enthusiasm for the product helped sell over 10 million ThighMasters. While they started out in partnership with other people, Hamel and Somers went on to buy the other individuals out and gain full ownership. The ThighMaster queen also credited her private life with Hamel for the product's commercial. After purchasing pricey designer shoes, and wearing only underwear, Somers modeled them for Hamel. He later repeated his reaction, "Great legs!" in the commercial, Somers recalled to Inc. (via People). 
Suzanne Somers wrote a book about living and working with Alan Hamel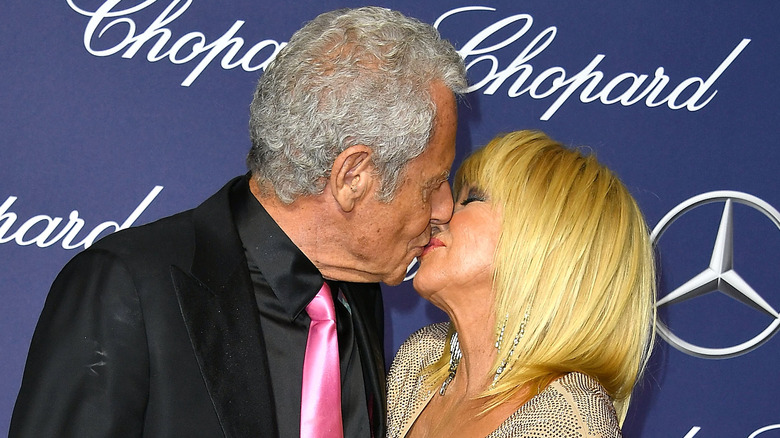 Steve Granitz/Getty Images
In 2017, Suzanne Somers divulged some personal details about her marriage to Alan Hamel in her book, "Two's Company: A 50-Year Romance With Lessons Learned in Love, Life & Business." The TV legend admitted that her early relationship with Hamel was somewhat tumultuous, particularly in the early days of their relationship and when they were figuring out their roles as parents and stepparents in their blended family. 
However, Hamel and Somers worked through their difficulties and eventually reached a closeness that made them inseparable. Speaking to People, Somers characterized her marriage as "a true love story wrapped around our business." In addition to their ThighMaster success, Somers and Hamel also marketed a variety of other products, including food and jewelry. Besides writing about her marriage, Somers also authored numerous books on subjects like healthy eating and aging. 
As a further testament to her comfortable closeness with Hamel, Somers talked about her sex life publicly on more than one occasion. In 2017, while she promoted "Two's Company," she mentioned having sex at least once a day with her husband, and in 2019, Somers had upped that number to twice daily. She was also open about the fact that she and Hamel were taking bioidentical hormones, which she said contributed to their desire for intimacy. Somers and Hamel's connection as a couple remained steadfast through the end of Somer's life, as evidenced by Hamel's final love poem to her.