Hayley Erin Always Hoped For Her Return To The Young And The Restless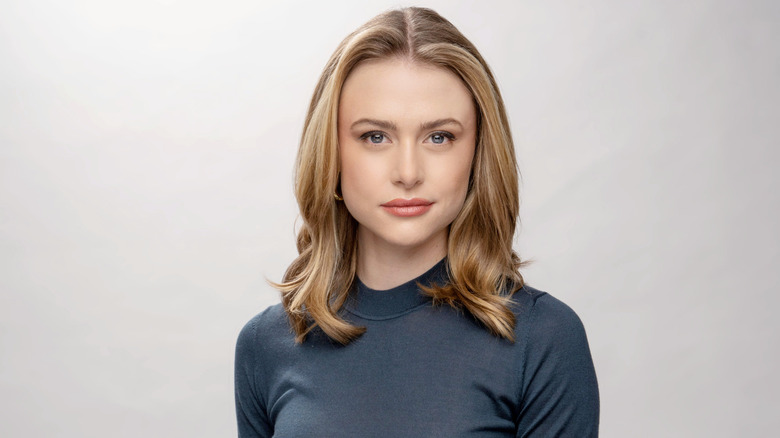 Howard Wise / JPI Studios
Hayley Erin has been making a lot of headlines again. "The Young and the Restless" and "General Hospital" star is back on the canvas, but she's in Genoa City this time. What we know about her brand-new "Y&R" character Claire Grace so far is that she's a headstrong, business-oriented young woman who will most likely leave her mark on Newman Enterprises in one way or another. 
But returning to the daytime television world hasn't been easy. Erin, who was also known for her role as Abby Newman on "The Young and the Restless" before she made the move to "General Hospital" to play Kiki Jerome, was settled in her new life in Ireland with her husband, Adam Fergus, and their twins. The couple moved to the Emerald Isle during the middle of the pandemic, and what was supposed to be only a short stay turned out to be a longer one because of her pregnancy. But when Erin got the call from the producers of "Y&R" to come back, she knew she had to do it, and she fell in love with her new character instantly.
Hayley Erin is excited for everyone to get to know Claire
While on the Dishing With Digest podcast, Hayley Erin said that she's absolutely obsessed with her new "The Young and the Restless" character, Claire Grace. And who wouldn't be? She's young, fun, and spunky, but she also looks like she's got an ace hidden up her sleeve, too. Erin also said that while trying to figure out the logistics of her move back to Los Angeles from Ireland with a husband and two small toddlers hasn't been easy, she's glad to be back. She said that she always hoped to return to "Y&R" because it's the one soap set that felt like home for her. Erin said that the moment she stepped onto the set of "The Young and the Restless" again it felt like she got "punched in the face with nostalgia." But in a good way, of course. She explained, "Nothing has changed. It's exactly how I left it. The smell of the set had stayed the same. I can't explain it, but it's like the smell of flowers. All of these memories came back."
In addition, Erin told TV Insider back in September that she came back to the soap world because she was also excited about taking on a more "serious" role with Grace. But because of the great lengths she's had to overcome to get here, she said, "Coming back to 'Y&R' is honestly the funniest, greatest karmic loop of my life."