The Bold And The Beautiful Star Camelia Somers' Tribute To Grandma Suzanne Will Leave You In Tears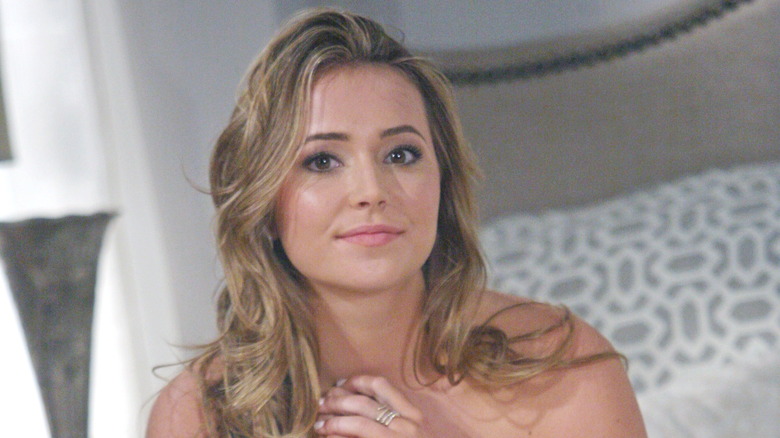 Sean Smith / JPI Studios
Longtime fans are still having a hard time coming to terms with the fact that television legend Suzanne Somers has died at the age of 76. She was an icon who paved the way for women in television when she fought to get paid as much as her male "Three's Company" co-star John Ritter before she got fired from the show. She was also an infomercial star when she became a spokesperson for the ThighMaster. Suzanne was clearly loved by her friends and her family, and her "Three's Company" co-star Joyce DeWitt's sweet tribute to her proved that their feud was water under the bridge.
Suzanne's husband Alan Hamel told Page Six that she passed away peacefully at her Palm Springs, California home in the early hours of October 15, just one day shy of her 77th birthday. The actor died after her long battle with cancer. Hamel told the site, "Just when you think everything is fine and you get an all clear, cancer does an end-run ... cancer is ugly, it's an epidemic."
But it's all the beautiful things that Suzanne's granddaughter and "The Bold and the Beautiful" star Camelia Somers had to say about her "Zannie" in her Instagram memorial that has everyone in tears.
Camelia Somers pays tribute to her Zannie
Daytime television star Camelia Somers paid tribute to her grandmother Suzanne Somers in such a special way that it's making the rest of us wish she were our 'Zannie' too. Camelia took to her Instagram account to post all the things that she was going to miss the most about her grandmother, including her love for cake, her hatred for sports, and her daily routine of having tequila at exactly 5 o'clock on the dot. Camelia said that Suzanne was the first person to hold her hand when her grandmother put her index finger inside her mother's womb during her C-section, just for Camelia to grab a hold of it. Recalling all the things she loved about her grandmother, Camelia wrote, "It was her iconic bangs. It was her snort that came out during a really good laugh. It was how she belted along to jazz," while also adding, "And how she repeatedly rediscovered her career after every roadblock, of which there were many."
Camelia concluded her post by saying, "Mostly it was how she celebrated life. And how I will celebrate hers for the rest of mine." One of Camelia's followers summed up the fan reaction perfectly, commenting on her post with, "This is SO beautiful!! You know we all felt like we knew her because she was just so real on all her Instagram lives and interviews. There was just something so comforting about watching her and just almost taking for granted that she would be around forever."