The Dobre Twins: 10 Facts About The Social Media Stars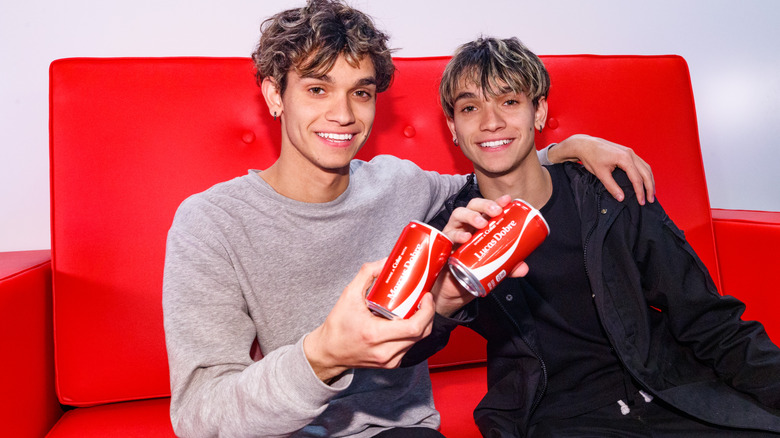 Christopher Polk/Getty Images
The following article mentions suicide.
To quote Team Rocket of Pokémon fame, "Prepare for trouble, and make it double!" Lucas Dobre-Mofid and Marcus Dobre-Mofid, known as the Dobre Twins, sure have made a name for themselves. The social media star twins have gained legions of followers — over 32 million on YouTube and over 38 million on TikTok, to be exact — with their unique brand of pranks, stunts, comedic skits, and vlogs. Like so many social media sensations, the boys didn't start out amongst the stars — they were born in Gaithersburg, Maryland on January 28, 1999. The children of esteemed Romanian Olympian Aurelia Dobre, they grew up practicing gymnastics alongside older bros Cyrus Dobre-Mofid and Darius Dobre-Mofid. In their teen years, their acrobatic abilities lent them some fame on tragically defunct video sharing app Vine (RIP). 
Although that platform might have died, the Dobre Twins' fan base sure hasn't. Every time the boys post a video — whether on their own Dobre Twins YouTube channel or the channel they run with Cyrus and Darius, called the Dobre Brothers — they immediately score hundreds of thousands of views. A profile on the boys in The Washington Post outlines just a few of the milestones they've achieved: they've secured representation by Hollywood-based influencer management company Fullscreen; headlined YouTuber convention VidCon; and partnered up with brands like Fortnite, AT&T, Coca-Cola, and Wendy's.
Want to be plugged into the Dobre Twins' wild world of backflips, drag races, obstacle courses, and international tours? Read on for the lowdown on their whirlwind of a life. 
They gained notoriety for their dance routines in grocery stores
Going to the grocery store can be a boring, mundane task, but not for the Dobre Twins. Early in their social media career — back in 2015 and 2016 — the boys gained popularity by showing up to supermarkets and busting into coordinated dance routines in the aisles. One popular video, posted by Marcus Dobre-Mofid to X (formerly known as Twitter) in October 2015, shows the boys browsing the magazine aisle in a store. "When you and your best friend's jam comes on in public," the caption reads. Set to Hailee Steinfeld's "Love Myself," they perform a complicated series of flips before spinning around and wiggling their backsides at the camera. A few amused patrons look on in the background, enjoying the show.
Another video, initially shared on Vine, depicts the guys in the frozen food section. The twins start by tumbling around on the floor. Then one of them drops to the floor and the other does a flying leap over his body, rotating fully in the air. Immediately afterward, they continue dancing, massive smiles on their faces. Once again, the other shoppers stop and watch in amazement. 
The twins reference their humble origins in their song "You Know You Lit." In the first verse, Lucas Dobre-Mofid raps, "Started at the grocery store, now we own the grocery store."
Their Maryland home is like a palace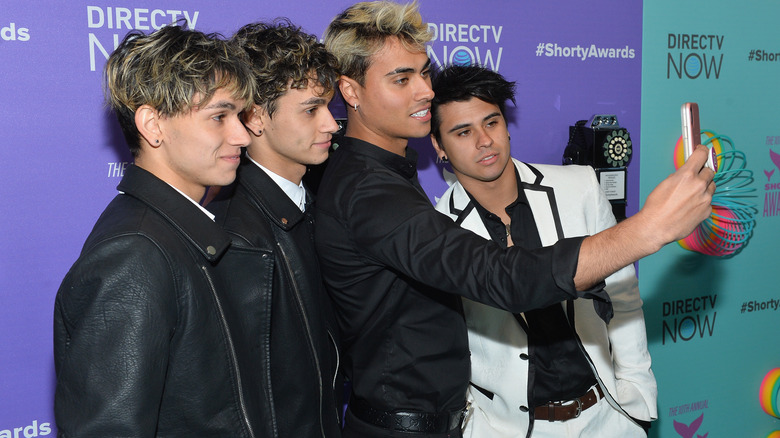 Noam Galai/Getty Images
The Dobre Twins have had a home base in Maryland since they were young, but they're certainly enjoying a more lavish lifestyle these days. According to Herald-Mail Media, the YouTube stars' gorgeous house — which they share with Cyrus Dobre-Mofid and Darius Dobre-Mofid — is located about an hour from where they grew up and cost $1.5 million. The striking modern abode spans a whopping 6,000 square feet and has a number of amenities, including its very own koi pond. The boys have plenty of room to get up to their characteristic antics outside; the property encompasses more than 30 acres. That's prime real estate for practicing flips, test driving new sports cars, and setting off explosions.
Lucas Dobre-Mofid and Marcus Dobre-Mofid are living in luxury in ways most young people could only dream of, but they're still just regular kids. As Washingtonian magazine noted in a 2018 profile, the brothers' tastes are on the playful side. "Inside, it's clear this is a home owned by four young dudes," journalist Mimi Montgomery observed. "Huge furry bean bags are piled in front of a big-screen TV, cans of chips sit on the kitchen shelves, and a pet baby goat wanders throughout the room, because why not?" 
One of their pranks generated major controversy
The Dobre twins pride themselves on creating family-friendly content, but some detractors would disagree. In January 2022, a YouTube video titled "MY TWIN BROTHER IS DEAD?!" horrified their viewers.
In the video, Lucas Dobre-Mofid finds a fake suicide note written by Marcus Dobre-Mofid. "To my family, Lucas, Mom, Dad, Cyrus, Darius, and everyone else," it reads. "I just wanna say I love you guys. I just want to write you this letter before I go. ... From Marcus. I will see you in the sky." Lucas goes into his backyard and finds a tombstone. Then Marcus appears on camera to address the audience: "I'm not dead. I just wanted to prank my family. I'm so sorry, guys."
Suicide Awareness Voices of Education (SAVE), a suicide prevention charity, provided a statement denouncing the video to Insider: "We lose someone to suicide every 40 seconds, which means this is nothing to joke about, minimize, or attempt to make funny." The organization noted that pranks about suicide can re-traumatize individuals who have had to contend with the tragedy in real life. They then elaborated on the importance of using social media responsibly: "We need to send a clear message to everyone that videos or actions such as these pranks are not appropriate and potentially very dangerous. Social media platforms need to continue to work to help save lives from suicide through existing best practices for social media and prevent prank videos from negatively influencing users."
If you or someone you know is struggling or in crisis, help is available. Call or text 988 or chat 988lifeline.org
They were briefly members of Team 10
After soaring into stardom, the Dobre Twins moved across the country to join Team 10, the Los Angeles-based collective of influencers run by fellow YouTube star Jake Paul. As noted in Washingtonian magazine, they lived under the same roof as Paul and other YouTubers, taking advantage of the support and resources that the arrangement offered. But the City of Angels just didn't feel like a fit for them. Eventually, they flew back home to Maryland.
In a 2017 YouTube video titled "The truth about everything," the Dobre Twins outlined the rationale behind their decision to part ways with Paul. "We missed our family and we wanted to be closer to them," Marcus Dobre-Mofid said. "Basically, Lucas and I were homesick."
"There have been some rumors going around," Lucas Dobre-Mofid acknowledged. "People think the reason why we left LA was because we were jealous of others, we were mad, we weren't getting along with others, we were even intimidated by others. That's completely false. ... Marcus and I are not angry at anyone or have any hard feelings towards anyone. That's not the type of people we are. We just wanted to do what was best for Lucas and I career-wise. We decided to come home, and that was the best decision emotionally, creatively, and mentally." It makes sense that they would want to stay anchored in Maryland, given how often their parents and friends appear in their videos.
Lucas Dobre has a special lady in his life
One imagines that with the pressures of international fame, it would be hard to hold down a relationship — but YouTube star Lucas Dobre-Mofid has managed to make room for love in his life. He and his fiancée, Ivanita Lomeli, have been together since 2018, and their bond is stronger than ever.
Lucas met Lomeli in 2017 — how else? — during a YouTube challenge. In a video titled "CRAZY DARES IN GROCERY STORE!", Lucas accepted a dare from one of his fans to kiss a stranger. The girl he approached was Lomeli. After the magical moment, Lucas walked away beaming. "I think she was into me, bro," he told Marcus Dobre-Mofid. 
Just months later, the unthinkable happened. As seen in another YouTube video, titled "He saw her again," Marcus spotted Lomeli in a jewelry store during a trip to the mall with his brothers. He encouraged Lucas to kiss her again — and he did. The encounter was a bit awkward, with the two sharing a shy hug afterward, but it was the start of something beautiful. In 2018, in yet another YouTube video, Marcus asked Lomeli to be his girlfriend before his audience of followers — and of course, she said yes. She said yes again in April 2023, when Lucas proposed to her in a sweet video. "I love you so much," she commented. "I can't wait to start this new journey with you and see what else God has planned for us."
They're obsessed with cars
Now that they're living life in the fast lane, the Dobre Twins have developed a fondness for luxury vehicles. In fact, they're so passionate about automobiles that, along with Cyrus Dobre-Mofid and Darius Dobre-Mofid, they manage a separate YouTube channel called Dobre Cars. As of this writing, it boasts over 1.7 million subscribers.
On the Dobre Cars channel, the Dobre Brothers go head-to-head in races, give viewers tours of new vehicles, and participate in challenges involving their shiny supercars — e.g., "LAST TO LEAVE SUPERCAR WINS $10,000!" Their collection is so large that it can be hard to keep track of everything — even for the boys themselves. When Mimi Montgomery of Washingtonian magazine asked them how many cars they had during her 2019 interview, they were stumped. "The room goes silent," she wrote. "They have to count. Maybe ten? There's the Ferrari, the Lamborghini, the McLaren, the Porsche, two BMWs, a Mercedes G-Class... oh, and there's another Ferrari on its way."
In a 2022 YouTube video, the brothers gave the world an updated account of their inventory while calculating its total cost. The number they ultimately came up with was 2.7 million dollars — quite the pretty penny.
They're musicians as well as social media stars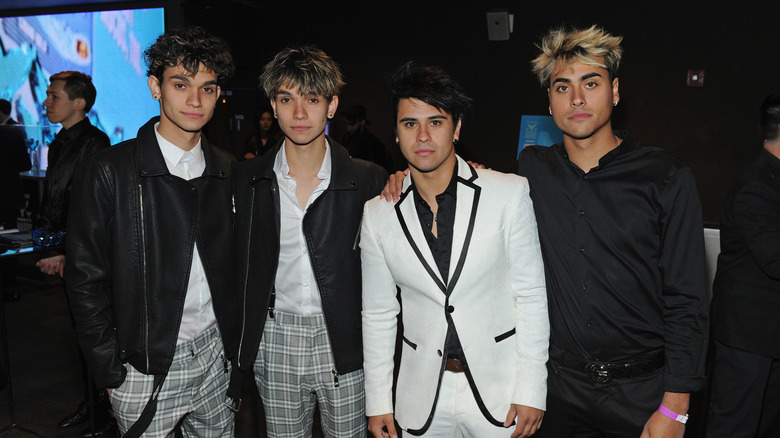 Craig Barritt/Getty Images
The Dobre Twins don't limit themselves to one type of media creation. In addition to making goofy videos and showing off their acrobatic ability, they've dipped their toes into the world of music, joining forces with Cyrus Dobre-Mofid and Darius Dobre-Mofid to record rap songs. The music video for their first single, "You Know You Lit," has upwards of 166 million views via YouTube. In the lyrics, they celebrate their success while flexing on those who thought they'd never reach their current heights: "Teachers say we couldn't make it/But we still do what we love/Now we headin' for the Hills/We be watchin' from above." The boys also recorded an alternate video for a remix of the song featuring SoundCloud rapper Lil Pump. That version of the song has racked up an additional 24 million views.
In 2019, the Dobre Brothers reached a major milestone as musicians: their first international tour. According to Herald-Mail Media, it featured a whopping 21 shows across the globe. Always looking for a way to incorporate their love of gymnastics, the brothers devoted a segment of each show to the Dobre Olympics, which saw them competing head-to-head in challenges that involved dancing and stunts — just as they did online. They told Herald-Mail Media that the segment served an important purpose: it allowed fans to feel like they were experiencing the boys' YouTube videos in real time, before their very eyes.
They consider themselves anti-bullying activists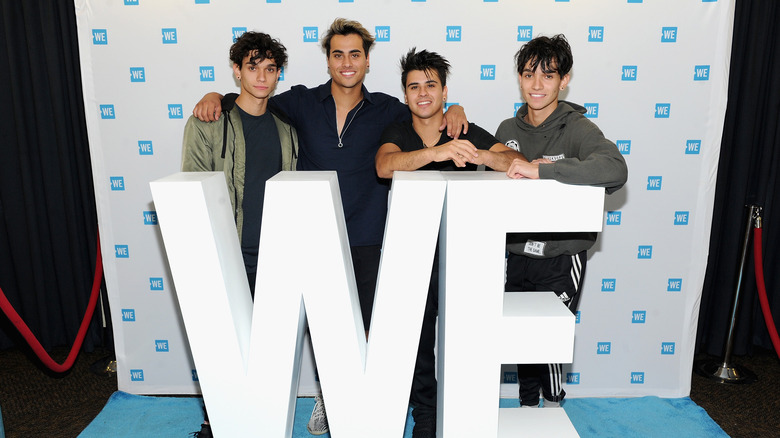 Craig Barritt/Getty Images
As young people in the public eye, the Dobre Twins are used to dealing with haters. It's no wonder that they're so passionate about preventing bullying. In 2018, Digiday reports, all four Dobre brothers teamed up with AT&T's content creation arm, the AT&T Hello Lab, for its "Later Haters" campaign, which aimed to educate kids and teens about cyberbullying via partnerships with influencers. As part of the campaign, the boys participated in We Day, an event that honored kids who got involved with various important issues. They also collaborated with AT&T on a music video for "Be the Hero," a song that encourages teens to take a stand against bullying online. "Be the hero, not the bully/Cut the drama," they sing in the chorus. "Be the solution, not the problem." The video shows them dancing in coordinating blue tracksuits, joined by their mom's adorable pet goat. Sobering facts about the reality of online bullying are interspersed throughout the video, including statistics that show just how common this harmful behavior is.
"Be the Hero" isn't the only time the Dobre Brothers have used the power of music to discourage bullying and uplift fans' self-esteem. In their YouTube video "Stop That," they rap about turning the other cheek when people try to put you down: "I'm myself, you is you/Don't let nobody get through. They can talk, they can hate/But you stay bulletproof."
Gymnast Demi Adriano is like a sister to them
You've heard of the Dobre Brothers — but did you know there's a Dobre "sister"? Her name is Demi Adriano, and although she doesn't share the same parents as the boys, she frequently appears on their channel as their feisty younger sib. "Our Little Sister Gets Arrested...", "SNEAKING OUR LITTLE SISTER OUT OF SCHOOL! (BAD IDEA)," and "Our Little Sister Got ATTACKED by an OPPOSSUM!" are just a few of the silly YouTube sketches she stars in.
Adriano — who is also a talented gymnast — is not related to the Dobre twins by blood, as she clarified in a 2019 YouTube Q&A. "I'm not really their sister," she said. "It's just pretend." She went on to explain that their mother is her gymnastics instructor, and the boys asked her to create content with them after developing a bond with her. Now, she's like a member of the family to them.
Demi doesn't just make videos with the Dobre twins — she has her very own YouTube Channel with over 600k subscribers. Rather than the over-the-top pranks the Dobres are prone to posting, she prefers to share cooking and crafts with her legions of fans. Every now and then, everyone's favorite twins show up as guest stars. Over the years, she's invited them to take a lie detector test with her, join her for a paper airplane contest, harvest vegetables and flowers from her garden, and even race with her in Power Wheels cars.
They hold themselves to a strict shooting schedule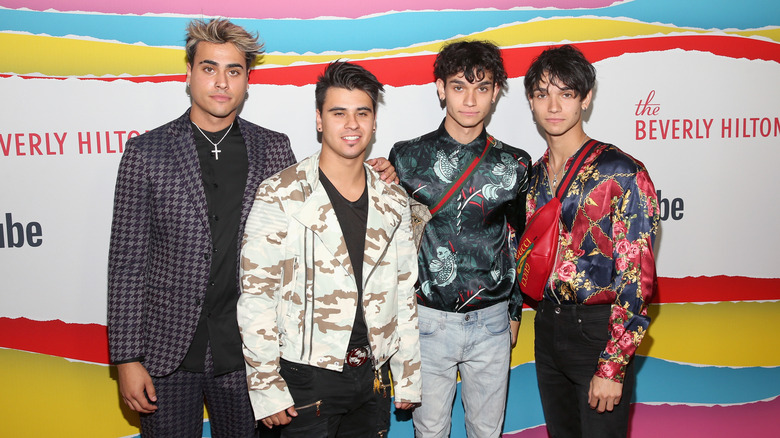 Jesse Grant/Getty Images
The Dobre siblings might look like they're having the time of their lives in their countless stunt and prank videos — and they probably are. Yet it's not all fun and games behind the scenes. The brothers work just as hard as they play, holding themselves to a strict regimen which they see as the recipe for success.
In their interview with Herald-Mail Media, Lucas Dobre-Mofid explained that the Dobre Twins shoot five videos a week: three for their own channel and two for the channel they share with Cyrus Dobre-Mofid and Darius Dobre-Mofid. He claimed that they have never missed a scheduled upload: "Some people take breaks. We don't take breaks." Darius chimed in to emphasize how much work the brothers have put into their career: "Nothing we have was handed to us. We built it from the ground up, from zero. That's what people need to realize ... It's not always easy. We have our moments when we get burnt out, but it's times like that you have to push forward."
Running a YouTube Channel requires a great deal of coordination, the boys explained. They have to recruit videographers, prop masters, and other crew members; they have to balance shooting and editing with the demands of travel. Yet all four brothers told Herald-Mail Media that they couldn't imagine themselves doing anything else. "We want to set trends. We want to be the future," Cyrus affirmed.