The 5 Biggest Bold And The Beautiful Wedding Disasters Of All Time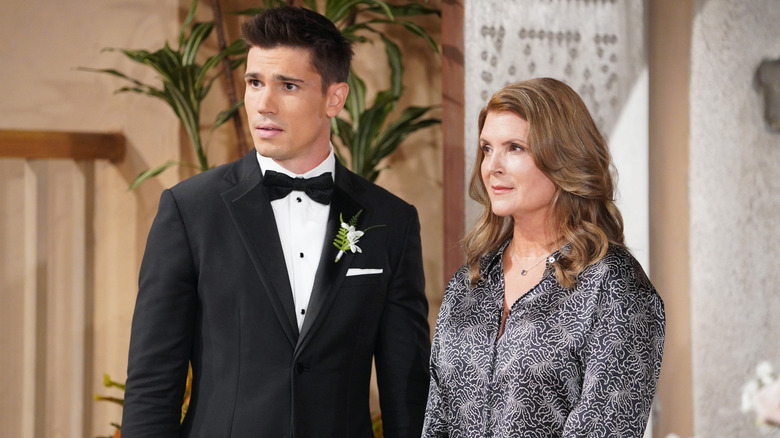 Howard Wise/JPI Studios
Soap operas rely on romance to counterbalance the endless dramatic developments. Without couples in love and events showcasing their unbridled passion for each other, it would be difficult to get invested. "The Bold and the Beautiful" has perhaps more weddings than the rest of the soap operas on air put together, with a handful taking place every year. However, because it's a soap, and nobody really gets their happy ending, most of the ceremonies devolve into complete chaos. 
Whether it's couples like Ridge Forrester (Thorsten Kaye) and Taylor Hayes (Krista Allen) getting married for what seems like the millionth time or someone like Carter Walton (Lawrence Saint-Victor) attempting to find love for the first time, each of the weddings on this list had all the potential in the world. However, for one reason or another, all of them ended in utter disaster, typically because of the secrets and lies of someone involved. Viewers love watching these tales of epic romance, but what they love even more is a love story that hits a speed bump in the process. 
Simply put, these relationships were doomed from the start because of endless layers of dishonesty. There was no fairy tale. There were no happy endings. These couples crashed and burned during these moments, and nearly all of them never recovered from the cataclysmic damage caused by the event. There was no escaping their fate and no avoiding the reality that sometimes it's just not meant to be. 
Taylor confesses to Ridge about the CPS call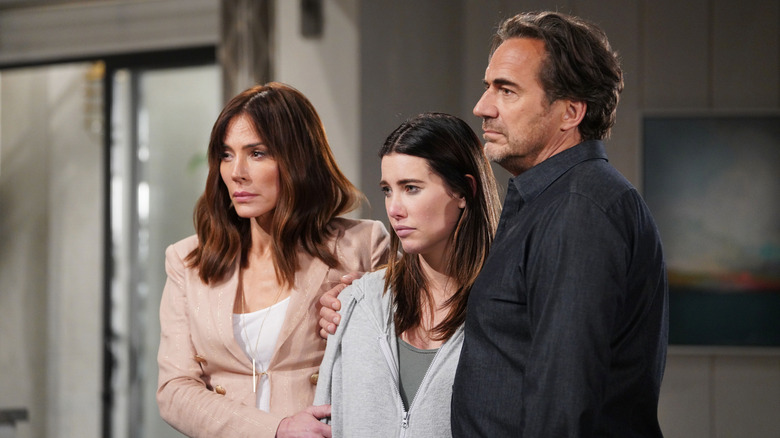 Howard Wise/JPI Studios
Brooke Logan (Katherine Kelly Lang) and Ridge Forrester have largely been considered each other's destinies, but every so often this changes. Eventually, Brooke does something to make Ridge want to flee the relationship, and Taylor Hayes is always there, ready to be Ridge's consolation prize. However, in 2022, Ridge and Taylor's son, Thomas Forrester (Matthew Atkinson), devised a plan to get his parents back together, causing Ridge to kick Brooke out of his life. 
He used a voice changer app to mimic Brooke and frame her for a CPS call that could've led to her son being taken away. Prior to the wedding, Thomas' son, Douglas Forrester (Henry Samari), confessed everything to his aunt, Steffy Forrester (Jacqueline MacInnes Wood). Steffy had a crisis of conscience and ultimately decided to tell her mother about the role Thomas played in Ridge running back to her. Taylor had a choice, and she chose to keep the revelation from Ridge, leaving Steffy to stop the wedding and expose everything. 
This was supposed to be Taylor's moment of finally getting her man after decades of being Brooke's understudy, but it was dashed in a single move. A heartbroken Taylor was left in her wedding dress while Ridge went to find Brooke and tell her everything. Not only was the wedding a total mess, but it signaled the nail in the coffin for Taylor's shot at a life with Ridge. 
Ridge stops Brooke and Bill's Dubai wedding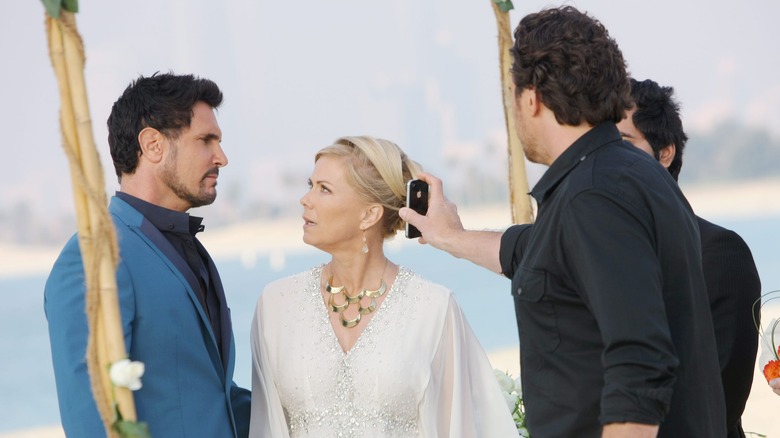 Sean Smith/JPI Studios
Bill Spencer (Don Diamont) was originally married to Brooke Logan's sister, Katie Logan (Heather Tom). However, Katie underwent an arduous battle with postpartum depression that caused her to push Brooke and Bill together. She was burning her entire life to the ground, and Kaite felt as if those two being together would be the best course of action for everyone involved. 
Ridge (now played by Thorsten Kaye) didn't want Brooke to be with someone as ruthless as Bill and did everything in his power to stop their relationship from progressing. Eventually, Brooke and Bill made their way across the globe to Dubai for an intimate ceremony. Ridge, however, arrived and stormed onto the scene, demanding Brooke come with him and leave Bill at the altar. 
With Ridge inside a helicopter, Bill had the pilot, his righthand man, toss Ridge out of the vessel, causing him to plummet into the waters below. Ridge was presumed dead for a period of time, and when he did return, not only did he suffer from memory loss but he lost his ability to design. This wedding didn't happen, but it sent Ridge on a downward spiral that saw him take a significant life detour in a relationship and marriage with Caroline Spencer (Linsey Godfrey). 
Zoey works with Hope to take down Thomas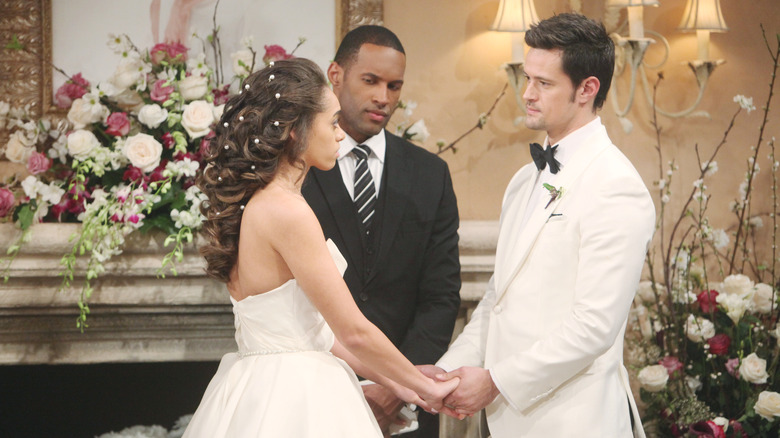 Howard Wise/JPI Studios
Thomas Forrester (Matthew Atkinson) had an unhealthy obsession with Hope Logan (Annika Noelle) to the point that it eventually consumed every facet of his life. Thomas did a series of horrific things in his pursuit of Hope including running Emma Barber (Nia Sioux) off the road, keeping Hope's daughter from her, and manipulating his son, Douglas Forrester, to do his dastardly deeds. 
In an effort to prove that he was over Hope, Thomas entered into a relationship with Zoey Buckingham (Kiara Barnes) in the hope that the charade would be bought by those around him. There were several red flags and once again Douglas was key to taking down an evil plot. Hope and Douglas discussed the situation with Zoey prior to the wedding, and in front of all of their loved ones, they exposed Thomas in a line of deception. 
At that moment, Thomas' family turned their backs on him because he was proven to be a danger to Douglas, Hope, and everyone else. It took several years before anyone took Thomas remotely seriously after this, with many still believing his infatuation with Hope to be alive and well. 
Quinn interrupts Paris and Carter's wedding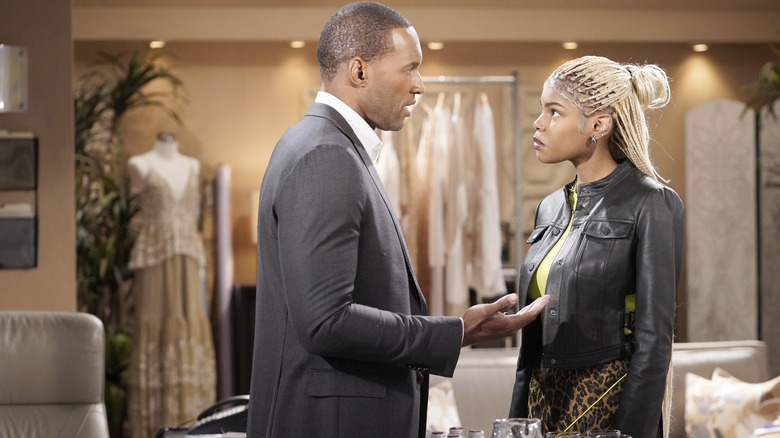 Howard Wise/JPI Studios
Quinn Fuller (Rena Sofer) and Carter Walton had a secret affair for quite some time, prior to her husband, Eric Forrester (John McCook), finding out. However, once Eric discovered the truth, he did the unthinkable and actually planned intimate encounters for Quinn and Carter to counteract his erectile dysfunction. This confused Quinn and Carter, but they continued to carry on and were only forced to stop when members of the Forrester family learned about it. 
With Eric and Quinn recommitted to each other, Carter attempted to find love with Paris Buckingham (Diamond White), but it was clear he was working hard to fast-track the relationship. The couple had no business being engaged so quickly, but Carter was desperate to be married. However, right before the ceremony, Quinn caught Eric having an affair with Donna Logan (Jennifer Gareis), knowing instantly that her marriage was finally over. 
It was supposed to be a fairy tale moment for Paris, but before she and Carter could complete the wedding, Quinn showed up on a bicycle, professing her undying love for Carter. Paris's big day was ruined, and Carter was left with an impossible choice to make. He ultimately left Paris at the altar, choosing a life with Quinn instead. Sadly though, Sofer exited the show shortly thereafter, so Quinn and Carter never got their happily ever after.
Sheila is revealed as Finn's birth mother at his wedding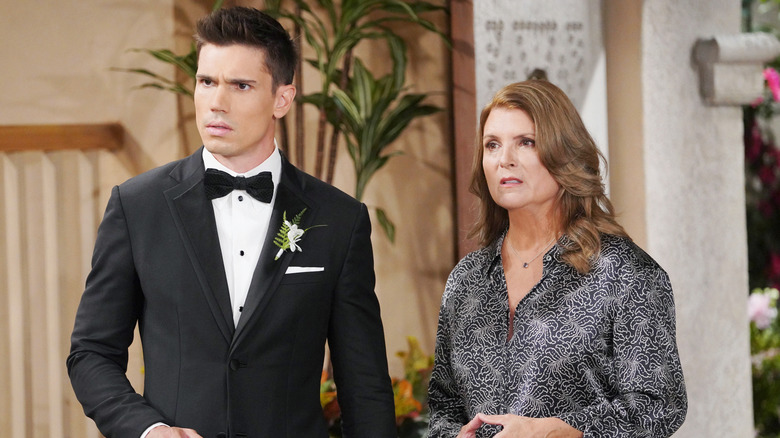 Howard Wise/JPI Studios
Steffy Forrester finally got off the never-ending roller coaster ride that was her love triangle with Liam Spencer (Scott Clifton) and Hope Logan. Meeting Dr. Finn (Tanner Novlan) was everything she needed in her life at the time, and he looked promising as the man to last well into her future. It was only natural that after being together for quite some time and having a child marriage was on the cards for the lovebirds. 
Steffy and Finn's wedding itself was a testament to their love, and everything went well. After the ceremony, however, things took a nosedive into the depths of Steffy's worst nightmares. Finn's birth mother emerged from the shadows, revealing herself to be the infamous and notorious criminal Sheila Carter (Kimberlin Brown). Sheila's the same woman who shot Steffy's mother, Taylor Hayes, and Brooke Logan and terrorized the entire Forrester family for decades. 
The moment was a horrifying realization for everyone and ruined everything special that had occurred that day prior to the big reveal. Sheila becoming a fixture in their lives again nearly cost them everything with Sheila shooting Finn and Steffy shortly after the wedding, and also making numerous attempts to secretly spy on the family and get her hands on her grandson, Hayes.