Celine Dion's Stunning Hair Transformation Over The Years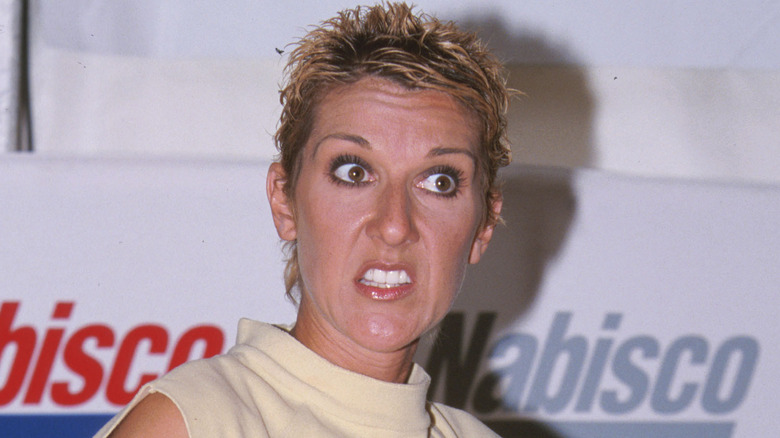 Sam Levi/Getty Images
Some singers are so iconic that they need no introduction. Ever since exploding onto the scene when she won the Eurovision Song Contest in 1988, Celine Dion's star has continued to rise, making her one of the best-loved divas of all time. She has multiple No. 1 songs and awards under her belt and an impressive career with the kind of longevity that up-and-coming artists dream about. Of course, like any public figure, the mother of three has had quite the style evolution over the years, too. While her fashion prowess has developed too, there's one thing that stands out head and shoulders above the rest (literally).
Dion's gorgeous flowing locks may have been her trademark for some time, but it wasn't always so. The singer has experimented heavily with her tresses over the years, from frosted tips to shaggy layers. Some styles were more favored than others, but if Dion's hair transformation has shown us anything, it's that photographs last forever and bad choices aren't always easily erased! 
That being said, the "It's All Coming Back To Me Now" hitmaker has never been afraid to try something new with her aesthetic, proving that when it comes to being yourself, you really can't go wrong. With the star currently taking some time out of her hectic schedule to address ongoing health issues, let's look at some of her most memorable hairstyles, from the early '80s until her last public appearances. 
It started with a perm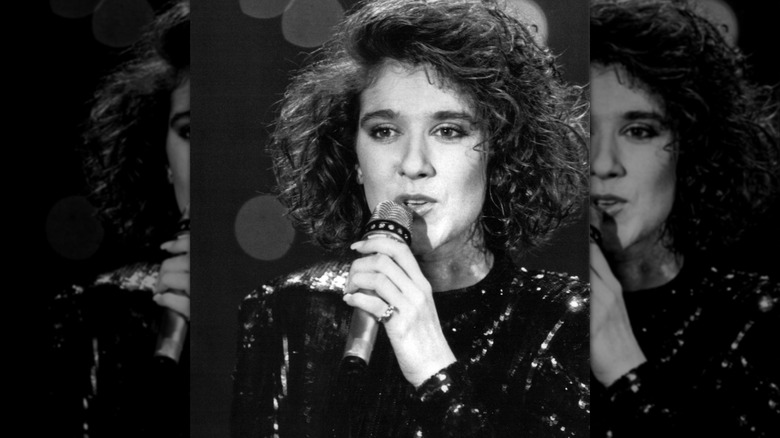 United Archives/Getty Images
It's difficult to imagine a world where Celine Dion wasn't a household name, but the French Canadian singer worked hard to find her place in the music industry. When she was just 12 years old, her mother sent Dion's demo tape to executive René Angélil. Not only did Angélil help her get on the right track, but the pair would eventually marry years later. As she worked to build her image and hustle in the early years of her career in the '80s, Dion preferred the natural look. She kept her hair a neutral brown shade but went for a short curly perm. The style was very of the moment, with an extreme side part and plenty of volume to boot, as shown here when the young icon performed at an event. 
Dion also opted for a subtle smoky eye and natural, unshaped eyebrows, a choice that would terrify today's pomade-loving makeup aficionados. This stripped-back look was miles away from American stars like Madonna who were also coming-of-age in the industry in the same era, but it worked for Dion at the time. After all, her appearance would drastically change in the years that followed, and there weren't many other singers of her ilk who managed to retain their aesthetic innocence for as long as she did. 
If this tells us anything, it's that everything happens in good time, including A-list glow-ups! 
Celine goes for long curls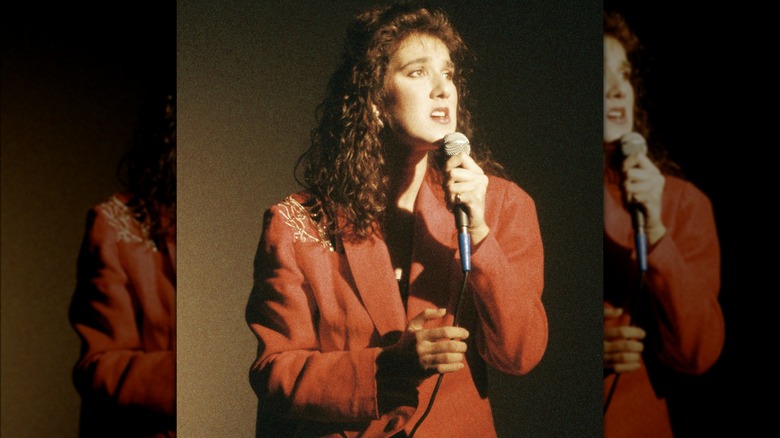 Michel Linssen/Getty Images
Though she had been working on developing her career since she was a child, she didn't manage to break into the worldwide market until the late '80s, after Celine Dion won the Eurovision Song Contest in Dublin with "Ne Partez Pas Sans Moi" for Switzerland. By this point in her career, Dion was well-known in France, but this historic win took her career to the next level and introduced her to a much wider audience. In 1990, she released her first English-language album, "Unison," and it was a hit, but how did it impact the power ballad pro? 
Surprisingly, Dion held onto her image, which changed very little during this time. Her hair remained brown and curly, but she grew it out to below her shoulders for a 1991 showcase event in the Netherlands. It's a subtle alteration, but her loose tresses instantly gave her a much more romantic image and hinted at her future style. For the performance, Dion wore a red blazer jacket with big shoulder pads and gold detailing, which set off the earthy tone of her hair. It wouldn't be the last time Dion sported a much longer 'do, but it wouldn't be long before she totally switched things up. 
What's the point in being a rising star if you can't play with your image and try something different? 
Turn up the volume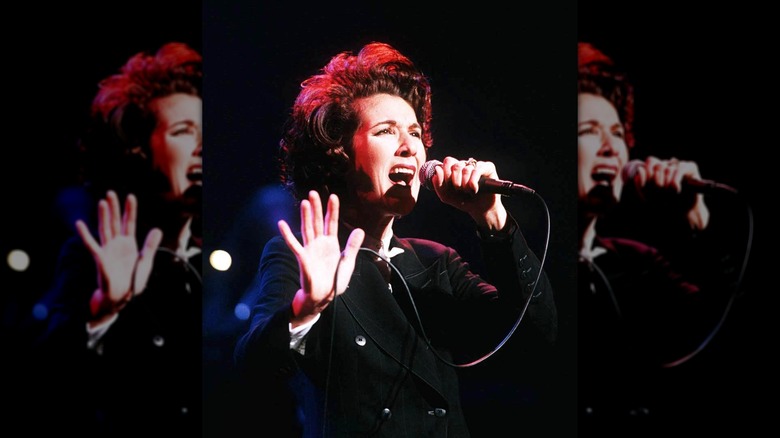 Brian Rasic/Getty Images
Fast forward to 1994, and Celine Dion was well on her way to reigning supreme. A year prior in 1993, she had the honor of performing one of her most famous ballads, "The Power of Love" for President Bill Clinton. The song was a smash hit, remaining at peak position on the Billboard chart for an impressive four weeks. Perhaps this stratospheric rise to fame can explain Dion's next hair transition. For a performance at The Cambridge Theatre in London, Dion sported a much shorter, much more voluminous style. This drastic change seemed to mark the crooner's departure from her younger years and into a new era. It wasn't only her hair that was changing then, but her personal life, too. 
It was around this time that Dion surprised her fans with the news of her intimate relationship with her manager, René Angélil, 26 years her senior. Just a few months after the above photo was taken, the pair would tie the knot in a ceremony in Montreal. Unbeknown to the public, they had been engaged since 1991. 
It's not a stretch to surmise that this sudden shift in appearance helped to establish Dion, then 26, as a more mature figure in the entertainment industry. Whether it was done to make the significant age gap in her relationship seem less jarring to her audience is open to interpretation. 
A lighter moment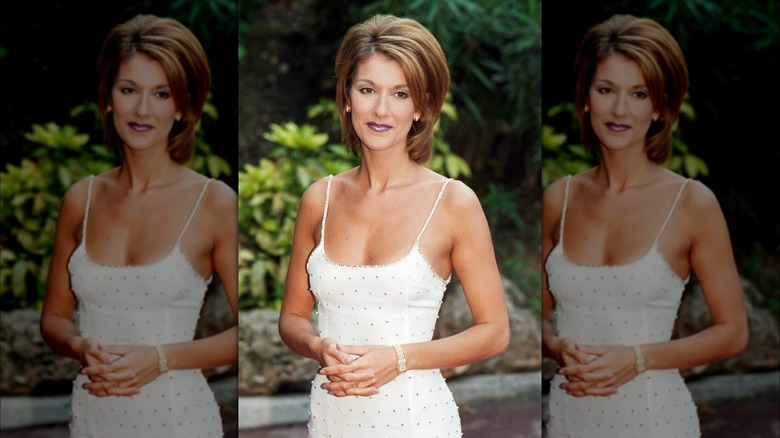 Stephane Cardinale - Corbis/Getty Images
It's arguable that every decade since Celine Dion started her career has been "her" decade, but the '90s saw her dominate in a truly remarkable way. It seemed like she could do no wrong, both overseas and at home. 1995 saw the release of one of the most historic French albums to date, "D'eux," which sold over 10 million copies. And, thanks to the success of her English-language albums, Dion was a staple at A-list events like The World Music Awards the following year. It was clear that the singer was coming into her own and taking style risks that she had previously been averse to. 
For the ceremony, Dion wore a figure-hugging white dress with diamanté detailing and thin spaghetti straps. As for her hair, long gone was the natural brown. In its place was a golden crown in a stylish layered cut reminiscent of Jennifer Aniston's infamous "Rachel" hairstyle. This kind of voluminous caramel-toned cut was incredibly popular at the time, with other stars such as country singer Faith Hill also opting for a blown-out shorter 'do over longer locks. Dion paired this look with purple-pink lipstick, pink eyeshadow, and minimal jewelry.
It seemed like her transition from Eurovision Song Contest winner to bona fide international starlet was complete by this time. Dion truly glowed, perhaps in part due to her happy home life with René Angélil. 
Buzzing for blond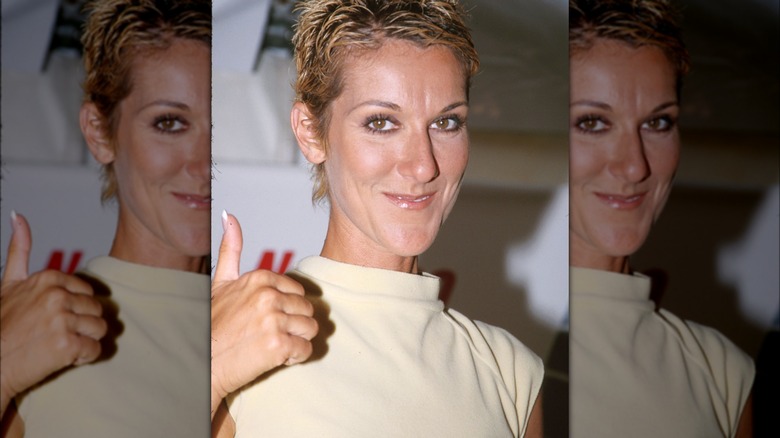 Sam Levi/Getty Images
There are many things from the late '90s and early '00s that come to mind when thinking of fashion. A lot of the trends are currently back around, but one has yet to have a renaissance: frosted tips. Though this particular hairstyle is more heavily associated with men when harking back to this era, Celine Dion was an offender, too. In a drastic change from her mid '90s feminine look, Dion chopped her hair off in 2000 and got bleach happy. The incredibly short 'do is a love-it-or-hate-it moment for fans, but there's no denying that the "My Heart Will Go On" singer had the confidence to rock it. She appeared alongside her husband at the Nabisco Golf Championship at Mission Hills Country Club sporting the heavily-gelled style, grinning from ear to ear. 
It was miles away from her previously romantic aesthetic, but her perfectly shaped brows and expertly applied makeup helped to pull it off. It's not a style that many public figures would have had the gall to commit to during this period, but that's what makes it so memorable. It was a relatively short period in Dion's lookbook, but at least she can look back and say she did what she wanted to do. 
Shorter cuts are much more manageable, and it wouldn't be long before she would begin her journey into motherhood. Perhaps Dion was practicing at being more time efficient! 
Shaggy layers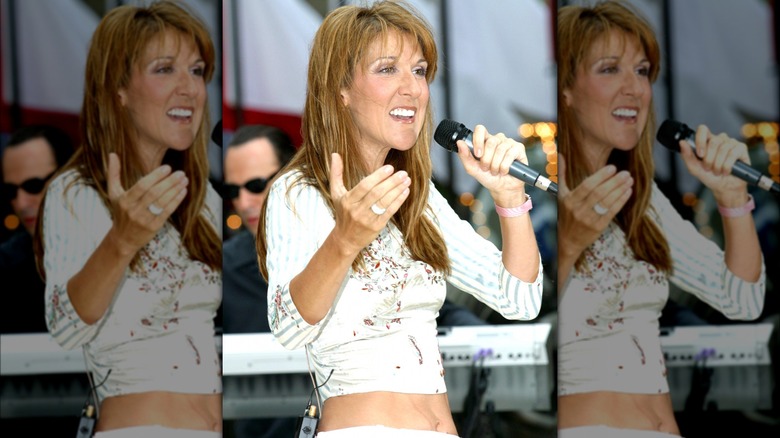 James Devaney/Getty Images
By 2002, Celine Dion was practically an industry veteran. She had audiences of thousands in the palm of her hand, but fans were just as excited to see her style choices as they were to hear her sing. Although she sported an incredibly short 'do just a couple of years prior, Dion was soon back to her longer locks. The singer banished the bleach blond and went back to a golden caramel with highlights, as well as a much shaggier cut. Perhaps most notably, Dion had bangs, something she had never previously leaned toward. For this performance at "The Today Show" Summer Concert Series, Dion paired her below-the-shoulder hairstyle with a cropped floral T-shirt, flashing her toned midriff. 
Her makeup was also on-point, with nude lipstick and subtle brown eyeshadow. Looking at this image, it's difficult to imagine Dion's hair was so drastically different previously. While she may have rocked the frosted tips, this aesthetic gives her a much softer vibe, perhaps in preparation for her first Las Vegas residency based on her hit album "A New Day Has Come." The record topped the charts in a whopping 17 countries, so it's hardly surprising that Dion's husband and manager, René Angélil, created an entire show at Caesars Palace based on it. 
This longer style would be far more versatile when styling performance looks than Dion's ultra-short cut which may have limited them when it came to the visuals we've come to know and love from the performer. 
Luscious locks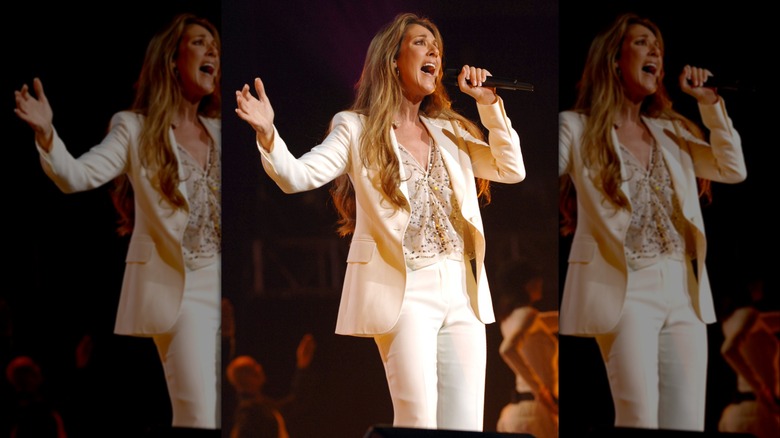 Denise Truscello/Getty Images
Some stars in the entertainment industry are well-known for their fashion sense, topping best-dressed lists all over the place. Celine Dion has never been a total style icon, but she always looks timeless and classic. In 2005, she sported a chic white suit over a semi-sheer sequin top for a performance at Andre Agassi's Grand Slam for Children event. It was a special occasion, marking the 10th anniversary of the charity show that aims to raise money for education services. Not only did her outfit make her look like a vision, but Dion's hairstyle played the part, too. By this point, the singer had gone all in and her hair was longer than ever, reaching down to her waist in soft, loose curls. 
The cut suited her, looking effortless and feminine while also delivering the glamorous element fans adore. As for the color, Dion stuck to caramel shades but opted for slightly lighter tones than in the past. This choice, coupled with impressive tailoring, suited her down to the ground. Then in her late 30s, Dion was on top of the world as a Vegas star, a dedicated mom, and one of the world's favorite vocalists. 
This style set a precedent for the next few years for Dion, who was spotted favoring long hair more often than she was short. When you're a diva anything goes, but flowing tresses would become synonymous with the power ballad goddess. 
Blond ambition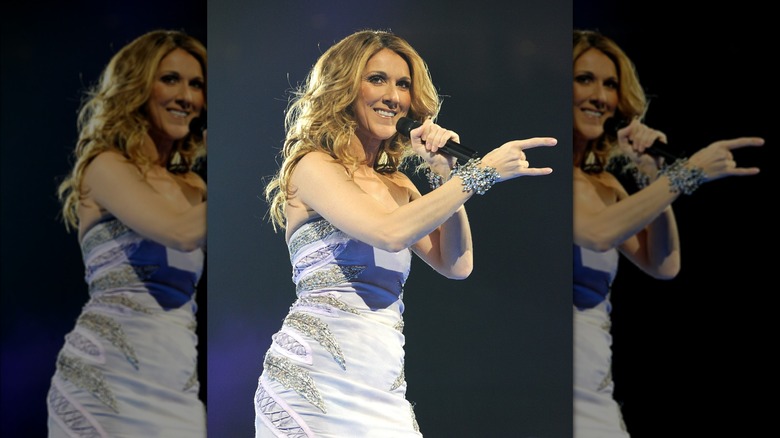 C Flanigan/Getty Images
Celine Dion always remained on the safe side when it came to hair colors, but in the late '00s, she decided to go back to blond, this time going for a voluminous middle part curly 'do. As seen here at a performance at the HP Pavilion in 2009, Dion looked sensational with a lighter color, the hue working well with her natural skin tone. For the occasion, the superstar wore a form-fitting blue dress with crystal detailing and matching cuffs, keeping her makeup minimal and fresh. The entire aesthetic worked well for her, giving her the sort of glossy glamour that only A-list sensations can achieve. 
This cut was a step up from her previous hairstyles. In the past, Dion typically went for length or volume and not both. This ticked both of the boxes, securing her crown as one to watch in the hairstyle stakes. Though she was in her early 40s here, Dion could match any star half her age when it came to vitality. Does she have access to the fountain of youth, or is it just "The Power of Love" keeping the French Canadian sensation looking so young?
A year later, Dion would give birth to her twins, Nelson and Eddy Angélil. This didn't slow her down, and the twins were christened in Las Vegas less than two weeks before she was due to start her second residency in 2010, taking to the stage to bless fans with even more style switch-ups. 
Short and sweet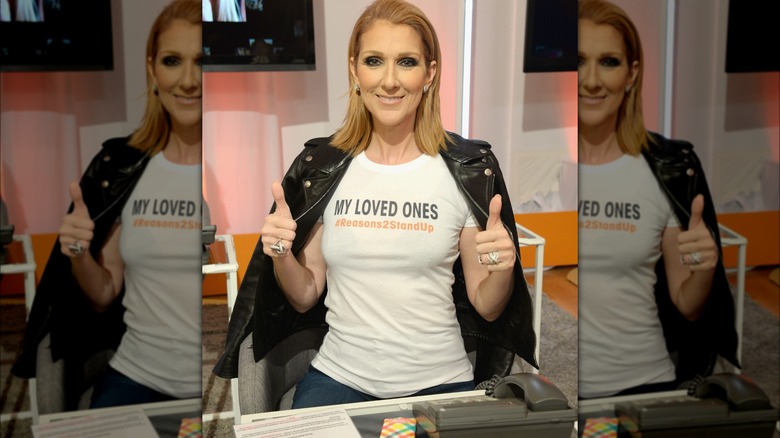 Handout/Getty Images
With the natural innocence of the '80s a thing of the past, the '90s Rachel cut firmly in the rearview mirror, and a whole new decade upon her, Dion was a brand-new woman. Though a lot of the 2010s saw the singer keep her trademark flowing hair, she did appear with shorter locks on occasion, too, proving that extensions really are a girl's best friend. For the Stand Up to Cancer event in 2016, Dion wore a very slick and stylish long bob. The dark blond tresses were perfectly sleek, parted in the middle, and tucked behind her ears for a "let's get to work" sentiment that was both elegant and efficient. 
Dion went for a more dramatic eye this time around, opting for black eyeshadow and heavy liner with a nude lip. The look was tied together with beautiful earrings that sparkled in the light, making this one of the singer's most impressive hair transitions to date in terms of the complete statement. As for her outfit, Dion kept it simple, wearing a Stand Up to Cancer white T-shirt, blue jeans, and a leather jacket. She wouldn't have looked out of place next to Rizzo in "Grease," with the entire aesthetic giving her a chic edge that isn't to be underestimated. 
If we have one bone to pick with this era, it's that we didn't get to see more of this hairstyle in action — though present-day Dion might disagree!
Golden goddess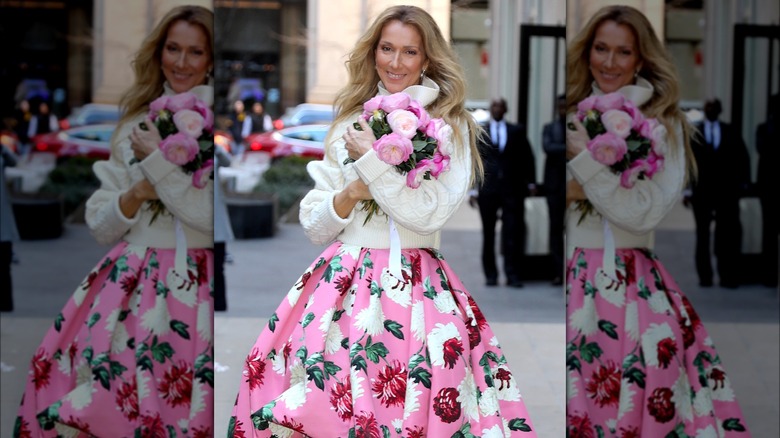 Jose Perez/bauer-griffin
It's public knowledge that the past few years have been very difficult for Celine Dion with her health battle. An undeniable workhorse when it comes to performing, it was heart-wrenching for the star when she announced to her fans in 2022 that she was suffering from stiff person syndrome, a rare disease that she was trying to come to terms with. In a video posted to her Instagram, Dion said: "Unfortunately, these spasms affect every aspect of my daily life, sometimes causing difficulties when I walk and not allowing me to use my vocal cords to sing the way I'm used to." As a result, Dion had to cancel upcoming tour dates, and at the time of writing, it's unclear when she will return to the stage. In the meantime, fans can look back on photos of the singer, like this one from 2020, where she looks vibrant and well. 
This particular look is one of her most memorable, with a full pink floral skirt, a bouquet of gorgeous flowers, and a cream turtleneck jumper, Dion's light blond hair almost looks like a halo. Her smile is effervescent, brightening up the streets of New York City as she leaves her hotel. There's no doubt that Dion's expertly styled tresses are a million miles away from where she first started. 
Though her early styles had a naiveté to them that made her endearing, Dion truly found her niche as the years ticked by.