Russell Brand's Age Gap With Wife Laura Is Larger Than We Thought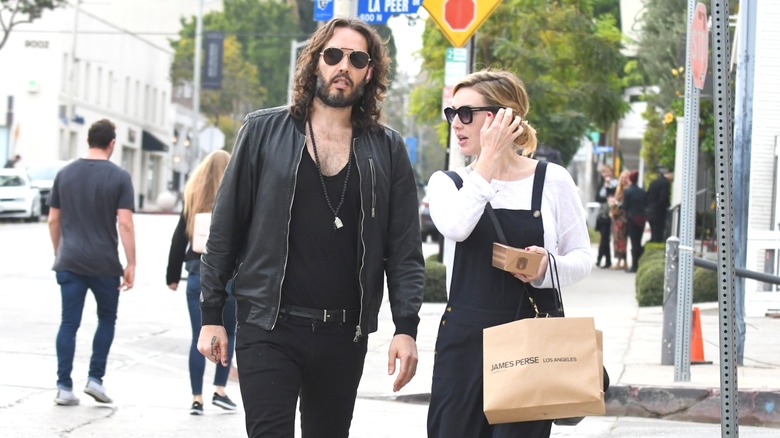 Bg002/bauer-griffin
This article contains references to sexual assault.
There's a lot to unravel when it comes to Russell Brand. The notorious British actor and funnyman was at one point seen as a flirtatious rockstar whose sense of humor wasn't everyone's cup of tea. Out of his many outrageous "jokes," dressing up as Osama bin Laden one day after the cataclysmic 9/11 attacks has to be one of his worst takes to date. His love life hasn't been much less controversial. Brand's famously brief marriage to singer Katy Perry lasted just 14 months, and he reportedly sent Perry the divorce notice via text message.
Since then, Brand seems to have turned a new leaf. He's now a political commentator and has finally settled down with the love of his life, author Laura Gallacher. The two have been happily married since 2017. Gallacher appears to be standing steadfast at Brand's side amidst the alarming sexual assault allegations put out by The Times in September 2023. It's clear that the actor has found his match with the writer, despite there being a sizable difference in their age. While it's certainly not the biggest age gap we've seen in a celebrity couple, Brand and Gallacher are 12 years apart in age. What might be more shocking than their decade-spanning age difference is how old they were when they first started dating.
They met when Gallacher was 19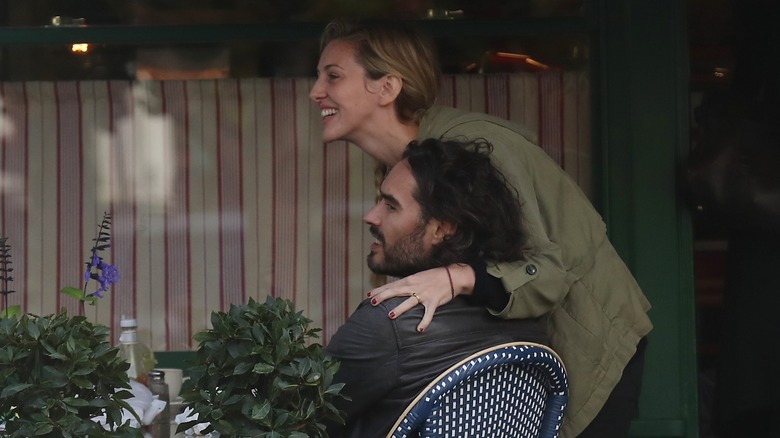 Neil Mockford/Getty Images
Russell Brand and Laura Gallacher met at very different points in their lives, both age and career-wise. In an interview with Stylist, Brand stated that he first laid eyes on his future wife in 2007 when she was still a teenager. According to the comedian, Laura was 19 at the time and he was 30. Laura was an ambitious art student attending college. Meanwhile, Brand, an emerging personality on TV and radio, was hosting a segment on BBC Radio 2. It's largely speculated that Laura's sister, TV presenter Kirsty Gallacher, was the one who introduced Laura to Brand. The feeling of attraction was mutual, and they began dating shortly thereafter.
The romance fizzled out not long after it began. A newly single Brand became romantically involved with singer Katy Perry in 2008, and two years later, they were married. You might think Brand and Laura's age difference played a role in their breakup, but Brand has since placed the blame squarely on himself.
Brand's promiscuity caused their split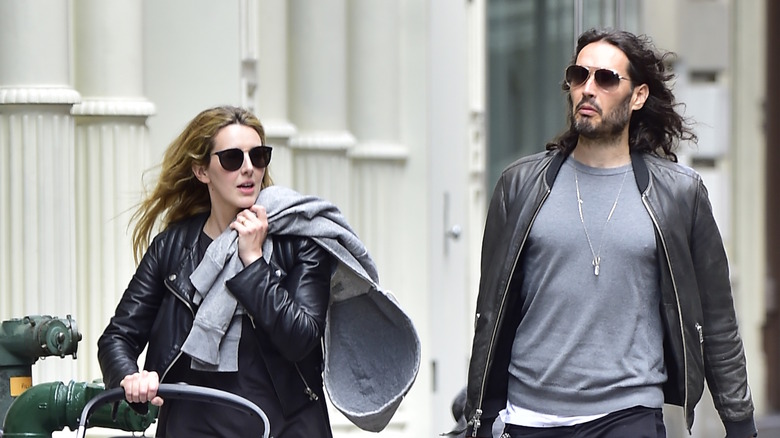 Alo Ceballos/Getty Images
In Russell Brand's early days, he was something of a loose cannon. We're not just saying that; Brand himself has blamed his promiscuous behavior for his failed initial relationship with Laura Gallacher. "We loved each other very much," he admitted during a live taping of "The Wendy Williams Show." "I thought the world was sort of like an amusement park made out of orgasms. I didn't know how to sort of sit still. I was too excited."
After going their separate ways and moving on with other people, the couple would quite literally cross paths once again in 2015. Laura told Grazia Magazine that she ran into Brand on the same day another ex of hers was moving out of their shared flat. "A friend dragged me out on a walk to the canal in east London, where I'd never been in my life," she recalled, "and as we came on to the footpath, Russell was standing there, like he'd organized it." Brand was also recovering from a heartbreak at that time. The actor divorced from Katy Perry in 2011. 
Is this a rebound relationship for Brand and his wife? It isn't likely. Both Brand and Gallacher seem genuinely in love with each other. They've been going strong since their marriage in 2017 and have two daughters together.