Why Ben Affleck And Jennifer Garner Still Lived Together After They Separated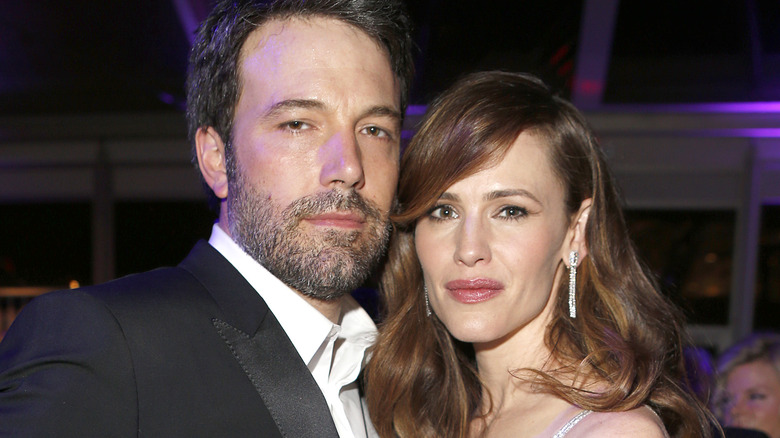 Jeff Vespa/vf14/Getty Images
For most ex-couples, moving out of a shared space is a non-negotiable part of the breakup — a norm Ben Affleck and Jennifer Garner courageously broke while going through their divorce. According to a source who spoke to People following the A-list couple's divorce filing in 2017, it was a "normal" day in the Affleck-Garner household, which is just how the two parents wanted it.
"They are figuring out what to do," the source told the magazine. "One thing they agree on — the kids will stay at the family house. Jen and Ben will focus on making things as smoothly as possible for the kids. It's all about what's best for them."
Garner and Affleck, who were married from 2005 to 2018, had three children together: Violet Anne, Seraphina Rose, and Samuel Garner. Although the pair endured a tumultuous, years-long separation, they tried their best to remain a united front for the sake of their kids.
Ben and Jennifer's separation was a slow process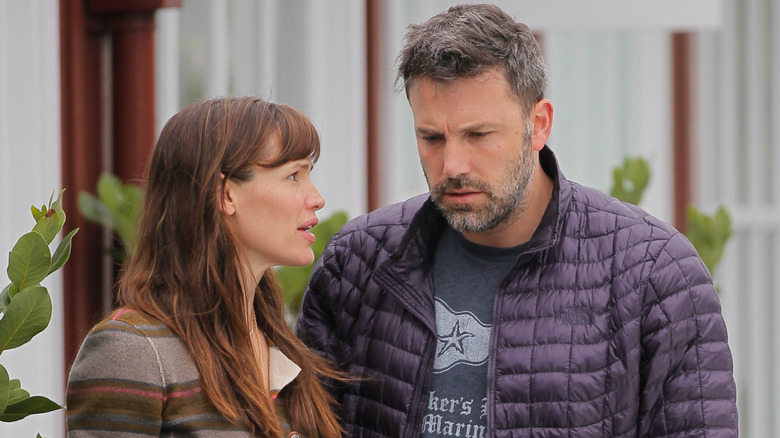 Bauer-griffin/Getty Images
Ben Affleck and Jennifer Garner had been separated for two years before they got divorced, but it was important to the couple to continue co-parenting their three children under the same roof. Affleck technically stayed in the guest house of their Los Angeles home where he could be close to the kids while also giving Garner and himself space to be alone. The "Flash" actor finally moved out of the guesthouse in May 2017, per Entertainment Tonight.
"It has been a continual move for him over the past couple of weeks," a source told ET. "Ben and Jen wanted to make it a slow transition for their family and make sure the kids feel comfortable in both houses. The kids are good. Ben and Jen are working closely together to make sure the kids are doing fine during this transition and that it doesn't interrupt their lives too much. They have their own traditions and things they'll do together as a family still."
Following Affleck's move, Garner bought a 3,245 square-foot home in Los Angeles' Brentwood neighborhood in February 2019 — a downsize from the 8,798 square-foot home she shared with Affleck but with plenty of space for her three children. Affleck did the opposite, choosing to upgrade to a massive 13,454 square-foot mansion in the Pacific Palisades (via US Weekly).
Ben and Jennifer's co-habitat was indicative of their strong relationship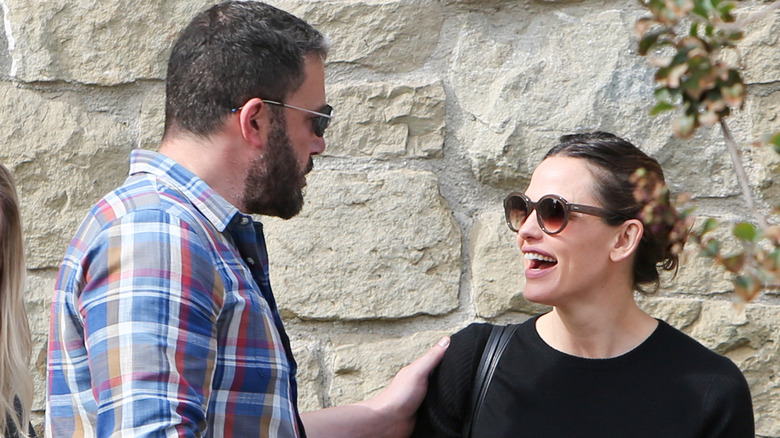 Bg004/bauer-griffin/Getty Images
Although living with an ex might seem like an impossible feat for some, the ability of Ben Affleck and Jennifer Garner to cohabitate and co-parent is indicative of the love and respect they had for each other. Even throughout Affleck's alcohol addiction and their failed attempts to rekindle their failing relationship, the couple spoke highly of each other.
"I didn't marry the big fat movie star; I married him," Garner said in a 2016 interview with Vanity Fair. "And I would go back and remake that decision. He's the love of my life. He's the most brilliant person in any room, the most charismatic, the most generous. He's just a complicated guy. I always say, 'When his sun shines on you, you feel it.' But when the sun is shining elsewhere, it's cold. He can cast quite a shadow." Four years later, Affleck called his divorce from Garner "the biggest regret of my life" in an interview with the New York Times.
Ben Affleck married Jennifer Lopez in 2022, and Lopez and Garner's co-parenting relationship has been overwhelmingly positive. Garner has been dating CEO and chairman of Cali Group, John Miller, on and off since 2018. A source told People in 2023: "They have a very special relationship. It's never been the easiest one though since they both have families. They took a long break from dating, but Jen is very happy that they are back together."