A Glimpse Into Maria Shriver's Love Life After Arnold Schwarzenegger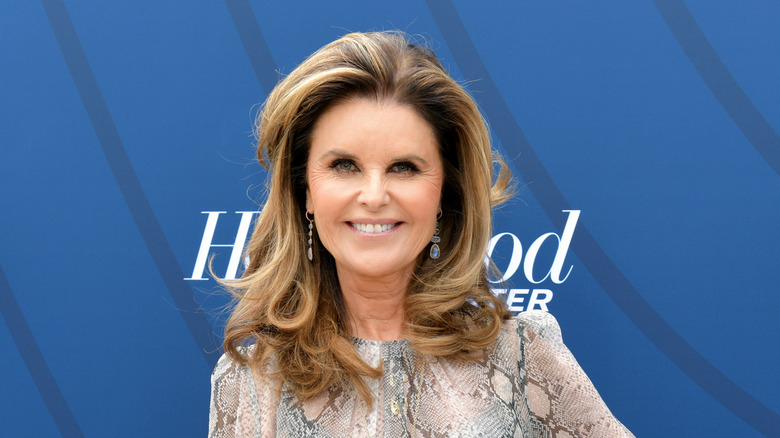 Rodin Eckenroth/Getty Images
Maria Shriver may have felt unnoticed in her marriage to Arnold Schwarzenegger but she took it as a lesson. Shriver never should've faded into the background in the first place, however. The Governator's former wife was born into the prestigious Kennedy family; she is the daughter of Eunice Kennedy Shriver, the sister of President John F. Kennedy and, by the time she married Schwarzenegger in 1986, Shriver had already established herself as a successful journalist. When Schwarzenegger announced his bid for California governor, Shriver was by his side, falling seamlessly into the role of a politician's wife. 
Sadly, their picture-perfect union came crashing down when Shriver learned, in 2011, that the former bodybuilder had fathered a child with their housekeeper years before. She separated from Schwarzenegger, though their divorce was not finalized until 2021. Since then, Shriver's dating life has been a bit of a mystery, though there have been some indications that she may have found love again. The only man that Shiriver has been linked to since she left Schwarzenegger is political analyst Matthew Dowd. While neither publicly announced it, the couple was spotted out together looking rather cozy with one another years ago.
Shriver started dating Matthew Dowd two years after splitting from Schwarzenegger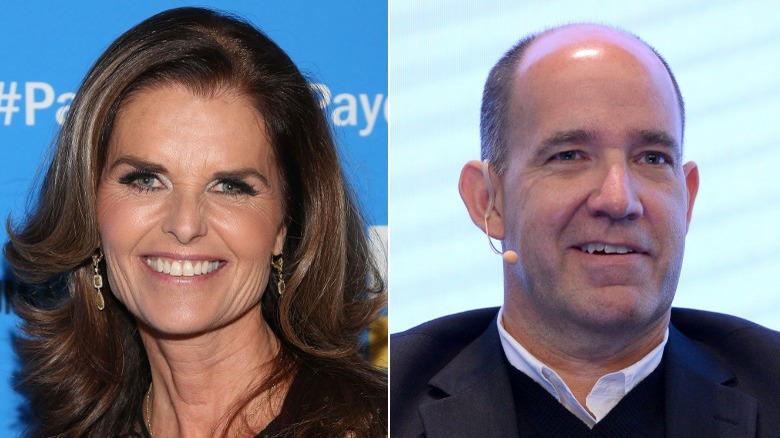 Taylor Hill & Andrew Toth/Getty
After Maria Shriver moved out of the marital home that she shared with Arnold Schwarzenegger in 2011, the journalist dropped a staggering $10 million on a new house just a few miles away. This seemed to be the start of her newfound independence, and two years later, it appeared that she was ready to date. By November 2013, Shriver and Matthew Dowd were rumored to have been seeing one another for several months. The pair attended her cousin, Bobby Kennedy Jr.'s, wedding together in August 2014 at the Kennedy Compound in Hyannis Port, Massachusetts. Dowd even happily posed for photos alongside Shriver and her family.
As of May 2016, the couple looked to be still happily, albeit quietly, together. They were snapped taking a stroll through her neighborhood and even seemed to be in coordinating outfits when paparazzi cameras caught them affectionately looking at one another. Sadly, insiders close to Shriver told the New York Post that she and the MSNBC contributor split in 2017. However, Shriver's ex-husband did confirm that she was dating someone in a September 2023 chat with People, though the actor didn't say who it was. Schwarzenegger shared, "She has her things, her relationship; I have mine, but we always communicate about the kids."
There were rumors that Shriver had cheated on Schwarzenegger with Dowd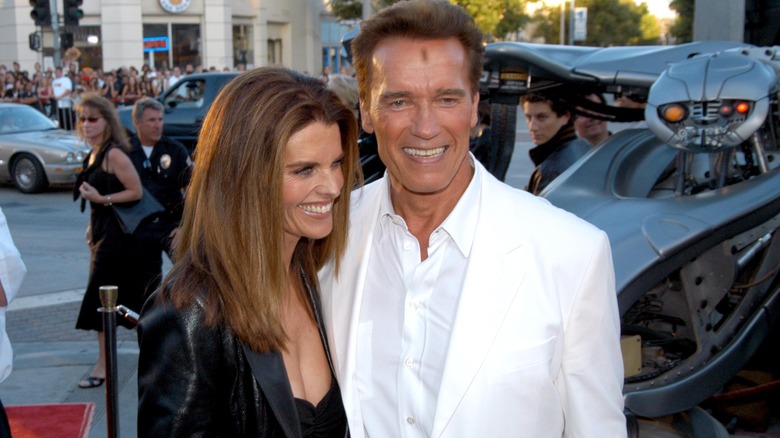 Jeff Kravitz/Getty Images
Though it appears that Maria Shriver and Matthew Dowd only dated for around three years, there were rumors early on that they were secretly having an affair during her marriage to Arnold Schwarzenegger. Shortly after the couple was spotted at Bobby Kennedy Jr.'s wedding, insiders informed Page Six that they'd actually been involved with each other since 2006, suggesting that Shriver might have had an extramarital affair before she split from the actor in 2011. 
Complicating matters further, Dowd was also working closely with "The Terminator" star on his California gubernatorial re-election campaign at the time. An insider revealed to the outlet, "There was a lot of flirtation. They frequently spent time alone, and Arnold was rarely, if ever, around when they were together. She had a unique banter with [Dowd] and lit up when he was around. He was comfortable poking fun at her, and she would slap him teasingly."
Dowd shot down the gossip completely, confirming, "There was no affair. We were good friends." Ultimately, he and Shriver are the only ones who know their connection's true nature and the timeline of their relationship. But given that they are probably no longer together, neither party is likely to disclose the specifics anytime soon.