Details About Princess Diana's Feud With Princess Anne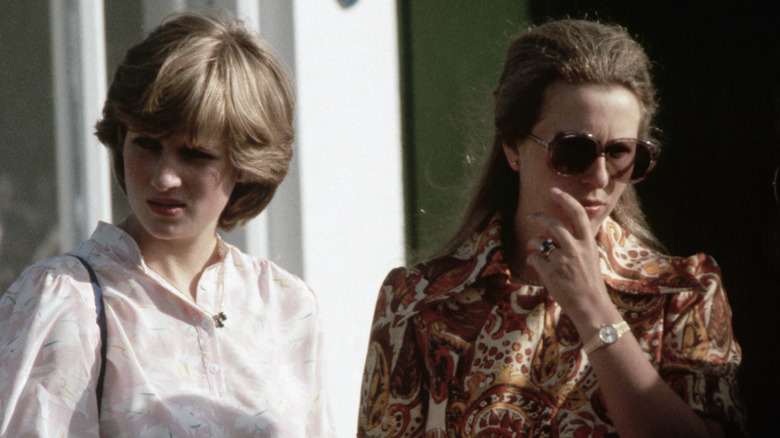 Wally Mcnamee/Getty Images
Aside from their connection as sisters-in-law, Princess Anne and Princess Diana did not have a lot of common ground. The two women had very different personalities and, with an 11-year age difference, they were at very different life stages when Diana joined the royal family. In 1981, Diana approached her soon-to-be sister-in-law and greeted her with elaborate politeness, including a royal curtsy. Anne, known for her no-nonsense disposition, apparently did not approve of Diana's gesture. "Diana, confronted by the searing force of Anne's scorn, fled the room," royal author Ingrid Seward wrote in "Prince Edward," per Express.
While Anne was also preoccupied with her two children that day in 1981, things only got more difficult when Diana became a mother. After Prince William was born, it's believed that Anne expected to become a godmother to her nephew, since King Charles was godfather to her son, Peter Phillips. However, it's alleged that while Charles was on board with the idea, Diana did not want Anne as William's godmother. 
Two years later, when Prince Harry was born, Anne got passed over a second time. Prince Andrew became Harry's godfather, with Diana later justifying the decision by saying that she wanted a male godparent for a male child. However, Harry also has six additional godparents of both genders, including Princess Margaret's daughter, which only adds to the intrigue of why Anne wasn't included. The Princess Royal decided to skip the royal baptism altogether, purportedly due to pre-existing plans involving a hunting party at her Gloucestershire home.
Press coverage exacerbated Diana and Anne's feud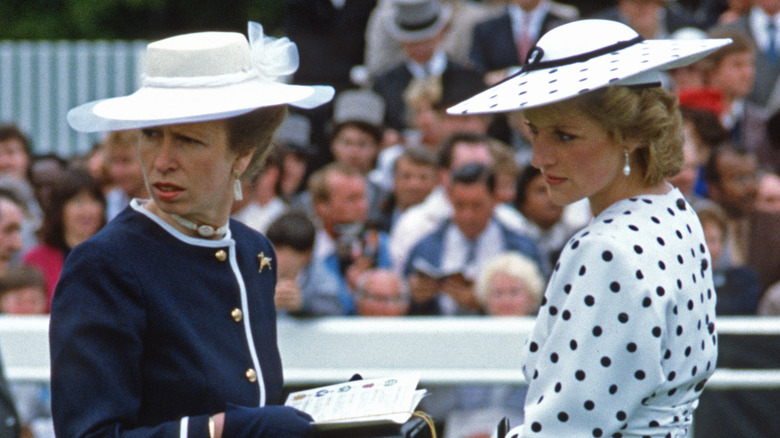 Anwar Hussein/Getty Images
Part of the friction between Princess Diana and Princess Anne stemmed from media coverage. Anne, who consistently earns the accolade of "hardest working royal," was just as diligent back in the 1980s. At the time, Anne was making four times as many royal appearances as Diana. However, when Anne was busy with a royal tour of the U.S., Diana was about to give birth to Prince William, and royal baby fever was at its peak.
The press was more interested in asking the Princess Royal about Diana than learning about Anne's royal work. When William was born on June 21 1982,  Anne learned of his arrival from a news crew. "I didn't know she'd had one. Oh, good," Anne commented, per Newsweek. Anne's reaction was likely in keeping with her straightforward personality, and she became frustrated when the media pressured her to reveal her feelings about being an aunt. Although Anne has a strong relationship with William today, after she brusquely claimed there was "too much fuss" over the new baby, the Daily Mirror wrote that according to Americans, "[Anne] is a sourpuss."
In contrast to Anne's abrasive interactions with the media, Diana's heartfelt, humanistic approach to royal duties earned her lots of positive press, particularly when she was seen comforting AIDS patients and holding their hands. The press even proposed that Anne should emulate her sister-in-law, increasing Anne's ire, especially since she allegedly thought Diana was seeking too much media attention.
Both Diana and Anne publicly dispelled rumors of a rift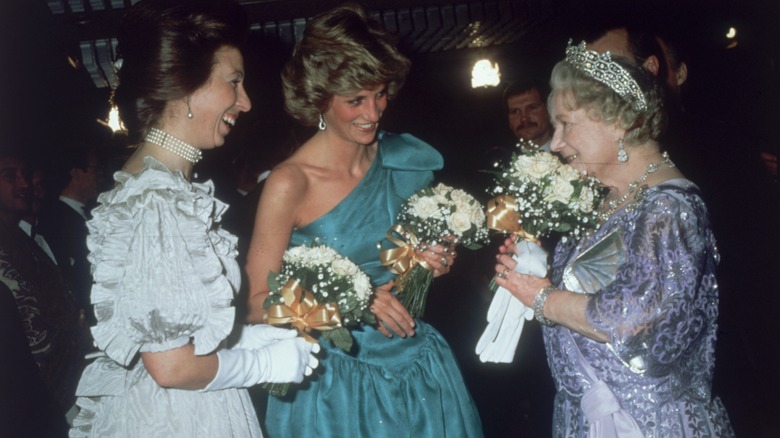 Hulton Archive/Getty Images
While we'll never know for certain how Princess Diana and Princess Anne really felt about each other, the two women did use TV interviews to refute rumors of a contentious relationship. In a 1985 interview, when Diana was questioned directly about the perceived conflict between her and Anne, Diana denied the claims and complimented her sister-in-law. "Anne has been working incredibly hard for the Save the Children Fund and I'm her biggest fan because what she crams into a day I could never achieve," Diana commented. "We've always hit it off very well." That same year, Anne made a more subdued statement, calling feud allegations "fairy stories" (via Express) as well as expressing her regrets about having to miss Prince Harry's christening. 
In addition, after Diana's tragic death in 1997, Anne was reportedly quite upset and remorseful about their relationship. Anne also allegedly regretted that she didn't understand the extent of Diana's unhappiness and her struggles with royal life. In keeping with her stoic demeanor, Anne kept her emotions to herself and chose actions over words. She spent extra one-on-one time with Harry. During their outdoor excursions, she supported her nephew while he grieved.