Joshua Morrow Was In A Boy Band Before The Young And The Restless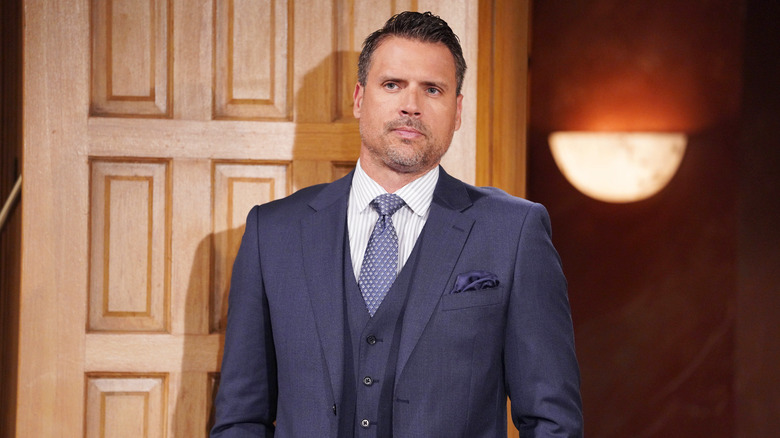 As Nick Newman on "The Young and the Restless," fans have been following Joshua Morrow over the years both on and off-screen. He's established himself as a major heartthrob on the show, as he's had some serious romances with the likes of Phyllis Summers (Michelle Stafford), Sharon Newman (Sharon Case) and Sally Spectra (Courtney Hope) over the years. Some fans even think it's time for Nick to move on from Sally to his one true love, Sharon, and at this rate, it might actually happen.
While everyone has kept their eyes glued on the small screen and has followed Nick's romances throughout the years, little do they know that Morrow had a very interesting connection to another "The Young and the Restless" star, Eddie Cibrian. That's because the two of them worked together off-screen just as much as they did on-screen. Surprisingly, Morrow and Cibrian were actually two-thirds of a very popular boy band trio that found fame in Canada back in the day. While they were successful in the land of ice hockey and poutine, they were virtually unknown in the United States (and places like Genoa City for that matter).
Joshua Morrow used to be in a boy band
According to Page Six, back in 2009, a cover photo of the boy band 3Deep was unearthed, much to the surprise of daytime television fans in the U.S. Since "The Young and the Restless" star Joshua Morrow doesn't talk much about his past, many fans were quite surprised to see that he was in a band with his fellow "Y&R" co-star Eddie Cibrian and Canadian singer CJ Huyer. They might have been unfamiliar in the United States, but they managed to have a few hits in Canada. Some of their singles included "Into You," which even became a top 10 hit. Interestingly enough, this was also way before Cibrian became involved with another chart-topping singer, his wife, LeAnn Rimes.
Morrow himself has never said a word about his boy band past, but back in 2022 he did post a TikTok video of himself shaking it on the set of "The Young and the Restless." That same year, he also showed off some funky moves in another video that would probably make former boy banders like Justin Timberlake and Nick Carter squirm with jealousy. Clearly, Morrow likes to dance, but fans want to know why he's so shy when it comes to his singing.
Joshua Morrow focused on acting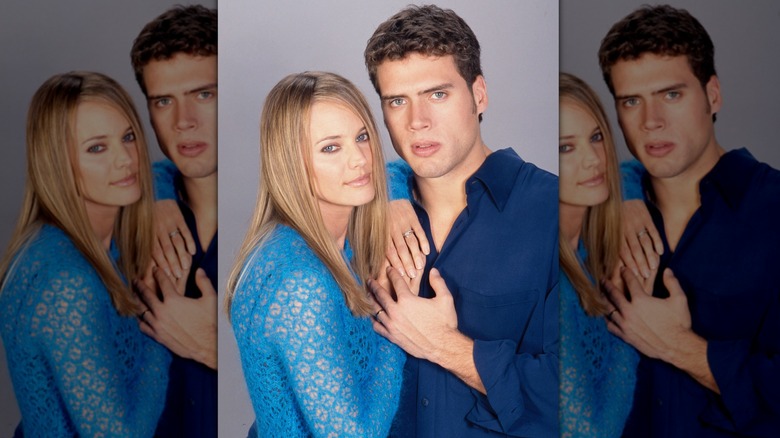 As many fans are probably already aware, Eddie Cibrian left "The Young and the Restless" to star in a handful of television movies and went on to marry a songstress who definitely found more success in the music industry than he did: LeAnn Rimes. Morrow, meanwhile, has found his footing on "The Young and the Restless" as he's managed to entertain fans as Nick Newman for almost three decades. That said, Morrow has never sang on the show, nor does it seem like he's ever expressed any interest in doing so, either. In an interview with Soap Opera Digest back in 1993, a then 19-year-old Morrow made it pretty clear that he only had one priority, and that was acting. He said at the time, "I'm not some model-turned-actor guy who's just doing it for a buck."
But then again, anything can change. Soap opera stars Brandon Barash, Eric Martsolf, Wally Kurth, and Carson Boatman, who all act on "Days of Our Lives," are part of The Day Players Band and even go on the road with their gigs. Maybe then can make room for one more multi-talented soap star who can sing from Genoa City? Someone get Morrow on the phone.