Here's What Eddie Cibrian And LeAnn Rimes' Relationship Is Like Now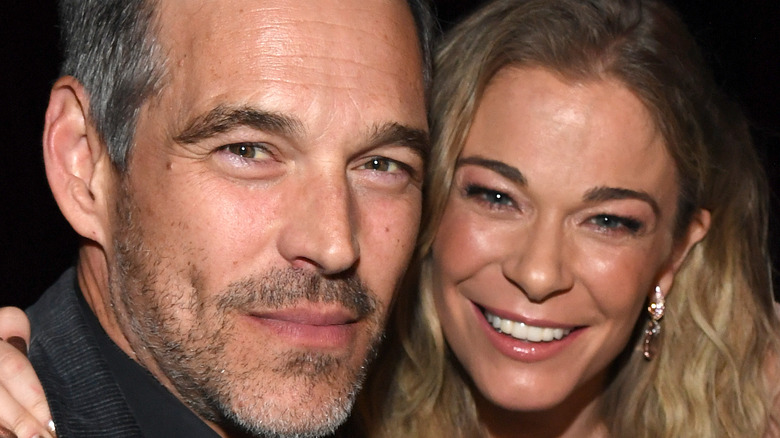 Kevin Mazur/Getty Images
Hollywood can often seem like a revolving door of blooming and crashing relationships. It can be hard to keep up. But, every now and then a star couple will rise in such a juicy way that you can't help but get fully invested. After all, who isn't on the edge of their seat awaiting each and every updated about Bennifer's reunion? And who could forget the dramatic era when Eddie Cibrian and LeAnn Rimes met. 
What began as a Lifetime movie gig for both the country singer and the actor developed into the juiciest hot gossip of the era when photos of their affair began to emerge, per Us Weekly. Sure, it would've just been seen as yet another love-at-first-set Hollywood story, except the sweetness comes to a crashing halt when you remember that the "Rosewood" actor had his wife of eight years, Brandi Glanville, waiting at home along with their two sons. He's not the only one though, as Rimes was also married to Dean Sheremet at the time. Yikes.
Everyone wrote it off as yet another shocking Hollywood story riddled with double-cheating. No one could have expected that 13 years later, "Northern Lights" co-stars Cibrian and Rimes would still be going strong. Cibrian filed for divorce a month after the shocking photos of the duo began emerging, per People, and he and Rimes made it all the way to the aisle for a secret wedding in 2011. The couple aren't shy about sharing their love story either. They've kept close followers of the drama up to speed over the past 13 years.
Brandi Glanville's battle with their relationship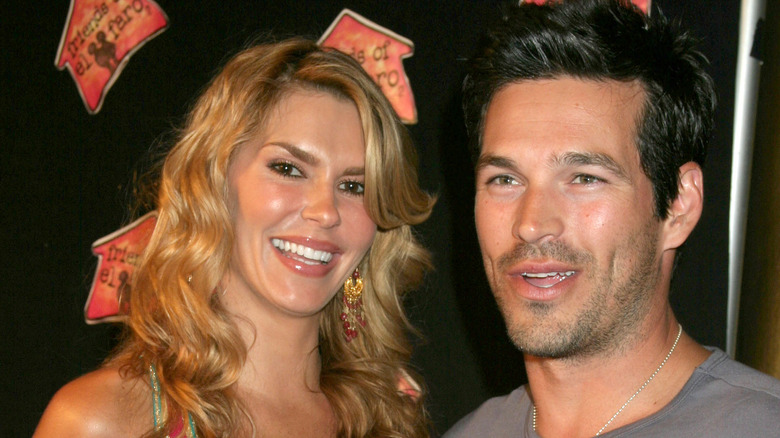 carrie-nelson/Shutterstock
LeAnn Rimes and Eddie Cibrian may have found peace now, but it was a tumultuous journey to reach it. Understandably, Rimes and Cibrian's early years had enough drama to fuel an entire reality TV show — and they even had a short-lived one of their own, "LeAnn & Eddie" wasn't quite the hit they had hoped it would be, per E! News. They both knowingly turned their backs on their partners, and it didn't help that Cibrian's ex Brandi Glanville was not one to shy away from blatantly speaking her mind. 
Glanville was undeniably a roadblock to their new relationship, as she made no secret of her hatred for Rimes and the fact that she blamed the "Masked Singer" winner entirely for the affair as she shared with Us Weekly, "LeAnn is a stalker. She refuses to leave us alone — it is shameful and scary." As their relationship got more and more serious, the feud grew even larger with Glanville even insisting that Rimes not be allowed to spend time alone with their children, per The Sun.
Within the past couple of years, they have finally put their weapons down and the modern family have since supported each other and Glanville and Rimes have even begun celebrating the holidays together, per People. "These days, I love LeAnn, who married Eddie in 2011. She's great and we all hang out together. I've forgiven her," Glanville shared with The Sun. 
Burying the hatchet with Glanville was a vital step for Rimes. It allowed them to have the happy blended family they have today.
LeAnn Rimes and Eddie Cibrian are happier than ever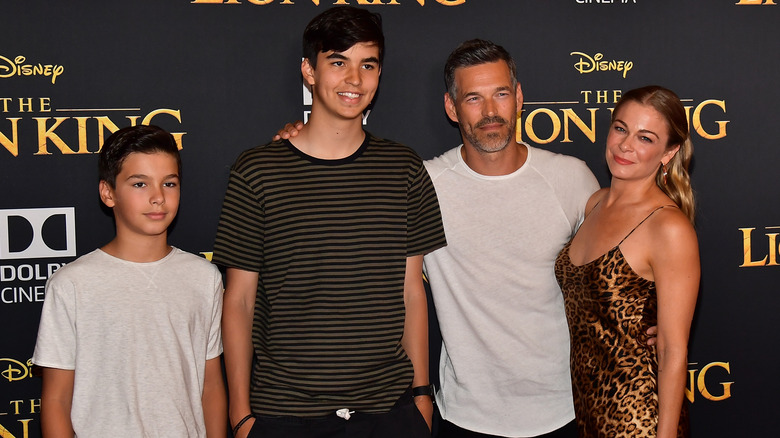 Matt Winkelmeyer/Getty Images
In 2021, Eddie Cibrian and LeAnn Rimes celebrated their 10th wedding anniversary. Cibrian gushed about their marriage to Entertainment Tonight, sharing, "You grow as a couple. Every day you find something else that you love about each other. It's wonderful." The country singer did her own gushing in the best way she knows how by sharing the "magical" song "How Much A Heart Can Hold," which she originally wrote about Cibrian before their wedding, on an anniversary Instagram post. She then officially released the song with a music video on their 11th anniversary the following year, per People. 
Today, the couple seem happier than ever. Cibrian and Rimes do not have their own children together, but Rimes has built a close-knit bond with Cibrian's two sons. Rimes shared with People that their blended family looks nothing like you'd imagine, "Nobody's fighting, nobody's doing anything weird ... it's interesting, the kids are older now, it's fun. The kids are happy and that's all that matters." 
Rimes has candidly shared that it was only because she was sought help for her battle with depression that she was able to build a healthy home environment. Speaking to People she explained, "By being able to care for my own body and not expecting Eddie to do it for me, we've been able to become better partners." No one would have expected that the couple would be going as strong as they are, given their bumpy beginning. But it looks like they've finally settled into a groove and are blissfully happy together in peace.
If you or someone you know is struggling with mental health, please contact the Crisis Text Line by texting HOME to 741741, call the National Alliance on Mental Illness helpline at 1-800-950-NAMI (6264), or visit the National Institute of Mental Health website.