Are Harry & Meghan Close To The Kardashians? Here's What To Know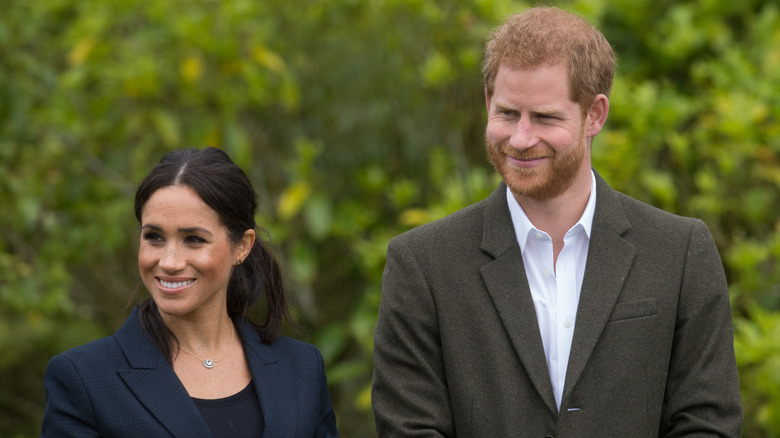 Pool/Getty Images
After their move to their Montecito, California mansion in 2020, Prince Harry and Meghan Markle, Duke and Duchess of Sussex, began forging relationships with celebrities, both socially and professionally. As they explore various media opportunities, it's possible that Harry and Meghan may venture into the world of reality TV by appearing on "The Kardashians." In October 2023, Express reported claims that Kris Jenner was in the tentative stages of persuading the Sussexes to participate in her show. Jenner was allegedly cautious, indicating that the two families are still getting to know each other.
In addition, in August 2023, Meghan's mom, Doria Ragland, got to spend some time with Jenner and Kim Kardashian at a charity event. Ragland was attending the event on her own. She reportedly found the two women to be very friendly and enjoyed spending time with them. The three women were later photographed arm-in-arm. 
An alliance between the Sussexes and Kardashians could prove particularly beneficial. "For Meghan, it's going to be a total win because Kim Kardashian is one of the most powerful women in Hollywood," royal commentator Kinsey Schofield explained to GB News. "She desperately needs that friendship." However, Schofield and others have conceded that a Sussex/Kardashian partnership could ding Harry and Meghan's image. "If they go down that route .... they undermine the glamour that went with them," a source informed OK! Even so, the couple could use the experience to reinvent themselves while benefitting from the Kardashians' enduring media success.
Meghan and Harry have been compared to the Kardashians before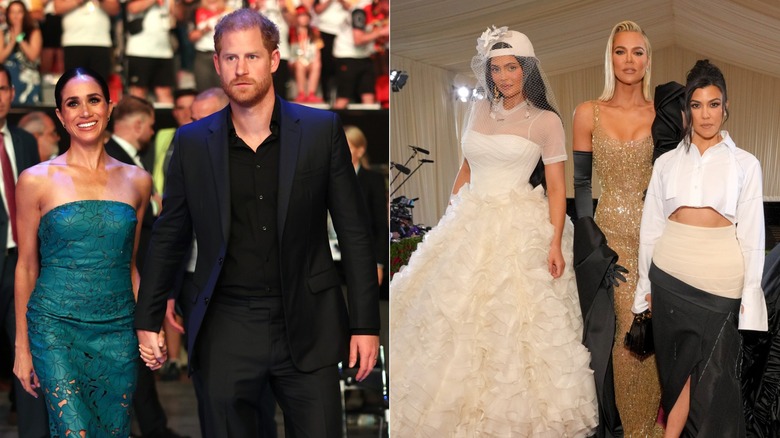 Kevin Mazur/mg22/Getty & Chris Jackson/Getty Images
During the summer of 2023, Meghan Markle, Duchess of Sussex, and the Kardashian-Jenner family apparently started to get to know each other after they were introduced through a mutual friend, Ellen DeGeneres. By meeting online and in person, the two families reportedly discussed opportunities for working together. 
While it remains to be seen if Prince Harry and Meghan will form a bond with the Kardashian clan, numerous parallels have been drawn between them and the famous reality TV family. In December 2022, When the Duke and Duchess of Sussex debuted their Netflix docuseries, "Harry & Meghan," they were compared to the Kardashians. "I can't believe they're putting this type of content out there," royal expert Kinsey Schofield told Express. "There is no going back .... You are officially a Kardashian." While this was intended to be a snub, some social media users viewed the association as positive. These individuals pointed out the Kardashians' business prowess and their ability to remain a relevant part of the pop culture conversation.  
In September 2023, Meghan allegedly recognized common ground between herself and the Kardashians, noting they've both experienced the negative aspects of intense media coverage. If she and Harry do agree to participate in an episode of "The Kardashians," they may find it a similar experience to their Netflix series. Unlike "Keeping Up with the Kardashians," the biggest difference with "The Kardashians" is that it has more of a documentary feel.
Kim Kardashian has spoken out on Meghan's behalf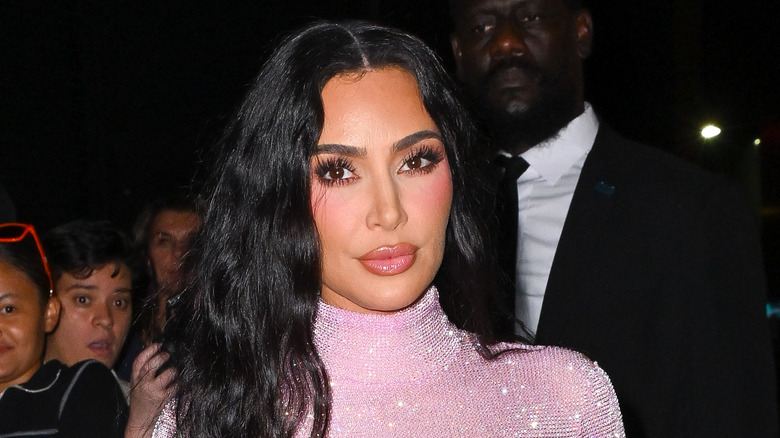 James Devaney/Getty Images
Meghan Markle and Kim Kardashian have a lot in common, with both women getting involved in social and political causes. Kim made a special point of complimenting Meghan and Prince Harry's advocacy during a 2019 speech in Armenia. "'I still love and value the fact they bring such attention to such important movements that need to happen and things that they're really passionate about," Kim stated, per the Daily Mail. "They're still changing the world."
Given her fame, Kim can relate to Harry and Meghan's struggles with life in the spotlight, and she understands the Duke and Duchess of Sussex's need for privacy, especially for their young children, Prince Archie and Princess Lilibet.  In addition, their celebrity status also means that the Sussexes and Kardashians have mutual friends, which could further pave the way for a lasting relationship. Besides Harry and Meghan's neighbor Ellen DeGeneres, Kim and Meghan also have a mutual friend in model Chrissy Teigen. Through Meghan's Spotify podcast, "Archetypes," the duchess had an opportunity to chat with Paris Hilton, Kim's longtime friend. During their conversation that aired in October 2022, Meghan admitted that she'd come to false conclusions based on how Hilton was portrayed in the media.
Meghan and Kim could also forge a bond if the duchess follows through on her rumored Instagram comeback. The Kardashian-Jenner family is phenomenally successful on this platform, boasting four of the ten most-followed accounts in October 2023.