Melania Trump Finally Re-Emerges As Donald's Wife For Halloween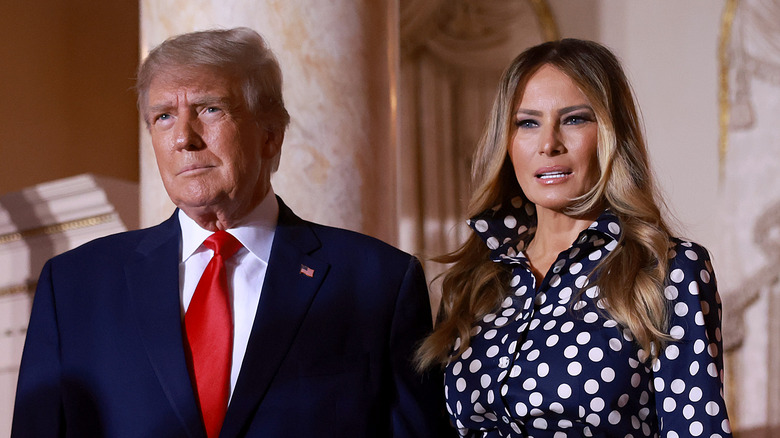 Joe Raedle/Getty Images
Former first lady Melania Trump has been playing hide and seek for months and, in true Halloween fashion, she finally jumped out from her hiding spot at a festive bash at her husband's Mar-a-Lago resort. The couple appeared at the packed costume party after not being seen publicly since April 2023, and their attendance was all the more surprising given Donald's ongoing legal woes. 
Donald and Melania Trump went sans costume, preferring to stick with their usual suit and red tie and svelte pencil dress. The former president walked behind his wife as they promenaded past guests to Metallica's "Enter Sandman." In a video posted to X, formerly known as Twitter, Trump is seen pointing at a seated attendee and saying, "There you go!"
Melania had been notably absent from Trump's public outings, court appearances, and campaign rallies over the summer. Former aid and friend to Melania, Stephanie Winston Wolkoff, told the Daily Mail that she believed Melania's opting out of the public eye "is her weapon of choice and her protective armour."
Melania and Donald mingled at the Mar-a-Lago Halloween bash
Videos posted to social media saw Donald and Melania Trump walking to a table as onlookers clapped and took photos. Donald could be seen looking at a Spotify playlist on a laptop as the operatic ballad "Time to Say Goodbye" by Sarah Brightman played over the loudspeakers — though we're unsure if this was the former president's pick for party music. At one point, Melania briefly tapped her husband's arm to get his attention.
The October 31, 2023, party at Mar-a-Lago came days before Donald's three children with his first wife Ivana — Donald Jr., Eric, and Ivanka — are scheduled to testify in a civil fraud lawsuit that alleges their father purposefully inflated the values of his property to defraud insurance and loan agencies. Melania is not scheduled to testify against her husband. In a statement to Newsweek, Donald shared Melania's alleged thoughts on the trial, saying, "She thinks it's a total disgrace; she thinks it's very, very unfair, and all that it is is election interference."
Many have speculated Melania's absence as a sign that her and Donald's marriage might be on the rocks. However, their recent Halloween appearance seems to be an outward sign of unity ahead of the trial testimonies.