Steve Harvey's Early Days In Comedy Were Full Of Struggles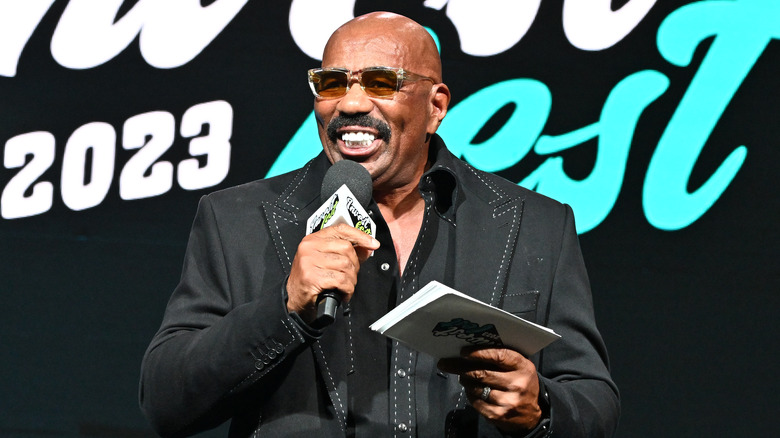 Paras Griffin/Getty Images
Steve Harvey's rise to fame as one of the biggest names on American television reads like a story out of a fairytale. With numerous TV shows, such as "The Steve Harvey Show," "Family Feud," and bestselling self-help books to his name, it's almost hard to fathom that he wasn't always successful. However, the truth about Harvey's fame is that it all began when he was 34, after years of fighting.
In an interview with People, the comedian disclosed that he faced major challenges before catching his big break. Harvey's twenties were filled with several jobs, including boxing and even selling insurance. Then, after winning $50 from a stand-up competition in 1985, Steve Harvey decided to quit his job and pursue comedy full-time.
However, this was only the beginning of a long and harrowing journey. Harvey's dedication to comedy earned him just $3,000 in his first year. Combined with providing for his wife, Marcia Harvey, and two kids, he was living off barely $50 a week. Harvey even had to steal fuel from gas stations to get to gigs sometimes. This choice to abandon a stable income for comedy is speculated as the reason Marcia and Steve Harvey divorced.
Steve Harvey was homeless for three years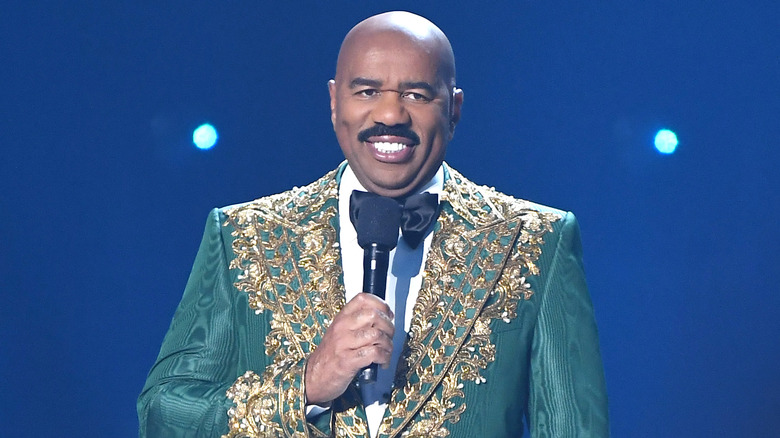 Paras Griffin/Getty Images
Steve Harvey's penchant for sharing emotional stories that leave family feud fans in tears is a testament to the fact that he remains humble and never forgets his roots. In a 2022 post on X, formerly Twitter, he explained that his life was terrible at age 30. His dedication to pursuing success resulted in homelessness for three years. This was because Harvey was hardly at home, moving around for comedy gigs and never earning enough to get himself a decent place to stay. Instead, he lived in his car and used an Igloo cooler as a makeshift refrigerator.
The New York Bestselling author told People that he often slept in his Ford Tempo in parking lots and showered at rest stop bathrooms. Harvey recalled a particularly humbling incident when he attempted to wash up in a hotel restroom. Caught mid-wash, he had to wait long hours until other guests had left before he could come out. His journey from homelessness to a $15 million mansion in 2020 is the stuff dreams are made of.
Steve Harvey almost missed his first TV Appearance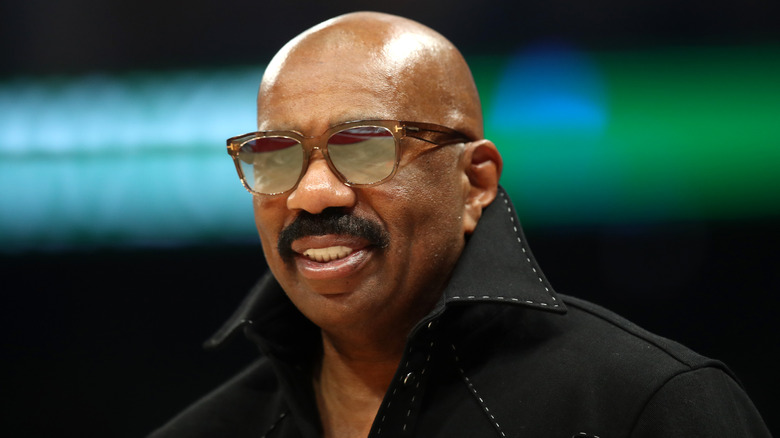 Francois Nel/Getty Images
In December 2019, Steve Harvey recalled a pivotal moment in his career in 1991, which fans fondly dubbed "The Apollo Story." It's common knowledge that Harvey's breakthrough on television came with his appearance on "Showtime at the Apollo." However, what many did not know was that it almost never happened.
At the brink of giving up on his career, Harvey decided to call his father via a pay phone. To his surprise, he discovered a message from Chuck Sutton inviting him to perform at the "Showtime at the Apollo" in New York. This was the big break Harvey had been waiting for. However, instead of joy, the struggling comedian was met with despair, as he only had $35 to his name. There was no way he could make the gig by Sunday from Florida, so it appeared that his dream was slipping through his fingers.
After replaying the message to double-check the date, which remained as close as he'd feared, he got a new message from Comedy Caravan inviting him for a gig in Florida for $150 a night. Harvey immediately took the gig and impressed the crowd so much that he was called back the next night. This earned him $300 in time for his Apollo gig. The comedian took a trip to New York for $99, marking the beginning of one of the most illustrious careers in American comedy history.